Mazda Will Be Making A Full-Size Rear-Wheel Drive Sedan
Auto News In public, Mazda says that this four-door four-seater Vision Coupe concept – first shown at last year's Tokyo Motor Show - heralds the arrival of the next step in the company's Kodo design language, Kodo 2.0. Examining the car in detail up close at the recent Mazda ASEAN Design Forum in Bangkok however, suggests that there's more than meets the eye.
Mazda's current sedan line-up stops at the mid-size Mazda 6. The front-wheel drive 6 is powered either by a 2.0-litre or 2.5-litre four-cylinder petrol engine, the later also available with turbocharging in some markets like the USA. There's also a 2.2-litre turbo diesel.
Bigger brands like Toyota for example, have a wider range of sedan offerings that extend until the rear-wheel drive Toyota Crown-class of full-size sedans.
The last time Mazda made a full-size sedan was in 1999, the Mazda 929.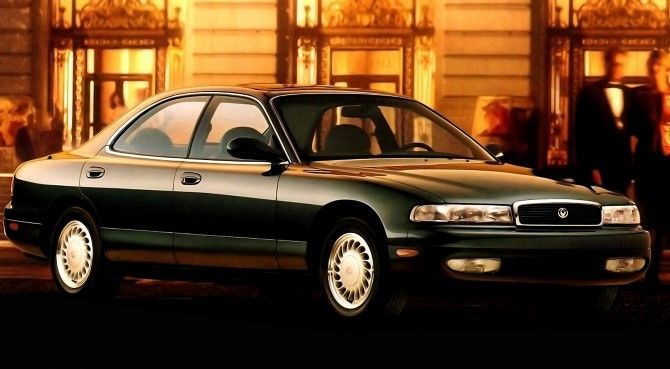 For a brand that is actively chasing after enthusiast drivers' money, the lack of rear-wheel drive models apart from the tiny MX-5 is glaring.
So when we managed to take a closer look at the Vision Coupe – which made its regional debut in Bangkok, look at what we saw once we took a peek under the car.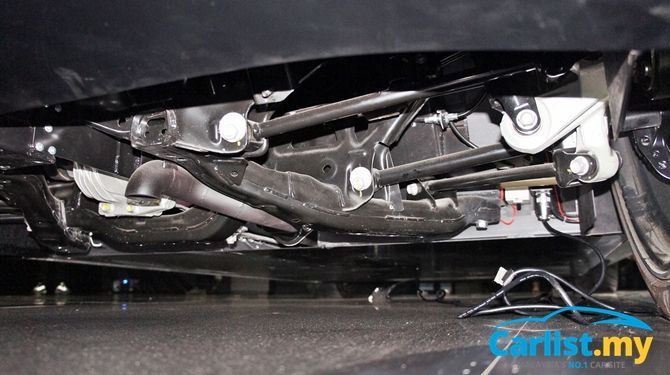 Yup, that's a rear differential, complete with cooling fins. Ignore the oddly placed exhaust pipe for a moment, as this is a just a concept car, a drivable concept car nonetheless. Oh, and it has drilled Brembo brakes too.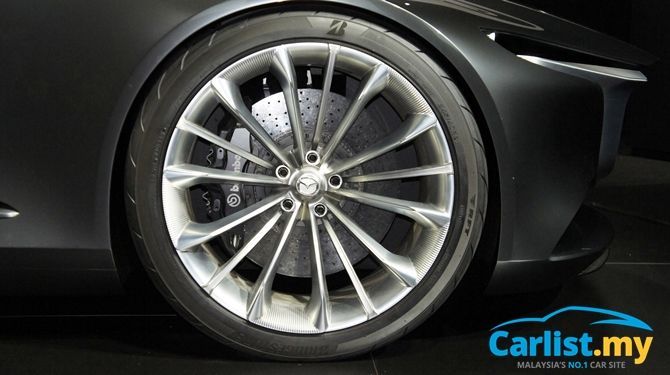 Even without taking a peek underneath, one can tell that the car is obviously rear wheel driven just by looking at the proportions alone. It was clear that the designers are aiming for a classic long bonnet and short tail silhouette that all great rear-wheel drive cars have. The short front overhang and long gap between the front doors and the front axle are classic BMW sedan signatures.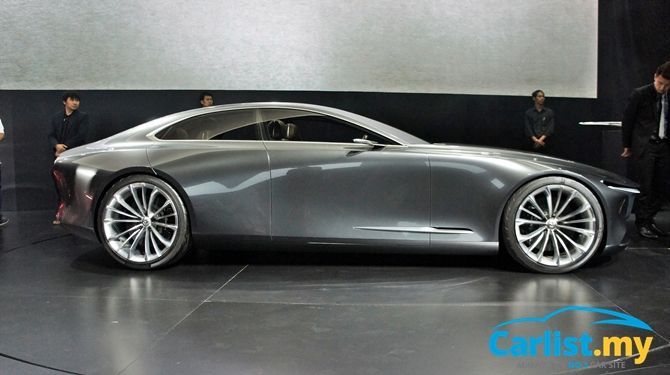 Turn your gaze towards the rear and the muscular rear section and concentration of curves towards the short rear fenders, are once again classic rear-wheel drive proportions.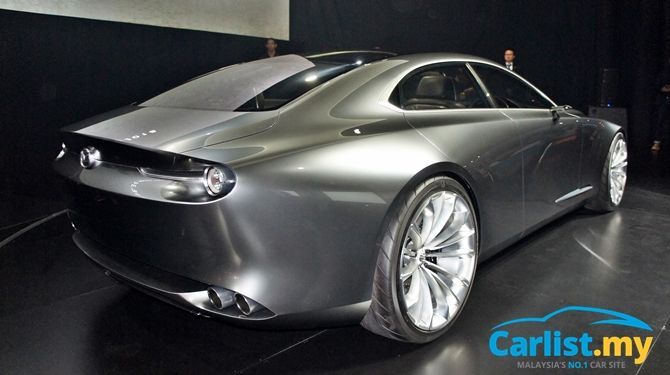 Mazda remains mum about what's hiding underneath the bonnet but judging from videos taken at the Concorso d'Eleganza Villa D'Este, the concept car is likely to be driven by a regular piston engine.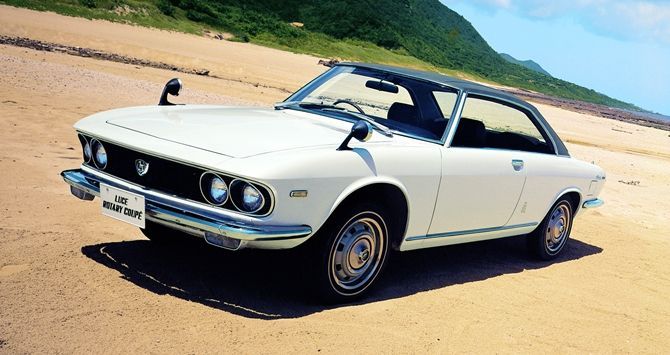 In presenting the Vision Coupe, Mazda did make references to the rotary-powered Luce coupe, so there is a possibility of a rotary engine, which has been so central to Mazda's heritage is making a comeback, but not the way fans might be hoping for.
Instead of driving the wheels, a small rotary engine might be used as a range extender, serving as an on-board generator for an electric Mazda. The novel setup will probably be making its premiere in the production version of the two-door RX Vision concept, which carries a pair of SkyActiv-R badges at the fenders.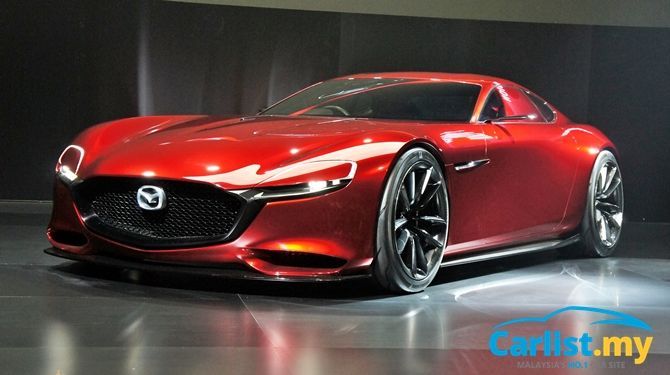 Underneath the RX Vision is a completely sealed flat underbody, with no visible exhaust pipe. The wheels are ultra-light weight carbon fibre items. All of which suggest that the RX Vision will be electric.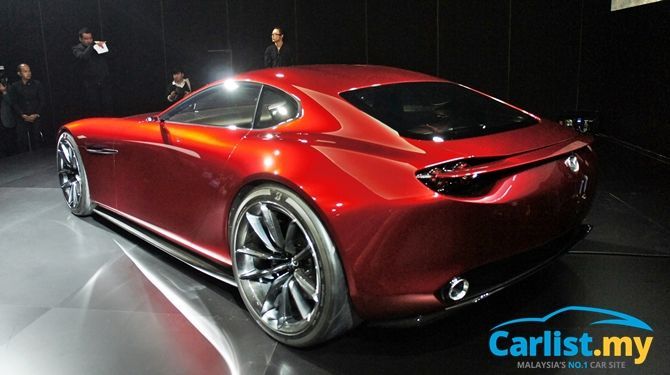 We already know what is Mazda's powertrain master plan until 2021 and a rotary engine is not mentioned anywhere, but there are a lot of references to electrification. Mazda has also confirmed that it will be introducing fully electric models starting 2019, with at least one model featuring a range extender engine.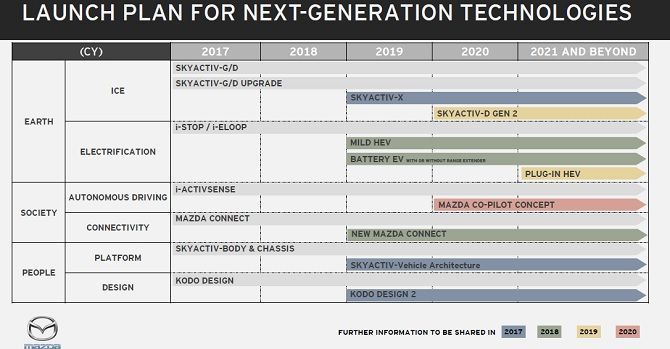 Keeping Dr. Felix Wankel's original concept for a rotary engine just won't work in this era of rigid emissions regulations anymore but repurposing it as a range extender bodes well with the engine's inherent strengths of compact dimensions and smooth operation. With less moving parts than a piston engine, it is able to run at a constant rpm with minimal vibrations – ideal requirements for a generator.
When it hits the market, the production version of the Vision Coupe could sit anywhere between the Toyota Crown (hugely popular in Japan) and the BMW 5 Series, with possibly the front-wheel drive Lexus ES and rear-wheel drive Genesis G80 (now separated from Hyundai) also within its reach.
That's a bold move considering the shrinking sedan market worldwide, but Mazda might side-step the problem by presenting the product as a coupe.
Will this be the fourth generation Mazda 6?
Yes and no. The Mazda 6 will remain a front-wheel drive and will certainly require a very different styling proportion from what's shown by the Vision Coupe.
At the same time, we also know that Mazda wants to maintain a very Audi-style familiarity throughout its model range. It doesn't matter if it's a Mazda 2 or a CX-5 or an MX-5. A Mazda has to look like it is part of a bigger Mazda family.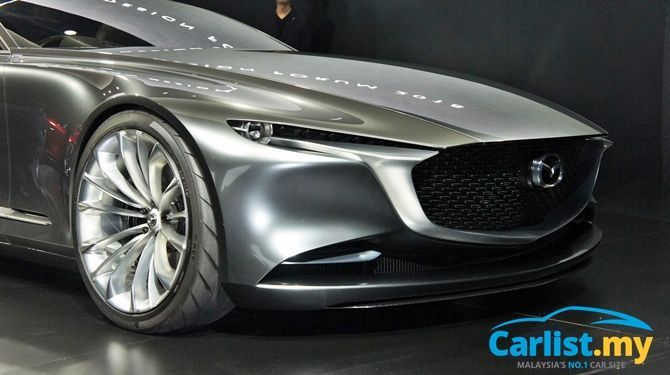 In short, imagine the Vision Coupe with a shorter bonnet, longer front overhang, shorter wheelbase, and you will get a rough impression of how the next generation Mazda 6 will look like.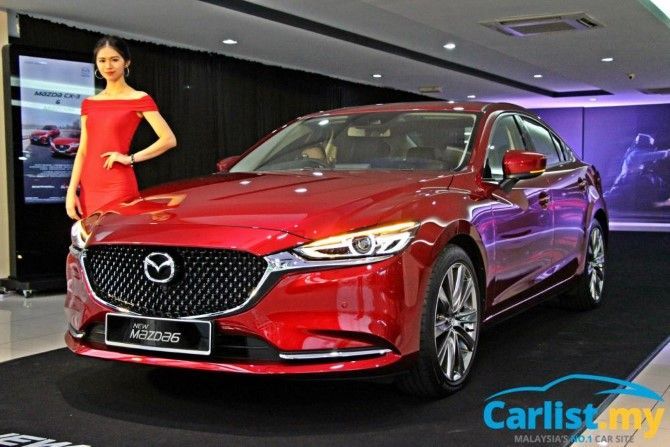 The current third generation Mazda 6 was first introduced in late 2012, we expect the next generation 6 to hit the market no later than 2020.
---
---
---
Comments