Review: 2014 Ninth Generation Honda Accord 2.0 VTi-L- Hail The New King
Reviews For nearly two decades, the D-segment has been dominated by the Toyota Camry. But all that changed with the current generation all-new 2014 Honda Accord, which has since dethroned the once-unassailable Camry – a feat which none of its eight predecessors were able to achieve.
Specifications for Honda Accord 2.0 VTi-L
Price: RM148,200 (on the road with insurance, Peninsular Malaysia)
Engine: 2.0-litre i-VTEC SOHC
Power: 155 PS at 6,500 rpm
Torque: 190 Nm at 4,300 rpm
Transmission: 5-speed automatic
Safety: 2 airbags, electronic stability control (VSA), hill start assist, ABS with EBD
Origin: Locally-assembled in Pegoh, Melaka
Overview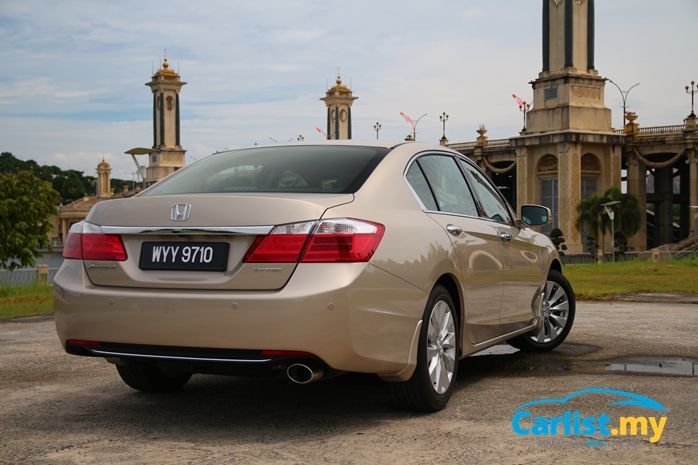 The Accord nameplate needs little introduction in Malaysia. It competes in the so-called D-segment category with the Toyota Camry, Nissan Teana, Mazda 6, Volkswagen Passat, Peugeot 508, Hyundai Sonata and Kia Optima.
This mid-range 2.0 VTi-L model misses out on the more expensive 2.4 VTi-L's LED headlamps, paddle shifters, auto dimming rear view mirror, power-operated driver's seat, power operated rear sun shades, side and curtain airbags, Lane Watch video camera-based blind spot monitor and a sub-woofer. It is however a whooping RM25,000 plus cheaper so the omissions are justified.
Exterior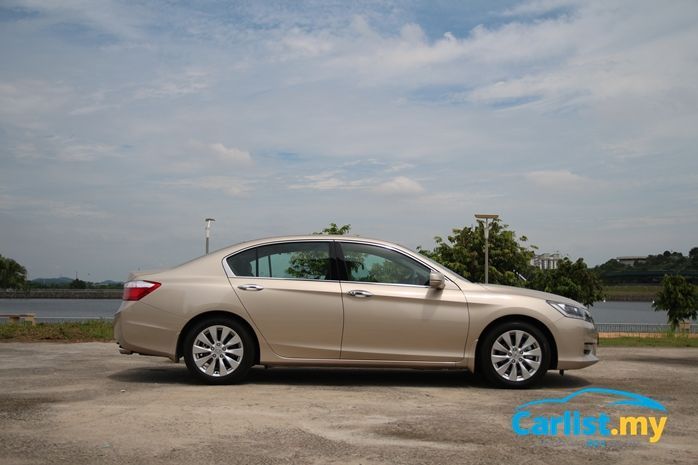 From the outside, we reckoned that the Accord's exterior has hit the sweet spot. It is a moving example that the best designs are not those that 'wow' you at first sight, but those that grow on you as the car ages. When Honda first previewed the all-new Accord in the US, there was a lot of criticism for its bland looks, but look at how well received it is today.
Interior
Compared to its predecessors, the all-new Accord is a far more refined car, and we will go as far as to say that it has one of the best interiors in the segment, bar the hugely impressive Mazda 6 facelift's very premium-looking interior.
Where the Honda regains an upper-hand over the Mazda is in terms of cabin space. Honda is the industry's leader in vehicle packaging and their expertise shows in the Accord.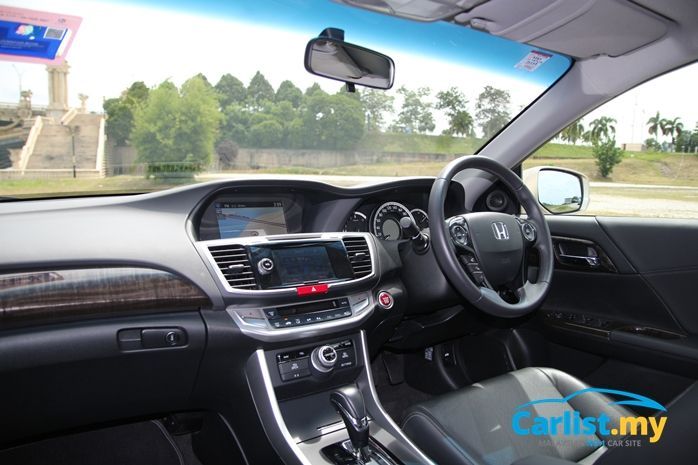 The Accord's centre console is a personal favourite, with a soft-opening lid that elegantly flips up and disappears away to reveal a deep utility box, and no useless cup holders in the way, just an empty box for you to clear out your pockets into.
The centre stack and dashboard feels good enough for a luxury brand. Where the Camry's wood trim looks overly lacquered and tacky, the Accord's dark wood trim looks good enough for high-end furniture. The metallic accent inlays give it a nice contrast, without creating too much glare when driving under the hot afternoon sun.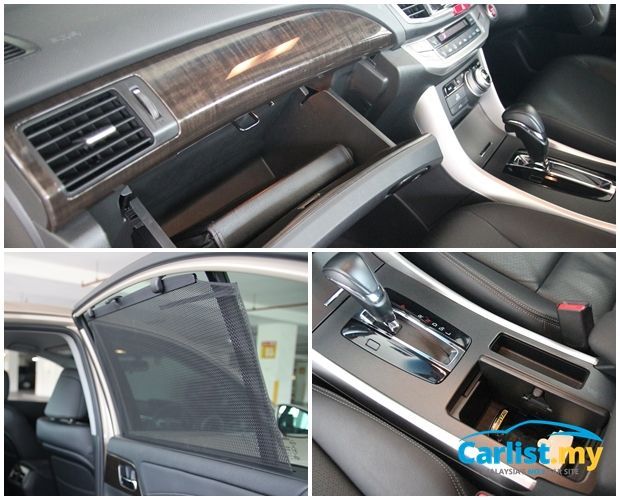 Fit and finish is excellent, and although the Accord is a locally-assembled model, its interior feels much better put together than many other fully-imported models.
The dashboard is another highlight of the Accord. Dashboard height is kept low, and gives the driver very good outward visibility.
High-grade leather also lines the areas where your body and hands commonly touch.
Where the Accord's interior could use some improvement is on its rather plain looking instrument panel, which looks poorer than that fitted in the Honda City.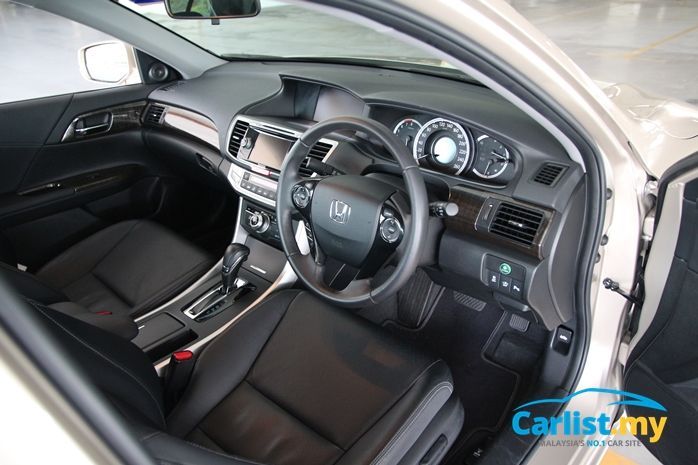 The two-tier displays on the centre stack may appear confusing, but it actually works very well in real-world driving conditions.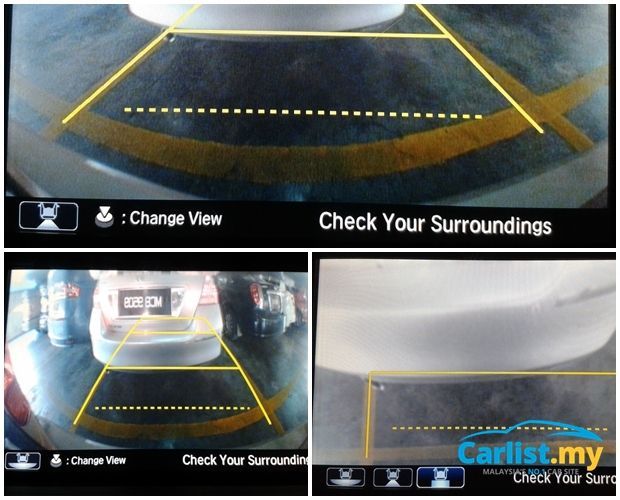 It also has a very practical multi-angle reverse camera with guiding lines, which allows you to switch between three different views. On top of the standard view, there's another view that allows you to check for cross-traffic, and one more top-down view which is very useful when reversing towards uneven ground or drain gutters.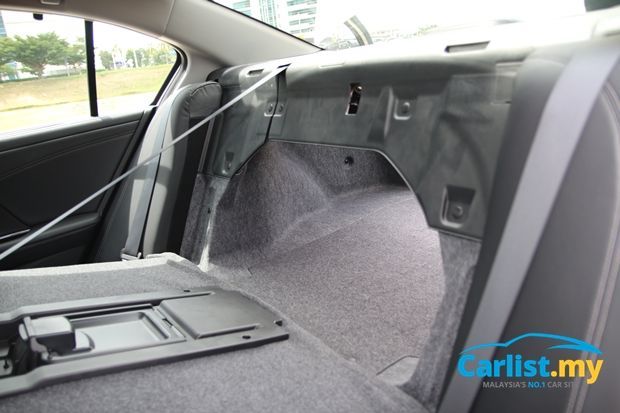 Utility of the already cavernous boot can be extended further folding the rear seats down to accommodate long cargo, but there's no split-folding function. You can however, try to squeeze thin but long cargo thru a pass-through access on the centre arm rest's holder.
How is the driving experience?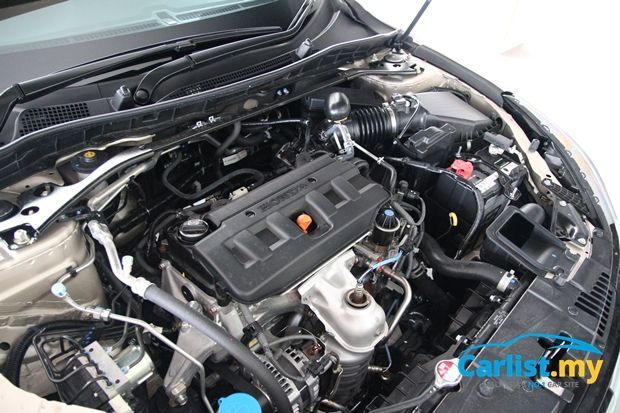 In urban traffic, the Accord's good ergonomics, low dashboard and spacious cabin makes it easy to live with every day. As expected, it not very adapt in taming twisty bits of tarmac, but it is very good at making long journeys on the highway appearing effortless.
Like many recent Honda models, its throttle has this odd characteristic of being overly sensitive in the initial pedal travel, resulting in a lot of jackrabbit-like standing starts. Pressing the ECON switch solves this, as it numbs the sensitivity of the throttle slightly and reduces the power consumption of the air-conditioning, all in the interest of improving fuel economy.
The five-speed automatic transmission may be dated against the six-speed automatics (Kia Optima, Hyundai Sonata and Mazda 6), CVTs (Nissan Teana) and dual-clutch transmissions (Volkswagen Passat) that the competition offers, but it is smooth enough – in fact it's actually smoother than the six-speed units used in the Kia and Hyundai - and has a proven record for reliability.
Kickdowns are fast and are initiated without requiring the driver to stomp the throttle hard while upshifts are intelligently timed so it holds the gear when you are accelerating along a corner, climbing an incline or descending a slope.
When paired with this base engine's 155 PS of power and 190 Nm of torque, the mid-range Accord variant is sufficiently powerful enough for all your highway duties. "Sufficient" being the key word here
Despite its Honda pedigree, the Accord has never been impressive on twisty bits of tarmac. This model is no different. The steering wheel is sharp but is devoid of any feel.
Having said that, body roll is kept in check quite well by the front MacPherson struts and independent multi-link arms in the rear. The chassis appears to have quite a fair bit of potential, but you need to have a lot of faith in the steering – which is sharp but doesn't communicate much with the driver on what's happening in front.
How comfortable is it?
As for the damping, the Accord's ride is rather stiff, but still not as stiff as the Mazda 6. When driving over gaps on the road or poorer surfaces, there's a fair bit of jolt and judder that's transferred to the cabin. We much prefer the Camry 2.0G's and Teana 2.0 XL's finely balanced damping.
Honda says the Accord is fitted with Active Noise Control and Active Sound Control as standard, which works to reduce noise intrusion into the cabin. Frankly, we didn't notice much of an advantage from it. While it is definitely quieter than before, it is still not as quiet as say a Volkswagen Passat.
At higher speeds, there is quite a lot road noise intrusion into the cabin, less so with wind noise.
Keep it at around 120 km/h or less however, and the cabin remains very quiet, apart from rougher sections of the highway. For the record, our test car was fitted with 225/50 R17 Goodyear Excellence tyres.
How economical is it?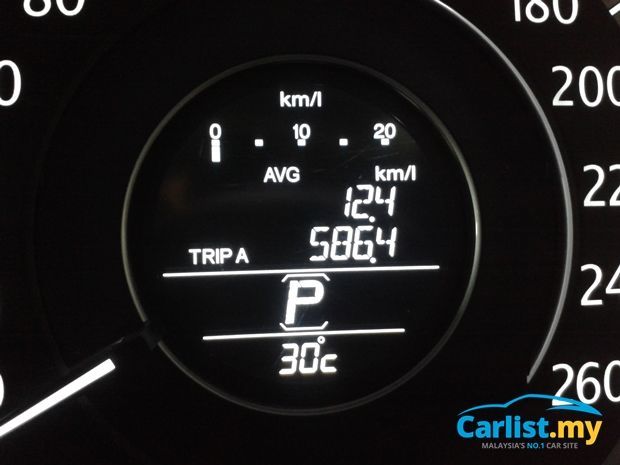 After driving nearly 600 km of mostly highway routes, with some heavy urban traffic, the Accord's trip computer was reading 12.4 km/litre, which in our opinion is positively average for a car in its class.
Total servicing cost over a 5-year/100,000 km period is RM3,995 excluding consumables like wipers, tyres, brake pads, dampers and others.
Conclusion
On the downside, its safety features are rather basic by today's standard – even the cheaper variants of City and Civic already come with six airbags. We expect this to be addressed in the facelift model – due maybe by mid- or late-2016.
In terms of comfort, it certainly meets our expectations for a car in this segment but it isn't as good as newer models like the Camry 2.0G and Teana 2.0XL.
On the upside, its cabin is the best in its class - superbly well-built and is the most spacious. It also has a very corporate looking exterior design, suitable for the management types, which previously could only consider either a Camry or an entry-level Mercedes-Benz sedan. It is also backed up by a proven reputation for reliability, strong resale value, and a wide network of service centres.
---
---
---
Comments