Review: 2015 Toyota Avanza – New Engine, Familiar Basics
Reviews At the recent global press conference where Toyota's takeover of Daihatsu as a wholly-owned subsidiary was officially announced, a Japanese journalist asked Akio Toyoda what is his favourite Daihatsu model.
Interestingly, the Toyota President responded by saying Daihatsu Xenia, a model better known in our part of the world as the Toyota Avanza.
Toyoda's answer was coloured somewhat by his personal involvement in the model's history. Earlier in his career, when serving as General Manager of Toyota's Asia business, it was Toyoda who approached Daihatsu on Toyota's behalf to co-develop an MPV catering primarily for the Indonesian market and the Asian market at large.
The first generation Avanza was launched here in the mid-2000s and became an instant success. Its offer of seven-seater practicality, near-national car pricing, and the allure of Toyota badging resonated very well with Malaysian buyers who bought the Avanza in droves.
Today, the Avanza no longer boasts the same level of popularity it used to enjoy in its heyday. Being built on the same mechanical basics as the original, the Avanza in its current guise is a vehicle a decade and a half in the making. Question we ask here is whether that longevity has brought us a car that can be regarded as a proven performer or outdated antique.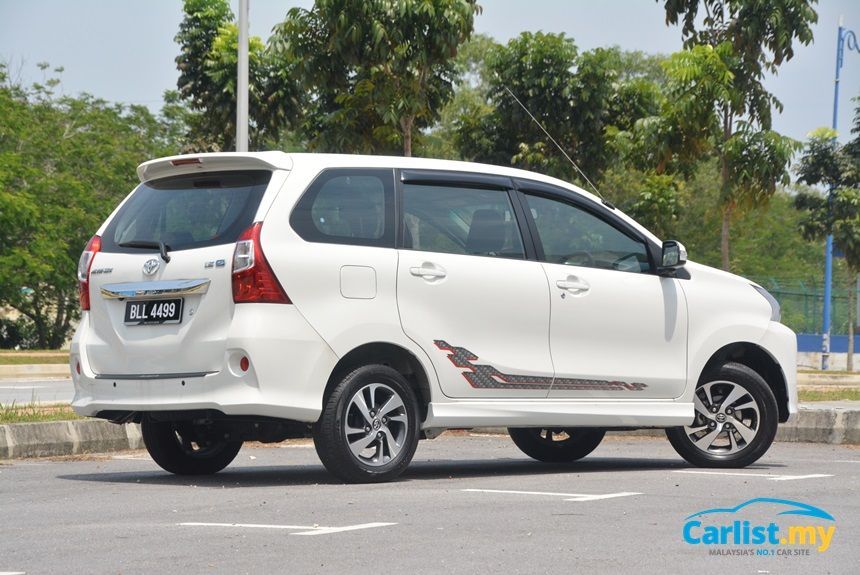 Specifications:
Variant Tested: 1.5S A/T
Price: RM83,890
Engine: 1.5-litre, inline-4 longitudinal, DOHC
Power: 105PS @ 6,000rpm
Torque: 136Nm @ 4,200rpm
Transmission: 4-speed torque converter automatic, RWD
Safety: Dual airbags, ABS, EBD, ISOFIX (2nd row), Reverse Sensor, Reverse Camera
Origin: Fully imported from Indonesia
Overview?
The first generation Avanza, if you remember, was made locally by Perodua in Rawang. These days, the Avanza is now sourced from Toyota's production facility in Indonesia, an arrangement that has been put in place since the second generation model was introduced in 2012.
A major facelift implemented in 2015 sees the introduction of new 1.3- and 1.5-litre powertrains from the NR family replacing carryover engines of the same capacity from its predecessor. Equipped with variable valve timing for both intake and exhaust (Dual VVT-i in marketing speak), both engines offer improved outputs and are claimed to be between 5 and 15 percent more efficient than before.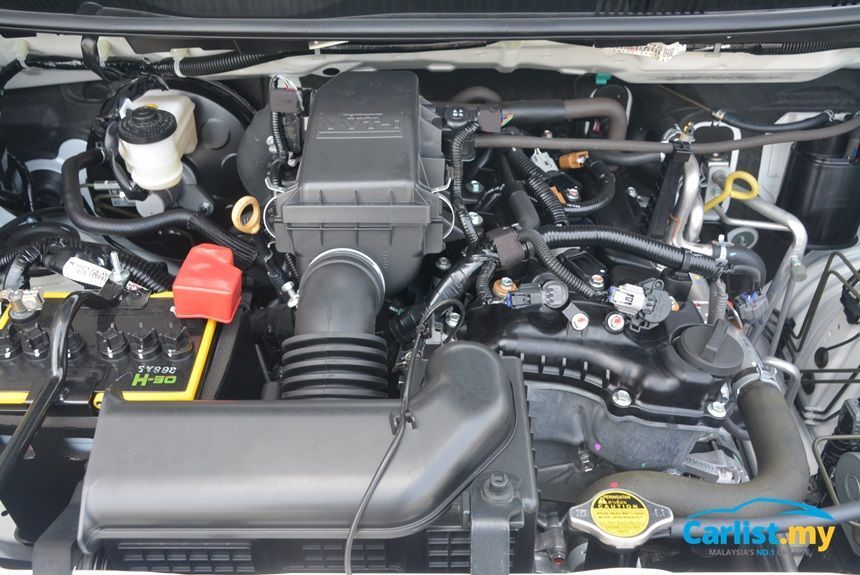 Mechanically, the Avanza has no direct competitor. Instead of using a monocoque like everyone else, Toyota is unique in its approach persisting with the use of a ladder frame to underpin its entry-level MPV. As a result, the Avanza's engine sits lengthwise and powers its rear wheels. No, we don't recommend that you try any drift action.
As tested, the Avanza 1.5S is the most expensive member of a four-variant line-up that starts with a basic 1.3E manual at RM72,280 (OTR with insurance) and featuring a further two 1.5-litre automatic models.
Potential buyers can nevertheless be expected to cross-shop the Avanza against similarly-priced seven-seaters such as the Nissan Grand Livina (RM84k – RM97k), Proton Exora (RM67k-RM83k), and higher variants of the Perodua Alza (RM52k-RM65k). From within the Toyota family, the Rush SUV is a similarly-sized platform mate. The upcoming Honda BR-V can potentially count itself as a rival of sorts.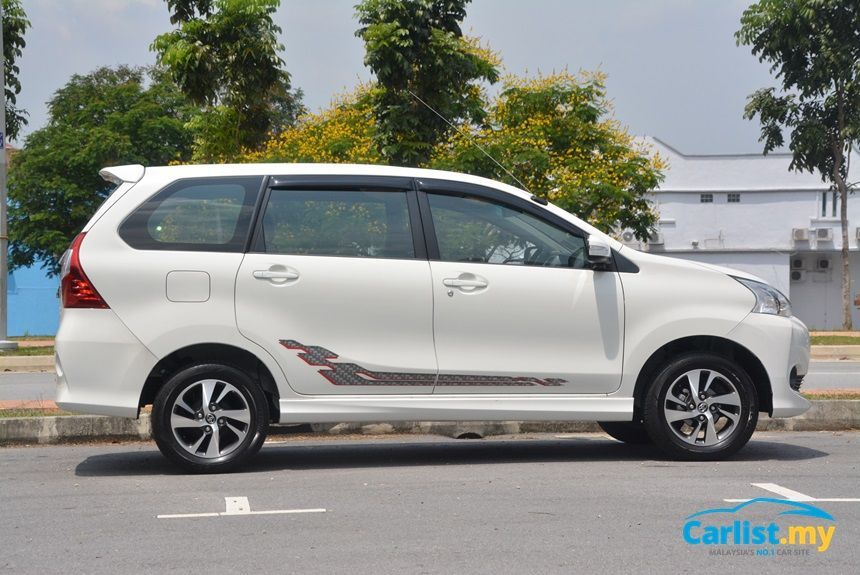 Exterior
Marking the installation of an all-new powertrain, the Avanza's aesthetics were the subject of a comprehensive refresh. Revisions to the front end notably bring it in line with the sharper and more dynamic looks worn by recent Toyota models such as the Vios and Corolla Altis.
But looking closer past the fanciful new curvy lines, however, are items that are very basic by today's standards – no LEDs anywhere in sight, halogen reflectors for the headlights, and an extendable A-pillar-mounted antenna.
The key hole detached from its door handle is a throwback to an earlier era of motoring; it has been quite a while since we reviewed a car with an alarm remote that hangs separately from its key.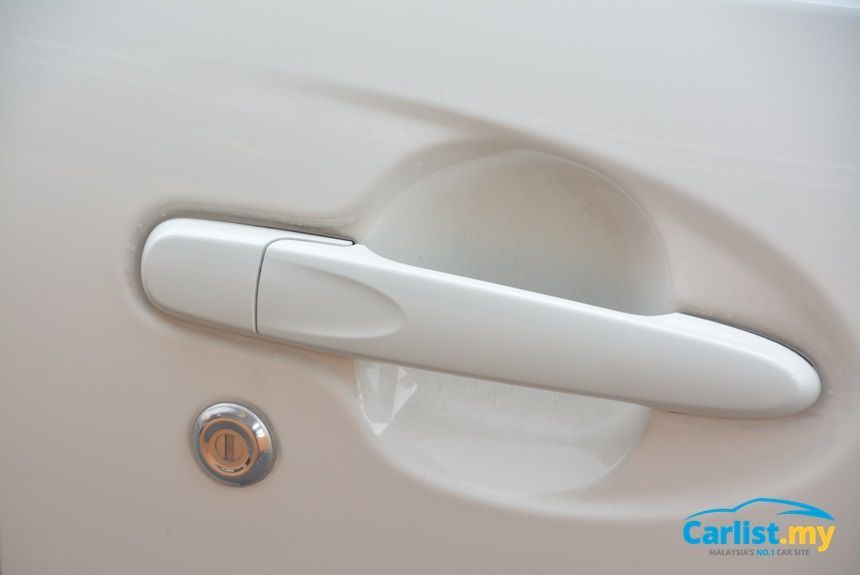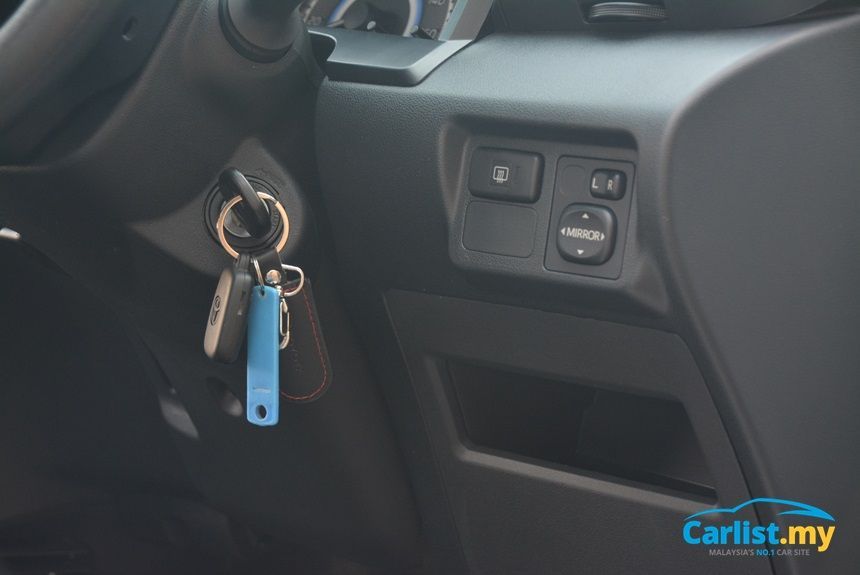 Interior
The familiar compact seven-seater cabin layout that has served Avanza well over the years is largely untouched save for the usual trim enhancements that you would expect from a facelift. There is a more generous insertion of faux silver trim inserts to inject a more premium ambiance to the cabin.
Rear-seated passengers will appreciate dedicated roof-mounted blowers and, provided the second-row passengers are not too large in size, there is enough space in the third row to accommodate adults comfortably for short journeys.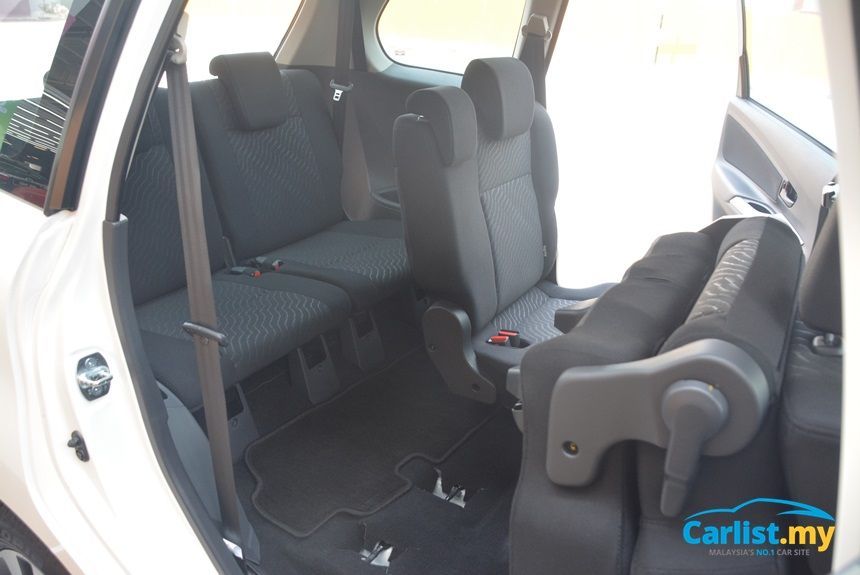 Ingress and egress take some effort though, Toyota's seat-folding mechanism operates with nowhere near-enough slickness as what Honda effortlessly achieves with theirs. Getting the second row seats to fold forward to gain third row access often required more than one attempt.
We are also less than impressed with the centre tunnel. The sole storage bin ahead of the gear lever is too shallow to be of practical use, area around the handbrake lever is underutilized, and the centre console box is oddly-shaped. If you're carrying a lot of items in your pockets, there aren't very many cubby holes to swallow your phone and keys.
Our test car came fitted with the optional 2DIN DVD-AVN head unit that features a 7-inch capacitive touchscreen and a range of multimedia features. Boot-up of the system was surprisingly slow, but overall, we appreciate that it includes a reverse camera integration. Alternatively, the lower-cost DVD-AVX unit also comes with a reverse camera.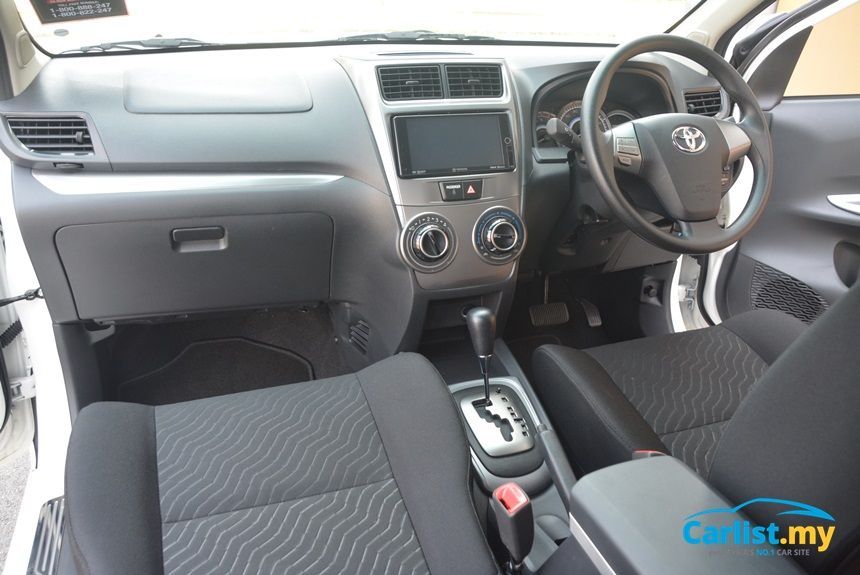 How does it drive?
Just because it's rear wheel drive, don't expect the Avanza to deliver any sort of thrills behind the wheel. The Avanza is built of body-on-frame construction and the result is a high centre of gravity that makes itself felt very acutely if you get overenthusiastic around corners. A Toyota 86 it isn't.
Introduction of Dual VVT-i technology has given the Avanza a more free-revving engine, but serious progress still requires heavy workout of the throttle pedal. There is adequate mid-range punch to keep up with the hustle and bustle of urban traffic, but don't expect to be blazing the fast lane on highways.
You also won't be stringing any series of fast corners around back roads, but there is a pleasingly uncorrupted feel to the steering that you simply don't get in front-wheel drive cars. Another piece of good news is that if you find yourself in tight surroundings, the Avanza is a perfectly good car to wiggle your way out with a tight turning radius of just 4.8 metres.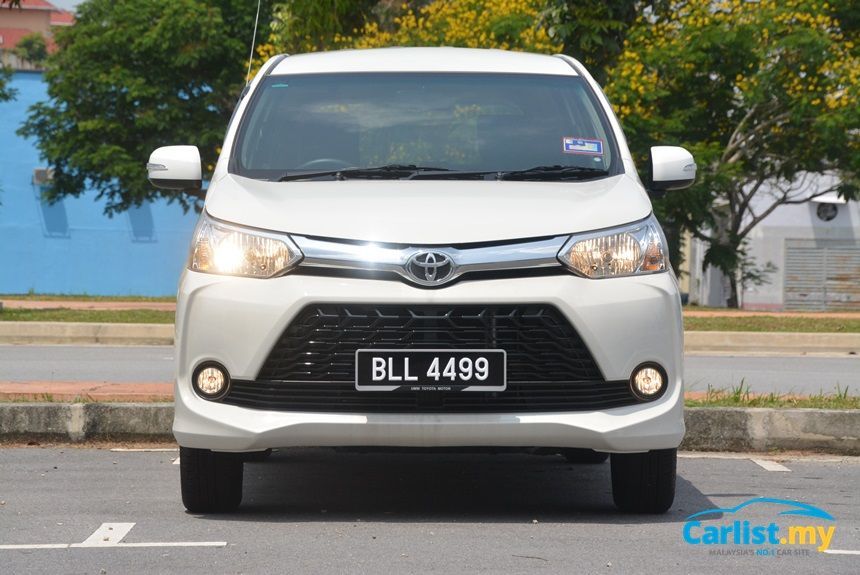 How comfortable is it?
The main reason why Toyota insists on utilizing ladder frame construction and a live rear axle to underpin the Avanza is durability and higher load-bearing capacity. The flipside of this rugged setup is that the Avanza is never known to be a pliant riding vehicle.
This latest iteration of the compromised formula has evidently benefited from continued refinement and practice. There is notably improved composure over poor surfaces and Toyota had good sense to engineer generous suspension travel to ensure good absorption of sharp disturbances.
Noise levels are commendably suppressed too, provided you don't overwork the engine (which gets trashy if you do).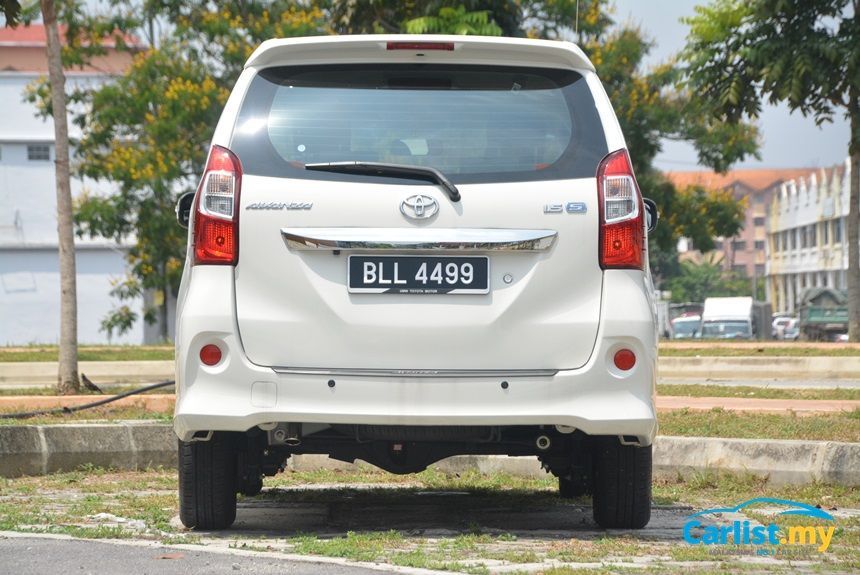 How economical is it?
The Avanza's mechanical simplicity repays you over the long run. Even though we clocked mostly urban kilometres in this review, our test car's trip computer returned an impressively frugal 8.33 l/100km. Expect to go below 7.5 l/100km on a smooth highway.
Maintenance is easy on the wallet as well. At 10,000km intervals, Toyota expects to charge in the region of RM200 each service. Over the course of five years, UMW Toyota Motor's internal data estimates that you will need to set aside in the region of RM2,800 for your scheduled services.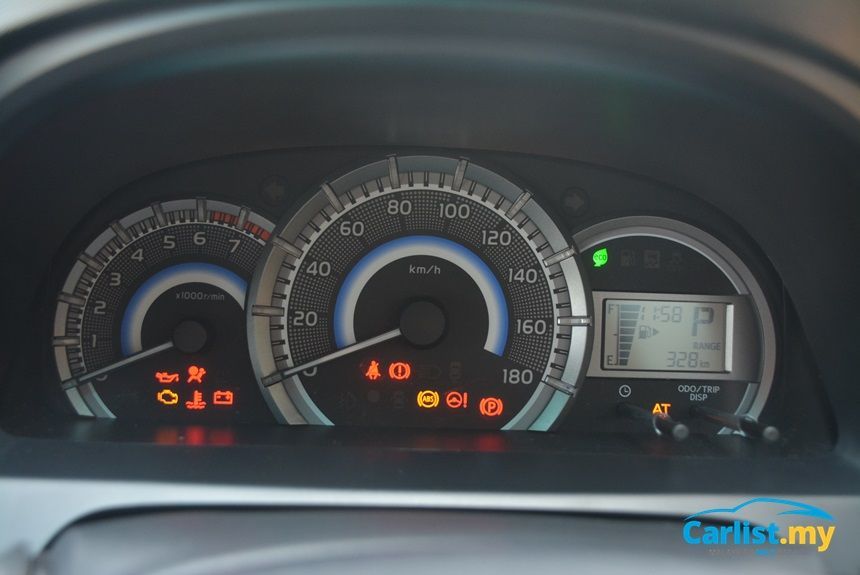 Conclusion
The original Avanza was a runaway success. It was a well-conceived product for its time and built on solid fundamentals. Toyota's evident confidence in its own handiwork has seen the same formula carry on unchanged over the last decade and a half.
So, the Avanza remains the same dependable and versatile as it always was, but the harsh reality it faces is that the market and the competition have both moved on. Monocoque-based alternatives such as the Grand Livina and Perodua Alza offer comparable internal volume with the kind of driving refinement which the body-on-frame Avanza, despite its superior robustness, cannot match.
Whilst there will always be place in the market for the Avanza's brand of dependable simplicity. It is a highly appealing choice of a workhorse – reliable, easy to use, and affordable to maintain – but don't expect much beyond that.
---
---
---
Comments