Review: 2016 Audi A4 2.0 TFSI (B9) – No Longer Left Field
Reviews "If you had sat me and my friends down in high school and asked us what car we would have wanted to buy, I would be the only one among them who would have picked an Audi". The man speaking to me was part of Audi Malaysia's marketing department, but this sentiment had nothing to do with his current employment. "It was something new and something completely different from the BMWs and Mercedes of the time, and that really attracted me."
That paradigm is what has driven a lot of owners to buy Audis over the years. Their dominance in motorsport through superior technology (Vorsprung Durch Technik), and the way that technology tangibly filtered down into their road cars, is what has given the German brand such a rich history and an eclectic line-up of cars in the past. Their products were known to be "left field" in a sense, the alternative to the establishment, in an almost rebellious kind of way. Of course this didn't necessarily do so well for outright sales, but for a time Audi was comfortably and identifiably unique.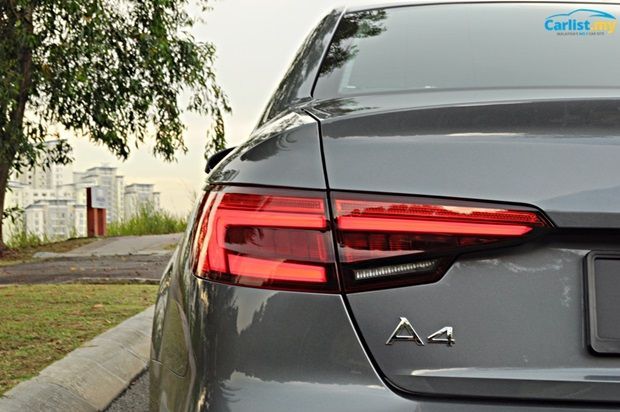 Things have changed over time, as they inevitably do for any company that wishes to survive in an increasingly competitive market. Audi may still have strong ties with motorsport (although their departure from the WEC is saddening), but their products have become popular as they have adapted them to suit the needs of the market. Granted, the Audi brand isn't as big in Malaysia as it is in other countries, but that's largely due to local mismanagement over the past few years under the stewardship of Euromobil. Since Audi Malaysia has taken over, they've gone on an aggressive product offensive that is aimed at revitalizing their product range.
Here we have one of the latest and most important products for Audi's local product range: the A4 2.0 TFSI. It's the middle variant in the A4 range, soon to be joined by an entry level 1.4 TFSI and a top-spec 2.0 TFSI quattro, but it has finally come to market after months of delays. Arguably it's a little late to the party, although that in itself offers some advantages in terms of specifying options and seeing what the market appreciates and expects. The task of specifying it while keeping it competitively priced is made even more difficult by the fact that all Audi models are fully imported, versus the locally produced models from BMW and Mercedes-Benz.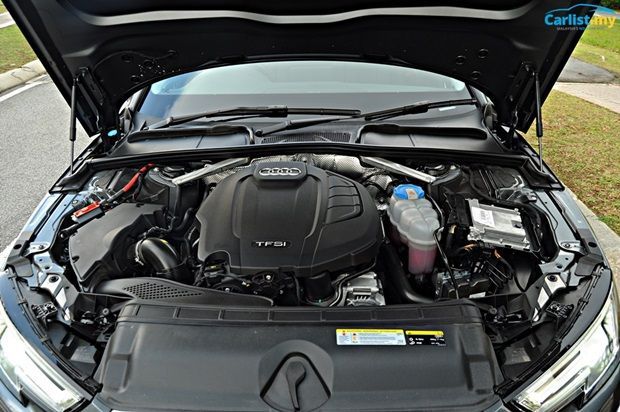 Specifications
Engine: 2.0-litre longitudinal four-cylinder 16-valve turbocharged DOHC
Power: 190 PS @ 4,200 - 6,000 rpm
Torque: 320 Nm @ 1,450 – 4,200 rpm
Transmission: 7-speed S tronic Dual Clutch
Safety: 6 airbags, Electronic Stability Control, ABS, ISOFIX, Multi-collision brake assist
Price: RM 248,900.00 (On The Road, with GST, Without Insurance)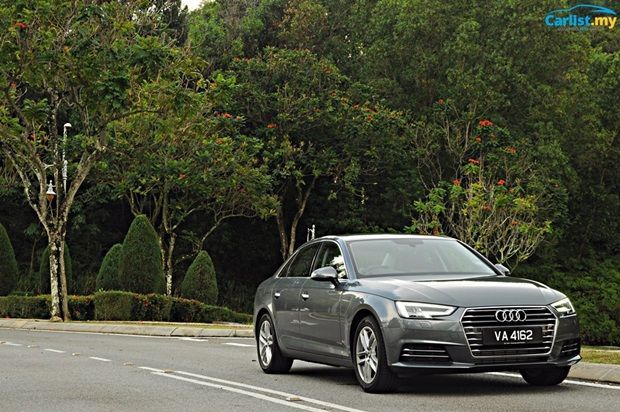 Overview
It's the fifth generation Audi A4, and the ninth Audi in its class. This new Audi A4 is a car that may not be a large leap forward in terms of overall looks, but there's a lot going on underneath and inside that makes it a proper evolutionary step for the A4 nameplate. It's a little longer, a little wider, and a little taller- as you would expect a newer generation to be- but on the whole the proportions are kept the same.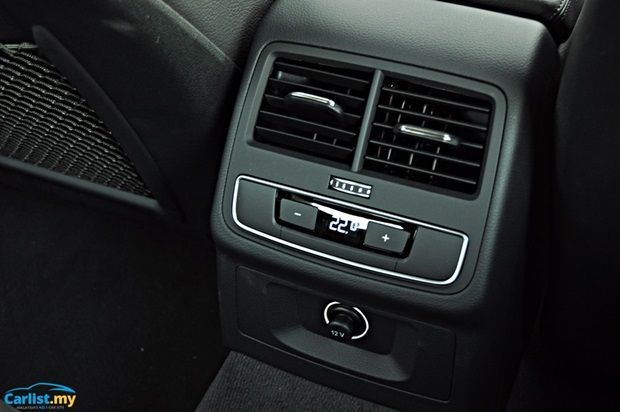 The new Audi A4 sits on the same MLB-Evo platform that underpins the Audi Q7, and this in conjunction with various improved construction techniques and lightweight materials has allowed the A4 to shed up to 120 kilograms in weight. That's a massive amount of weight to lose, and especially important when you consider the upcoming quattro model adds a number of kilograms as a result of the heavier drivetrain.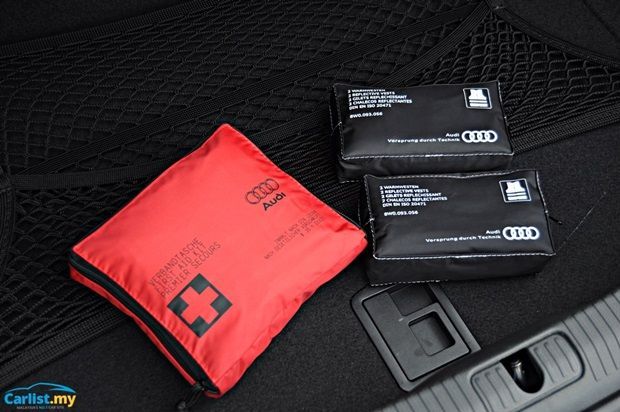 As mentioned earlier, the Audi A4 has 3 variants, but the sole variant available for now is the 2.0 TFSI model. It comes with a turbocharged 2.0-litre engine to the tune of 190 PS and 320 Nm of torque, which is actually fairly similar in performance figures to the 1.8 TFSI powerplant found in the facelifted Audi A6. It's a fairly conservative tune, similar to how BMW detuned their N20B20 for use in the 320i. But of course in staying true to Audi's principles, this non-quattro variant of the A4 is a front-wheel driven car, and this naturally presents some problems in the dynamics department.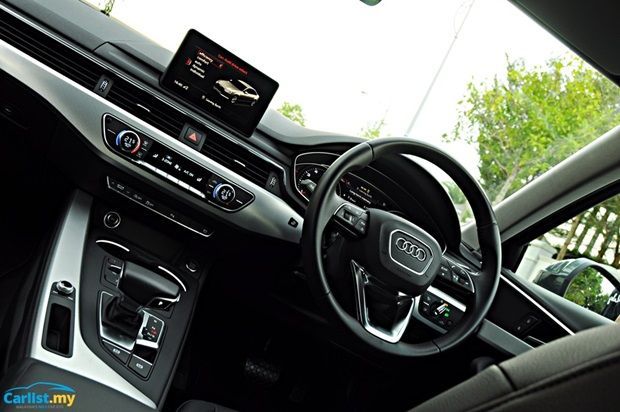 Interior
We're seeing an industry wide trend of doing away with chunky large dashboards and adopting free-floating entertainment head units. Audi even went one step further with the addition of the Audi Virtual Cockpit for their cars, effectively centralizing all information readouts to a giant screen that replaces the standard instrument cluster. Sadly this test unit was not equipped with it, but it will be made available by next year as part of an optional Technology package for an estimated RM 25,000.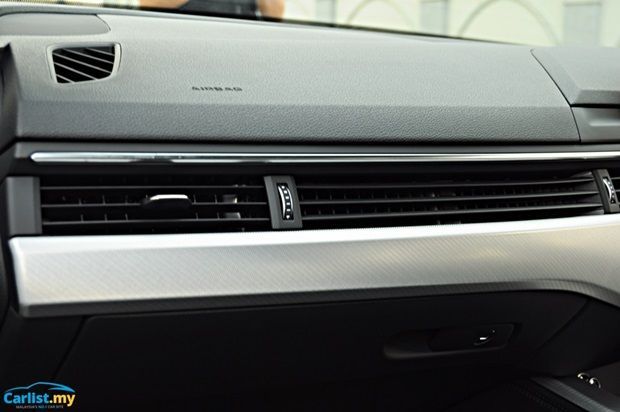 The rest of the interior is fairly standard fare. There's a little more legroom in the rear now, courtesy of the MLB-Evo platform and slightly longer wheelbase, and that means that the new A4 is far more family friendly than its predecessor. The colour palette of choice is decidedly sombre, interspersed with bits of brushed aluminium; perhaps we are still a few years away from the return of brighter, lighter interiors.
There's an ample boot for your golfing equipment, or your fishing equipment, or your luggage for that family vacation road trip that you've always wanted to go on. It's not the cramped, sporty, bruiser of a car that was the previous generation A4, but rather much like a shrunk down A6 in the way it feels and looks- and it may just be what the people need, even if that's not immediately obvious.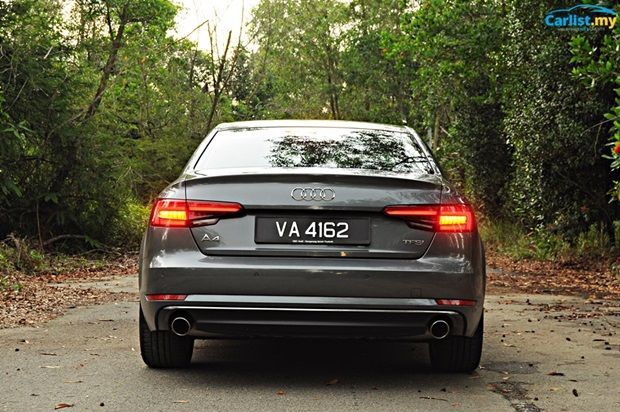 Exterior
There's no two ways about it: the new Audi A4 has a fairly muted design. While this isn't the best time for the company to take a conservative approach, their minimalist styling that first came about with the quattro concept car has found its way into everything from the TT to the Q7, and applied to the A4 it simply doesn't have that aggressive, sporty edge that we've grown used to from its rivals. Buyers can opt for the S line package for a price, and it does help to sharpen up the looks, but the overall shape of the car is distinctly luxury sedan.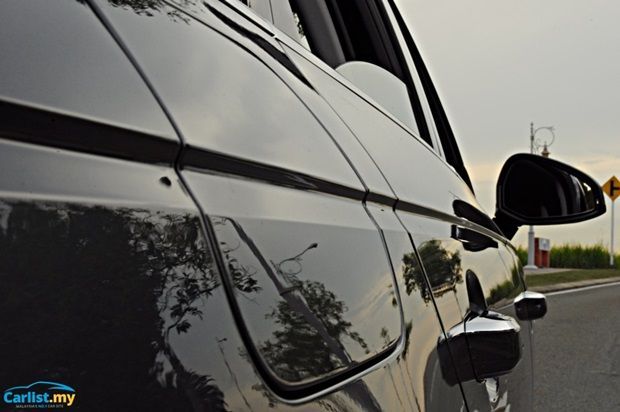 Perhaps this is one of those cars that has a design which grows on you. It may not have the slightly muscular bulged fenders of the model it replaces, but instead you get a nice sharp crease that runs down the length of the car and connects the headlights to the tail lights. At night, the headlights are still as evocative as ever, although the tail lamps are far less distinctive and could easily be mistaken for an A6.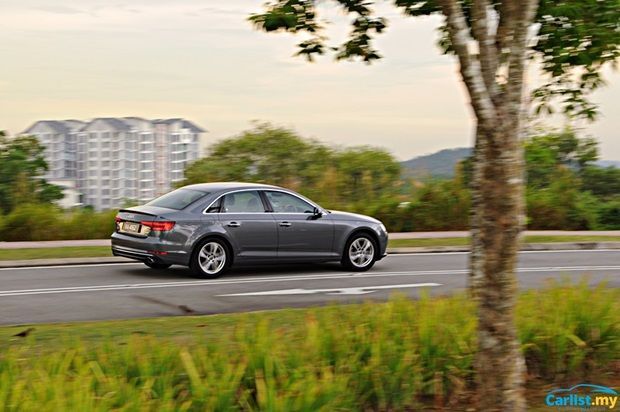 How does it drive?
Having driven the A3 1.8 TFSI quattro a while back, it reaffirmed my belief in the uncanny effectiveness of the all-wheel drive system in even the most difficult of conditions. But conversely this also means that if an Audi model isn't equipped with quattro, it might be best to drive them with a bit more discretion. Audi models, sans quattro, are front-wheel driven as opposed to the rear wheel drive nature of their rivals.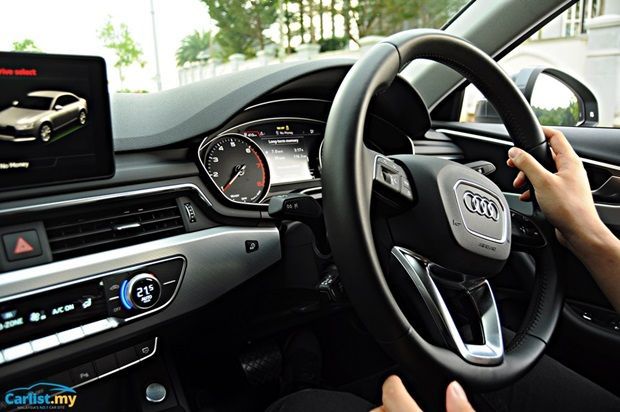 That's not to say that the A4 2.0 TFSI is bad to drive. It accelerates briskly when you need it to and the gearbox is as attentive as a dog doing tricks for treats. Slip it into "efficiency" mode and it even disengages the transmission to let you roll along while the engine ticks over at idle. It's only when you hurtle through a set of corners that you discover the minor problems with this non-quattro variant; a little bit of understeer here and there, a little bit of bouncing as a result of underdamped suspension, and a steering feel that's a little light at times.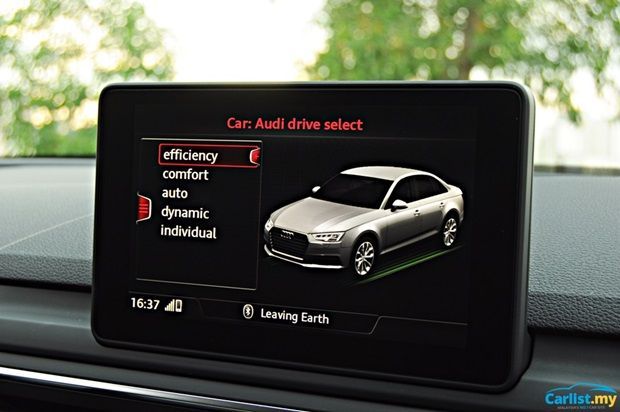 But you can forgive the A4 2.0 TFSI for this, as it clearly wasn't meant to be pushed to the limit. Even in the sharpest suspension setting there's a fair amount of body roll, along with dive and squat during braking and acceleration respectively. The tyres equipped aren't known for outright performance either, and so penalizing it for not rewarding spirited driving is somewhat irrelevant. For that purpose, we'd probably wait for the quattro model to arrive.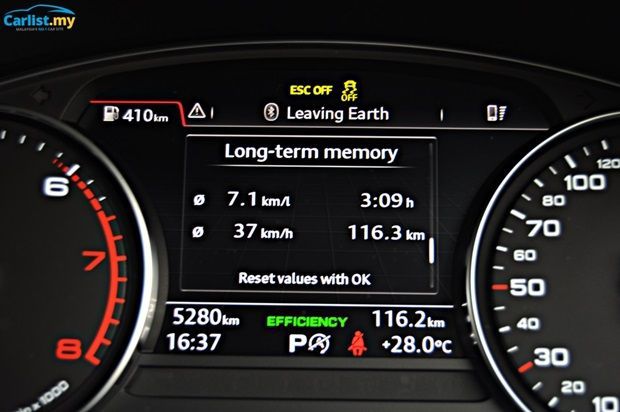 How efficient is it?
As you would expect with a modern turbocharged engine, it's possible to get fairly good fuel efficiency figures. Unfortunately, our efficiency averaged out to roughly 10.5 kilometres per litre, as we combined high speed cruising and getting stuck in horrendously long traffic jams. This isn't all too shabby for a 2.0-litre engine alternating between being stuck in slow moving traffic and hustling down empty stretches of highway to make up for lost time.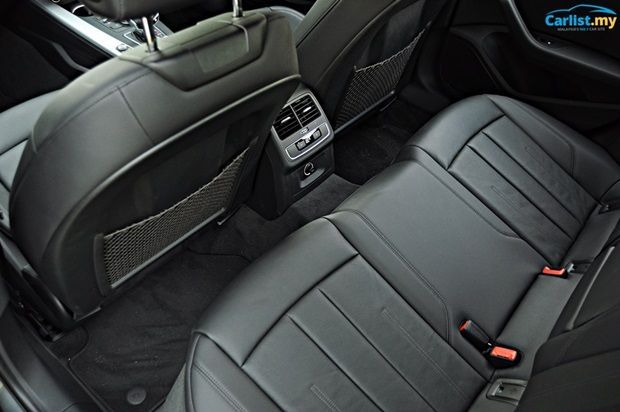 How comfortable is it?
As mentioned earlier, this variant of the A4 comes with adjustable suspension. With many cars, this usually means you can have the suspension in "stiff" or "slightly less stiff", but in the case of the A4 it's more an option of "soft" or "softer". What this trades away in terms of dynamic agility and response, is more than made up for with the ride quality and the comfort offered. There may not be LCD screens in the back of the seats in front, but even sitting in the backseat is hardly a chore- something you would never have said about the previous generation A4.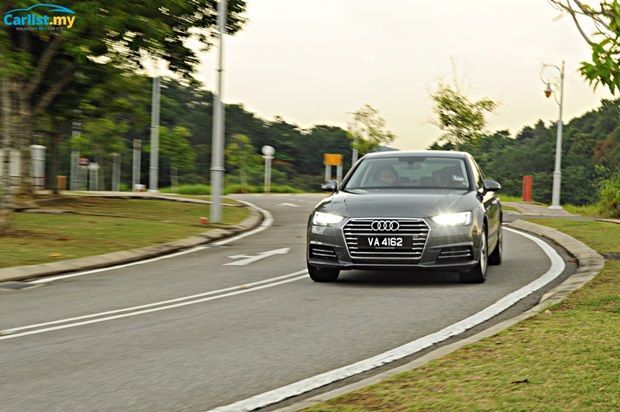 Conclusion
At the beginning of this review, we said that this new A4 is the one of the most important products for Audi. They still have plenty more coming in the months ahead, but the segment in which the A4 resides is meant to be one of the defining segments for a manufacturer. These luxury marques may now be producing everything from crossovers, to MPVs, to coupe-roofline SUvs- but it is the sedan segments where they so desperately seek validation, from both critics and owners.
The new A4 ticks all the right boxes for prospective owners, with great features and a solid package- everything you'd ever really want from a luxury car- and in doing so it has lost some of that unique character that made Audis the interesting left field choice of yesteryear. It's character that goes beyond nice features like the plane-throttle-looking-gear-selector, or the Virtual Cockpit; truth be told there may be no more room for character in today's market.
Most consumers nowadays don't understand nor appreciate character, and perhaps Audi has come to terms with that. They've focused on producing a car that is competitive and complete and will perform well- one that's worth the price tag they put on it. It's a car that has become less evocative and more luxurious in equal measure, and while that may alienate the traditional Audi demographic it is welcomed by a newer (larger) one with open arms.
---
---
---
---
Comments