Review: 2017 Toyota Innova – The Poor Man's Alphard
Reviews When the invitation to test drive the new Toyota Innova reached the editorial desk, it took us longer than usual to respond, simply because nobody wanted to go for it.
Unlike invites from companies like BMW which often get grabbed within minutes after they reach our editors' inboxes, this particular invite did not only get passed to the rest of the team, but it was just there, waiting for somebody to take one for the team. That is how excited we were about driving the new Innova.
Come on, who wants to drive a boring 8-seater for a whole day, right? Besides that, how new is it going to be?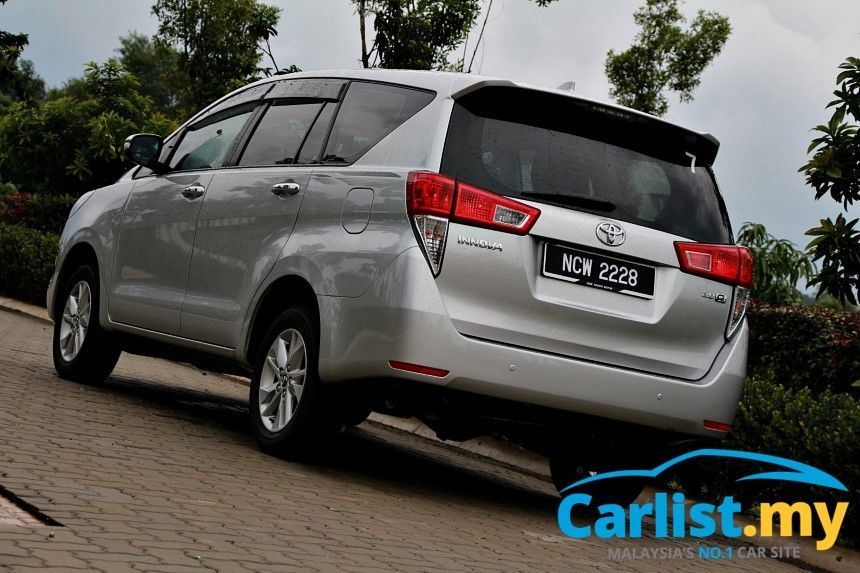 We all know how Toyota works, don't we? They come up with what they call a new model but most of the upgrades would only go as far as the cosmetics are concerned, while the mechanicals would remain the same as before, right?
Well, that is what we thought was going to be the case with the new Innova but boy, were we wrong.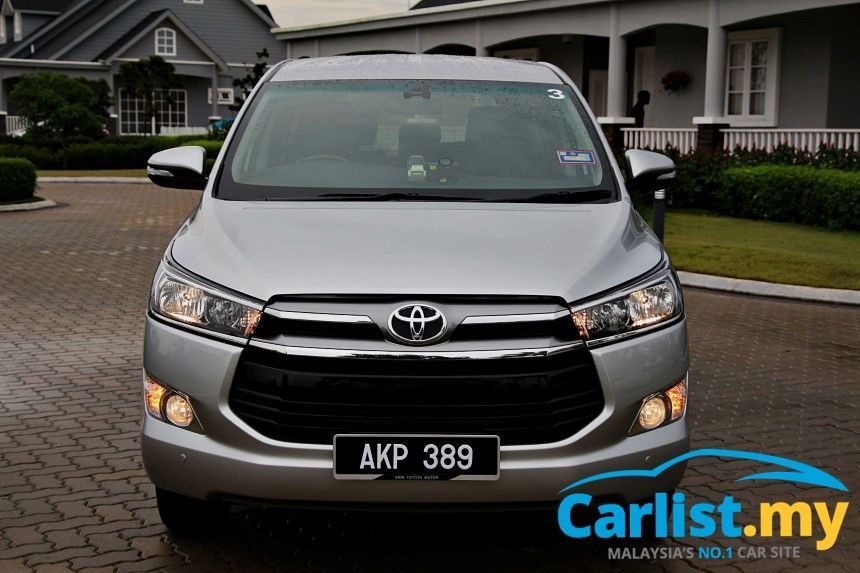 Specifications
Price: From RM109,000 (OTR with insurance)
Engine: 1TR-FE 2.0-litre petrol with Dual VVT-I
Max power: 139PS at 5,600 rpm
Max torque: 183Nm at 4,000 rpm
Transmission: Six-speed auto
Fuel efficiency: 9.1L/100km
Safety: 7 airbags, ABS, EBD, BA, ESS, VSC, Traction Control, Hill-Start Assist
Overview
Launched last month, the new Innova is offered here in three variants - Innova 2.0E Manual (RM109,000), Innova 2.0E Auto (RM117,000), and Innova 2.0G Auto – RM126,000.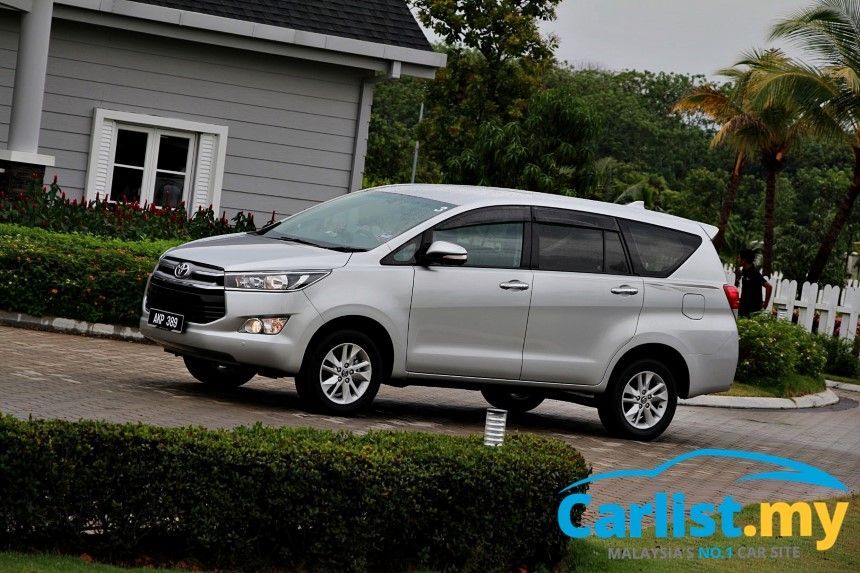 The unit that we tested was the range-topping 2.0G, which we drove for a few hundred kilometers through a combination of highway and B-roads in Selangor to see if it is any better than before.
Powering all three variants of the Innova is the same 1TR-FE 2.0-litre petrol engine as before, but the mill now comes with Dual VVT-I technology, which has improved the fuel economy and made the Innova an Energy Efficient Vehicle (EEV). The engine's total output and maximum torque ratings stand at 139PS and 183Nm respectively.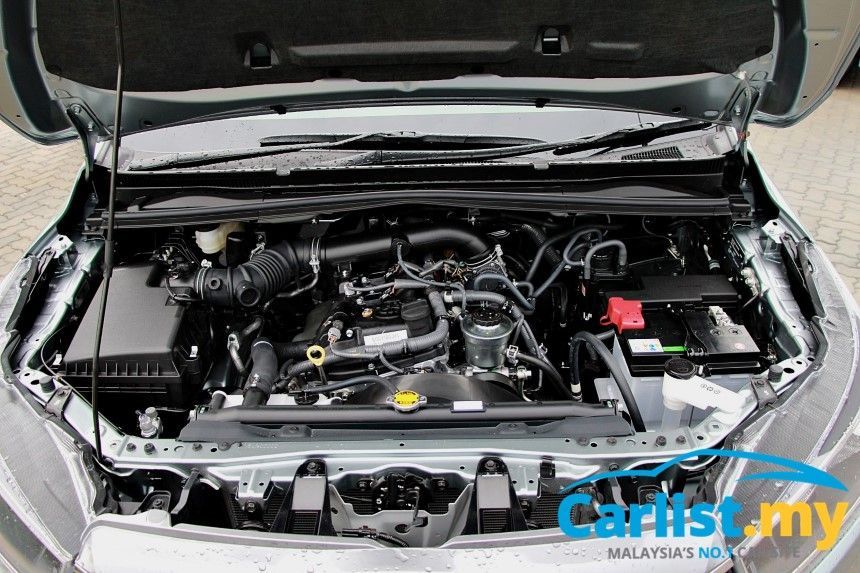 While the Innova 2.0E comes with a choice of either a 6-speed automatic or a 5-speed manual gearbox, the 2.0G's engine is paired exclusively to the 6-speed automatic transmission, which replaces the outgoing 4-speed automatic transmission.
Exterior
Sharing the same ladder frame as the Hilux pickup truck and the Fortuner SUV, the new Innova is now 35mm taller, 55mm wider, and also 150mm longer than the outgoing model, bringing its dimensions to 4,735mm long, 1,830mm wide, and 1,795mm tall.
The wheelbase length however, remains at 2,750mm long. Besides the growth in dimensions, the Innova is also about 100kg heavier than before.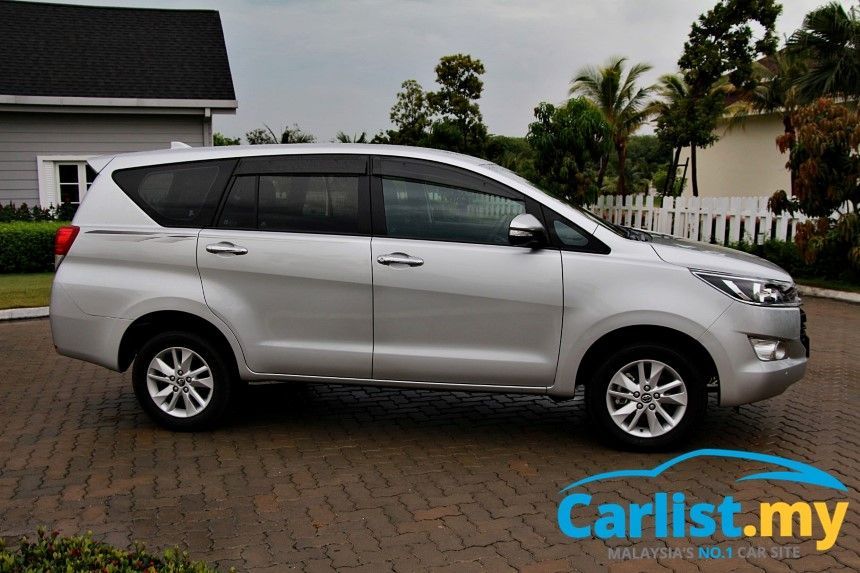 Design wise, there's nothing to shout about the new Innova. It is still a rectangle on wheels, but this time, it looks way, way more presentable than the hideous outgoing model which looks like it was designed in the 19th century by a blind man.
It's worth mentioning that the MPV comes with newly designed 16-inch wheels, a chromed radiator grille, puddle lamps, powered wing mirrors with signal lamps, 'easy-closer' tailgate, as well as 'Welcome Home' lights.
Interior
Upon hopping into the new Innova, we were greeted by a cabin which looked like a more affordable version of the Alphard to be honest.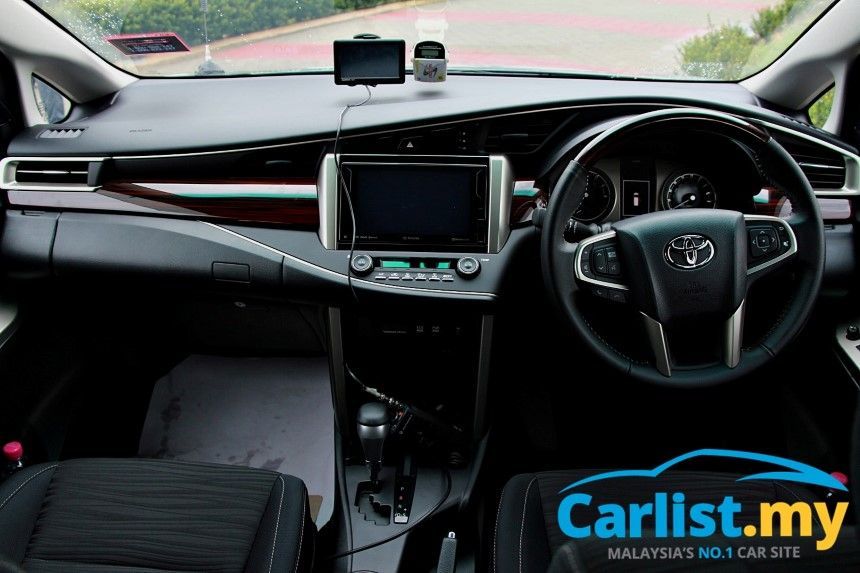 No, there wasn't any leather seats but the multi-info instrument panel, the redesigned dashboard clad in material that look much more premium than the outgoing model, the steering wheel which comprised a combination of wood and leather, ambient lighting, impressive audio system, the 8-inch touch screen infotainment system (optional), and the "striped" black striped seats did not only feel easy on the eye, but also on our hands.
Further complementing the more sophisticated cabin of the new Innova is the practicality offered. There were the seatback "tables" that can support up to 10kgs, 12V power socket for rear passengers, 50:50 split-folding third-row seats, 60: 40 split-folding second row seats with 'one-touch-tilt-and-tumble' mechanism,third-row cup holders, as well as plenty of seating arrangements.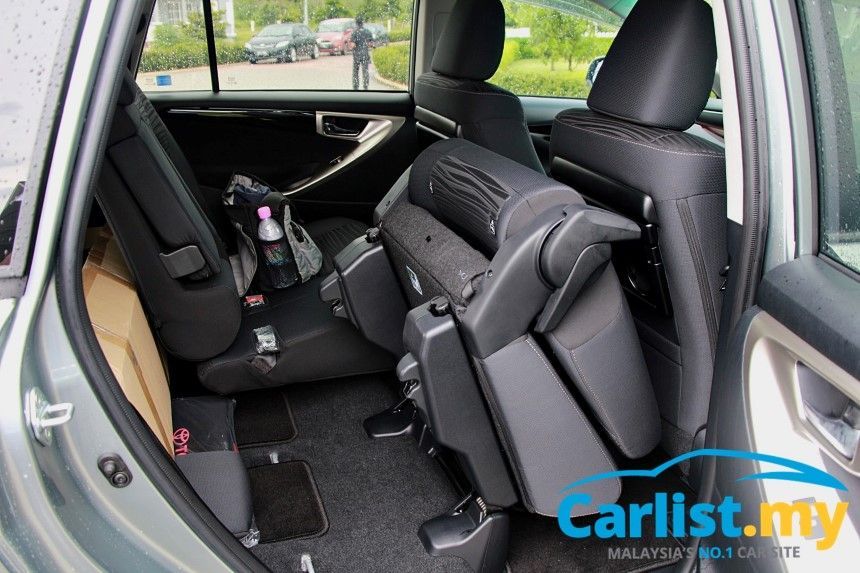 The only complain we have is that getting into the third-row is a pain in the butt for adults. Not only do you have to stretch your legs to step in due to the vehicle's height, but you have to literally squeeze your way inside as there is limited entry space. But once someone gets in, things will be fine and dandy as there is sufficient leg room for an average-Asian sized adult in the third row. The second row seats can slide a few inches forward too.
So, just like before, the Innova passes with flying colours when it comes to practicality but minus the minor issues like getting into the third row and the lack of USB slots, the vehicle is ideal for a large family.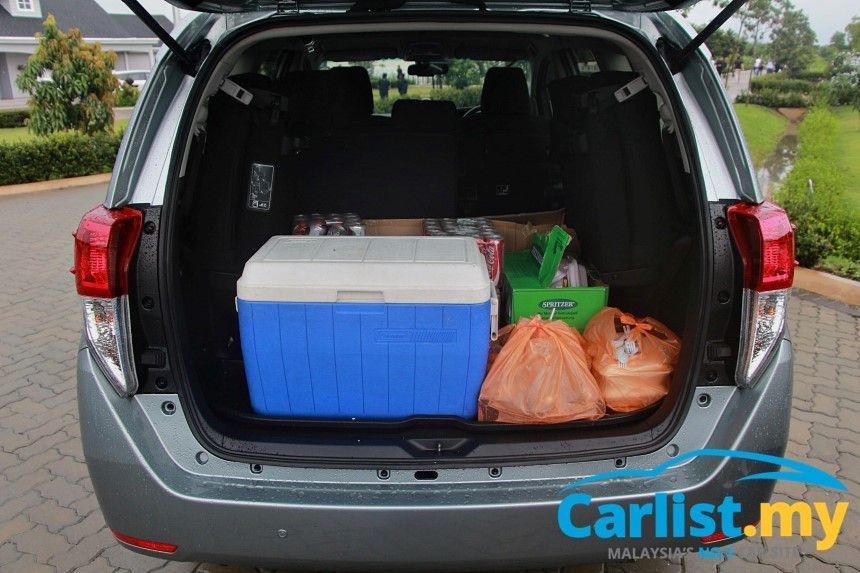 Driving it
Powering the new Innova is the same 2.0 litre 1TR-FE naturally-aspirated four-cylinder petrol engine, but now, there is Dual VVT-I technology, which has bumped the total output by a small margin to 139PS (3PS more) and 183Nm (1Nm more). And paired to the engine is a six-speed automatic gearbox which replaces the outgoing 4-speeder.
Although the difference appears to be very minute, it was more than enough to move the MPV which weighs like 100kg more than before. The brakes have also been updated, resulting in improved stopping power.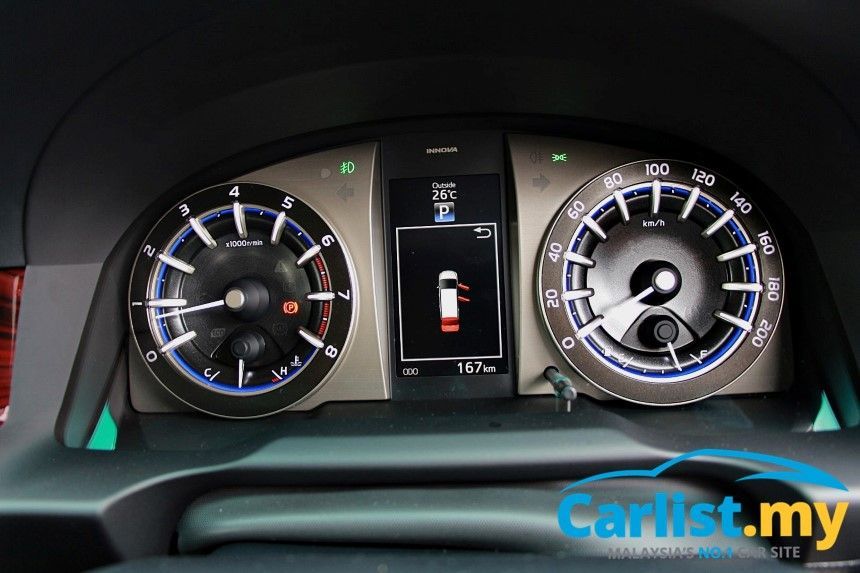 After driving the Innova from Shah Alam to Serdang, Pulau Carey and back, a few things became apparent. Firstly, the new six-speed gearbox has resulted in smoother power delivery.
And then, there are the new suspensions that tolerated bumps and lumps in a much better manner than before – resulting in a significantly more comfortable riding experience for both driver and passengers.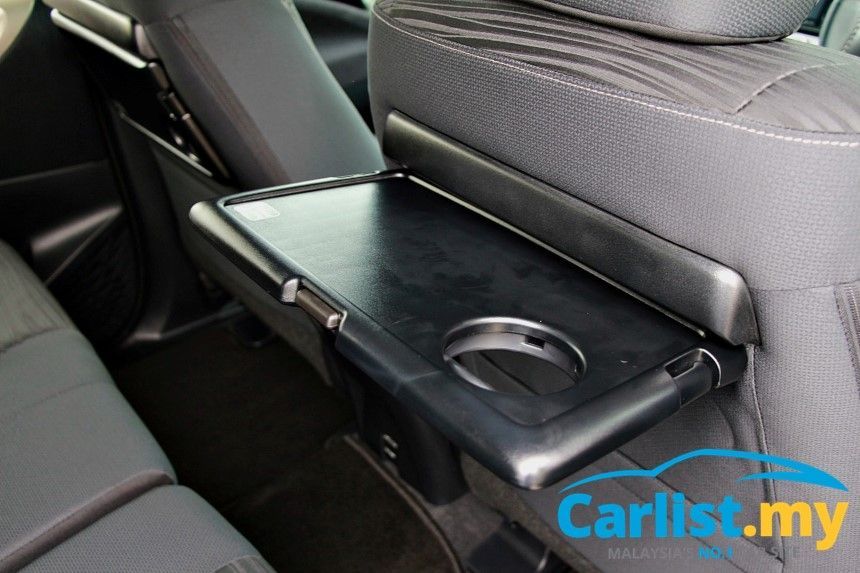 Last but not the least, the improved sound insulation material and expansion foam has made the Innova way quieter than it was. So, things were pretty pleasant throughout our stint with the new Innova.
How economical is it?
The new Innova seems to be quite a bang for the buck in our opinion. Not only has the fuel consumption improved from 11.2 L/100km to 9.1L/100km, but the MPV, which has gone through a significant amount of improvements, still remains the most affordable among its peers like the Nissan Serena S-Hybrid and Mazda Biante which ask for about RM20,000 more.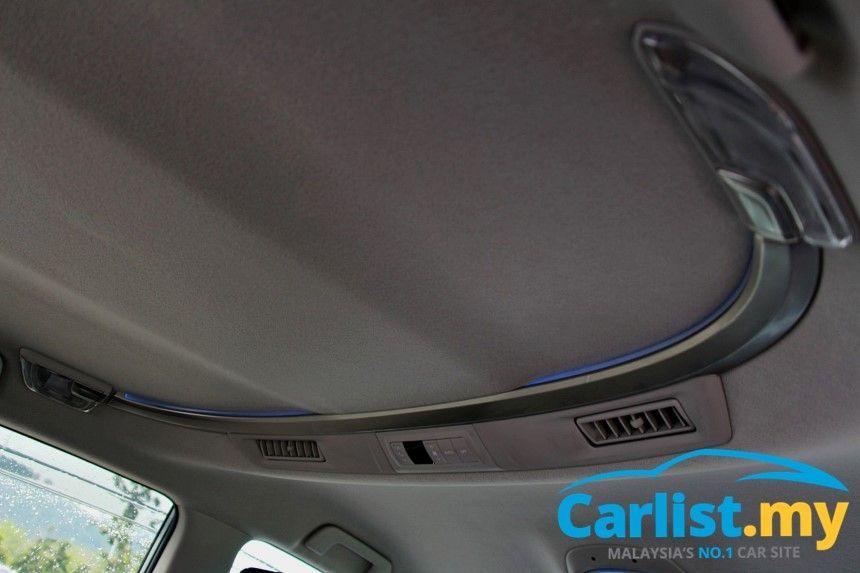 Conclusion
In all, the Innova is leaps and bounds ahead of its predecessor in almost every aspect imaginable. Not only does it look better, but it is more comfortable, bigger, more practical, more refined, more economical, and most importantly, still carries a very competitive price tag.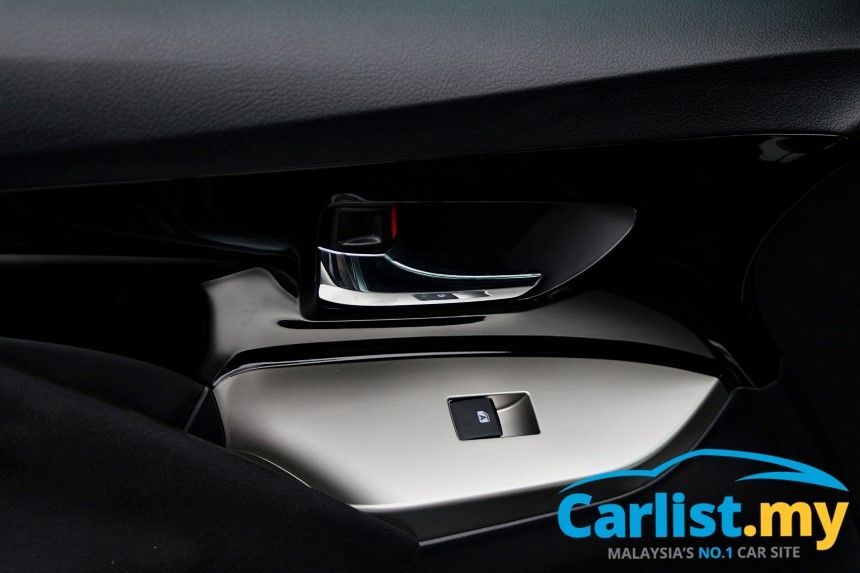 It might not be as well-built as a Mazda Biante or look as good as the Nissan Serena S-Hybrid but when it comes to fulfilling its duties as a people mover, the new Innova absolutely nails it. Plus, with all the bells and whistles like the ambient lighting, infotainment system with full-coloured touch screen, wooden trim running across the dashboard, you would actually be forgiven for thinking that this is actually a mini Alphard or Vellfire.
---
---
---
---
Comments