Review: Toyota C-HR 1.8L – Toyota Is Back, And Braver Than Ever
Reviews If the recent general elections have taught us anything, is that change is the only constant. Be it one person, a political party or even a whole nation, change is continuous, and adapting to change is key to survival and success.
But change requires challenging the status quo, questioning tried and tested methods and thinking in different ways from the past.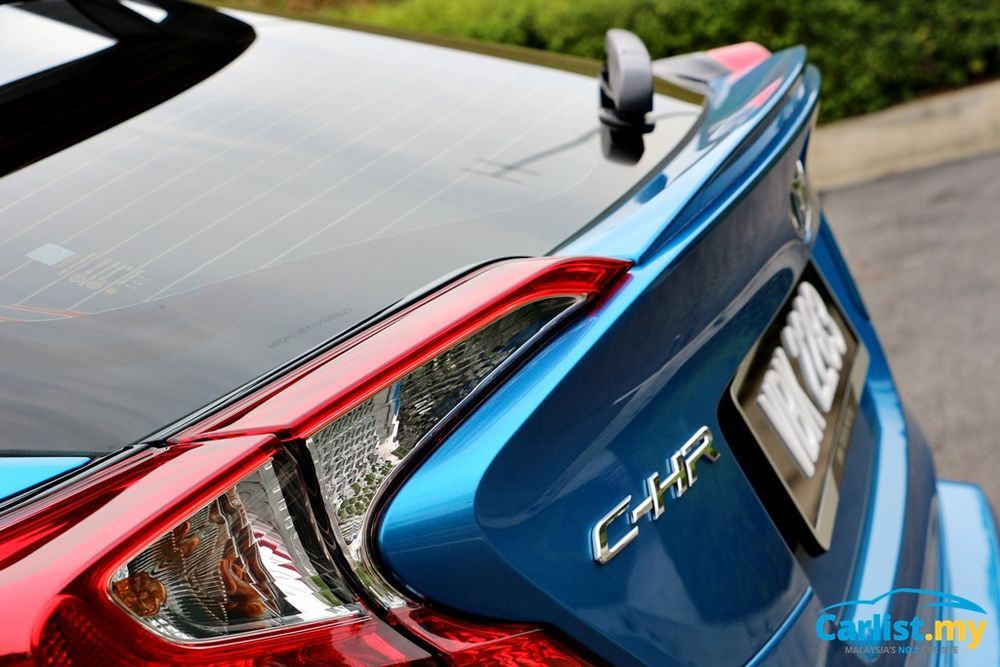 Stepping back to fully take in the C-HR's sleek silhouette – this is change. In its finest distillation. Gone are the sedate, yawn-inducing designs of yesteryear, in its place bold lines, sharp looking proportions and most of all, youthful character.
Cars like the Toyota MR-2, Celica, and Supra come to mind, even the Lexus LS400 – cars that took the fight to the world, and then showed them how it's done!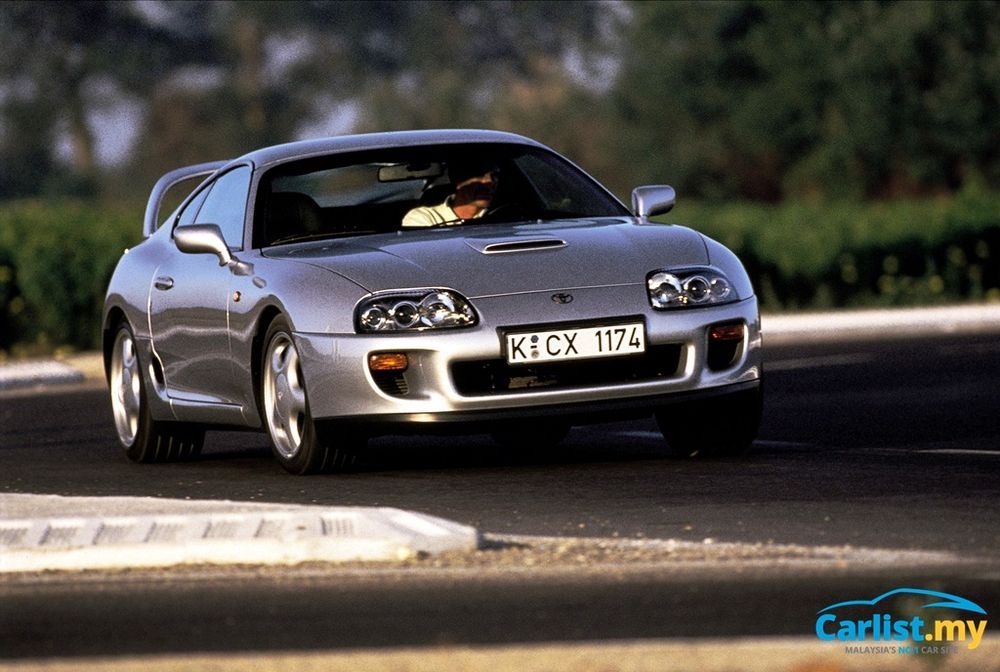 In my opinion, the C-HR is more than just a car – it's Toyota's return to form. A change of its mindset and a renewed sense of daring that it had probably lost in the wake global product recalls, a massive earthquake in Japan, and floods in Thailand that threatened to cripple the company's ASEAN operations.
Of course, if you can attribute this renewed sense of belief to one entity or person – it's Akio Toyoda. Grandson of founder Kiichiro Toyoda, he joined Toyota Motor Corporation (TMC) in April 1984 – and served in every phase of automotive operations, including production, marketing, and product development before ascending to the throne in 2009.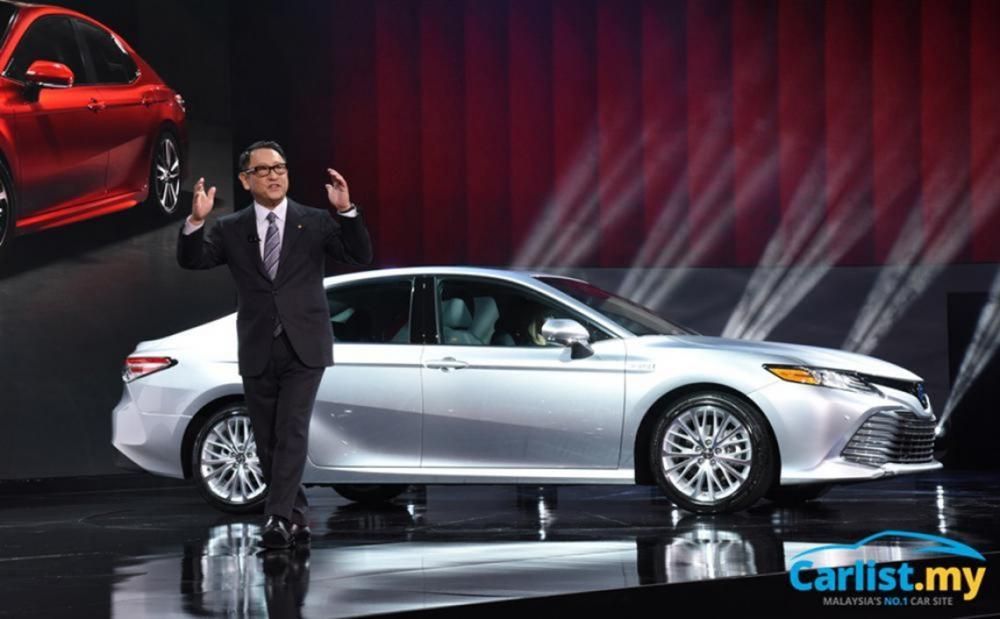 Very early on – he perceptibly noticed something wrong with his cars. Not that they weren't reliable and well-engineered – it's that they were boring, and lacked soul.
Of course, inspiring this mammoth paradigm shift would not have been possible if Akio Toyoda thought and acted just like the ones before him. He was different.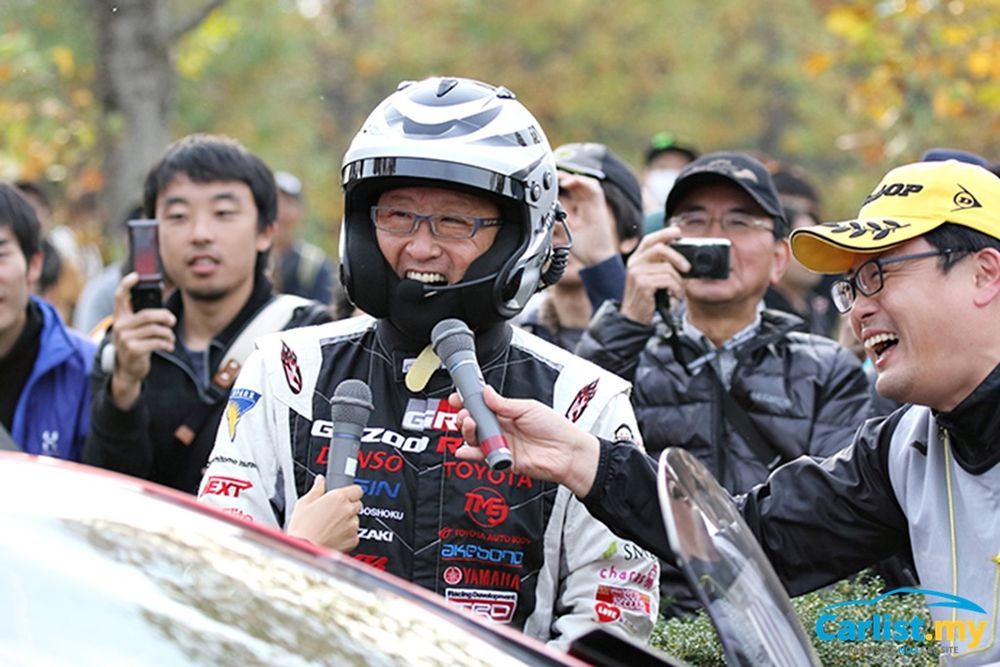 Instead of playing golf with company top brass – Akio would take part in grassroots racing events as Morizo, his alter ego and racer alias, not because of the fame, but because he loved racing. He was mentored by the late Hiromu Naruse, Toyota's grandmaster of chassis tuning. Naruse taught him (for nearly six years) the art of driving, and reminded him of the positive role motorsports played in the company's past, and the effects it had on improving Toyota's road-going vehicles.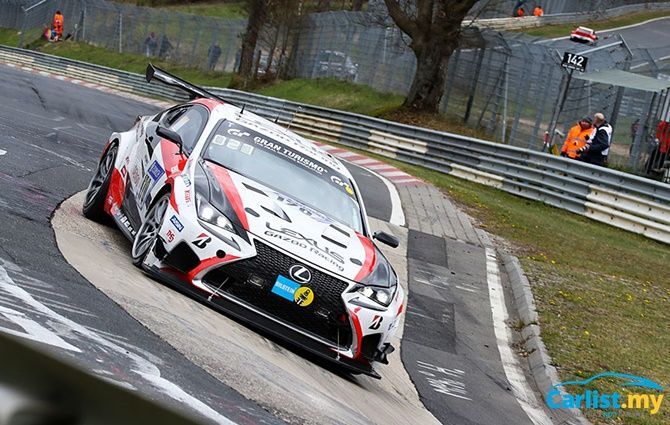 And instead of eschewing big-dollar marketing campaigns and risky racing ventures, in 2015, he united all of Toyota's motorsports programs under the Toyota Gazoo Racing banner and took Toyota to the World Endurance Challenge (WEC), World Rally Championship (WRC), Nürburgring 24 Hours, and Le Mans 24 Hours.
He challenged his engineers to build cars that are exciting, that people would love to own and drive. As a result, in addition to the eco-friendly Prius, we also got cars like the GT 86, Lexus LC 500, and Toyota Yaris GRMN – not to mention, the upcoming rebirth of the hallowed Toyota Supra.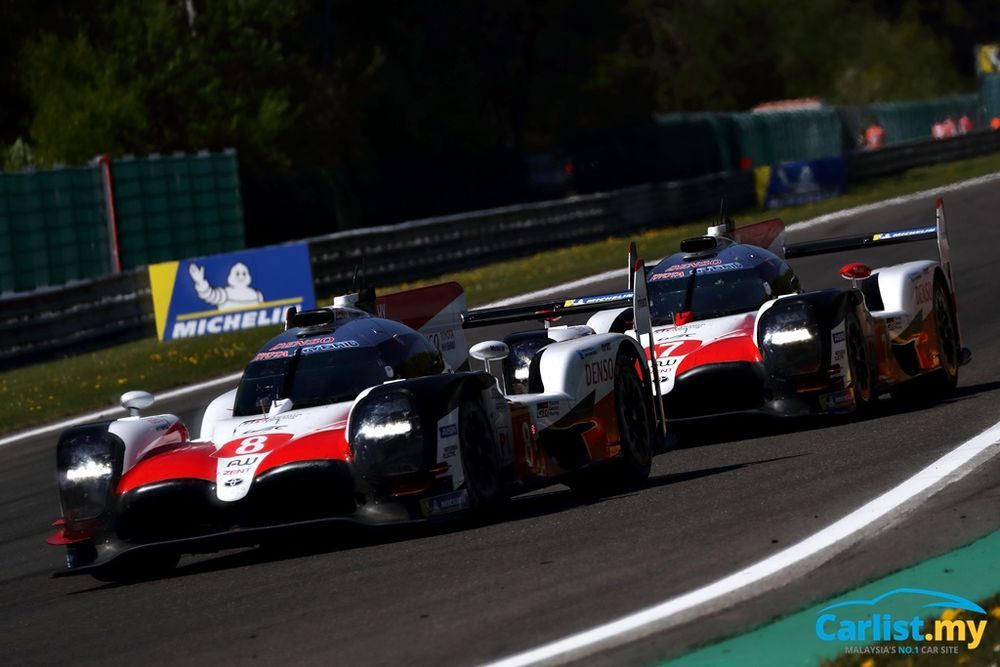 It is little wonder then, why the C-HR is more than just an SUV; it and others within the new stable of Toyota products, characterises Toyota's newfound mojo, as it does speak to the dynamic resurgence of the company itself. In more ways than one, it shouts out one resounding message – Toyota is back, braver than ever.
Overview
Billed as a daring lifestyle SUV, the main emphasis of the C-HR SUV is its edgy design and promise of individuality – defined by its "Distinctive Diamond" design language and coupe-like proportions.
From its bold front fascia – featuring slim headlights that flank the front badge and extend sidewards to wrap around the front fenders, leading up to its toned waistline. Concealed rear door handles further accentuate its coupe-like proportions. The rear end is made up from complex surfaces and contours, from its taillights, which extend outwards from the body to its cantilevered roof spoiler which is complemented by a smaller lip spoiler affixed to its bootlid.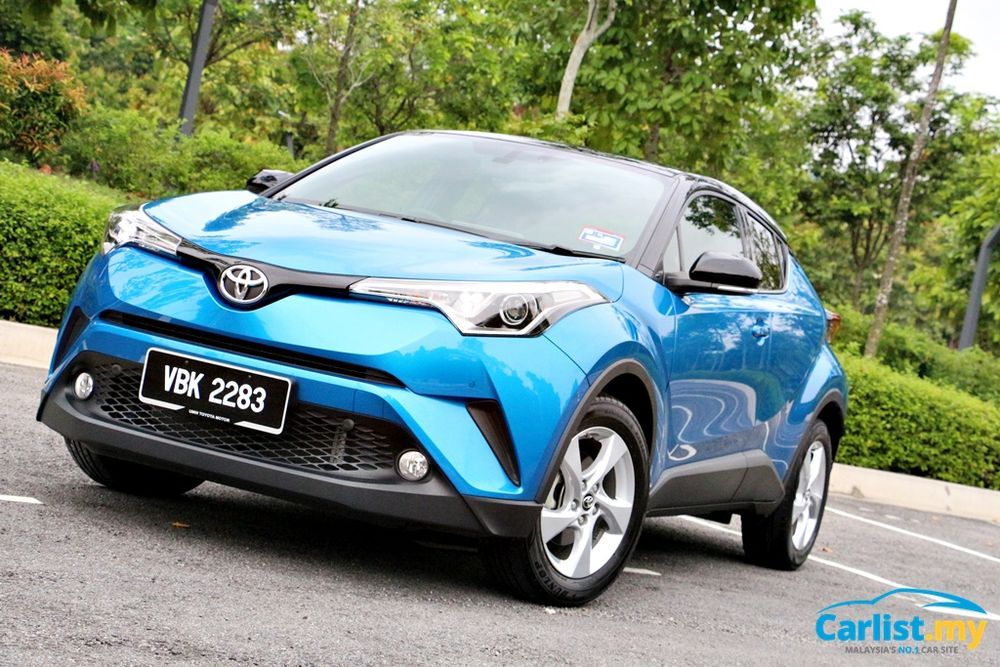 Safe to say, it's a genuine head turner.
Measuring in at 4,360 mm in length, 1,795 mm in width, and 1,565 mm in height, the C-HR, at least in terms of dimensions, goes up against other compact SUVs such as the Honda HR-V, Mazda CX-3, Subaru XV, and Mitsubishi ASX.
But, while it may have the proportions and overall size of a B-Segment SUV. The C-HR is priced nearly RM30k more than the top spec Honda HR-V (V variant) and RM20k more than Subaru XV (2.0i-P). If value and practicality were the top priority, both the Honda CR-V (2.0L 2WD) and Nissan X-Trail (2.0L 2WD), which sit one class higher than the C-HR, offer more for less money. So if value for money is what you are looking for, don't bother with the C-HR and check out our reviews for the Honda and the Nissan instead.
But if you seek to stand out from the crowd of CR-Vs and X-Trails driven by your neighbourhood's aunties and uncles, and all other premium lifestyle alternatives from BMW's MINI, to Volkswagen's Beetle or Mercedes-Benz's A-Class are a little bit too pricey for you, we have a solution.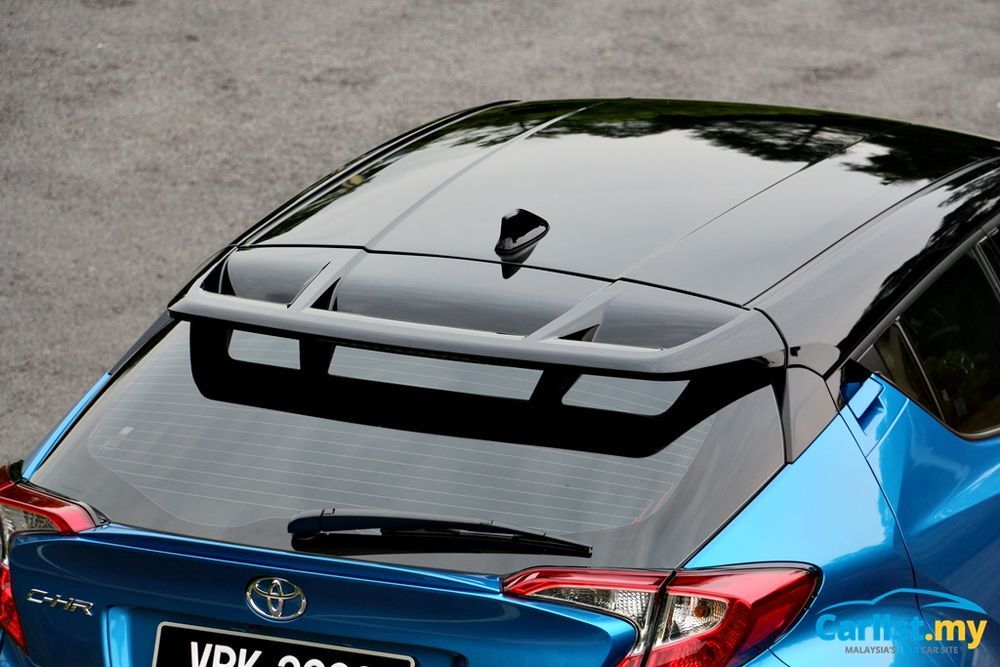 So it's best to understand that the Toyota C-HR doesn't really conform to the big value bonanza compact SUV segment – it stands alone. On the flipside, if you've recently bought a family-centric Honda HR-V or Subaru XV, or even a CR-V or an X-Trail, then don't feel bad, because your decision is sound – because it's highly unlikely that you would have cross-shopped any of those vehicles with the driver-centric C-HR anyway.
Also, courtesy of its TNGA platform – the Toyota C-HR also sports double-wishbone rear suspension, claimed to offer sharper driving characteristics and better ride quality. It's also important to note, that with the exception of the Subaru XV, all other compact SUVs are underpinned by modified platforms of their smaller hatchback counterparts – such as HR-V and Honda Jazz, CX-3 and Mazda 2. The C-HR, on the other hand, rests on an entirely new modular platform, which also underpins the fourth-generation Toyota Prius and upcoming Toyota Camry.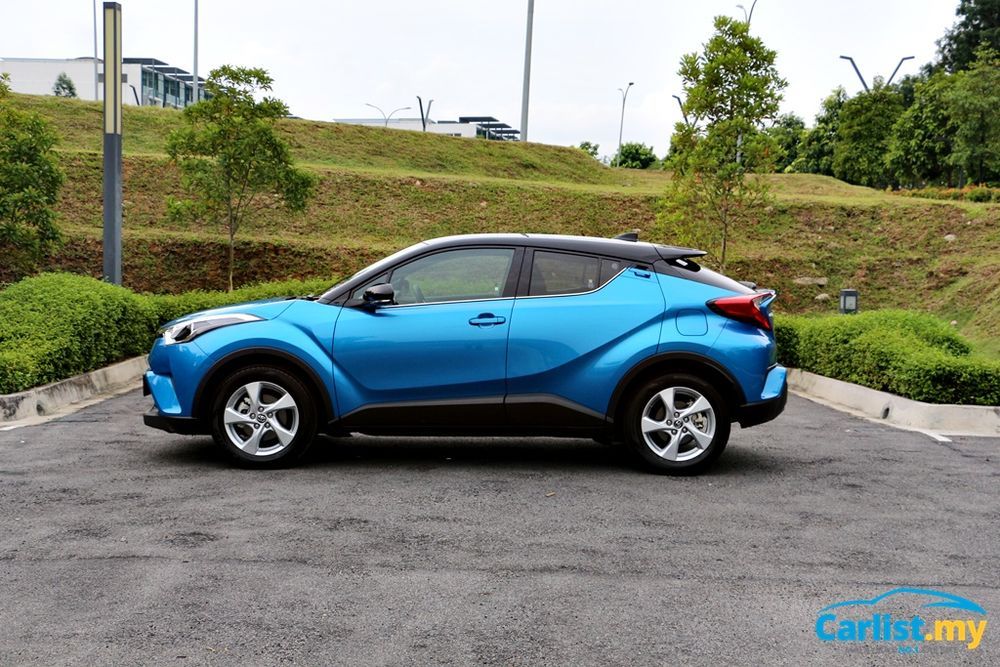 Specifications for Toyota C-HR 1.8L
Price: RM137,300 (without insurance, GST or SST)
Engine: 1.8-litre, 4-cylinder transverse, DOHC, Dual VVT-i
Power: 140 PS @ 6,400rpm
Torque: 171Nm @ 4,000rpm
Transmission: CVT, front-wheel drive
Safety: 7-airbags, Anti-Lock Brakes (ABS), Brake Assist (BA), Electronic Brake Force Distribution (EBD), Vehicle Stability Control (VSC), Traction Control, Hill Start Assist (HSA), Tire Pressure Monitoring System (TPMS), Blind Spot Monitor (BSM) with Rear Cross Traffic Alert (RCTA)
Origin: Fully-imported from Thailand
Exterior
Rarely does a car in this price range generate as much excitement while being driven. I lost count of the times I saw people in other glancing through their windows while parked alongside in traffic, or peering across the roads when I'd cruise by high-street shopping malls. In equal amounts, its bold lines and svelte silhouette gets attention from both men and women.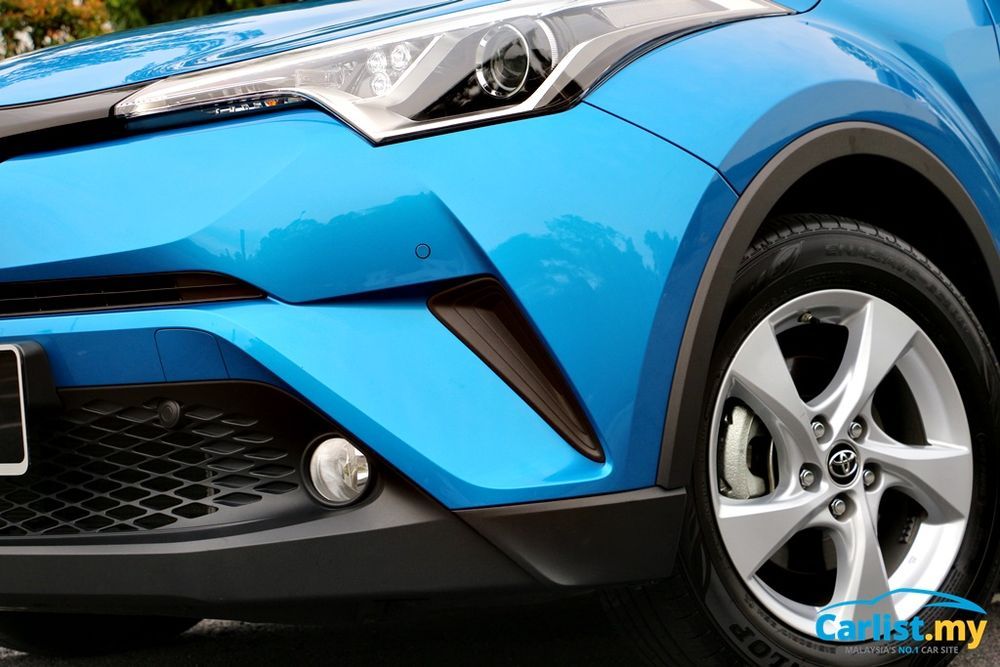 Whether you consider the C-HR's design bold and edgy or complex and divisive, there's no denying it's dramatic, and a terrific conversation starter. And let's be honest, even if you drove a MINI Cooper, which costs quite a bit more – the C-HR would still garner more attention simply because it's unique and not as ubiquitous. And that for me is RM137k well spent.
Personally, the 17-inch rims are too small and boring for me, if the shoes really make the man, then I would love some aggressive looking 18- or even 19-inch wheels, to fill the C-HR's wheel arches, and match the striking sheet metal.
Interior
From its dashboard architecture to its driver-centered layout, the interior of the C-HR exhibits modern flair and functionality in equal amounts. The soft touch trim that runs atop the dash, and the diamond pattern inserts on the door cards – create a sense of occasion uncommon to Toyota models of the past.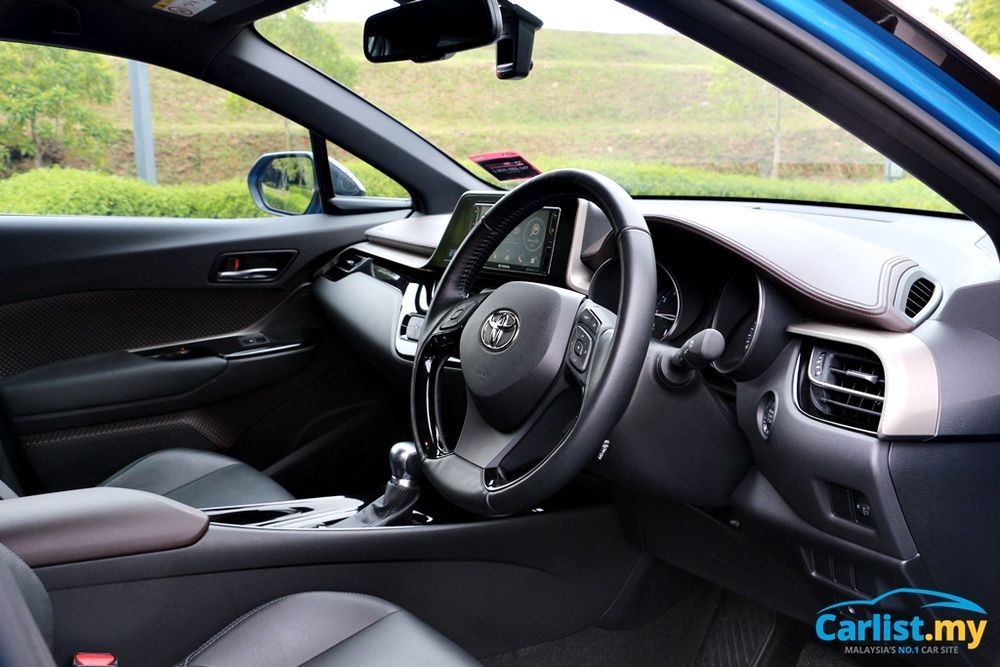 I am particularly fond of the minimalist arrangement of climate-control switchgear, which I believe adds to the premium feel of the cabin.
Personally, I think the 7-inch touch screen infotainment is a joy to operate, intuitive and easy to navigate, but it still lacks in terms of overall execution. The housing is too plasticky, and the screen resolution could be better. And, while I won't classify the trim plastics (especially in the lower regions of the interior) as hard and scratchy, they could use a better texturing.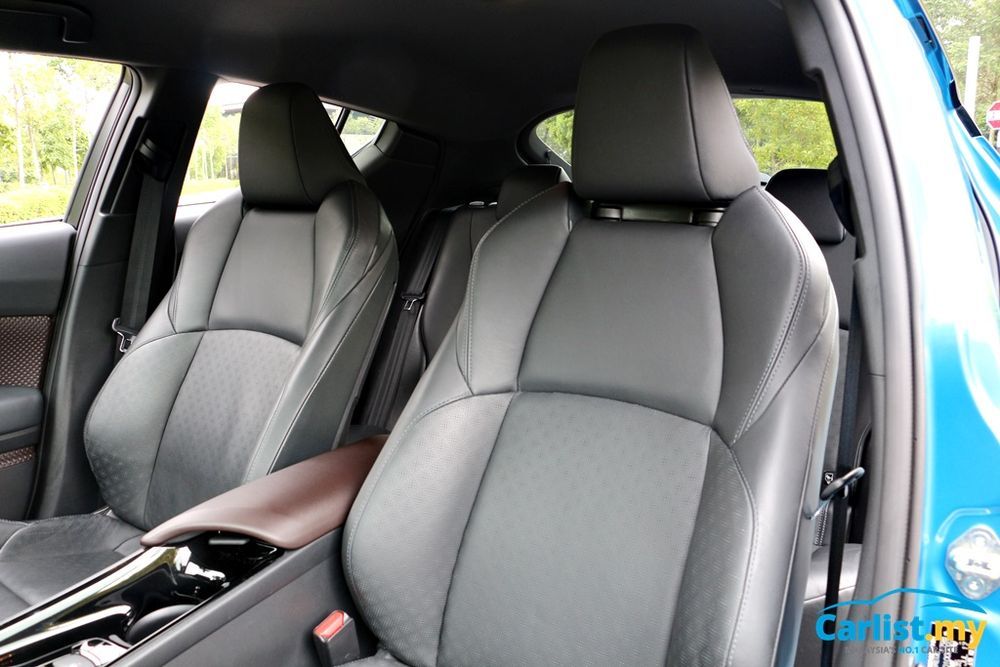 The seats themselves are very supportive – front and rear – and I must say, the lateral support of the front seats is almost as good as some semi-bucket items, positioning me nicely in reach of the steering wheel and pedals. At the rear, one would have to be mindful of the ambient light - the drawback of having that sleek rear window line is that ambient light at the rear is severely reduced, which could lead to passengers feeling slightly claustrophobic, especially children. It's actually more spacious than the dimly illuminated rear suggests.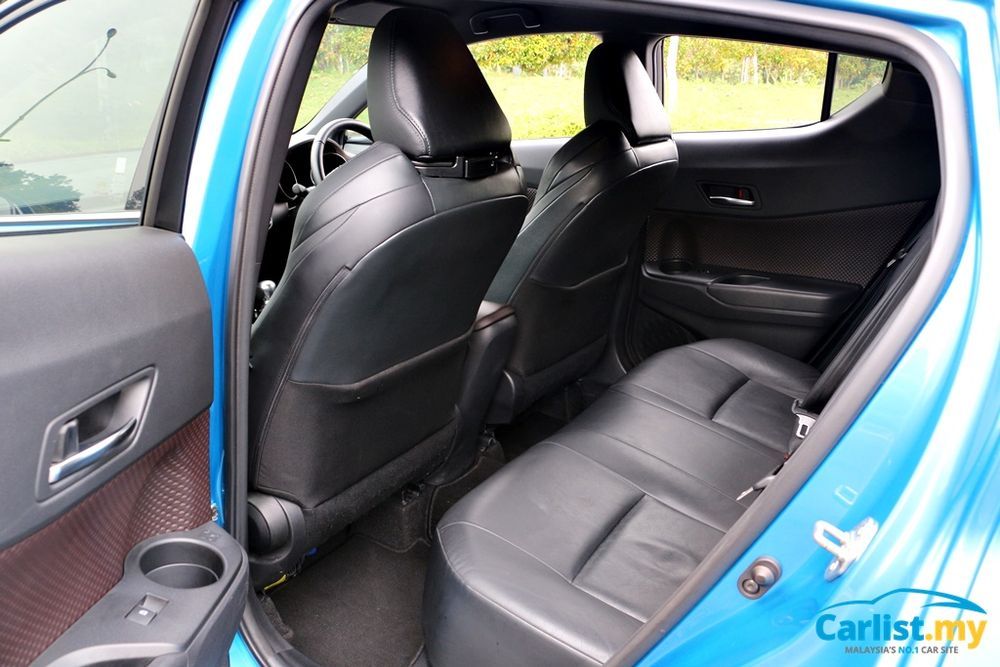 Otherwise, in terms of overall space and practicality, the C-HR actually isn't too bad, legroom both at the front and rear is adequate. The boot will swallow most everyday items, and even longer IKEA flat packaging with the rear backrests folded down. Of course, it won't accommodate a two-seater sofa like the HR-V can (trust me, I've done this), but it's no deal breaker either.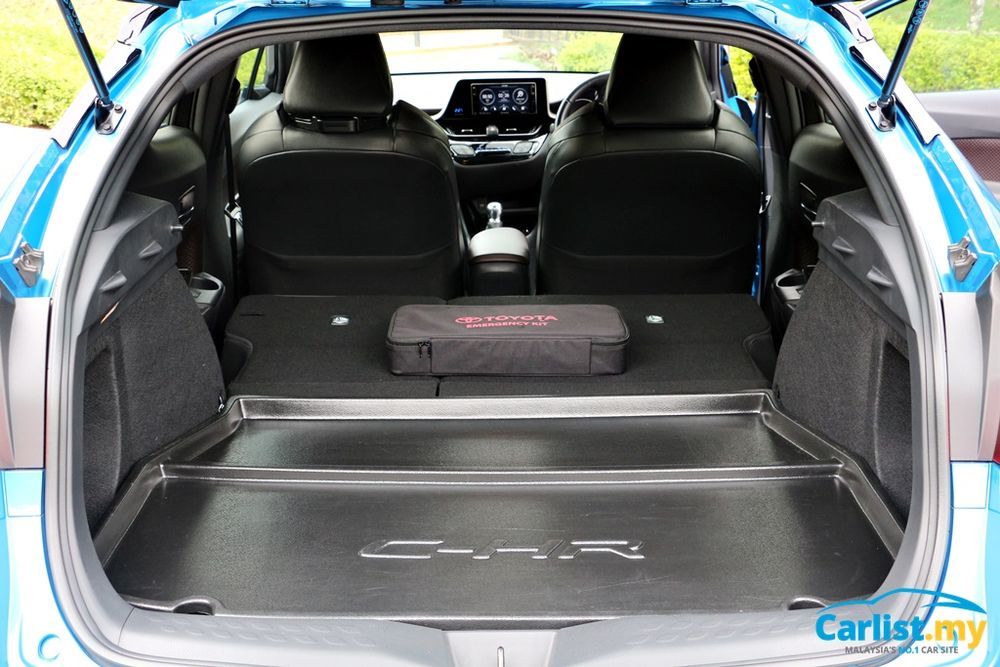 Not forgetting the C-HR's ace card, its overall refinement and cabin quietness is comparable to that of higher class SUVs such as the CR-V and Volkswagen Tiguan, making the C-HR superb on the daily trot, especially on Malaysia's pothole-laden roads.
Driving Experience
This leads me to a bold statement, but one I make it with confidence – the C-HR is amongst the most comfortable vehicles I've ever driven as a motoring journalist. Just for sheer pliancy, it's up there with my all-time personal favourites – the Volvo XC90, (F10) BMW 520i, and Mazda Biante. It feels very European in nature and in execution.
This might be at odds with its edgy and sporty exterior – but I assure you, it's all the better for it. The body rigidity is superb, which allows the suspension to shift through its motions and work its way around the bumps and ruts of the road. The double-wishbone rear suspension nicely isolates secondary motions, which in turn gives the C-HR superb poise and surefootedness.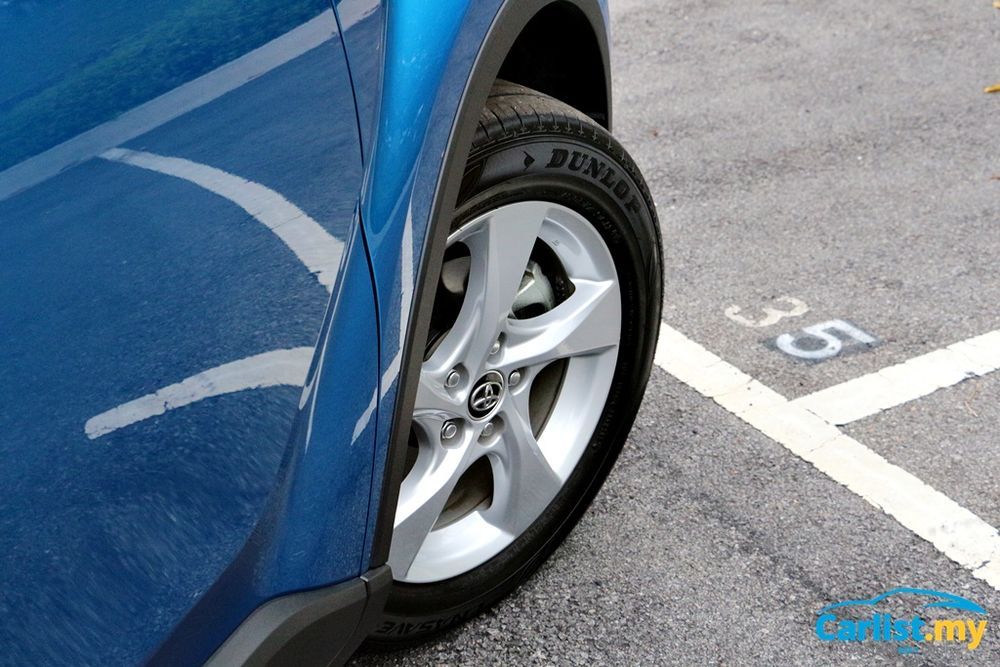 Even when driving hard through tighter bends and uneven B-roads, the chassis remains nicely adjustable and progressive right to the very limit of mechanical grip. The steering is responsive and adept enough at making small adjustments mid-corner, without feeling too vague in longer, sweeping stretches. Given its dynamism and superb-body control, the C-HR manages to be very quick when on a spirited drive, additionally, in wet conditions, the softer setup of the suspension allows the tyres to claw into the road, adding to your confidence.
Performance from the 1.8-litre four-cylinder won't set your pants on fire, but its mid-range torque makes for building speed, right up to 140 km/h a rather effortless affair. Also, the engine doesn't mind being revved and remains linear in response throughout the rev range. But one does get a sense that the chassis can handle more power.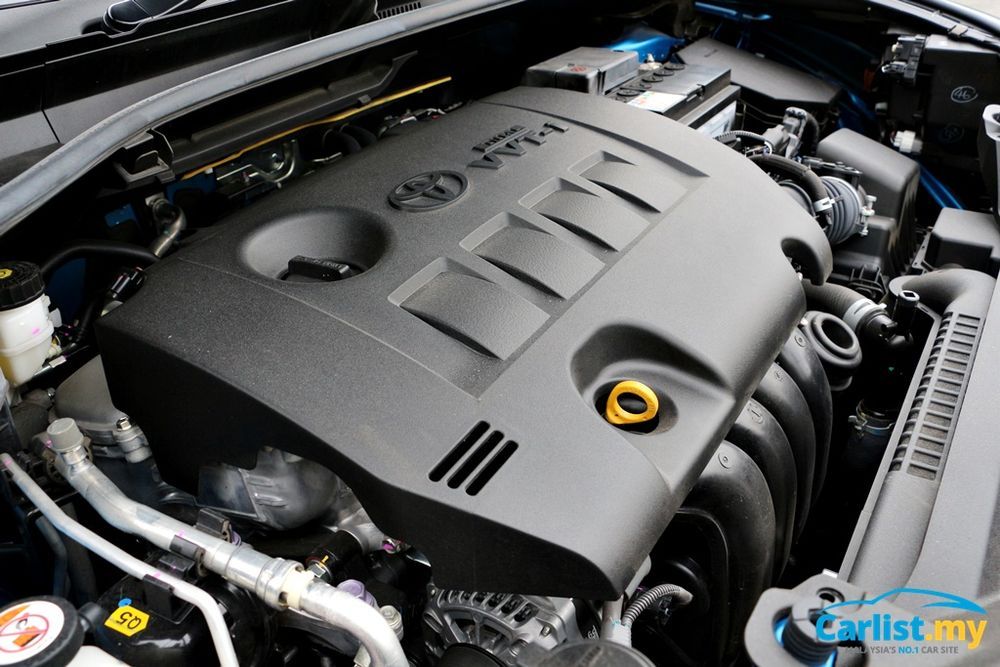 The gearbox, however, while being superb at low speeds and smooth when on a cruise, it can seem a tad overworked when pushed hard. The CVT is decently agile in terms of loosening or tightening itself to make good on the engine's power, but, will protest quite a bit once the rev needle pushes past 4,500 rpm
It gets better once in its "manual" mode, which allows for shifting between seven pseudo ratios, allowing you to hold a ratio longer depending on driving conditions.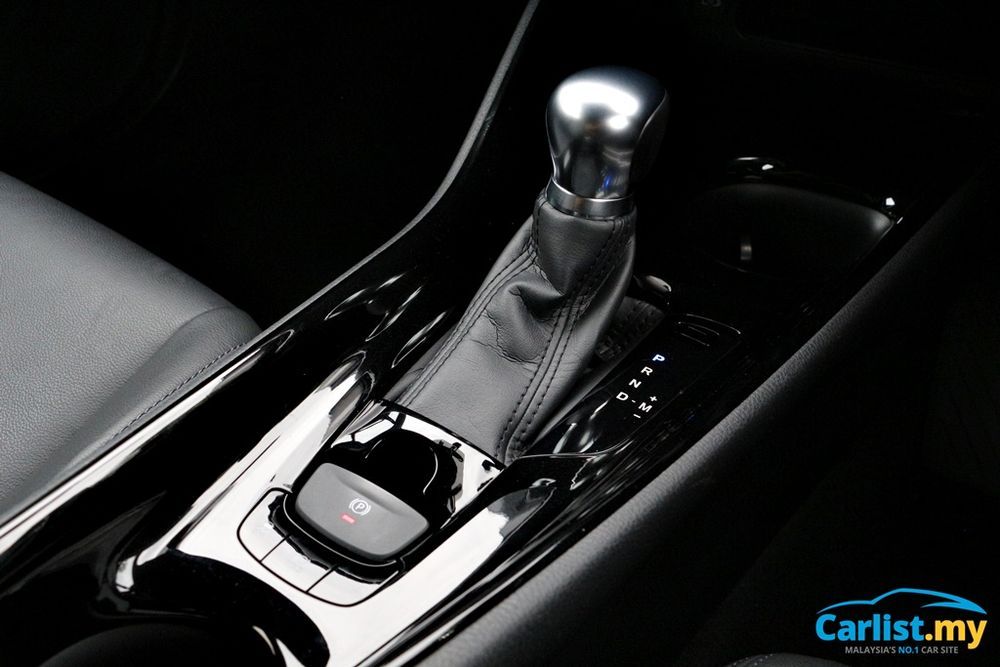 For comparison, the Honda HR-V does deliver the same amount of performance as the C-HR, but can't match the C-HR's overall dynamism and agility. The Subaru XV, in my opinion, is as sharp to drive and would be as quick – but the C-HR still betters it in terms of overall comfort levels.
After nearly 600 km of driving, I averaged around 8.6 litres/100km when driving conservatively, to around 11.0 litres/100km when blasting up the hallowed Ulu Yam route to Gohtong Jaya. Not exceptional, but good nonetheless.
Conclusion
For a second, try to imagine the C-HR without a Toyota badge plastered on it – for discussion's sake, let's assume it had a MINI or Audi badge, would it be more interesting then?
More importantly how much will pay for something, with a different badge, that looks like the C-HR, keeping in mind that it also offers superb reliability, great aftersales service, and rock-solid residual values?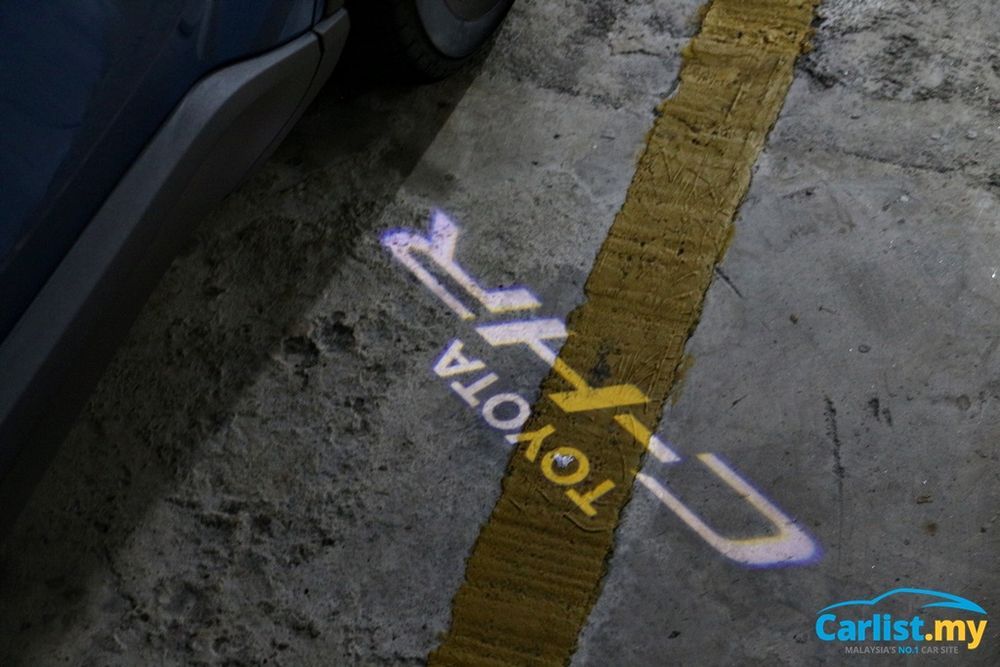 Yes, if it's viewed through the lenses of practicality and value, there are quite a few other options that deliver vastly more bang-for-your-buck
In my opinion, it comes down to this, there are essentially two groups of customers which won't buy the C-HR and one group that will, and it mostly comes down to purchasing power.
Firstly, a younger group of people – professionals, executives, and the like – who can instantly appreciate the C-HR's design, presence, and desirability. Plus, they can live with its reduced quantum of practicality. But for the most part, the asking price might be a stretch too far, not since presentable options such as the Honda HR-V and Subaru XV can be obtained for much cheaper.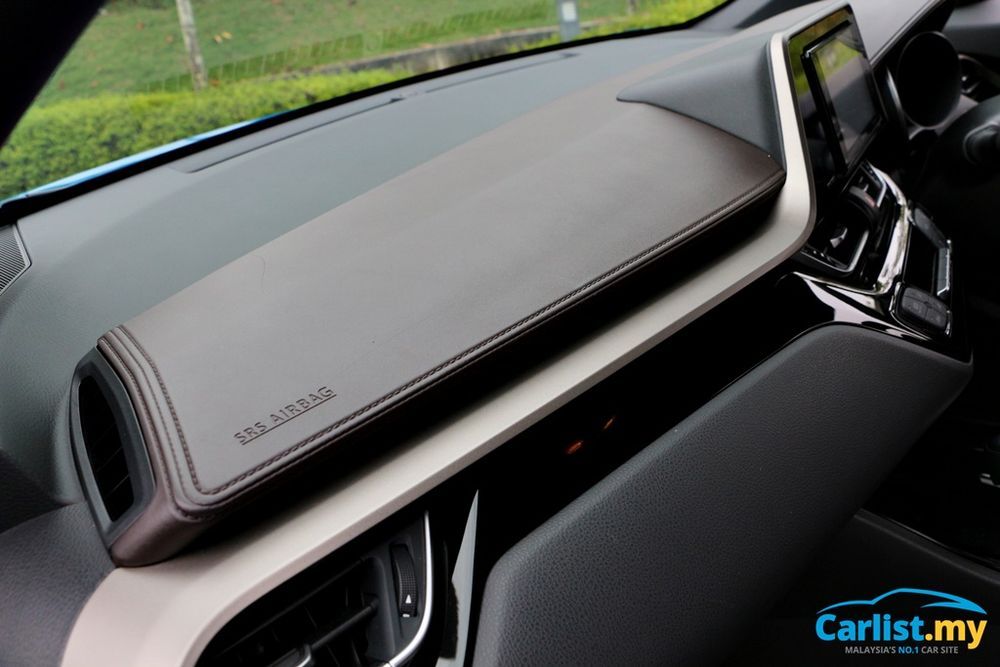 The second group customers, which would consist of slightly older, financially established individuals which would still love the C-HR for all the right reasons, and can easily afford a car worth RM137k, but perhaps also have to consider the demands of a growing family, and the requirement of practicality. In which case, bigger cars like the Nissan X-Trail and Honda CR-V just make more sense.
The third group; affluent additional-car buyers, are those that have the freedom to place their lifestyle statement above all other parameters.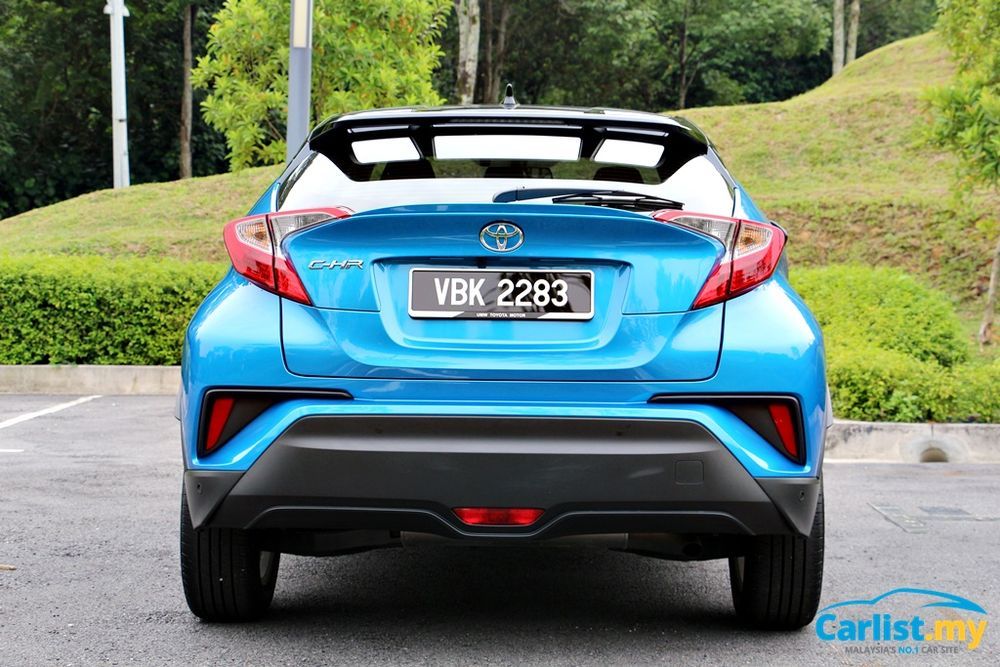 You've seen them around, in their Volkswagen Beetles, MINI Coopers, and A-Class Mercedes-Benzes. If we isolate the best traits of the MINI Cooper – it's excellent driving dynamics, premium interior, and head-turning exterior design, they're all traits which are clear and present in the Toyota C-HR as well. So instead of thinking of the C-HR as a rather expensive compact SUV, think of it as a lower entry point into the growing premium lifestyle segment.
When we reframe the Toyota C-HR in the context of the MINI Cooper and Mercedes-Benz A-Class, which all cost some RM50k dearer mind you, isn't the Toyota C-HR a breath of fresh air and superb value for money too, not to mention that it's a lot more comfortable and handles just as well, even if it's severely down on power compared to its turbocharged alternatives.
This could also be why that despite the negativity that this car gets from social media commenters who can't afford the car, UMW Toyota Motor is struggling to get enough cars from Toyota's plant in Thailand to meet local demand. Since its launch, the C-HR has consistently exceeded the company's modest expectations (understandable given its price). Book one today and you can expect to wait for at least 2 to 3 months before receiving your car. So not only must you pay a lot more than an equivalent HR-V (from RM 91,865 without insurance, GST or SST) or even a higher class CR-V (from RM133,545 without insurance GST or SST), you also have to wait longer for the C-HR. Test drive one and you will understand why.
---
---
---
---
Comments