2015 Mazda 2 SkyActiv Launched In Malaysia: RM88k For All This?!
Buying Guides Let's be honest, there's very little about the all-new 2015 Mazda 2 SkyActiv launched here that we haven't shown you already: from when it opened for bookings, the spying of the Sedan variant in Thailand, the Malaysian price reveal, to spyshots of the car right here.
Now, and finally, Bermaz Motor has officially unveiled its all-new Mazda 2 in full, confirming all the specs we've seen before, for both body types offered. Remember, everything from features to spec (minus dimensions) for the Mazda 2 Hatchback and Sedan are identical, so keep that in mind throughout this report.
KEY SPECS: 2015 Mazda 2 SkyActiv (Hatch/ Sedan)
Price: RM87,956 (OTR with insurance, sedan and hatch same price)
Engine: 1.5-litre SkyActiv-G petrol
Transmission: Six-speed SkyActiv-Drive torque converter automatic
Power: 114hp @ 6,000rpm
Torque: 148Nm @ 4,000rpm
Body Colours: Soul Red Metallic, Snowflake White Pearl, Metropolitan Grey, Aluminium Metallic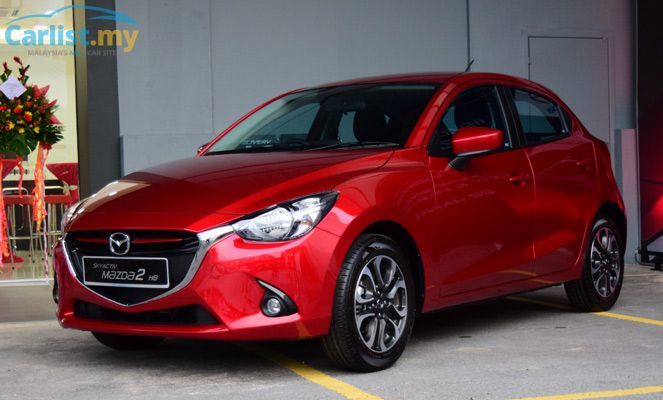 Buyer's Guide:
Essentially, the 2015 Mazda 2 SkyActiv Hatchback and Sedan joins the Malaysian B-segment to face-off against the likes of the Ford Fiesta, Suzuki Swift, Honda City, Toyota Vios and more. Both body types of the car are currently being imported from Thailand (CBU units), and are priced very competitively against the highest-spec variants of its competitors. And if you're worried about the build quality of the cars taking any dips because of their being imported from Thailand and not Japan, we've been assured by Bermaz Motor that everything is as identical (apart from specification) as they can get. Having driven the car in Japan ourselves, we're keen to agree with them, having seen, touched, felt the local-spec car.
Previously estimated to cost a lot closer to the RM100k mark, the all-new Mazda 2 SkyActiv's prices are quite surprising, given the amount of kit on offer here, plus the full suite of SkyActiv technologies that can't be seen at first glance, but provide the game-changing, drive-centric qualities of the car.
RM87,956 is relatively a bargain, all things considered. And included to that price is a three-year warranty and maintenance package by Bermaz Motor, the official distributor of Mazda vehicles in Malaysia.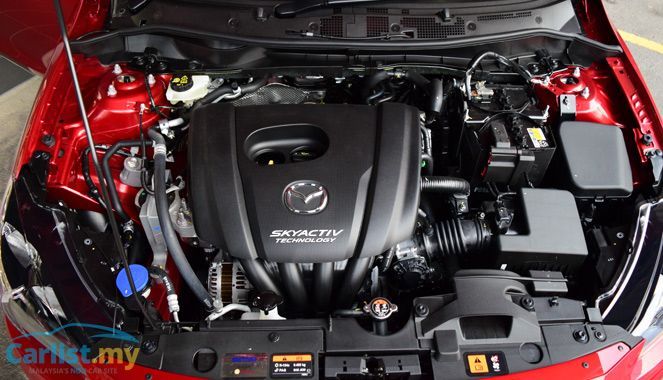 Performance:
Called to duty is a 1.5-litre SkyActiv-G petrol engine which makes 114hp and 148Nm of torque. Comparatively, the Mazda power mill makes just 6hp less than Honda's 1.5-litre SOHC i-VTEC, but 3Nm more – peak power and torque comes at 600rpm sooner than the Honda engine as well.
As featured on all locally-available Mazda SkyActiv vehicles, a six-speed SkyActiv-DRIVE torque converter automatic is equipped, and send power to the front wheels of the B-segmenter.
To manage the power, the Mazda 2 SkyActiv is equipped with a new Drive Selection Switch, allowing you to choose from two drive modes: Normal and Sport. Re-mapped via this switch are the throttle responsiveness and transmission shift points to offer either sharper performance, or more economical, everyday driving. And if it's better fuel consumption that you're after, the Mazda 2 does come standard fit with the i-Stop Idling Stop System (a.k.a. auto start/stop).
PS: You may come across a few of the Mazda 2 SkyActiv Sedan photos where you may note a SkyActiv-D badge around the back. Pay no mind to those for now, Bermaz Motor is only has the car here for display purposes, and as we understand it, are in fact studying the prospect of officially selling its diesel vehicles here. No surprises, given the Mazda 6 SkyActiv-D they've been testing for some time already.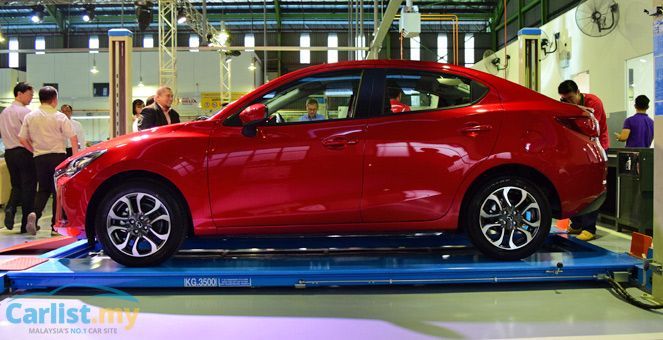 Dimensions and weight:
With a shared overall width of 1,695mm, the Mazda 2 Sedan is 260mm longer and 25mm taller than the Hatchback. At the kerb, the Sedan and Hatchback weigh in at 1,065kg and 1,056kg respectively.
Seating capacity is good for five people in both body types of the car, but taller rear passengers may find a bit of trouble finding enough leg and headroom – remember though; Mazda vehicles are all about being a driver's car first, so comparisons with a Honda over spaciousness isn't a very accurate measure, but more of a personal choice.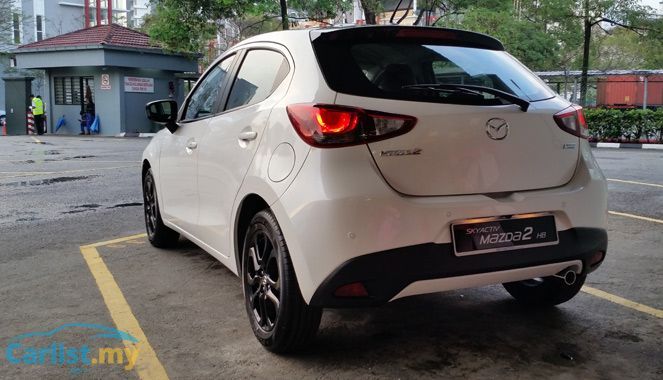 Exterior Styling:
Needless to say, the Mazda 2 SkyActiv is the company's KODO: Soul Of Motion design at its best. An evolution of what we first saw on the Mazda CX-5, then Mazda 6 and 3, the baby 2 was the latest iteration of this new design language for Mazda vehicles, until the arrival of the all-new Mazda MX-5 and the all-new Mazda CX-3.
Unfortunately, the impressive and cool-looking LED projector headlamps we saw revealed in Japan haven't been made available on the Malaysian-spec Mazda 2, which instead gets more basic reflectors with halogen bulbs equipped with daytime running lights - ala CX-5.
For a bit more flair, Bermaz Motor is offering an additional bodykit for its Mazda 2 Hatchback and Sedan. Customers may proceed to place orders for it now, and have it arrive with their cars in due time, and will be fitted locally. Prices for the kit haven't been confirmed yet, so it's wait-and-see for now.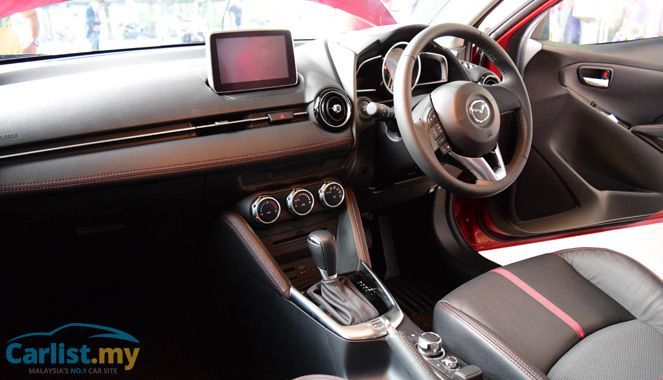 Interior Design:
Inside, it's leather upholstery all around for the Mazda 2 twins, and if you haven't been clued in by our previous posts, the car's specifications run as high as we've seen them in the B-segment. The three-spoke multi-function steering wheel is wrapped in leather, backed by gear shift paddles. The sports seats are full leather, adorned with a sporty red garnish trim down the center.
INFOTAINMENT: Mazda's MZD Connect infotainment steals the show, with a commanding 7.0-inch LCD screen (not a touchscreen). A personal favourite of this writer, the MZD Connect system is controlled via what Mazda calls a Commander Control Switch, which is essentially a control dial located on the center console. You also get reverse-camera displays on the seven-inch screen that primarily hosts all your media and car settings.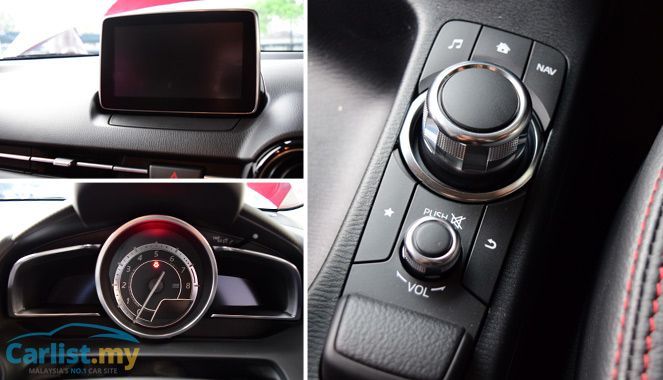 FEATURES: Continuing the generosity, Bermaz Motor's Mazda 2 pair come also with a heads-up display screen (Active Driving Display) – a first for the B-segment. Then on, there's an engine push-start button and keyless entry.
OPTIONAL: For an additional RM1,200, Bermaz Motor will do you an upgrade to the infotainment to include a navigation system.
Safety Features:
It's again rather impressive stuff from the Mazda where safety is concerned; putting up the expected ABS, electronic brake-force distribution (EBD) and brake assist (BA). Dynamic Stability Control (DSC) is also a standard fit, which brings it up to standards we normally expect of any modern vehicle.
Airbags are limited to a count of just two anywhere you look with the Mazda 2 SkyActiv, and it's a common case for the car offered in any of our neighbouring regions – Australia is one exemption, we're told, likely due to the stricter regulations enforced there.
Otherwise, there are ISOFIX child-seat anchors, reverse sensors, a reverse camera, an immobiliser system, and a burglar alarm all in.
---
---
---
---
Comments