2015 Mazda 2 SkyActiv Hatchback Full Review: Wrestling With Giants
Reviews Mazda are on a bit of a steam-roll, aren't they? From the highly sought-after CX-5 which got the ball rolling for its SkyActiv tech and KODO design language, through the 6 and 3 super sporty sedans, to what we have here today, the 2015 Mazda 2 SkyActiv. And as we know, they're far from done.
In two body styles (hatch, sedan) and making one heck of a first impression when Bermaz Motor officially launched it here, RM87,956 is what's asked of the new 2. Here, we've got the hatchback for a full review because, well, who wouldn't want to drive a Zoom-Zoom hatch? The bigger task then, for the new 2, is going head-to-head with some of the toughest players in one of the most competitive car segments in the nation.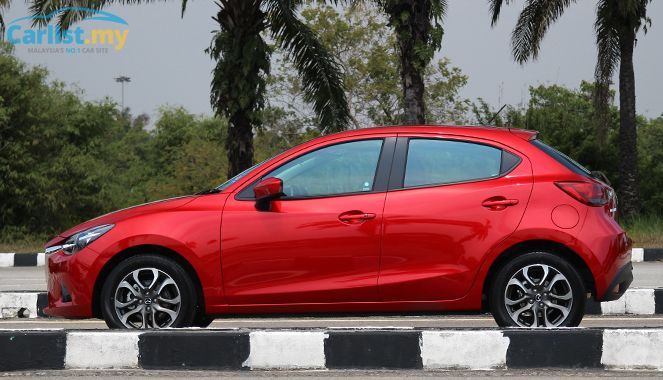 Buyer's Guide:
As mentioned, RM87,956 is what you'll have to pay for Bermaz Motor's latest B-segment model: a price that's common to both body styles. Features and equipment are spot-on identical between the pair, so the only difference between this review of the hatchback and one of the sedan model draws down largely to cargo capacities – a criteria which the 2 hatch is no slouch at, etiher.
It's no secret that the Mazda 2 SkyActiv is probably the most "exciting" B-segmenter money can buy right now, with the promise of lots of SkyActiv technologies that ensure dynamic handling and impressive efficiency – so suggests what's on paper. But for your optimum benefit, here's our full review of the all-new Mazda 2 SkyActiv hatchback.
KEY SPECS:
Price: RM87,956 (OTR with insurance, sedan and hatch same price)
Engine: 1.5-litre SkyActiv-G petrol
Transmission: Six-speed SkyActiv-Drive torque converter automatic
Power: 114hp @ 6,000rpm
Torque: 148Nm @ 4,000rpm
Body Colours: Soul Red Metallic, Snowflake White Pearl, Metropolitan Grey, Aluminium Metallic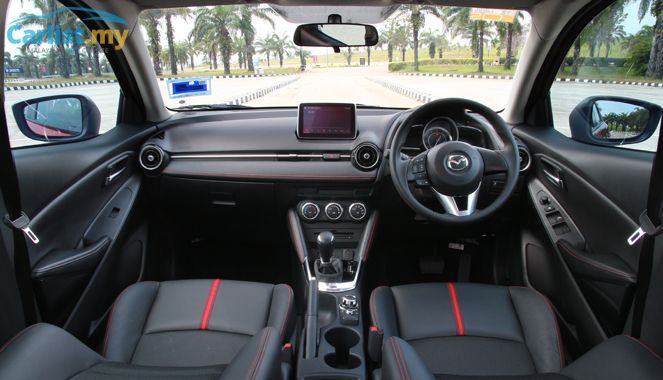 Driving a 2015 Mazda 2 SkyActiv Hatchback:
Driving the new 2 is what it's all about, isn't it? Largely because, if you wanted something practical, a Honda Jazz makes a pretty fantastic runabout hatchback, while the Honda City is about the best value-for-money/ standout favourite/ all-round B-segmenter money can buy. But the Mazda, that's the one you invest in when you want your money's worth from a driver's car.
And that's just what you get with this 2. The throttle wastes no time transferring your inputs to the road, and the 1.5-litre SkyActiv-G petrol engine has a lot to give off the line. At speed and wanting more of it, the SkyActiv-DRIVE six-speed torque converter auto comes equipped with paddle shifters and a Sport mode button that liven the car tremendously on demand – bar some time for cog meshing.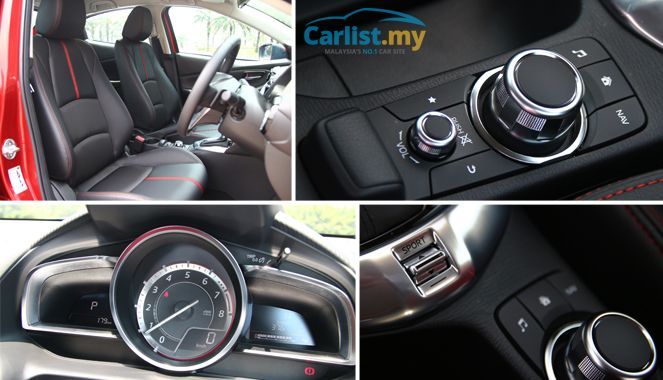 One undoing we found when driving this red-hot hatch was with its steering, which unlike the Mazda 3 and 6 we've driven before, didn't feel weighted as well, nor as communicative as we've grown to expect of the Zoom Zoom brood. But then again, in the context of a B-segment hatchback you'd appreciate driving every day and not just when a hasty mood struck your day, better definitions of the steering's character will have to include "light" "convenient for every day," and "easy on the arms."
Keeping in the same context of an everyday B-segment hatch driver, the ride is a little bit too firm for this writer's everyday liking. On silky-smooth tarmac, it's a gem to drive the Mazda 2 hard: the front wheels are so eager to dart the nose of the car towards almost any direction you throw it at. But, on the kind of treacherous surfaces we drive on in Malaysia, the Mazda 2 leaves a lot to be desired.
VISIBILITY & SEATING POSITION: The slant of the C-pillars and the coinciding angle of the rear window hampers your surrounding visibility slightly. Also, the driver's seat would have been perfect if its adjustments would have allowed it to drop a little bit lower – and no, that's not a complaint of just this six-foot writer either. My wife, five-foot something-or-the-other, had similar complaints about the front passenger seat, which has no height adjustments at all.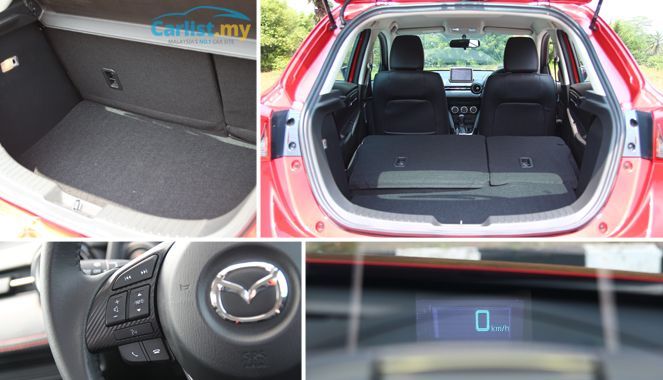 Living with a 2015 Mazda 2 SkyActiv Hatchback:
By far, you're getting your money's worth in quality, with the new 2. It's finished to near perfection, and all the trims, dials and knobs feel great to the touch. The placement of everything is masterclass; stuff you'd expect from a Honda.
SPACIOUSNESS: Sitting in, the seats are very nice: pliant, yet firmly shaped to prevent you from rolling out of position. For a tall driver, it's immediately noticeable that the Mazda 3 is really what you want, because there isn't much room in the cabin of the 2 (leg and headroom) for a six-footer. Even when you do lower the driver seats to as low as they go, it's all just a bit cramped. For my 5.6-foot wife, the driver's seat positioning and surrounding space was perfect.
Which may explain why I, in my six-foot state, may have missed out on the whole 'Zoom Zoom' feeling typically associated with modern Mazdas.
Back to the matter of space, there's certainly more here than you would find in a Volkswagen Polo or Suzuki Swift. Rear passengers may find it cosy at first, but will want to get out for a good leg-stretch 50km later. To be fair, this sort of thing applies to pretty much every B-segment hatchback in the country – bar the Jazz. What isn't very common is boot space, of which the 2 offers a lot more of than a Swift, Polo and maybe Rio. Particularly, I appreciated the depth of the boot (under which houses a spare wheel) and its wide opening. Moving flat-packed IKEA fixtures etc. were no problem with the rear seats folded.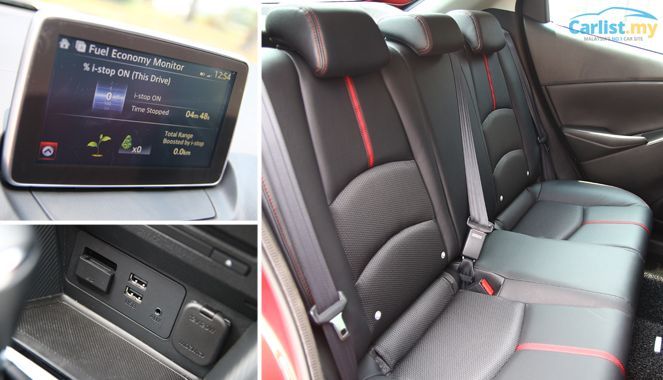 FEATURES: Else inside, you do get a lot of premium privileges which are being poured over in generous proportions into more affordable models. For example, you get a steering wheel equipped with audio and voice control buttons, the very impressive MZD Connect touchscreen infotainment system, two USB ports and an SD Card reader up front, keyless entry, engine push-start button, a rotary dial on the center console (ala BMW iDrive) to manage your vehicle's settings, and more. There's even a full-on heads-up display system!
Then there's the visual appeal of the interior, which appears to feature more red stitching and carbon fibre bits than a Mercedes-Benz A 45 AMG! The seat are mostly leather, apart from the bits that contact your bum and back, but that just ensures the 'important' bits don't get fried when you get in the car on a hot day.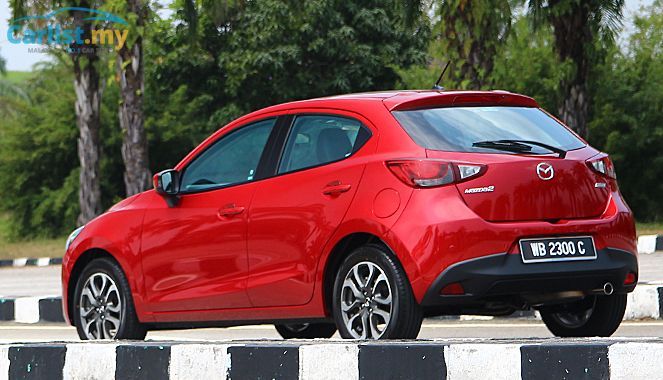 QUALITY: There's a lot to appreciate in what you see around you. Yes, Mazda's touch of a head-up display system is great and all, but the brand's dedication to quality reveals very classy things like the brushed aluminium surrounds on the instrument cluster, and not some silly stickers in different colour. Mazda makes a very genuine attempt to rise above the competition.
EFFICIENCY: Fuel economy proved relatively impressive, given how hard we were on the throttle most of the time. On average, we found readings of around 7.5-litres/100km, but that figure is easily improved on with a more conservative approach to the throttle.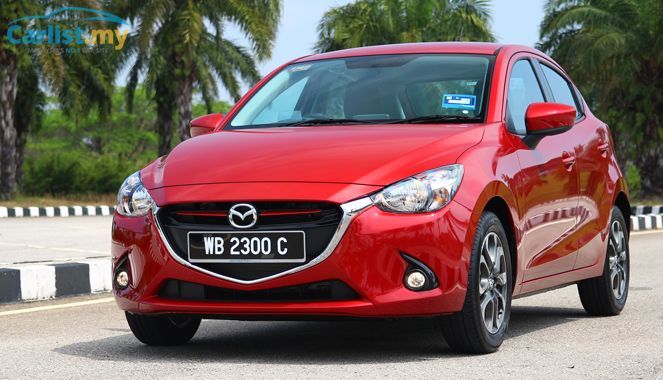 Verdict:
As an everyday runabout car, you'd probably be better off in a Honda Jazz/ City, and that's this writer's honest opinion; if what you want is a reliable, practical, plain-Jane and comfortable B-segmenter. The Mazda 2 does get very, very close to it, though: excelling it even, in certain aspects –overall refinement being one of them.
But where the Mazda 2 really makes up for any losses against the City and Jazz is with its sheer sex appeal. Not only does this car look as cool as it does, it drives well, and likes to be hustled briskly – something that (done safely and legally) makes driving the exciting experience it naturally is supposed to be.
Pity, though, that it could have been a heck of a lot sexier with the original projector headlamps with LED daytime running lights, and not these bulb-ed reflectors.
---
---
---
Comments