How Efficient Can A Mazda 2 SkyActiv-G Be In The Real World? It's 35.18 km/litre
Insights Much has been said about the benefits of Mazda's signature SkyActiv suite of fuel-saving technologies, which promises near hybrid-like fuel economy but minus the added weight and cost of hybrid components. As a bonus, these SkyActiv-equipped Mazdas are a joy to drive.
To put the claims to the test, Bermaz Motor, the local distributor for the Mazda brand organized a fuel economy challenge drive involving 15 Mazda cars, 5 units each of the Mazda 2, Mazda 3 and Mazda CX-5.
Unlike many other fuel economy challenges done in the past, this drive by Mazda intends to replicate real-world driving conditions, so the organizers have been very strict about banning any hypermiling techniques nonsense.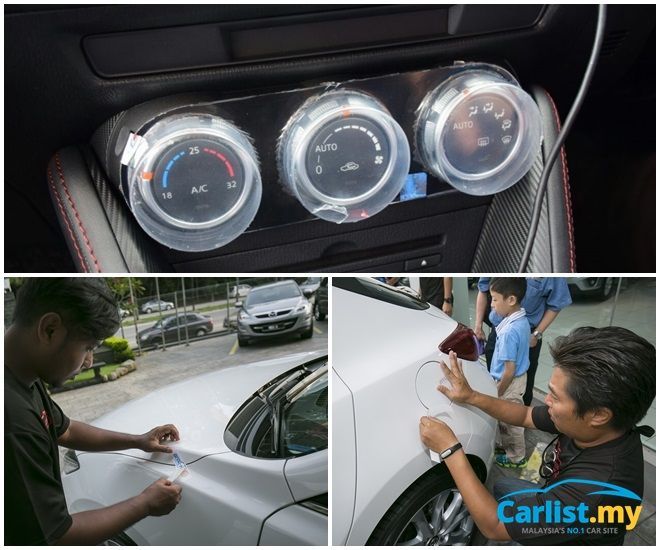 Even the air-conditioning controls have been sealed, with the control knobs set at 19 degrees Celsius, fan speed at mid-level, and each participant are given a limited time to complete each driving sections to ensure that nobody drives at ridiculously low speeds. Every 5 minutes of late arrival past the targeted arrival time will incur a penalty of 0.3-litre/100 km.
Folding of side mirrors is also not allowed, and security tapes have been pasted at the base of each mirror for added measure.
In fact, on the last two legs we were caught by heavy traffic along the North South Highway enroute to Permas Jaya in Johor Bahru, forcing us to up our pace to avoid any late penalty. At some sections we had to maintain speeds that are way above the speed limit and cannot be published here.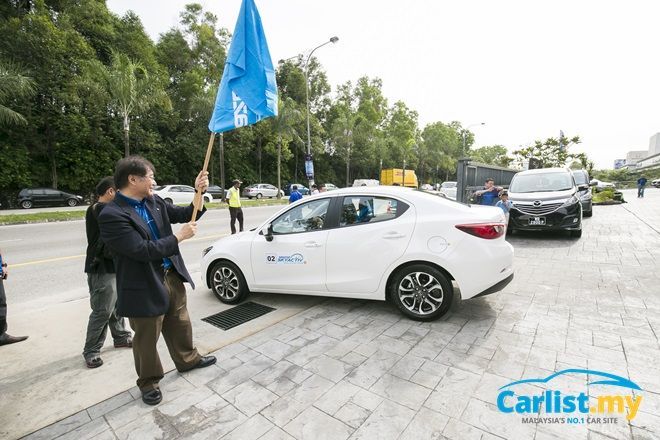 Our test car was a Mazda 2 Sedan 1.5-litre, running on Dunlop Enasave EC300+ tyres. I took the first leg, with Gerard (representing our sister-publication Malaysian Evo magazine) navigating. Starting off at Bermaz's headquarters in Glenmarie in Petaling Jaya at 9am, we drove into the tail-end of morning rush hour traffic.
Snarling traffic the biggest enemy of fuel economy, as fuel is burnt away without moving the car. Still, with a little bit of effort, savings can be gained.
The trick is to pay a lot of attention, constantly monitoring each lane's traffic flow while looking far ahead. Is the car on the left pulling in? Is there a gradient coming up? Are the cars ahead slowing? By paying attention to your surroundings and the changing traffic conditions ahead, and modulating the throttle appropriately, you can minimise fuel-sapping unnecessary braking.
Best of all, employing such driving techniques not only makes you a safer driver, it doesn't slow you down one bit at all. In fact, our car was actually slipping through traffic faster than many aggressively driven cars who were making a lot of unnecessary lane changes, and then getting caught up behind another slow vehicle.
The only trick we employed was manually disabling the i-stop engine idle stop feature when inching along in traffic, and reactivating it again while waiting at the traffic lights.
Sometimes, the unnecessary start-stop cycles might end up burning more fuel, as more fuel is used to restart the engine. However when the car is going to be idle for longer periods, like when waiting at a traffic light intersection, i-Stop will save fuel.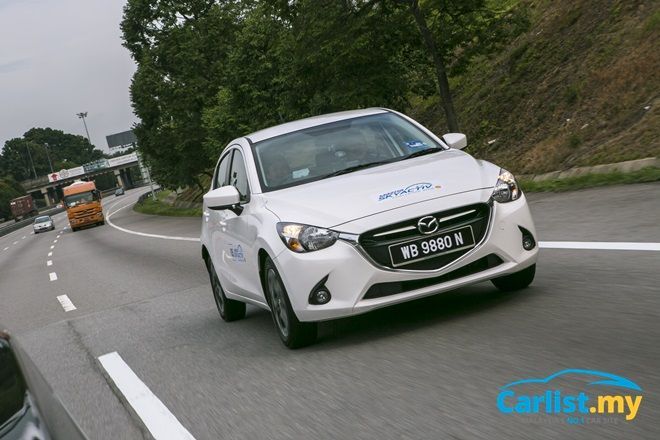 Once we entered the highway, we kept an average speed of between 65 to 75 km/h, constantly monitoring our ETA on Waze. We were given 75 minutes to reach the Senawang R&R stop 83 km away. That's more than enough but we decided to keep a brisk pace as traffic is expected to be heavy near Seremban and we need to build a comfortable buffer for that.
After a compulsory 10 minutes stop at Senawang, the marshals released our car for the next 56 km leg towards Philea Resort in Melaka, to be completed in 55 minutes with Gerard at the wheel.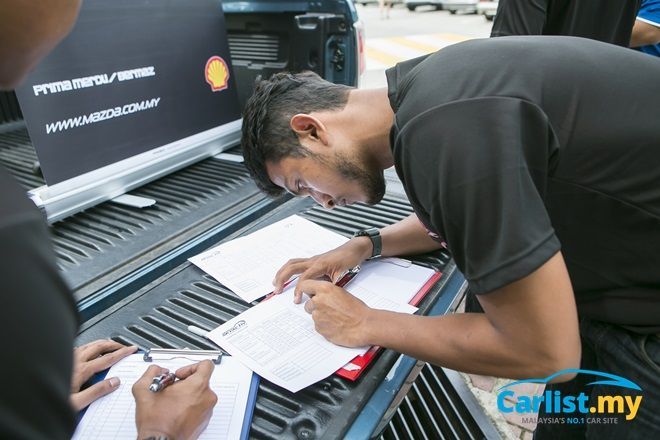 At this point, Waze alerted us of slow traffic near the Ayer Keroh toll, so we maintained a similarly brisk 75 km/h but after awhile, Waze again alerted us that we are well within the targeted ETA with a 20 minute margin so we backed off the throttle slightly.
Following another compulsory stop at Philea, we made our way to the most challenging stretch yet, a 92 km stretch that must be completed within 80 minutes, with Gerard at the wheel once again. Traffic was progressively getting heavier, with many heavy vehicles on the highway, chipping away our margin from a comfortable 20 minutes to just 10 minutes.
On the clearer sections, we had to increase our pace, reaching up to 120 km/h, sometimes beyond, to keep to our targeted ETA.
We arrived at Yong Peng in good time and after another 10 minutes compulsory stop, it's my turn to take the wheel again for the final 112 km leg towards Permas Jaya, to be completed in 90 minutes.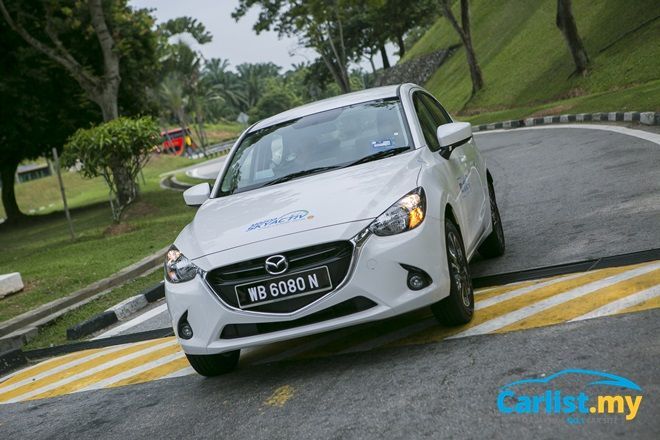 Almost immediately after rejoining the NSE, Waze threw a bombshell saying that heavy traffic ahead is pushing our ETA back by 20 minutes. Our 10 minute margin has now turned into a 10 minute deficit. With the traffic ahead still clear, I prodded the throttle harder in a futile effort to claw back some time.
Rather than flooring the throttle, I timed my accelerations and overtakings on the downhill sections, applied gentle throttle pressure to let the speed creep up gradually. I don't recall any fuel economy challenge that I had participated in the past where I had to fly past so many cars at such speeds.
It is almost certain that we will get a penalty, so the objective now is to cut the penalty from two 5 minute blocks (0.6-litre/100 km penalty) to just one 5 minute block (0.3-litre/100 km).
Despite sacrificing much of our earlier gain, raising our average fuel consumption from below 4-litre/100 km to 4.3-litre/100 km, and hitting speeds well above the speed limit, politely flashing our headlights to request slower moving cars ahead to yield, our ETA was reduced by a mere 2 minutes only.
With less than 40 km to go before reaching the congested stretch, there was little else that I could do, soon we were stuck in a massive crawl due to roadworks. With the Mazda sitting idle, burning precious fuel away, and all two lanes clogged up, temptation was strong to follow the crowd and slip into the emergency lane but we are proud to say that we kept our discipline.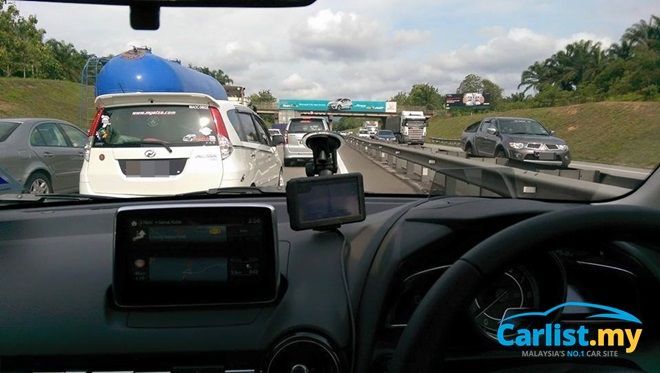 Soon other competitors joined the queue and it became clear to the organisers that nobody is going to reach the destination on time. A unanimous decision was made to waive any late penalty, which was welcomed but it also meant that our earlier efforts to pick up the pace and drove much faster than everyone else earlier had come to naught.
It the end, the results for our car came in at 35.18 km/litre, or 2.84-litre/100 km, putting us in second place, behind a Mazda 2 Hatchback which did 35.98 km/litre (2.78-litre/100 km).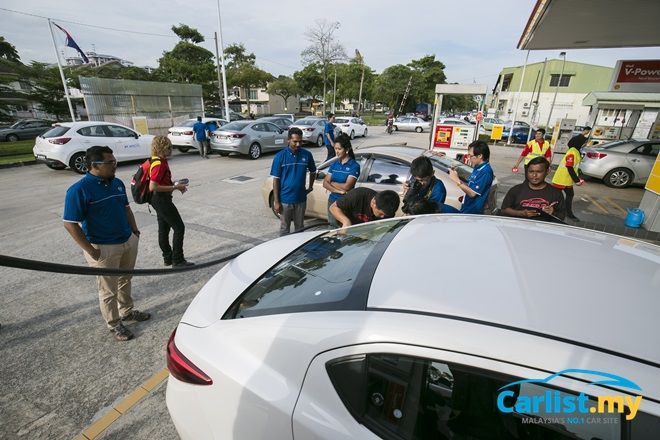 How Realistic Are The Figures?
Firstly, more than 92 percent of the distance 348.3 km distance covered are done on highways, so don't expect to see such fuel-sipping figures in your daily drive to the office and back.
But the point remains that the Mazda 2 is an impressively economical car to drive, and if you are a smooth driver, you can easily match the manufacturer's claim of 5.2-litre/100 km even though those figures are obtained in an ideal laboratory environment.
So if you can't achieve good fuel economy figures on a Mazda 2, don't blame the car.
Why We Love the Mazda 2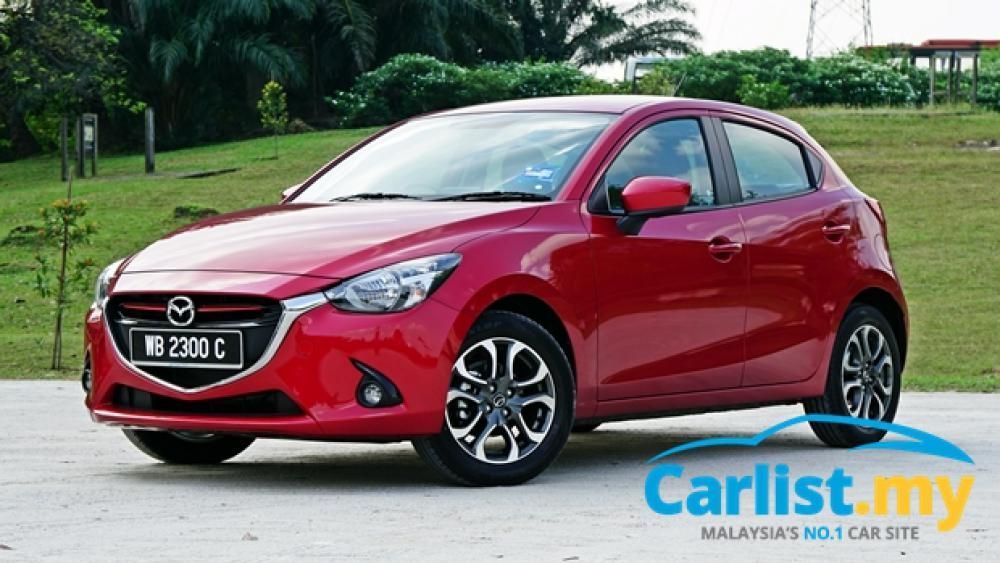 Beyond the economy aspect, we were reminded once again what a capable car the little Mazda 2 is. Its interior might be less practical and less spacious than a similarly priced Honda Jazz but the cabin's premium touch is so impressive that it is comparable to an entry-level German luxury car – say a BMW 1-series or an Audi A1.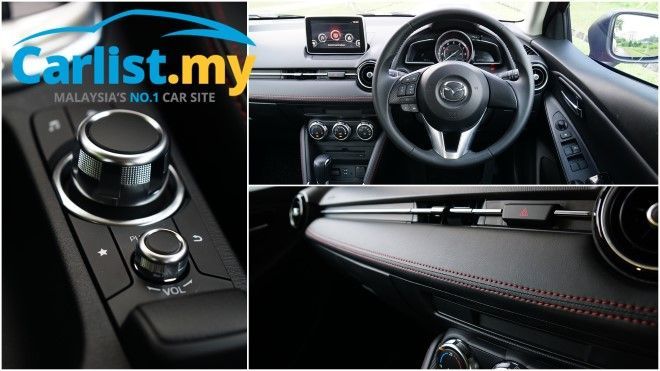 Even the graphics used on the MZD Connect infotainment system is very premium looking and reminds us of those seen in BMWs, especially with respect to the layout, colours and resolution of the built-in GPS navigation system.
Despite its diminutive size, the car was very confident to drive in, and the cabin was impressively quiet.
Yes, the Honda Jazz is still the golden benchmark in everyday city cars, but for those who are willing to trade a little bit of practicality for some fun time, you can't go wrong with a Mazda 2.
---
---
---
Comments