2015 Toyota Camry 2.5 Hybrid Review - Last Chance Hybrid
Reviews With three more months to go before the tax exemptions for locally-assembled hybrid vehicles expire on 31-December 2015, we take another look at the RM174,900, Toyota Camry 2.5 Hybrid, whose price could balloon beyond RM220,000 if the tax incentives are not extended (still no word on that yet).
What's new?
Technically this Camry is a mid-life cycle update rather than an all-new model, but that hasn't stop Toyota from working on it as if it's an all-new model.
Beneath the significantly improved exterior (probably a tad too sporty for some mature buyers) is a new engine line-up across the range.
Chassis control has been vastly improved - with an updated rear suspension and revised calibrations for the steering, which now sends much better feedback to the driver thanks to the adoption of a pre-load differential, which Toyota says improves steering feedback when driving on straight roads.
Sound insulation has also been significantly stepped up from the previous model.
About the hybrid powertrain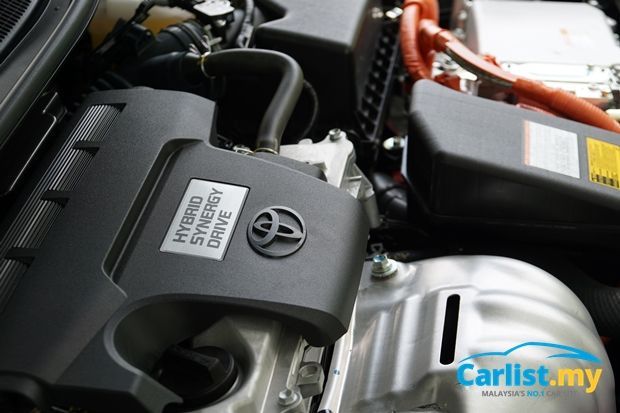 Under the hood is a full-hybrid powertrain that is one of the most sophisticated on the market. Noticed we say 'on the market' rather than 'in its class.' More on that later.
The 2.5-litre Atkinson cycle petrol engine is paired to a two-motor (one acting as a starter motor and a generator, another for regenerative braking functions and driving the front wheels) NiMh traction battery-powered setup to produce a total system output of 205 PS.
The Camry's 2AR-FXE Atkinson cycle petrol engine (delayed intake valve closing) produces 118 PS at 5,700 rpm, and 213 Nm at 4,500 rpm while the electric motor adds another 105 PS. The total system output is 205 PS, less than the sum of the engine's and motor's output because peak output is not achieved at the same speed.
Toyota's more sophisticated two-motor setup allows the Camry Hybrid to deliver a significantly smoother driving experience than any other hybrid on the market bar a Lexus hybrid. Yes we do mean that.
What we are going to say next might sound silly, but drive the Camry Hybrid in congested traffic, in a hot afternoon, and repeat the same with a one-motor diesel-electric Mercedes-Benz E300 BlueTec Hybrid and you will immediately notice the difference in the Toyota's uncompromised air-conditioning cooling performance and smoother engine start-stop operation. Toyota's powerful two-motor setup is able to seamlessly drive the vehicle from standstill to higher speeds before restarting the engine, thus minimising any uncomfortable judder when the engine restarts.
The Mercedes-Benz also has a similar electrically operated air-conditioning compressor which in theory, should compensate for the drop in cooling performance when the engine cuts out, but in reality, it just doesn't. A diesel engine is already weak in terms of refinement to begin with, adding a start-stop function to it merely amplifies the juddering more than a usual diesel car.
The Camry Hybrid's brochures lists its transmission as an E-CVT type, but despite its name, it has little in common with a conventional CVT. For one, it doesn't even have any belts or chains. Instead, the E-CVT is actually a planetary gearset whose working is simply too complicated to explain here.
Why does it have to be so complicated? Well, depending on a variety of factors – throttle pressure, engine load, traction battery charge level, and vehicle speed - the two motors and the engine are operating at different speeds, and any one or two of these three drive components could be doing the driving at any one time, so a conventional transmission will just not work here.
To avoid confusing consumers, Toyota simply calls it an E-CVT because it is able to replicate the same infinite ratios of conventional belt or chain-driven CVTs.
There are two driving modes to choose from – Eco and EV. The latter is allows the car to be driven purely in electric power, for a distance of less than 2 km or at speeds no more than 40 km/h. It should be noted that switching to EV mode does not reduce the car's fuel consumption, as the Camry is a hybrid car rather than an electric car. The system is optimised to work in conjunction with a petrol engine. Using EV mode unnecessarily simply adds stress to the battery.
So why bother having the EV mode then? To answer that, one needs to understand Japanese driving habits. In ultra-polite Japan, the Japanese salarymen coming from home late from work appreciate a function that allows them to drive into their neighbourhoods and park their car without waking up their neighbours. EV mode is not meant to be a fuel-saving feature.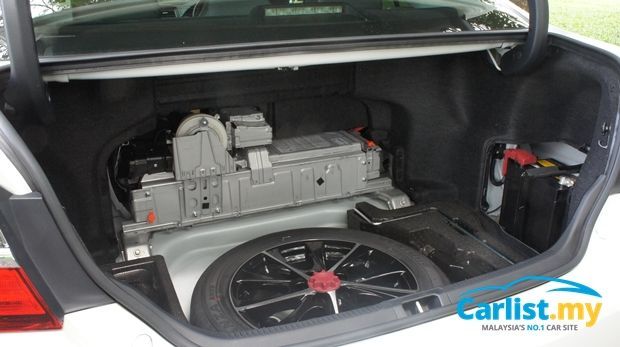 Located behind the rear seats is a NiMh traction battery pack, which is cooled by a fan that draws cool air from the cabin. To ensure long-term durability of the battery, it is very important that the air vent on the left-side of the rear passenger seat is not blocked, and that sufficient cool air is directed to the rear. Keeping the cabin and air vent clean also helps.
The battery is covered by an 8-year/unlimited mileage assurance program from UMW Toyota.
How does it drive?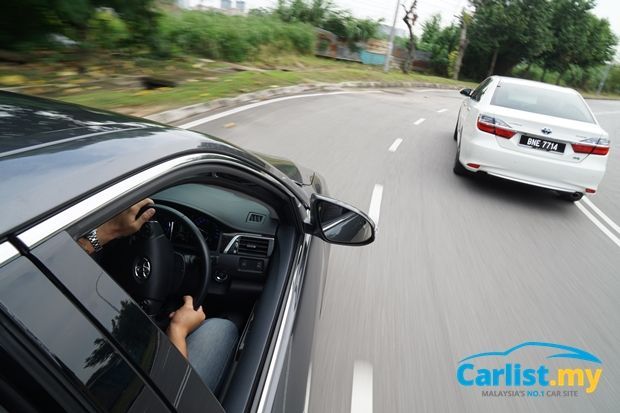 Fast. Properly fast. Don't bother trying to race this hybrid away from the traffic lights. Among its peers, probably only the 240 PS all-new 2.0-litre turbo Ford Mondeo can pass it.
On paper it has 205 PS but it actually feels much more powerful than that, especially when accelerating away when in mid-range engine speeds.
The throttle response is sharp, power delivery is instantaneous. But hold your thoughts before you jump into any conclusion that this is some GTI D-segment sedan.
While the Camry Hybrid might have an impressive straight-line performance, it doesn't have the composure to deal with the added performance, reminding you that this is first and foremost a Camry.
Don't get us wrong, there is nothing wrong with Camry's electrically assisted steering rack and suspension (MacPherson struts in front and independent dual links behind). The Camry Hybrid's priority is to maintain a supple ride across long distances and to effortlessly chomp kilometres after kilometres of monotonous highway journeys. On this aspect, it simply nails it.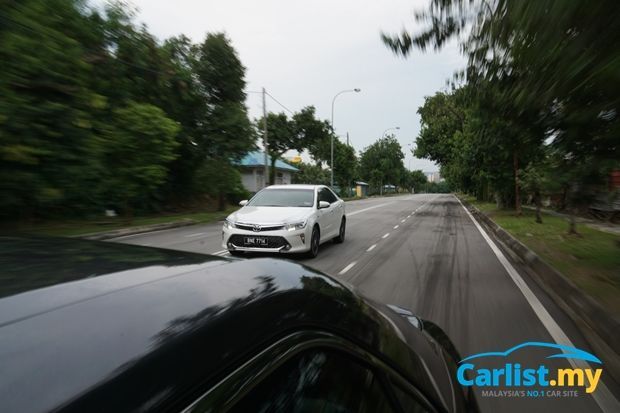 Hybrids typically have a firmer than normal suspension in the rear, an unavoidable trade-off necessitated by the presence of the heavy traction battery behind. Their ride can be a little jarring when driving rougher on the road surfaces.
Not the Camry Hybrid though. Its supple ride is comparable to the best in its class. I won't say it's better than the Honda Accord but it's comparable.
The cabin is also impressively quiet, and is easily comparable to a Volkswagen Passat, if not better.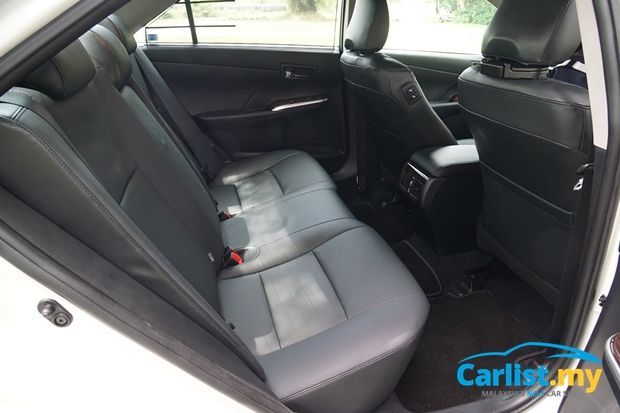 The steering is precise but largely devoid of feedback. It holds its line well in the corners even when you progressively increase the pace. Considering that it's only running on regular Bridgestone Turanza (215/55 R17) tyres, that's quite impressive.
Push it harder mid-corner and you can feel the added weight from the car's rear balancing the two ends and just when you would the rear to start complaining and the front to push wide, the Camry somehow manages to find that few extra µ of grip. Indeed the Camry Hybrid's scope of mechanical grip around corners is impressive. But it's not an experience that you relish, and it's not meant to be anyway. This is after all, still a comfort-oriented sedan for the corporate crowd.
At low speeds, the Camry Hybrid automatically creeps quietly in electric power, but compared to the Prius, the Camry Hybrid's petrol engine appears to kick in a little bit earlier.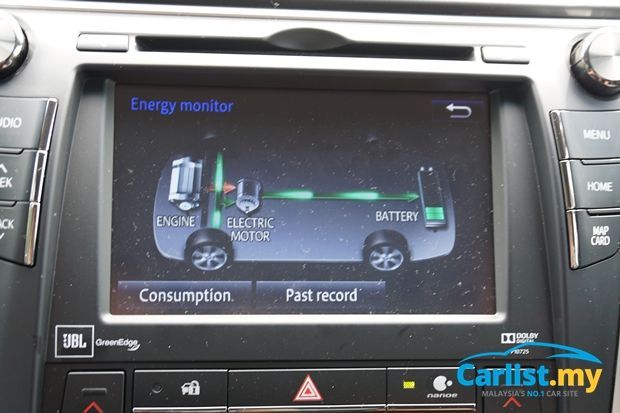 Over the course of 250 km, with an almost equal mix of rush hour city and highway driving, driven by two drivers with two very different driving styles (the other guy drives a 400 hp Audi S4 daily, and is not known to be gentle on the throttle), the Camry Hybrid averaged 6.5-litre/100 km. Claimed fuel consumption is 5.2-litre/100 km.
What's Not So Good?
On the whole, the Camry Hybrid is a very impressive sedan. It's powerful, quiet, the cabin is spacious front and rear. There are however some small details that marred this otherwise perfect mass-premium D-segment sedan.
The keyless Smart Entry only works on the driver's side, which was a source of a lot of annoyance. Yes, the keyless entry system used in the Camry is more sophisticated than the Accord – the sensors sit flushed with the driver's door handles (as opposed to the Accord's non-colour coordinated button) and can be operated simply by touching them, instead of having to press a button on the handle like in the Honda.
If you have to open any of the left-side doors to grab something from the car, you will have to dig your pockets for the key, just like in the old days. We would've traded the Camry Hybrid's more expensive setup for the Honda's simpler solution just so we can have a proper keyless entry function on both sides of the car.
Inside, the car's infotainment system appears to be an after-thought and its cheap looking graphics don't quite match the Camry's image.
The cabin's ambience, while impressively quiet, doesn't feel as premium as the Honda Accord, or even the facelifted Mazda 6. The aesthetics of the Camry's cabin's plastic trims, tactile feel of its switches and controls are all a notch below the Honda and the Mazda. The Camry's steering wheel also looks the most dated among the trio.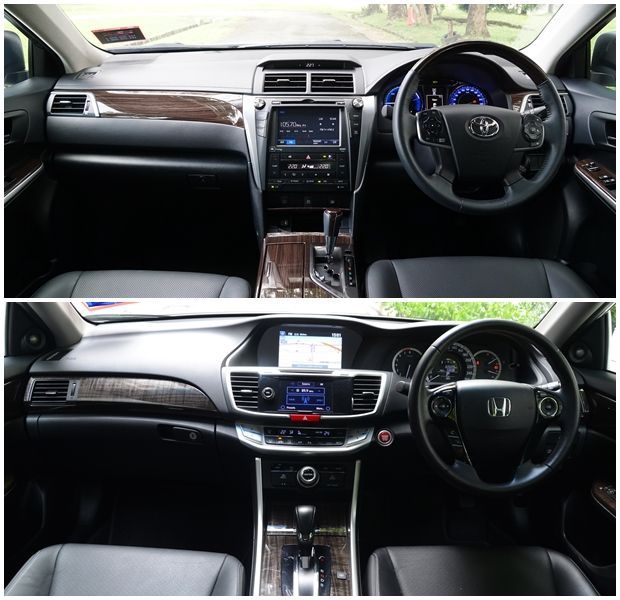 Verdict
Despite some minor shortcomings in the cabin's aesthetics, infotainment and Smart Entry system, the Camry Hybrid is on the whole, a recommended purchase.
It has all the safety features you would expect from a D-segment sedan, and then more. Its impeccable road manners make it a perfect companion for those long, monotonous highway drives.
Fans of younger pretender models might try to sway you over to alternatives from Europe, but the only real alternative to the Camry is still the Honda Accord.
All other alternatives are a significant compromise in terms of interior space, ride comfort and reliability. Yes, we admit there's no denying that a Mazda 6 stirs the emotions more, while a Ford Mondeo presents a more engaging drive, if you can stomach the RM198,000 price. But if you are looking for emotional appeal and an engaging driving experience, you shouldn't be looking at this side of the market anyway.
Camry or the Accord?
The Accord wows you with its very premium cabin and class-leading interior space while the Camry delivers a superior driving performance with minimal penalty on fuel economy, and has a quieter cabin.
Both have their pros and cons and either choices can be right choice for you. It's about whichever that rocks your boat.
Specifications for Toyota Camry 2.5 Hybrid
Price: RM174,900
Engine: 2AR-FXE 2.5-litre 16-valve 4-cylinder VVT-i petrol-electric full hybrid
Power: 205 PS (maximum total output)
Torque: 213 Nm at 4,500 rpm (engine), 270 Nm (motor)
Traction battery: NiMh
Transmission: E-CVT (planetary gearset type)
Safety: 7 airbags, VSC, TRC, ABS with EBD and BA, ISOFIX (rear), Whiplash Injury Lessening Front Seats, Blind Spot Monitor, Hill Start Assist, Emergency Stop Signal
---
---
---
---
Comments