2016 All-New Toyota Hilux launched in Malaysia, Prices Start at RM89,900
Auto News UMW Toyota Motors today launched their much vaunted all-new 2016 Toyota Hilux. There are a total of six variants, spread over a two engine choices and body configurations in either 2WD or 4WD settings. The perennial Single-Cab (2.4-MT) variant aimed at commercial consumption, starts the ball rolling at RM89,900. The prices of the other five Double-Cab variants are as follows:
Hilux 2.4 (MT) 4x2: RM91,900
Hilux 2.4 STD (MT) 4X4: RM99,900
Hilux 2.4G (MT) 4X4: RM109,900
Hilux 2.4G (AT) 4X4: RM121,900
Hilux 2.8G (AT) 4X4: RM133,900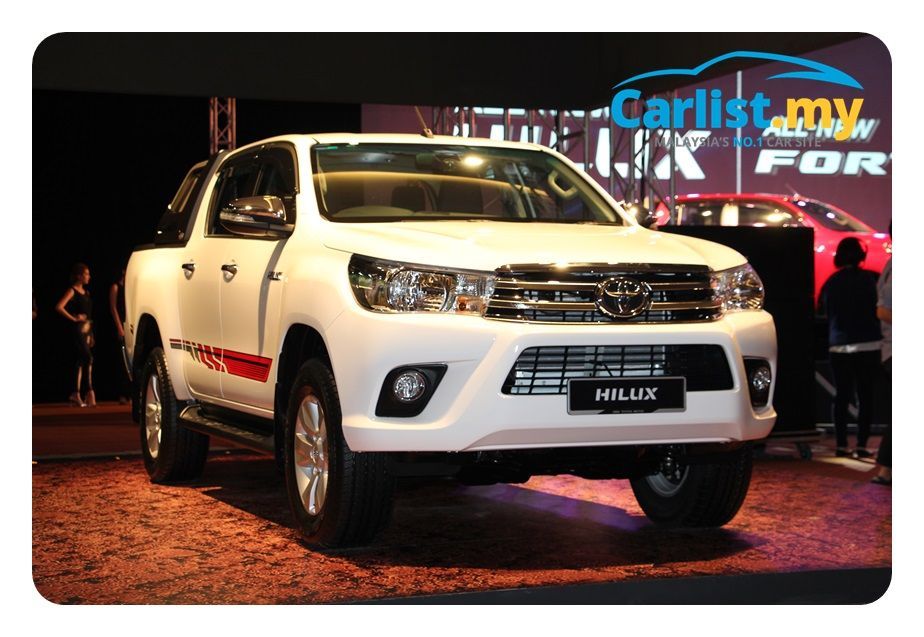 All prices quoted are on the road without insurance inclusive of GST taxes in Peninsular Malaysia.
We'll get to the Hilux 2.8G which packs all the bells and whistles from the Hilux range, for now, the comprehensive list below entails the extensive of equipment and features for the 2.4-litre variants.
Mechanical Specifications:
2.4-litre, inline-4 longitudinal, Turbodiesel Direct Injection (150PS @ 3,400 rpm, 400Nm @ 1,600 – 2,000 rpm)

2.8-litre, inline-4 longitudinal, Turbodiesel Direct Injection

(177PS @ 3,400 rpm, 450Nm @ 1,600 – 2,400 rpm)
6-speed torque converter automatic or 6-speed manual
Halogen headlamps
80-litre fuel tank
Protective bed-liner
Rear fog lamps
ABS with EBD, 3 x SRS Airbags (Driver, Passenger, Knee)
Overview
Some may even argue that the Toyota Hilux started the modern pick-up truck segment. Nowadays though, it faces stiff competition from the Isuzu D-Max, Nissan Navara, Mitsubishi Triton, Ford Ranger and Mazda BT-50.
Against the backdrop players like Ford and Isuzu marking big sales increments as the Toyota Hilux reached the stub of its shelf life – the replacement could not have come any sooner.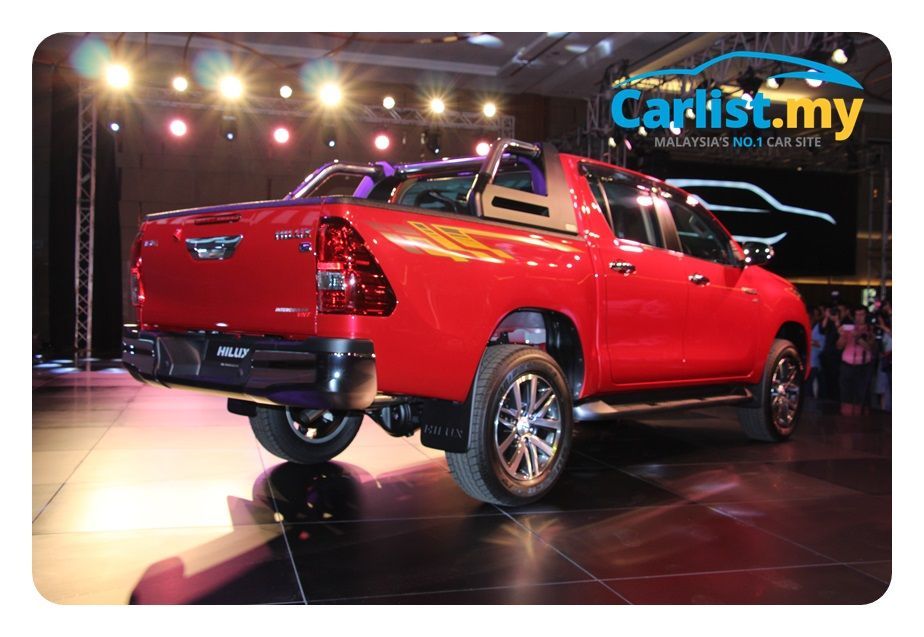 In a broader sense, not many would bet against the all-new Hilux making a smashing impact on the segment as it goes on sale. Buyer sentiments for value, versatility and durability carved from decades of dependable service and millions of satisfied owners.
While one might not surmise them as drawbacks – where the previous generation started to show its archaic roots was its lack of standard safety equipment, connectivity features and chassis refinement. Now in its eight generation, a host of technological and visual enhancements aim to put the Hilux atop the pick-up truck buyer's wish list and sales charts alike.
The most notable enhancements to the new model an all-new range of Variable Nozzle Turbocharged (VNT) and direct-injected inline-four diesel engine, power numbers read a tantalising 177PS and 450Nm in the range topping 2.8-litre which has somewhat bridged the gap the Hilux had against newer competitors. Meanwhile, 150PS and 400Nm in the 2.4-litre aren't paltry either.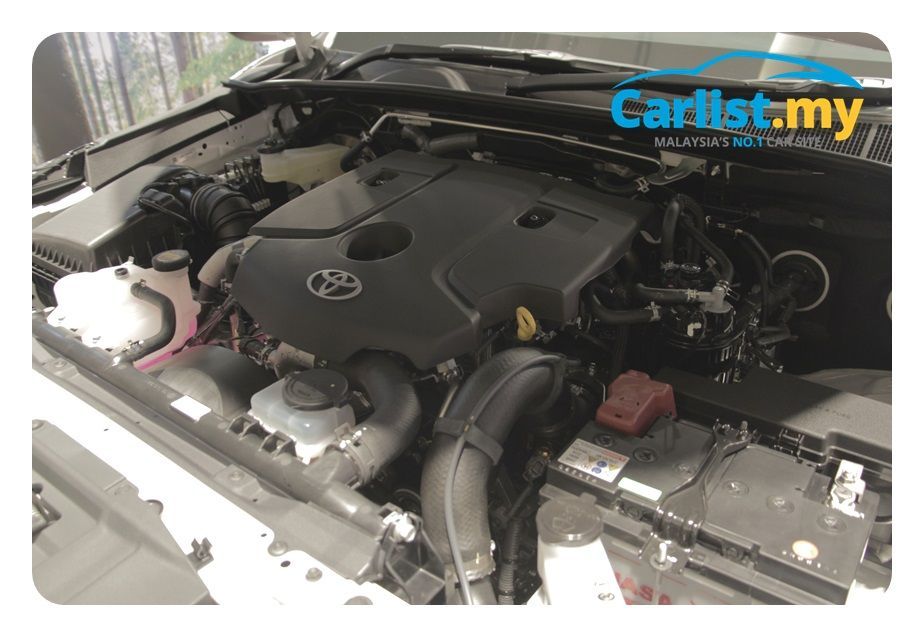 Power is transmitted through either an all-new six-speed manual or automatic. The latter is supplemented with a sequential-shift feature.
4x4 variants receive a rear-differential lock and in the G variants, buyers will receive Active Traction Control dubbed 'A-TRC' and Vehicle Stability Control as standard. Toyota also claims an all-new chassis underpins the Hilux, stitched onto the common place ladder-frame.
The major highlights between the variants are listed as follows:
Hilux Double Cab 2.4 STD (MT) 4x4
Part time 4WD with Auto-Disconnecting Differential
17-inch Steel Wheels – All terrain tyres
Bulb type daytime running lights
Backlit meter panel
2-Din CD player head-unit, four speaker audio setup
Four-Way manually adjustable front driver and passenger seats
Fabric seats
Upper glove box
Hilux Double Cab 2.4 (MT) 4x2 adds the following features:
Body colour front bumper
Driver's side Auto Down power windows
Immobiliser, Siren with backup battery, speed-auto door lock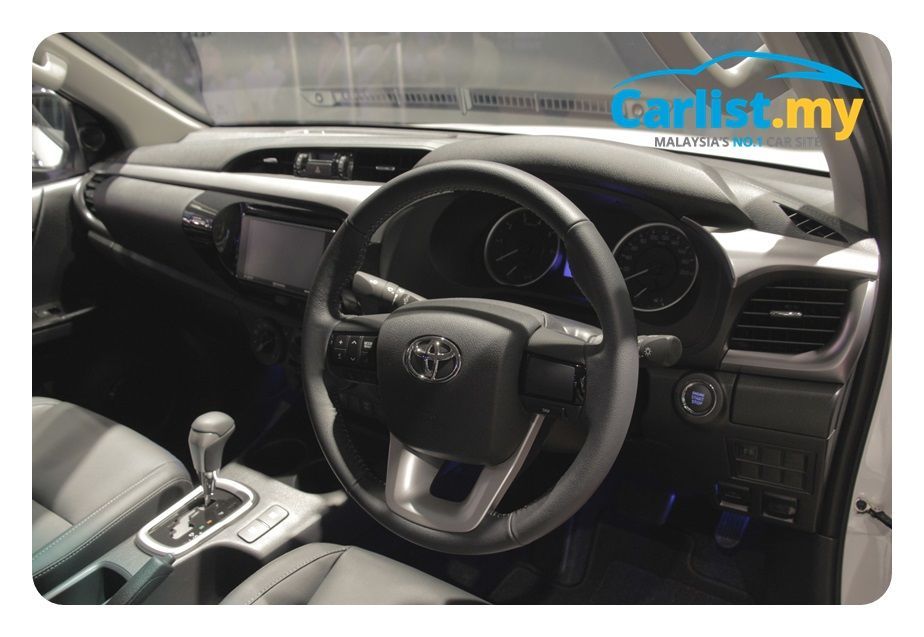 Hilux Double Cab 2.4G (MT) 4x4 adds the following features:
17-inch Alloy Wheels – All terrain tyres
Multi information meter display
2-Din head unit DVD player, 6.1" touchscreen, six speaker audio system
Four-spoke leather wrapped steering wheel and gear knob
Audio, Bluetooth and Hands free steering wheel controls
Front fog lamps
Side mirrors - power adjustable and retractable; integrated turn signal
Keyless entry, engine start button
ECO/POWER drive modes
Electronic 4x4 transfer dial
Six-way manually adjustable driver's seat
Reverse camera and sensors
Hilux Double Cab 2.4G (AT) 4x4 adds the following features:
Combination black leather
Eight-way power adjustable driver's seat
Brake assist (BA)
Vehicle Stability Control (VSC)
Active traction control (A-TRC)
Hill-start assist control (HAC)
Emergency stop signal (ESS)
Trailer sway control (TSC)
Toyota premium security and solar tint film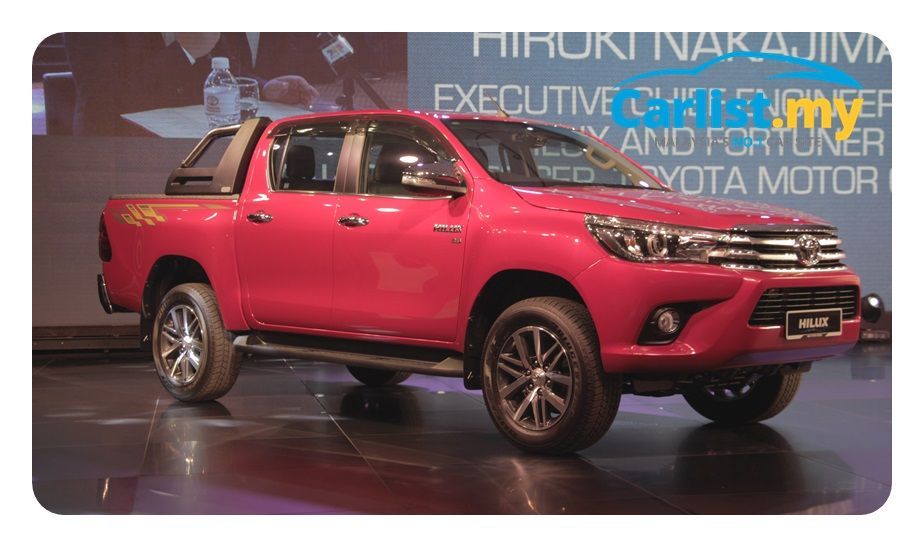 The Toyota Hilux Double Cab 2.8G (AT) 4x4 tops off the range with:


265/60 R18 Alloy Wheels – Highway terrain tyres
LED projector headlamps with auto levelling function and LED Daytime Running Lights
Optitron meter panel
2-Din head unit DVD player, 6.1" touchscreen – MP3, AUX, USB, SD card and Bluetooth capability, six-speaker audio system.
Audio, Bluetooth and Hands free steering wheel controls
7 x SRS Airbags (Front, Side, Curtain and Knee)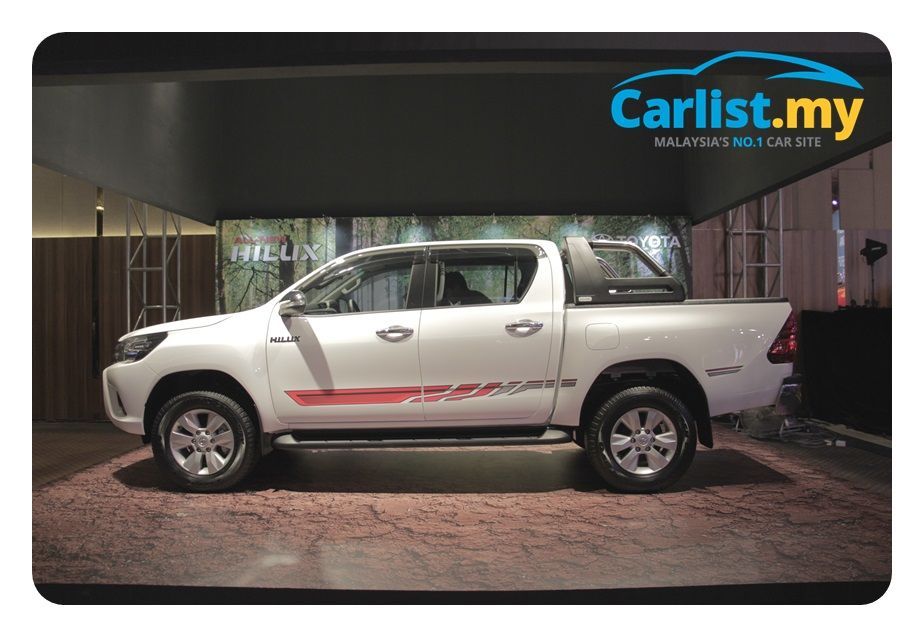 The 2.4- and 2.8-litre variants (auto and manual) may be opted with an optional 7" touch screen 2-Din head unit with DVD, Smartphone connectivity, Wifi, Voice recognition, HDMI Bluetooth and Navigation system. A reverse camera suite with guide-lines is integrated as well.
First Impressions
Prior to the launch, we were briefly (being the keyword here) handed the keys to the all-new Hilux to sample the car over a specially designed dirt trail, followed by a road test, first on a closed course and on a section of the motorway. Each section offering not much more than five minutes behind the wheel.
While looks can be subjective, as is the appreciation of it – it may seem as the guiding factor of one's initial appraisal of the Hilux. While it remains a truck, the blend of contoured lines on the frontal section are nicely highlighted by the swoopy edges of the front headlamps. The flanks reveal nicely rounded edges and in the case of the 2.8-litre, complimented in a big-way by the 18-inch alloy wheels. The rear is more traditional, as it must be, but it's easy to endorse the Hilux's handsome looks.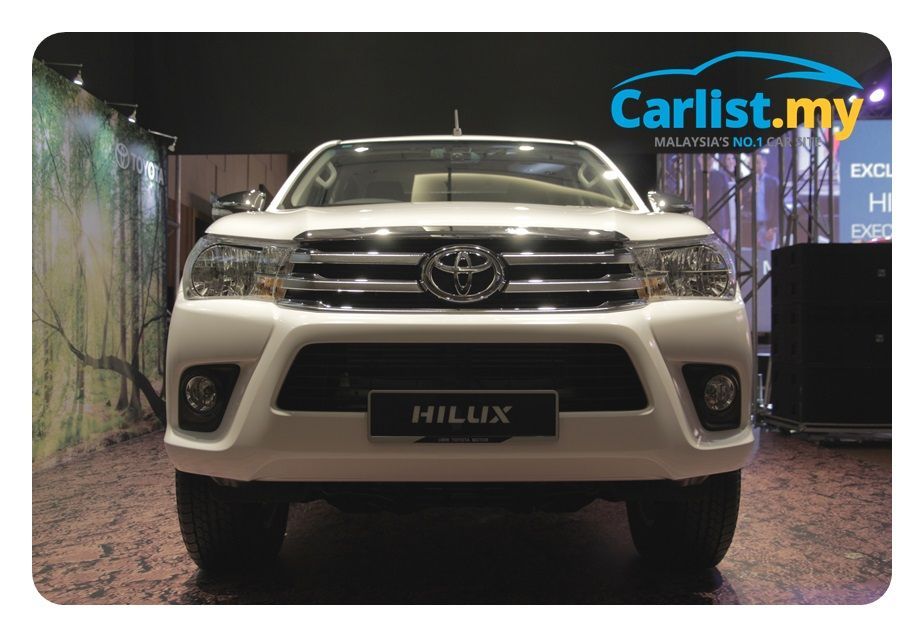 The dirt-track section combined three muddy and hilly sections to exhibit the car's re-engineered off-road prowess. Threading between undulating sections of great depths caused the car to cantilever on three wheels – exhibiting the A-TRC system's ability to distribute power to the corners with most grip, while the chassis' had to resist stresses that would flex the ladder frame underneath.
A 25-degree slope simulates the an extreme setting to test the hill-start (HAC) function, it is here where one starts to comprehend the sheer grip offered by electronic aids on a truck that was shod in off the shelf all-terrain tyres. A final section drenched the car in 500mm of 'teh tarik' coloured water to offer up the Hilux's water wading capacity.
Only the 2.8-litre variant was sampled during this session; and it handled the relatively tough course with poise and surefootedness.
Stomping hard on the brakes from 140kph, during the closed circuit stage revealed impressive stopping force delivered by the disc and drum brake combo. Regardless of how hard I tried, the ABS rarely if not ever had to intervene, owing to the masses of mechanical grip already present.
I had a go in the 2.4-litre variant out on the open road, along motorways and briefly in suburban areas, while cocooned in the rather stylish cabin (seemingly a nod to the firm's GT86 coupe) – the subdued NVH levels are instantly recognisable. Traces of the oil-burning lump up front is tenaciously filtered out from the cabin unless you're giving the right pedal a proper stomp.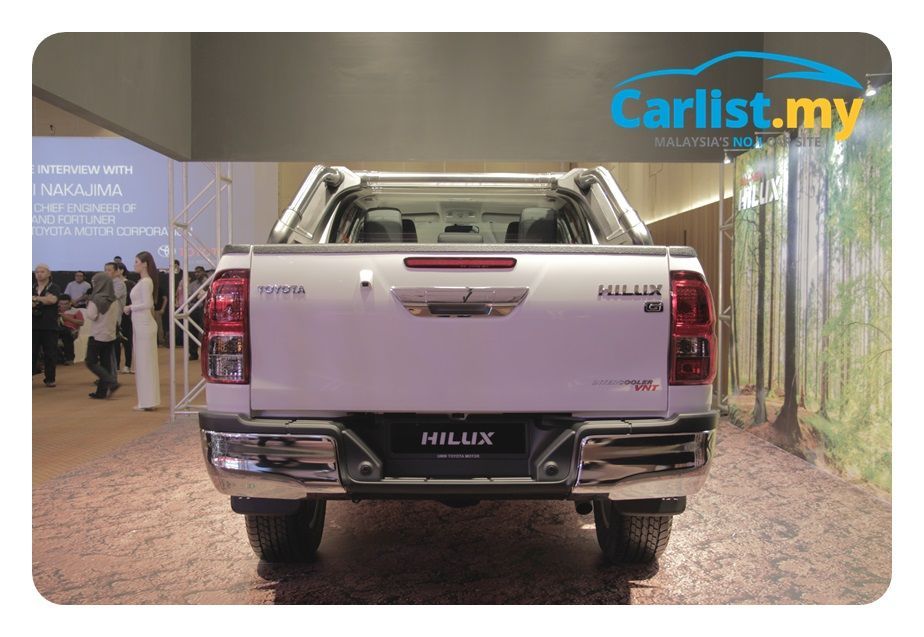 Toyota claims, much has been done to further refine the new 'GD' series – such as the smoother flowing intake plenum and less restrictive engine head unit. The 2.4-litre is refined and comes on song from 1400rpm and revs with some gusto all the way to the 4000rpm mark. The 2.8-litre reacts in much the same way, only with greater and stronger urgency, however, it does sound more gruff that the 2.4-litre lump.
There are noticeable differences in the way the all-new Hilux tackles the bends and bumpy road surfaces; now with a better quantum of poise and tautness. Alas, more time is needed to provide a proper analysis and to quantify the improved fuel efficiency claims. Stay tuned for a comprehensive report in the coming weeks.
---
---
---
---
Comments