2016 Toyota Vios Dual VVT-i Launched In Malaysia; EEV-certified, RM76.5k To RM96.4k
Buying Guides As anticipated, UMW Toyota Motor has officially launched an improved version of the third-generation Toyota Vios, enhanced with an all-new engine and transmission as well as improved safety that sees the implementation of electronic stability control as standard in all model variants.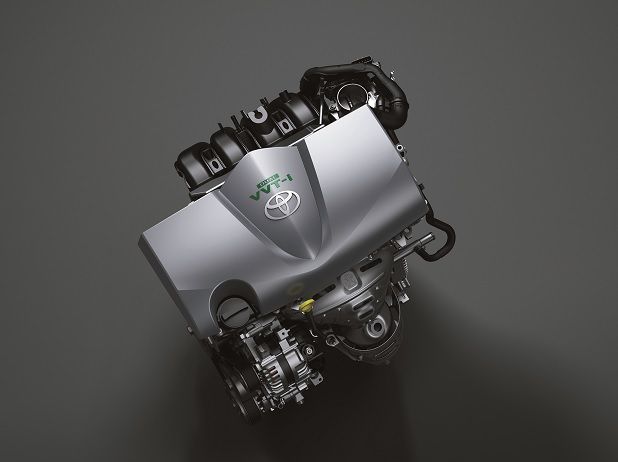 New Engine – 1.5-litre Dual VVT-i
Whilst unchanged externally, the new Vios' most important upgrade is the introduction of the all-new 1.5-litre 2NR-FE engine replacing the predecessor's long-serving engine of the same displacement. Compared to the older engine, the new Dual VVT-I unit gets variable valve timing on the exhaust side as well. Ignition is provided by higher grade iridium spark plugs for better combustion.
Curiously, however, the outputs of the new engine are reduced compared to its single VVT-i predecessor, being rated at 107PS @ 6,000rpm and 140Nm @ 4,200rpm, compared to 109PS and 141Nm previously.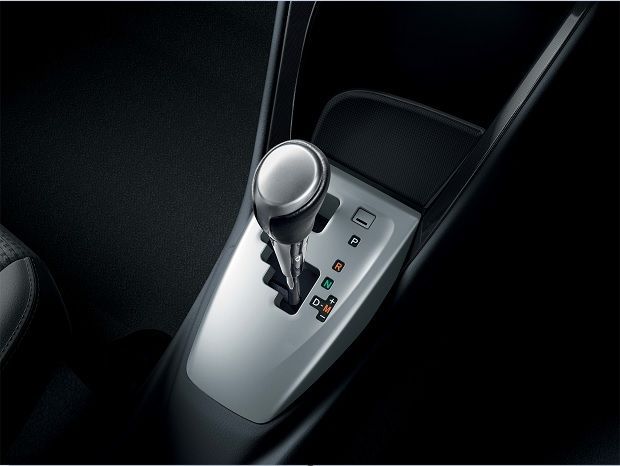 New Transmission – CVT replaces 4-speed auto
Along with the new engine comes a similarly new continuously variable transmission (CVT) that replaces the often-maligned but trustworthy 4-speed torque converter automatic transmission. According to Toyota's in-house data, the new engine and transmission combo is up to 18% more efficient than before.
For drivers who are more enthusiastically-inclined, the transmission incorporates a manual shifting software that provides seven virtual ratios for manual selection.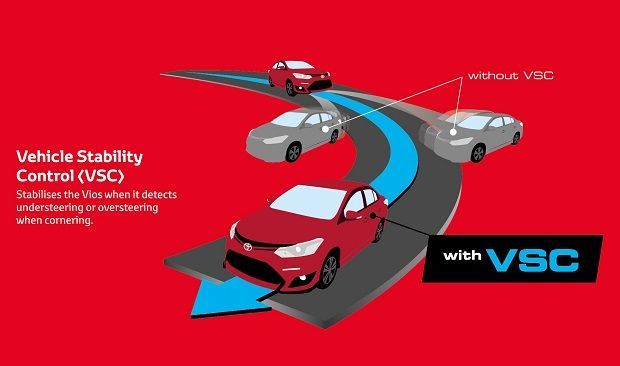 Better Safety – ESC for all
Safety is also now commendably democratized across the board; along with dual frontal airbags, ABS, and EBD comes the addition of electronic stability control, VSC in Toyota-speak, as standard in all variants of the new Vios. Reverse camera is fitted in four out of six variants.
A knee brace below the dashboard is claimed to minimize leg injury to the driver in the event of a major frontal collision.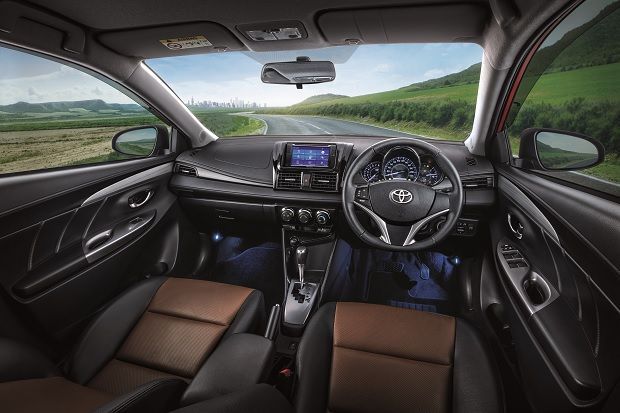 Six Variants – New 1.5 GX model
The new 2016 Toyota Vios launches with a total of six model variants, among them a new GX model that slots in between the existing TRD and G variants. Further below, the E and J variants continue to be offered to buyers on a tighter budget; the J model is offers a choice between manual and CVT, whilst the rest of the range are CVT only.
Thanks to its improved efficiency, the new Vios is certified as an energy efficient vehicle (EEV) under the Malaysian Government's National Automotive Policy (NAP 2014). This has enabled the price of each variant to be made comparatively lower than before.
Prices of each variant and their key features are listed below.
1.5J Manual – RM76,500, 1.5J CVT – RM79,800 (Previously M/T – RM77,980, A/T – RM81,880)
Dual Frontal Airbags
ISOFIX
ABS, EBD, Brake Assist
Electronic stability control (VSC)
Halogen reflector headlamps; manual level adjustment
Daytime running lights
Fabric upholstery
Keyless entry with engine start button
60:40 split-folding rear seatsfr
Footwell illumination - blue
Black interior
Power retractable door mirrors
Rear centre arm rest
Acoustic glass
1.5E CVT – RM83,900 (Previously RM87,580) adds:
Reverse camera
Audio: 2-DIN DVD-AVX head unit; 6.8-inch touchscreen (QC-fitted)
Toyota Premium Security & Solar Film
1.5G CVT – RM89,800 (Previously RM93,380) adds:
Projector headlamps; manual level adjustment
Leather upholstery
1.5GX CVT – RM92,800 (New Variant) adds:
GX Aerokit (Standard)
Two-tone perforated leather upholstery
1.5 TRD Sportivo CVT – RM96,400 (Previously RM97,980) adds:
TRD Sportivo Aerokit
Front bumper spoiler
Door sill scuff plate
TRD Sportivo carpet mats
Sporty instrument cluster
Leather-wrapped steering with red contrast stitching
Perforated leather seats with black and red stitching
Black front grille
Footwell illumination – amber
Black interior with red highlights
Optional Accessories
The following accessories are available for optional fitment in the new 2016 Toyota Vios
5-piece aerokit (1.5E & 1.5J only) – front & rear bumper spoiler, side skirt, trunk lid spoiler
Head unit: DVD-AVX (1.5J only) – 6.8-inch touchscreen, voice recognition, reverse camera
Head unit: DVD-AVN – 7-inch touchscreen, smartphone connectivity, GPS navigation, reverse camera
Window tint (1.5E & 1.5J only) – Toyota Essential Solar Film with 7-year warranty
Window tint (1.5E & 1.5J only) – Toyota Premium Security & Solar Film
---
---
---
Comments