2017 XU60 Toyota Harrier From UMW Toyota Motor – Better Than A Recond Model?
Auto News As reported earlier, UMW Toyota Motor will for the first time ever, be launching the Toyota Harrier in Malaysia very soon, taking the competition directly to grey imported models, colloquially referred to as 'recond' or reconditioned models.
Following the success of the Alphard and Vellfire in recovering lost ground from grey importers, UMW Toyota Motor hopes to repeat the same formula with the Harrier – by offering 5-year/unlimited mileage warranty, English language infotainment controls and owner's manual (recond models have Japanese language controls), support from Toyota's after-sales network covering not just maintenance and repairs but also recalls.
As mentioned in our earlier posts, this all-new Toyota Harrier is quite a departure from its predecessors. It's no longer related to the Lexus RX but instead shares the same platform as the smaller Lexus NX.
The biggest difference between UMW Toyota Motor's Harrier and used Japanese market recond models is the engine.
The recond models are powered by a 2.0-litre naturally aspirated Valvematic four-cylinder petrol, producing 152 PS of power and 206 Nm of torque. UMW Toyota Motor's Harrier uses a more powerful 2.0-litre direct injected twin scroll turbine turbocharged four-cylinder petrol that produces 231 PS of power and 350 Nm of torque.
Both grey imported and officially imported Harriers are equipped with a 6-speed torque converter automatic transmission.
UMW Toyota Motor's model is also of the newer facelifted variety, while the recond models are of the older pre-facelift variety. The facelifted model has a different front bumper, headlight and tail light.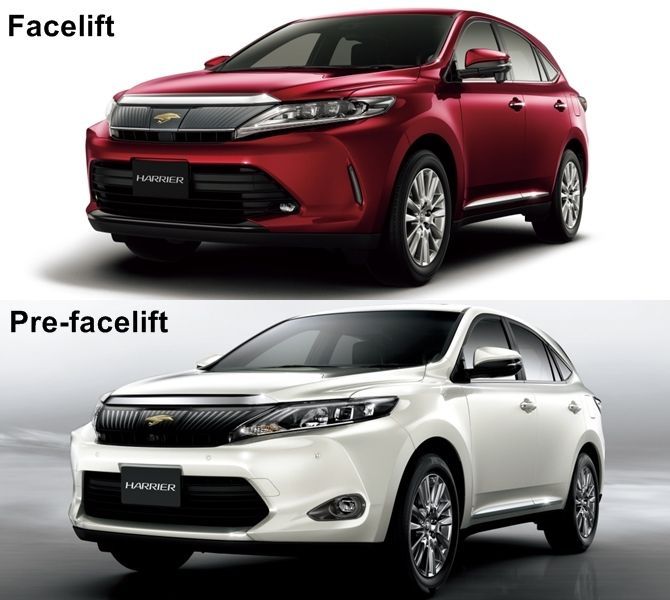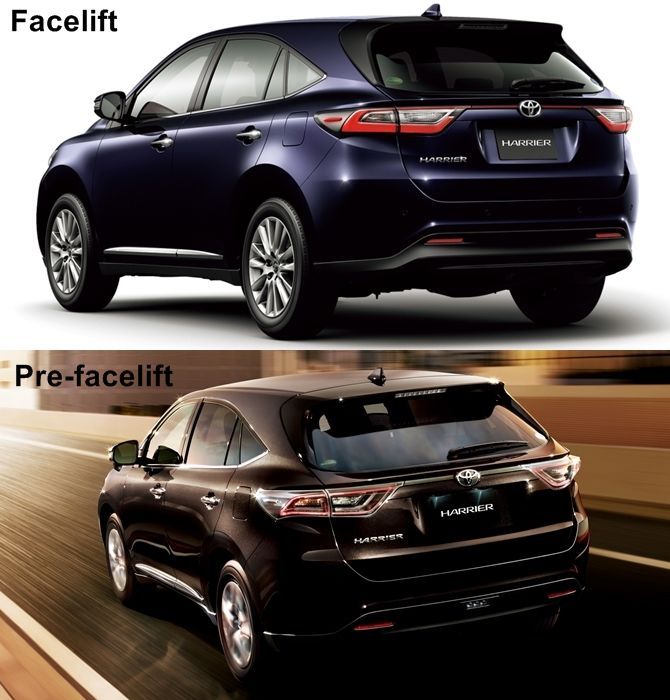 The officially imported Harrier also comes with LED daytime running lights (not available in recond models). The turn signals front and rear are LEDs that light up sequentially (similar to a Lexus RX), versus conventional blinking ones in the grey imported models.
Inside, the newer facelifted officially imported Harrier uses electric parking brake (with Auto Brake Hold function). The pre-facelift recond models use foot-operated mechanical parking brake.
We've also learned that UMW Toyota Motor's Harrier will be available in two variants. The highest specs variant will Nappa leather seats, which is not offered in most recond models.
The officially imported Harrier also comes with a space-saver spare tyre. Grey import models usually come with a foam-based tyre repair kit only.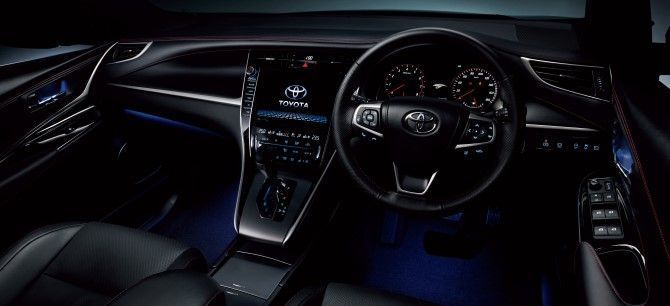 However the Harrier model that will be put on display by UMW Toyota Motor at this week's MAI Malaysia Autoshow is not a Malaysian-specs model, suggesting that the Harrier will not be launched this week as initially speculated.
Instead, the lower specs display unit (a mid-specs model from Singapore) will serve only as a preview to drum up interest in the lead up to the higher specs Malaysia market model's eventual launch early next year.
As of today, we have no knowledge on the Harrier's indicative price in Malaysia yet. However, if we can assume that the same price gap between a base model Toyota Harrier in Japan versus a base model Lexus NX 200t is applied to our Malaysian context, we estimate that the Harrier will be priced within the range of RM250,000.
---
---
---
Comments