Enhanced 2015 Mitsubishi ASX Review – New Tricks from the Old Horse
Reviews Most of us today associate petrol direct injection with the Europeans, but one of the technology's earliest adopters was actually Mitsubishi, which began using GDI in its engines from as early as the 1990s. The company is now living through more austere times, however, and its current line-up returns to more rudimentary port fuel injection systems.
Back when the company was producing greats like the Lancer Evo and GTO, Mitsubishi engineers had the right idea in advancing combustion technology, but wrong timing. The company was too forward thinking for its own good, and introduced a revolutionary technology that no one was interested in at the time. Today, every car maker including Proton is seeking to embrace the joys of direct injection.
Mitsubishi's knack for producing the right product at the less-than-opportune moment continued with the Lancer-based ASX crossover. Way before Honda exerted its dominance of the B-segment crossover market with the HR-V, the ASX was already here as a compact alternative to the likes of the CR-V and the Nissan X-Trail. Such was Mitsubishi's luck, the ASX was, at the time, considered by many as being too small to compete.
The ASX eventually gained steady enough volumes to justify the investment of local assembly, but it never quite managed to gain the kind of traction that Honda managed with either the CR-V, which it was initially perceived to compete against, or the HR-V, which many compare it against today.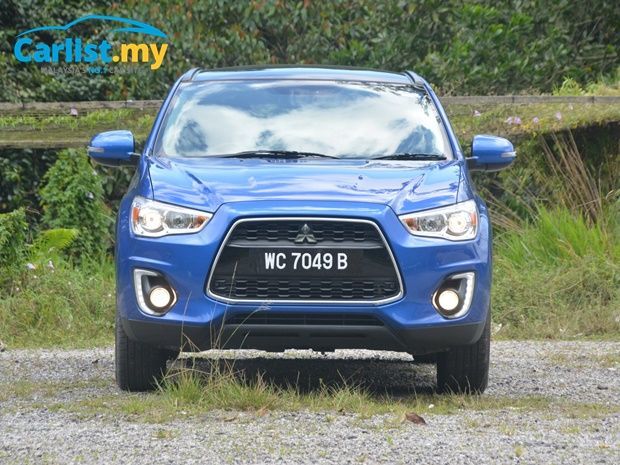 Specifications:
Variant Tested: 4WD
Price: RM128,800
Engine: Inline-4, Transverse, DOHC, MIVEC
Power: 150PS @ 6,000rpm
Torque: 197Nm @ 4,200rpm
Transmission: CVT with paddle shifters, 6 virtual ratios
Safety: 7 airbags, ABS, EBD, Electronic Stability Control (ASC), Traction Control, Brake Assist, Seatbelt Pre-Tensioner and Force Limiters, Front and Rear Parking Sensors, Reverse Camera, ISOFIX
Origin: Locally-assembled at Tan Chong Motors Assembly (TCMA), Segambut.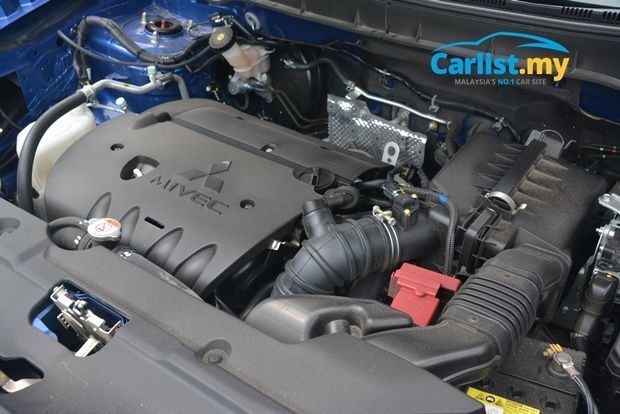 Overview
The ASX is a crossover derived using hardware from the Mitsubishi Lancer sitting on a raised platform. Common mechanical content between the two models are high, with the 2.0-litre MIVEC engine and INVECS-III CVT partnership being all but identical. As a result of its Lancer underpinnings, the ASX sits on all-independent suspension, as opposed to the Honda HR-V's rear torsion beam.
Key mechanical difference between the Lancer and ASX is that the latter is available with all-wheel drive, an option that was introduced when local assembly began in 2014. Prior to that, the ASX was offered with front-wheel drive only. Additionally, steering assist in the ASX is electric, as opposed to hydraulic in the Lancer.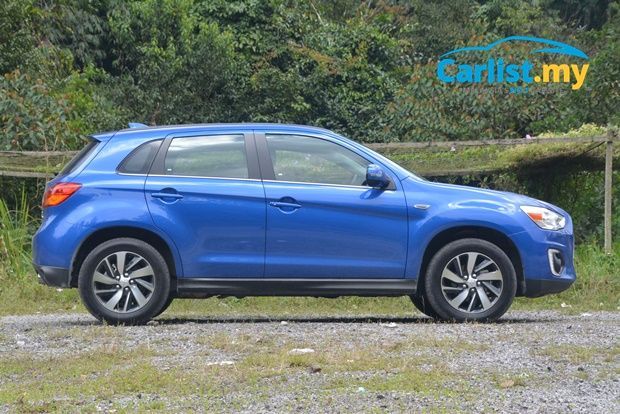 As tested, the top-spec ASX with all-wheel drive sets you back RM128,800 with insurance and on-road costs. If budget is a concern and you can live with front-wheel drive, there is a choice between two such variants – 2WD and 2WD GL priced at RM116,000 and RM108,000 respectively.
Once upon a time, the ASX was pitched as a competitor against C-segment SUVs like the Honda CR-V and Nissan X-Trail. Realistically, however, B-segment models such as the Honda HR-V and Mazda CX-3 are more natural rivals, but neither model offer the option of 4WD.
The Subaru XV is an interesting alternative to the ASX 4WD, it too being powered by a naturally-aspirated 2.0-litre four-cylinder engines working with a CVT and coincidentally assembled at the same plant.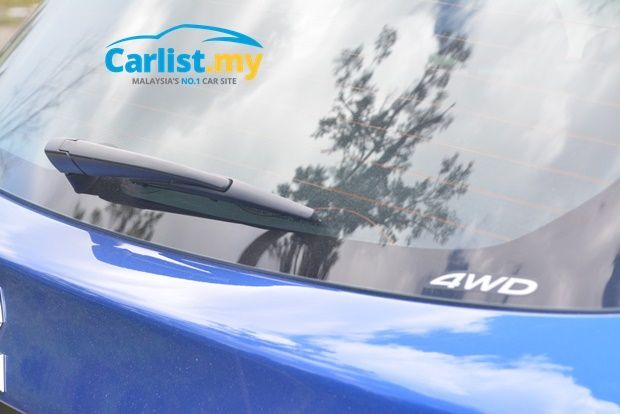 Exterior
Having been with us for more than five years, the ASX's shape is extremely familiar to us, its front fascia's uncanny resemblance with the Lancer clearly illustrating the origin of its underpinnings. It sits within very compact dimensions – the rear overhang, in particular, is exceedingly short.
From stem to stern, the ASX stretches 5mm short of 4.3 metres – making it shorter than most B-segment sedans. Much of its metalwork are kept between the axles however, its wheelbase measures a generous 2,670mm.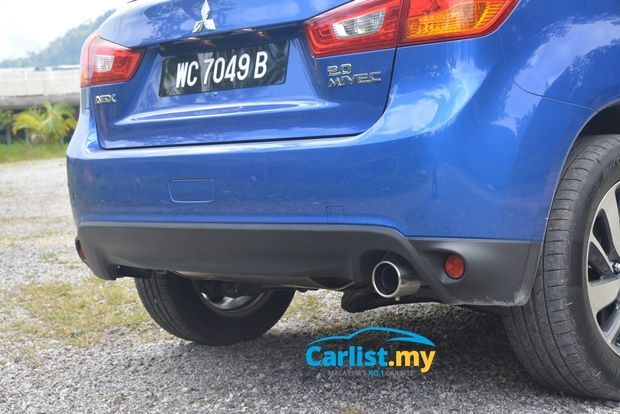 Mitsubishi has done commendably to keep the ASX looking sharp and refreshed with regular facelifts and updates. In its latest iteration, the ASX's interior now incorporates daytime running lights, halogen projector headlamps with manual levelling adjustment, and 17-inch alloys.
Convenient access to the ASX's interior is provided by keyless entry – always a commendable feature in our books, although in the case of our test car, the system seems to require the key fob a lot nearer to the door handle than many other vehicles in memory.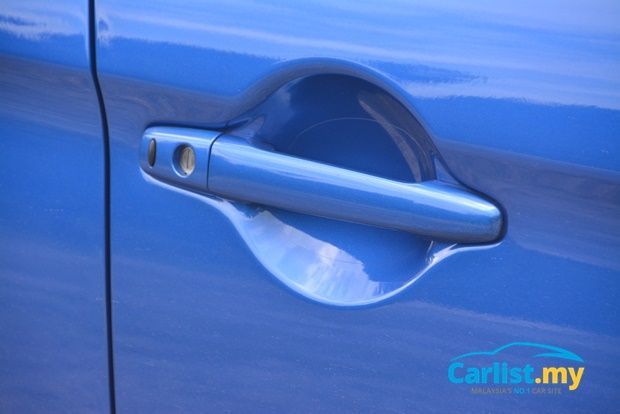 Interior
For its size, the ASX provides four adult passengers with the comforts of good head and leg room. That this comes despite the vehicle's amazingly short rear overhang that has to provide space for a fuel tank, independent rear suspension, rear driveshaft, and a full-sized spare tyre is impressive packaging.
The inevitable compromise, however, is the need to make do with just 400 litres of boot space, compared to 437 litres provided by the Honda HR-V. Not helping matters is the less than sophisticated seat-folding mechanism that does not provide a flat floor extension of your available cargo space. So, even if you might have room for four people, there may not be enough space for their luggage.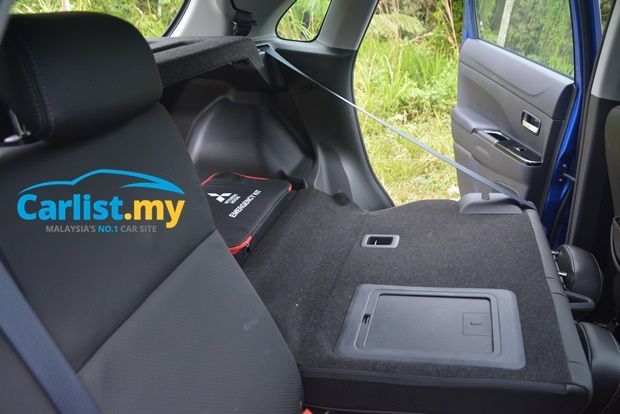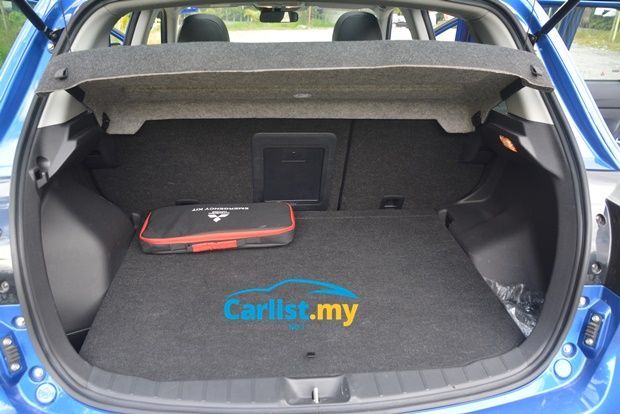 Small items are better taken care of; along the centre console, you'll find a deep-seated bin ahead of the transmission tunnel, two well-sized cupholders adjacent to the handbrake lever, and a split-level centre console box to deposit your phones and tags. The absence of rear air-con vents was perhaps forgivable at the time of its launch, but 2016's customers demand more.
Although the ASX's dashboard is not a carbon copy duplicate of the Lancer, its switchgear are unsurprisingly shared – air-con control knobs (fully automatic on all variants) being the most notable and obvious. The steering wheel, which was previously shared with the Lancer as well, acquired a new design during the 2014 switch to local assembly. All variants of the ASX get steering-mounted controls as well as tilt & telescopic adjustment.
It was perhaps not designed for such a purpose in mind, but the smooth black trim on the dashboard is good for a relevant life hack of our mobile device-obsessed times. We found its upper part to be both smooth and flat enough to mount a suction cup for our phone holders.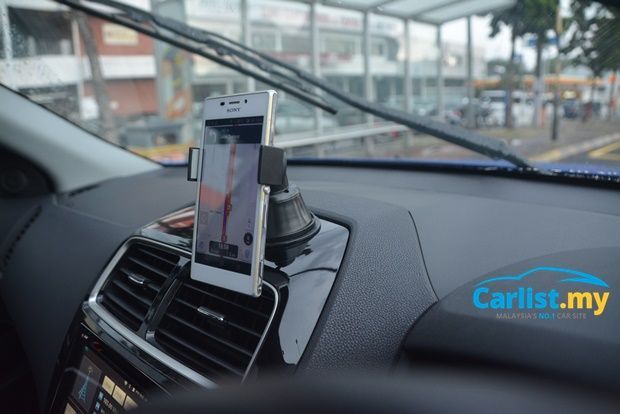 How does it drive?
Despite its considerable age against rivals, the ASX's dynamics remain class competitive. The ASX's electronically-controlled 4WD system offers three driving modes 2WD, 4WD Auto (front-bias), and 4WD Lock (rear-bias). We spent most of our time driving the vehicle in 4WD Auto mode, and found its reserves of grip around corners to be impressive and confidence-inspiring. Our past experience with earlier FWD models indicate similar levels of competence and composure. You'll probably need a Ford Kuga or Mazda CX-5 to really show up any dynamic weaknesses.
For a crossover, the ASX handles the rigours of hard driving with surprising ease, yet it is surprisingly uncompromised in day-to-day ease of use. The pedals are calibrated with sufficiently sensible judgment that make them easy to accurately adjust and modulate. The electric-assisted steering rack is light enough to not be overly demanding in urban use, but sufficiently accurate and quick to make for enjoyable B-road progress.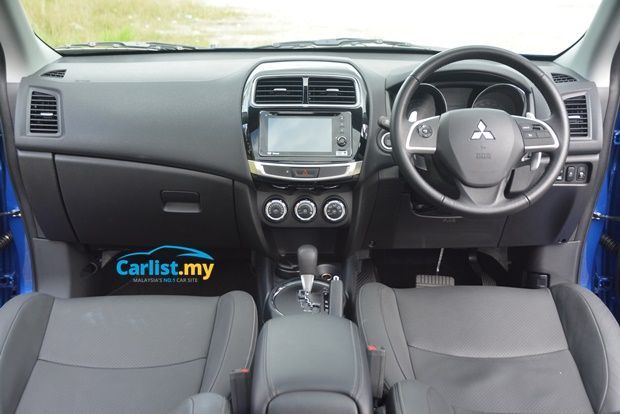 The chassis' sharpness is not exploited to its full potential by the performance on offer, however. For today's standards, 150PS and 197Nm is at best adequate, but not entirely competitive when much of the segment is moving on to powertrains that pull in excess of 200Nm thanks to various applications of technology.
For a naturally-aspirated engine, response is also not as instantaneous as we would like – on-demand acceleration is momentarily blunted by a brief hesitation on the CVT's part before actual acceleration is served. You'll need at least 3,000rpm on the tacho to induce significant motion on the speedometer, but once past that point, the ASX pulls strongly and relentlessly.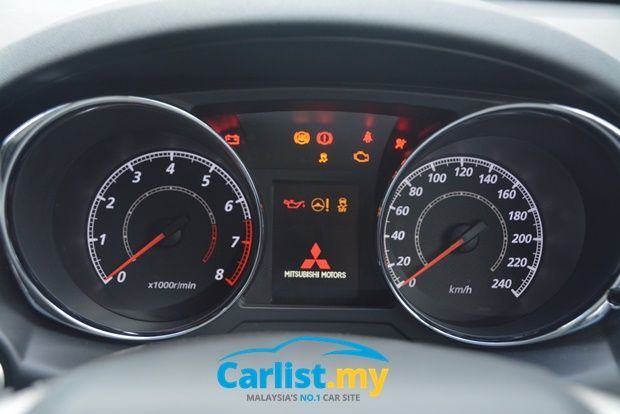 How comfortable is it?
Considering its decent handling and excellent suppression of body roll around corners, the ASX rides impressively well. It exhibits commendable suppleness over poor surfaces, competently soaking up various imperfections without much fuss or drama.
Sound insulation is adequate; if you're content to potter around at part throttle, refined progress comes easy enough, and you never really need to raise your voice talking even when cruising at highway speeds. Under a heavier right foot, however, the engine's acoustics are less than arousing.
Simply put, the ASX is competent enough in delivering moderate to brisk progress, and is able to do so over a wide range of surfaces without losing composure.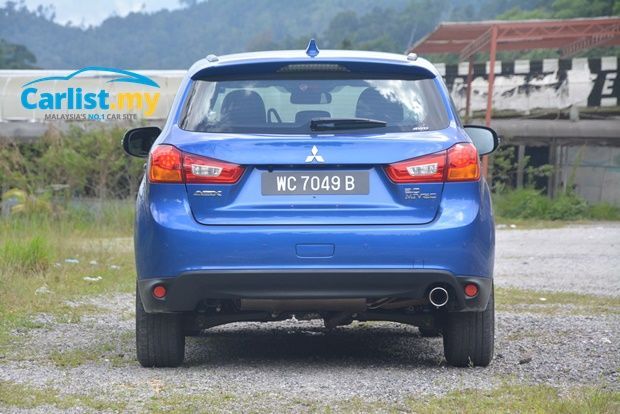 How economical is it?
Our mixed route testing over 350km of travel yielded a reading of 10.5 l/100km on the trip computer; acceptable taking into account the fact that we were driving with 4WD mostly engaged and stints of hard driving thrown in.
We expect light-footed drivers to dip below 10.0 l/100km and FWD versions should be even better. With its impressively-sized 60-litre fuel tank (63 litres for FWD models), cruising distances of 550km can easily be coaxed with smart throttle usage.
Servicing intervals are recommended at six months or 10,000km, with the first two years covered in the vehicle's purchase price. Upon expiry of the free service package, expect to pay the following rates:
Normal Service (10,000km intervals) - RM290++
Major Service (40,000km intervals) - RM1,250++
Normal Service + Oil Filter Change (60,000km intervals) - RM900++
Above prices include the use of fully synthetic engine oils, discounted part prices, and 6% GST.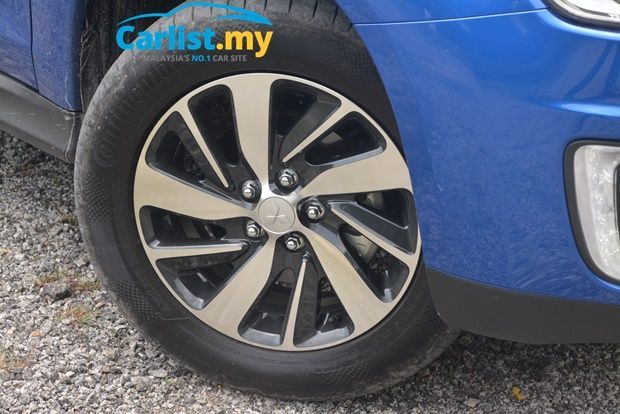 Conclusion
Whilst it does not rank among the market's default choices of crossover SUVs, the ASX is a product of many positives. Its compromised luggage room is perhaps its biggest drawback, whilst its engine-drivetrain combo is admittedly feeling dated. One needs to bear in mind though, that neither the Honda CR-V nor HR-V boast the most sophisticated powertrain setups in the market anyway.
Where the ASX excels relative to the competition is its sublime chassis tuning; perhaps thanks to its Lancer-sourced mechanicals, Mitsubishi was able to bless the ASX with near-hatchback handling fluency without severely compromising its ride quality.
What the ASX offers is B-segment body dimensions and pricing (similar pricing to a Honda HR-V and cheaper than a Mazda CX-3) packaged with C-segment performance (2.0-litre engine) and chassis (4WD, all-round independent suspension). If you can live with its reduced boot space, the ASX is a happy middle ground between two key market segments.
---
---
---
---
Comments