GIIAS 2015: Previewing The 2016 Honda BR-V's Interior, And More
Auto News Following yesterday's preview of the 2016 Honda BR-V prototype at the opening of the Gaikindo Indonesia International Auto Show (GIIAS) in Jakarta, we now have a bit more information on the interior of Honda's seven-seater SUV.
To recap, the Honda BR-V is derived from the seven-seater Honda Mobilio (on sale in Thailand, Indonesia and India). It is analogous to the Toyota Rush and the Avanza.
While both the Rush and Avanza are rear-wheel driven, the BR-V is front-wheel driven, and is powered by a similar capacity 1.5-litre SOHC i-VTEC engine that's also shared with the City and the Jazz.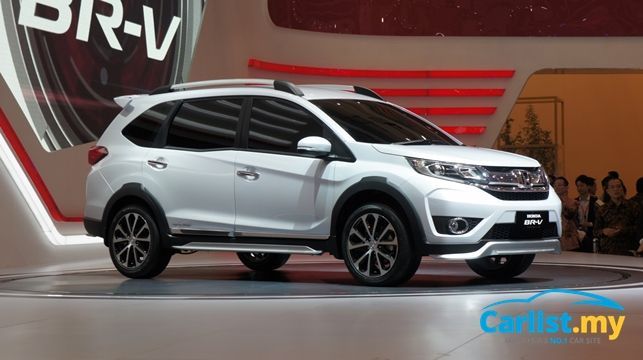 It slots beneath the 1.8-litre HR-V and is expected to be competitively priced below RM100,000, if it does arrive in Malaysia.
Read more: GIIAS 2015: Honda BR-V Previewed Live, Possible Launch In Malaysia Come 2016
How Big Is It?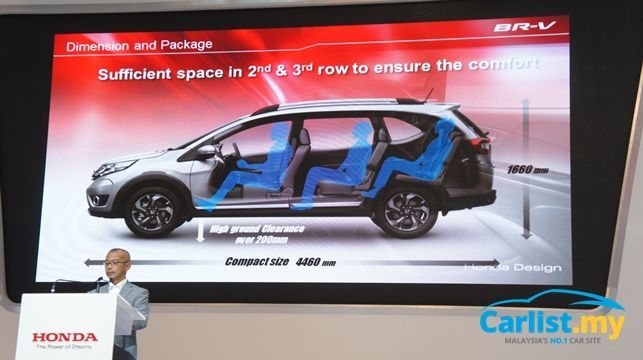 Sufficiently big. The BR-V measures 4,460mm long. That's more than the Rush's 4,420mm but shorter than the Nissan Grand Livina's 4,485mm.
Wheelbase is 2,660mm, similar to the Avanza, longer than the Grand Livina but shorter than the Rush.

Honda also claims class-leading interior roominess – with best-in-class headroom and knee clearance in the second-row seat, but conceding slightly in terms of second-row legroom.
On the upside, legroom in the third-row seat is claimed to be significantly more than the benchmark competitor vehicle (likely referring to the Toyota Rush). Cargo room in the boot is also claimed to be significantly more.
What we suspect to be lacking though, is shoulder room. At just 1,650mm wide, the BR-V is slightly narrower than the Rush's 1,745mm but the actual difference is actually a lot less than it appears on paper as the Rush's width is padded by flared wheel arches and wheel arch claddings.
What's The Powertrain?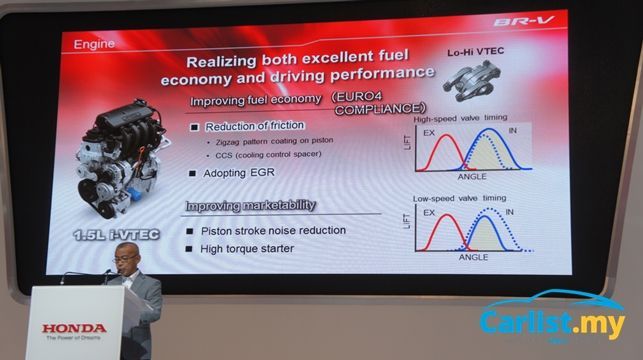 The 1.5-litre i-VTEC engine is claimed to comply to Euro-4 emission standards. As reported yesterday, the engine produces 120 PS at 6,600 rpm and 145 Nm at 4,600 rpm, similar to the City.
The CVT automatic transmission is shared with Honda City, Jazz and HR-V.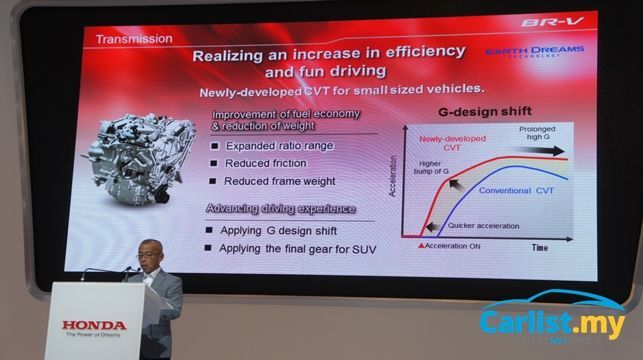 This is an Earth Dreams Series transmission and although it's a CVT, it's equipped with a torque converter for added durability.
BR-V With VTEC Turbo?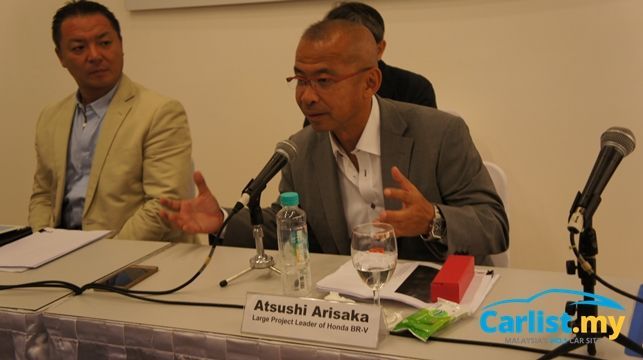 When asked about the possibility of installing Honda's latest 1.5-litre VTEC Turbo engine on the BR-V, Mr. Atsushi Arisaka, Large Project Leader (Honda's equivalent to a chief engineer) for the BR-V said there are no plans for it at the moment, but explained further to say if there is sufficient demand from customers, it is possible to equip the BR-V with a 1.5-litre VTEC Turbo engine as the BR-V is already designed to accommodate the VTEC Turbo engine.
In other words, if there is enough of you willing to pay up, Honda will produce a new variant of the BR-V that is powered by a VTEC Turbo engine.
What's The Fuel Consumption Like?
Honda did not provide a specific figure but claimed fuel consumption is at least 15 km/litre for the CVT model. That's very impressive for a seven-seater SUV and is not too far from the smaller City and Jazz's circa 17 km/litre figure.
How Does It Look Like Inside?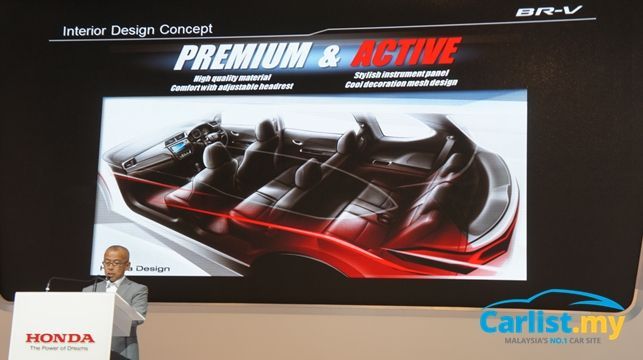 This is still a prototype car and we were not allowed to go up the stage to snap any interior shots so the pictures below are the best that we can get.
The design sketches presented by Honda suggests that despite its Mobilio origins, the BR-V will share a similar looking dashboard as the City and the Jazz, which is a good thing as the Mobilio is aimed at a lower-end of the market would certainly not meet the aspirations of consumers from Malaysia.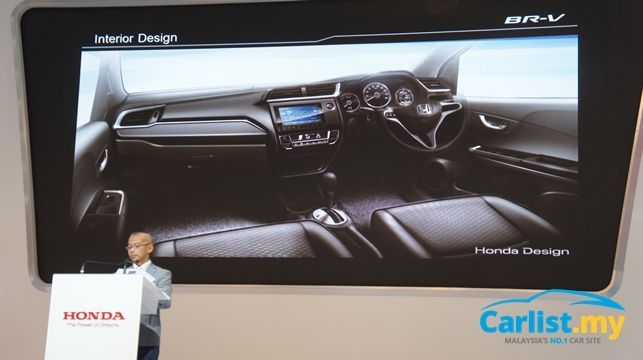 We also spotted a proper roof-mounted air-conditioning blower in the second-row, another plus point as this is something that the Nissan Grand Livina lacks (it makes do with small vents installed on the rear section of the floor's centre console.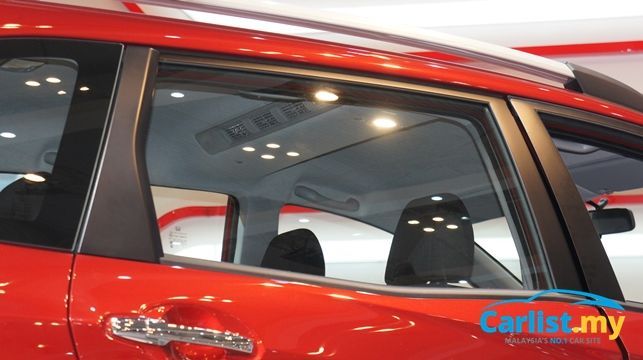 The second-row seat also folds flat and tumbles using a one-touch action handle.
How Safe Is It?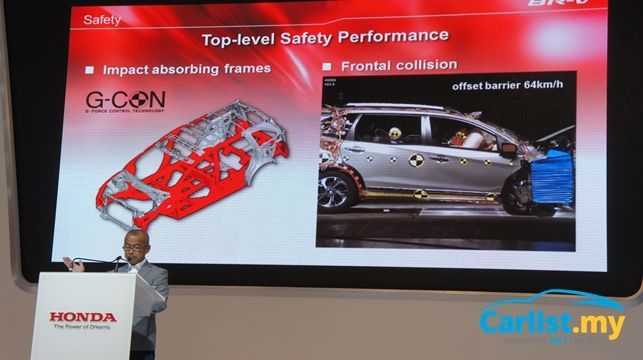 As mentioned in our previous report, the Indonesian market BR-V comes with the all-important VSA feature (only available on the highest specifications variant), ABS, dual airbags and ISOFIX.
We don't expect the Malaysian market model to be any less equipped (again, assuming that it does come here).
When asked about the availability of six airbags option, Arisaka-san said the car is already engineered to accommodate six airbags so its availability in the individual markets will depend on consumers' preferences – in other words, if enough of you are willing to pay for it, it will be offered.
Arisaka-san also added that he expects the BR-V to deliver top-class results in ASEAN NCAP crash tests but stopped short of committing to a specific star-rating.
He explained BR-V is designed in accordance to Honda's internal G-CON standards – which is more rigorous than most government-mandated standards.
This is certainly one SUV that we look forward to see in Malaysia 2016. Again, prices, specifications, and availability in Malaysia is not confirmed yet by Honda Malaysia, but the impression that we get from them is that the BR-V for Malaysia is already almost confirmed.
More information at: GIIAS 2015: Honda BR-V Previewed Live, Possible Launch In Malaysia Come 2016
---
---
---
---
Comments