Review: 2016 Subaru XV 2.0i-P - The Crossover to Settle Down With
Reviews When you think Subaru, you think of brutal rally cars blitzing a gravel stage in the dead of night. You think of Mark Higgins setting a new TT record on the Isle of Man in a ProDrive prepared WRX STI. But more recently, you think of the small crossovers that seem to be increasing common on our Malaysian roads.
The XV is as crossover as they get- it's a jacked up Impreza hatchback (that we don't have in our market), with the same powertrain and a few more amenities. Motor Image was clever in forgoing the hatchback in favour of this crossover as it has more appeal and better distinction from other products than the already unpopular hatchback segment.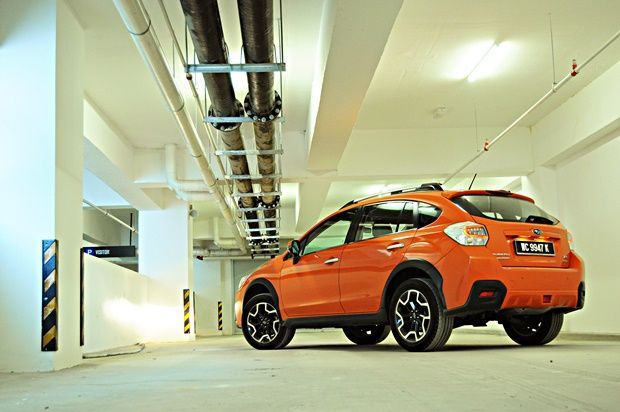 Specifications:
Price: RM 137,074.89 (OTR with insurance)
Engine: 2.0-litre, flat-4 longitudinal, port injection
Power: 150 PS
Torque: 196 Nm
Transmission: Continuously Variable Transmission, manual override, AWD
Fuel Consumption: 10.9 litres/100 km (tested)
Safety: ABS with ESC, EBD, Brake Assist with Override, ISOFIX, 3 airbags (2 front + driver knee)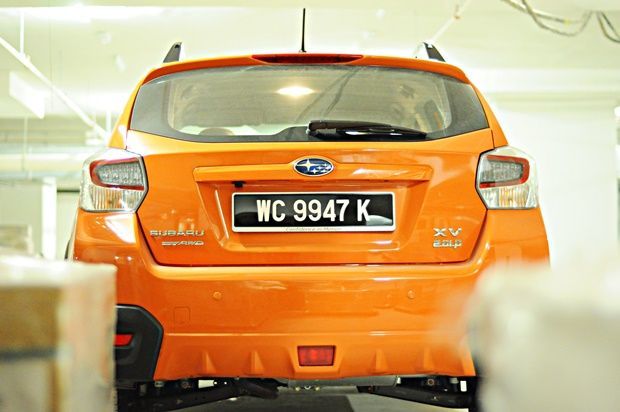 Overview
This updated version of the XV comes with a few cosmetic changes that help to refresh its not-too-dated fascia, but thankfully none of the major elements that made it popular have been changed. There are new front and rear lights, as well as bright daytime running lights on the front bumper. The side-mirror integrated turn signals are a nice touch as well, reminiscent of continental car options we don't necessarly receive here. There is also a multi-info display in its revised insrument cluster, keyless entry and start, aluminium pedals, and electric adjustment for the driver's seat. These items, along with contrasting orange stitching, are exclusive to the 2.0i-P variant. The RM 4,000 premium of the 2.0i-P variant nets you the following:
One-touch indicators
Paddle Shifters
60:40 split-folding rear seats with central armrest
Multi-function steering wheel with tilt & telescopic adjustment
Auto climate control
Cruise control
Airbags: dual frontal + driver knee
Safety: ABS, EBD, Electronic stability control (VDC), Brake assist & override, ISOFIX
Engine Immobiliser
Front & Rear Fog Lamps
Halogen reflector headlamps with level adjustment
17-inch alloy wheels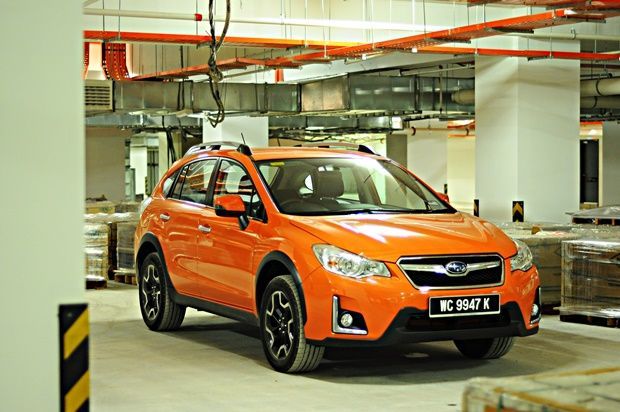 Exterior Design
The XV has always had a certain appeal in the way that its sharp edges and creases portray an image of ruggedness and no-nonsense motoring. Proportionally it is more wagon than SUV, and it looks much like a shrunk down previous-generation Forester. The front end has a look that more traditional Subaru enthusiasts will remember, without being too old fashioned or out of date. The additions with this facelift only serve to accentuate those solid looks.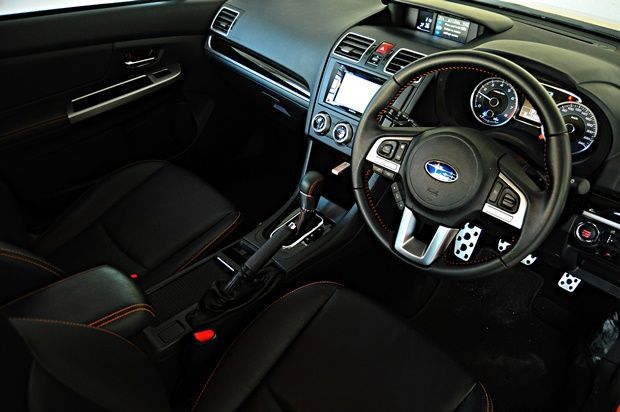 Interior Design
Subaru interior design seems to be stuck in the mid-2000s, but in a good way. Many of the panels and instrumentation don't seem to be as integrated as the modern infotainment systems of today, but they are still very much usable and clear cut with their readouts.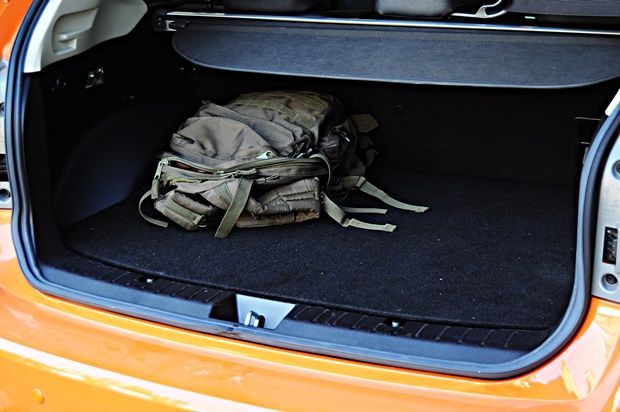 For a crossover, the XV has a suprising amount of rear legroom and solid headroom. The only tradeoff is a lack of bootspace and a rather high boot floor, making it difficult to load and unload bulky items at times. But on the whole, the cabin of the XV is a very pleasant place to be in- all the amenities are available to the front occupants and the materials and colours are well chosen.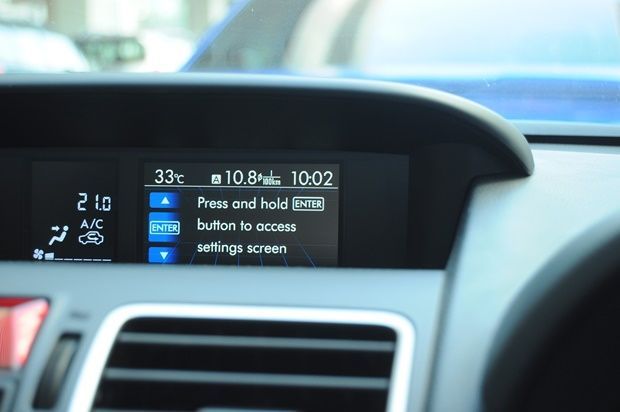 Fuel Efficiency
We know the XV is capable of being fuel efficient, but at this time of year there are plenty of traffic jams to be stuck in- and traffic jams are terrible for consumption. Out on the open highway, the XV can sip along at just 7 to 9 litres per 100 kilometres- but introduce it to some town traffic and the figure can quickly soar to 13 litres per 100 kilometres. With just over 100 kilometres of driving, we managed to even it out to a solid 10.8 litres per 100 kilometres- not the worst figure for fuel consumption, but far off what it can do in the right conditions.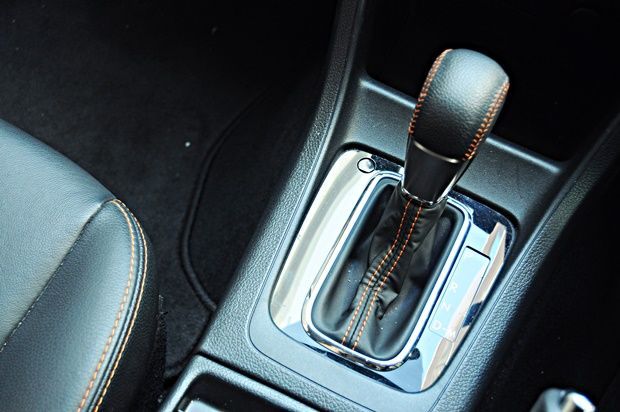 How does it drive?
This is one area where the XV doesn't do so well. The powertrain, while efficient when you need it to be, is the opposite of engaging when you call on it. Arguably spirited driving is not what the XV is designed for, but there are plenty of crossovers out there that are more entertaining to drive. The XV achieves the direct opposite- it makes you want to drive in a more economical fashion, simply because there is no pot of gold at the end of the rpm rainbow. The CVT wheezes and whinges when you put your foot down, and the boxer up front doesn't seem to be particularly enthusiastic either.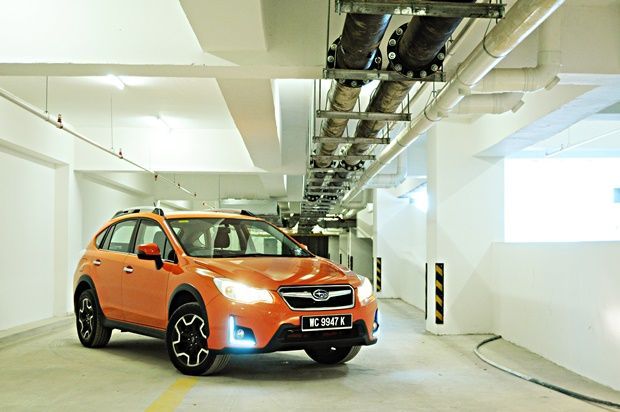 Which is a shame, because the symmetrical all-wheel drive system in the XV is one of the most competent out there. Body control is also excellent, despite the long travel suspension and comfort oriented ride. Besides the powertrain, the power steering system leaves a lot to be desired. It manages to be both unnecessarily heavy at low speeds and lacking in feel at high speeds- which once again reinforces the idea that the XV is a car you do not attempt speed in. It is perfectly content transporting a family around town and will do so with fairly good gas mileage.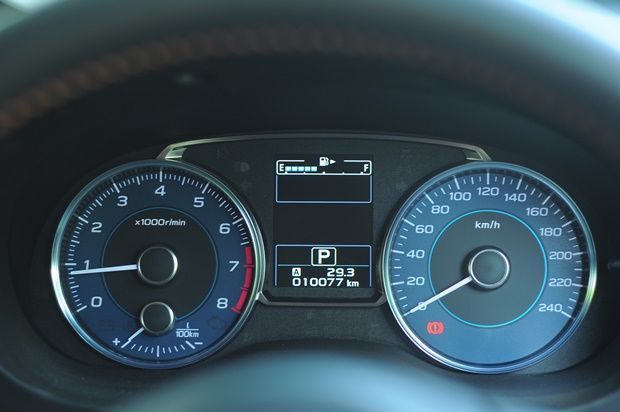 How comfortable is it?
The XV may sit tall and proud above its hatchback sibling, but make no mistake- it is far from wallowy and mushy. The suspension reacts quickly to shocks, but it does so in a progressive manner and prevents any unruliness from affecting the body on the whole. It errs on the side of comfort, but it a measure of feedback from the tarmac for better communication with the driver.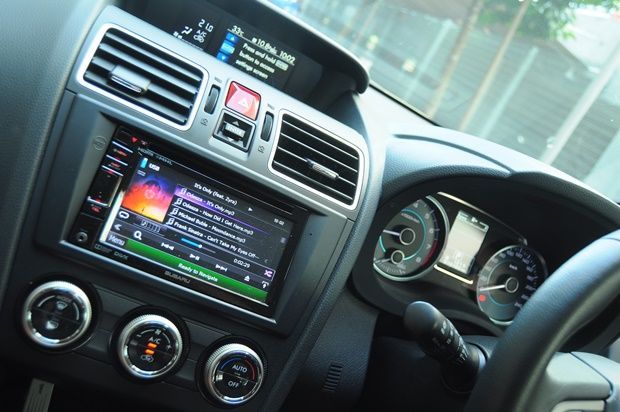 Conclusion
As a crossover, the XV ticks all the right boxes. It's practical and spacious and economical, compact enough to run in the city but rugged enough for a short off-road jaunt. The driving dynamics may be lacking, but perhaps this is the what you need when you want- nay, need- to settle down.
For a limited time, there's an RM 10,000 cash prize if you book a Subaru XV with Carlist.my.
---
---
---
---
Comments