GALLERY: 2015 Porsche 911 Targa 4S Debuts In Malaysia
Buying Guides We've shown you the new range of updated Porsche Cayennes and the mighty 918 Spyder, but if you need another reason to visit the new Porsche Centre Sungai Besi, here it is: the 2015 Porsche 911 Targa 4S.
Rightfully returning to its roots, the new 911 Targa made its global debut early 2014, and is finally here to send us down memory lane with a throwback to the original 911 Targa from 1965. Of course, you don't have to come around and open/ close the iconic roof yourself this time – it's all electrically-operated, obviously.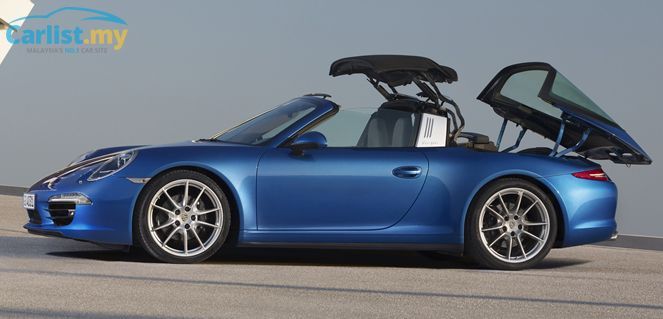 How does it work? Here's Porsche's explanation:
"The roof system consists of two moving parts: a soft top and a glass rear window. At the press of a button, the glass rear window opens to the rear and tilts. It is joined to the stowage box lid. At the same time, two flaps in the Targa bar open and release the soft top kinematics.
The soft top is unlatched, folds to the rear into a Z-shape during the opening movement and stows behind the rear seats. A panel running across the car behind the rear seats integrates the soft top. Finally, the flaps in the bar and the rear window close. When the top is stowed, a wind deflector integrated in the cowl can be adjusted manually. It reduces draught to the interior significantly."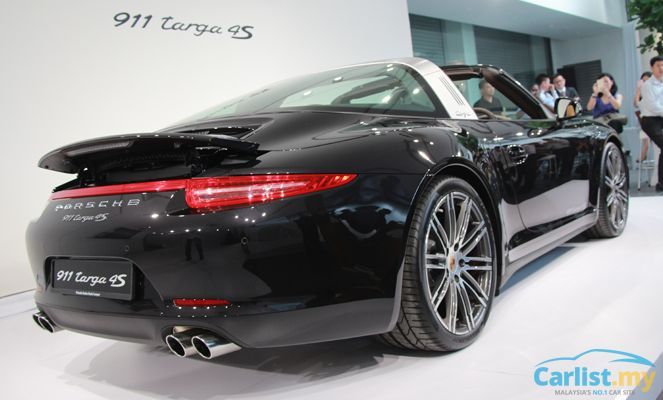 In total, it'll take the 19 seconds for the roof to be opened or closed, while stationary. To aid the safety of its operation, the 911's ParkAssist monitors the area behind, using sensors to detect any potential obstacles, and warning drivers of it.
For Malaysia, Sime Daby Auto Performance (SDAP) has made available the Targa 4S, which is equipped with a 3.8-litre flat-six engine that develops 400hp @ 7,400rpm (max revs are @ 7,800rpm!) and 440Nm of torque @ 5,600rpm.
Paired with a seven-speed Porsche PDK (dual-clutch automatic) transmission and equipped it with the Sport Chrono package, the Targa 4S will hit 100km/h in 4.4 seconds, and has a top speed of 296km/h.


---
---
---
---
Comments