2015 Porsche Cayman GT4 Launched In Malaysia - It's Yours For RM840k
Auto News Sime Darby Auto Performance, official distributors of Porsche vehicles in Malaysia, have officially launched the hot new Cayman, the GT4. It's a car that, for enthusiasts at least, needs very little introduction. Lauded by motoring journalists everywhere for being a superb driver's car, the Cayman GT4 finally and officially hits Malaysian shores for a cool RM840,000, excluding tax and insurance.
The launch took place in Johor Bahru the among Johor Premium Outlet stores. The GT4 sits above the already venerable GTS as top dog of the Cayman bloodline, but with looks and specifications that rival Porsche's top tier sports car, the 911.
In fact, with the GT4, Porsche is taking quite a significant gamble. Where previously there was a very clear and deliberate gap between the 911 and Cayman, now the prospective Porsche owner who wants a properly exhilarating sports car has the devil's duty of having to choose between these two as they're now very closely matched. Actually, Porsche should be commended for not meddling with its development too much, as they could have easily hamstrung its performance or dynamics as to not cannibalise and compete with their flagship 911, but didn't.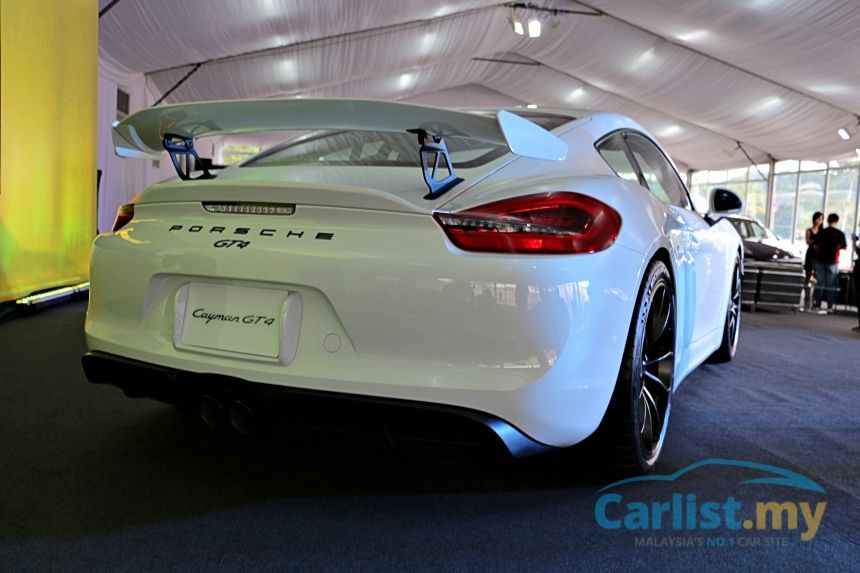 So what's this Cayman GT4 - this 'ultimate Cayman' - all about?
To save time, the GT4 could be boiled down to being akin to the 911's more hardcore, more driver-centric GT3, but for the Cayman range. Upon first glance through its specification list, one might jump to the conclusion that it is an amalgam of certain cherry-picked components from the 911.
Its 3.8-litre flat-six engine producing 385hp sounds familiar as it's a dead-ringer for the older 911 Carrera S' (997 Gen II) power figure, but is actually a detuned version of the type-991 Carrera S' motor . Even so, it's a good 35hp more potent than the 3.4-litre unit in the Cayman GTS. Also, the GT4 rests on a set of heavily reworked suspension components that were derived from the current 911 GT3 and is fitted, as you can see, with quite a bit of aero bits from Porsche's motorsport department.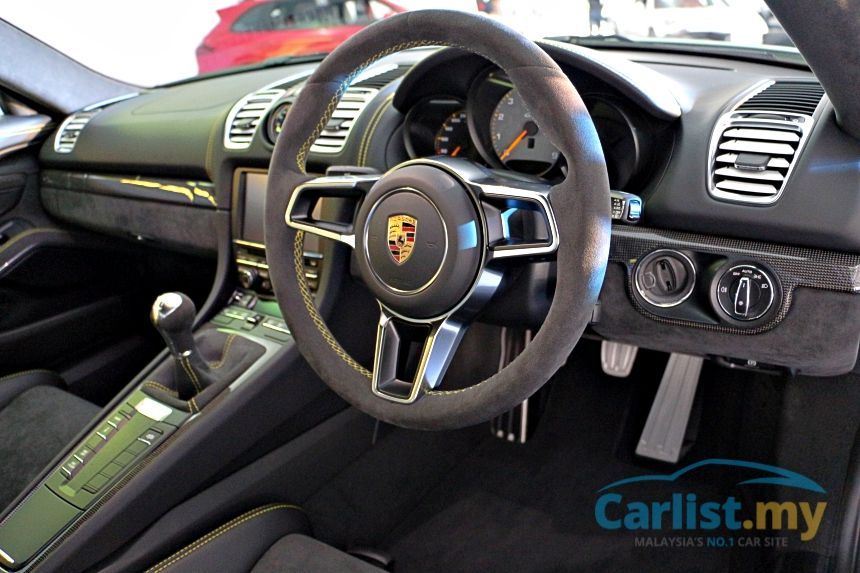 All that amounts to a 4.4 second century sprint time and a Nurburgring Nordschliefe lap time of 7 minutes 40 seconds - 13 seconds quicker than the Cayman GTS.
The way the Stuttgart-based automaker pulled all of these seemingly disparate parts together and polished it into a Porsche like no other is quite a feat. And to offer it with a good old six-speed manual gearbox will have the purists hopping with joy. Indeed, there was quite a void left when the latest 911 GT3 (991) and GT3 RS were offered with Porsche's PDK double-clutch automatic as the only transmission choice.
Clearly, the Cayman GT4 fills that slot quite nicely.
---
---
---
---
Comments