Quick Review: 2020 Porsche Taycan 4S - First Blood For An Electric 911
Reviews Regardless of what your views are on fully electric vehicles or, for that matter, the Taycan itself, you can't escape the fact that this car marks a huge milestone for the Zuffenhausen-based automaker. Having only recently made its official Malaysian debut, we find out what it's like to drive it in its mid-spec 4S guise.
---
An engine-less car emerging from a company that's known for producing some of the best road machines in the world might be a tough pill to swallow, but then again who better to inject some righteous red-blooded fun into the mostly plain and clinical world of EVs.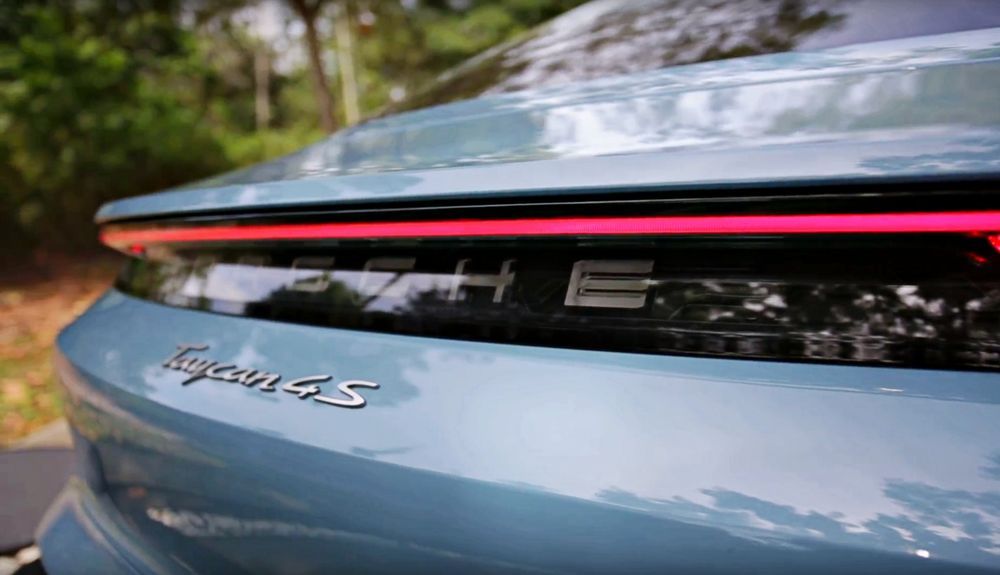 The Taycan 4S, which starts at RM725,000, was introduced last month alongside its two siblings, the Turbo and Turbo S. Though technically the least impressive variant for now, Porsche will be introducing the 'plain-Jane' Taycan variant in the months to come, akin to a base-model 911 Carrera.
The Great Electric Experiment
Porsche are notorious for taking their time with the development of a new car, tweaking and testing to an almost absurd level before something is deemed worthy of release. Years and years of work have been poured into the Taycan even prior to the Mission E concept of 2015, and you can almost feel it when sitting inside.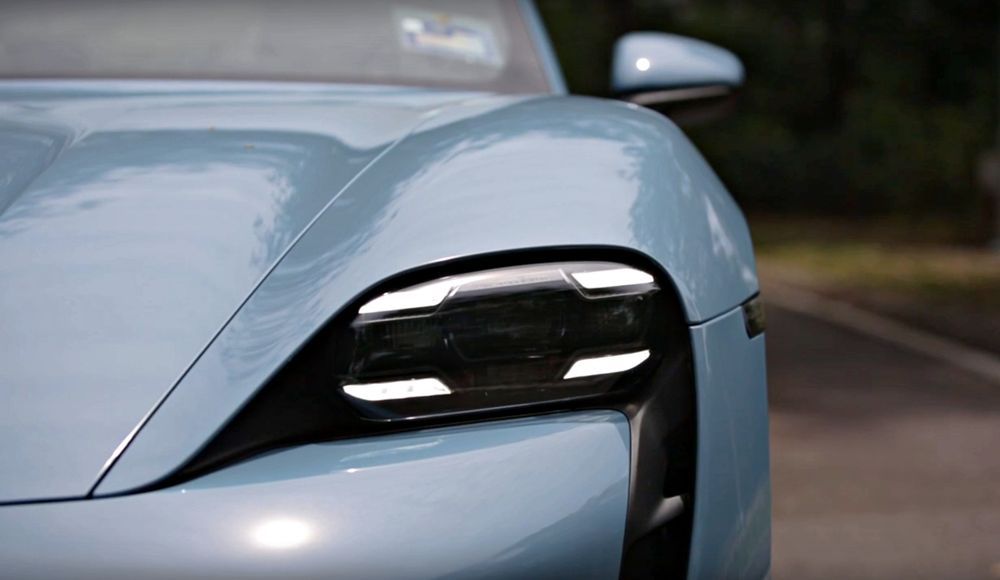 The automaker's exploration into electrification was clear and methodical, evidenced by stepping stones such as the Porsche 918 Spyder, the various plug-in hybrids in their current line-up, and the 919 Hybrid that dominated World Endurance Championship's LMP class for 3 years in a row. A lot of that proprietary tech has wound up in the Taycan and the EV-specific J1 platform that underpins it, but more on that later.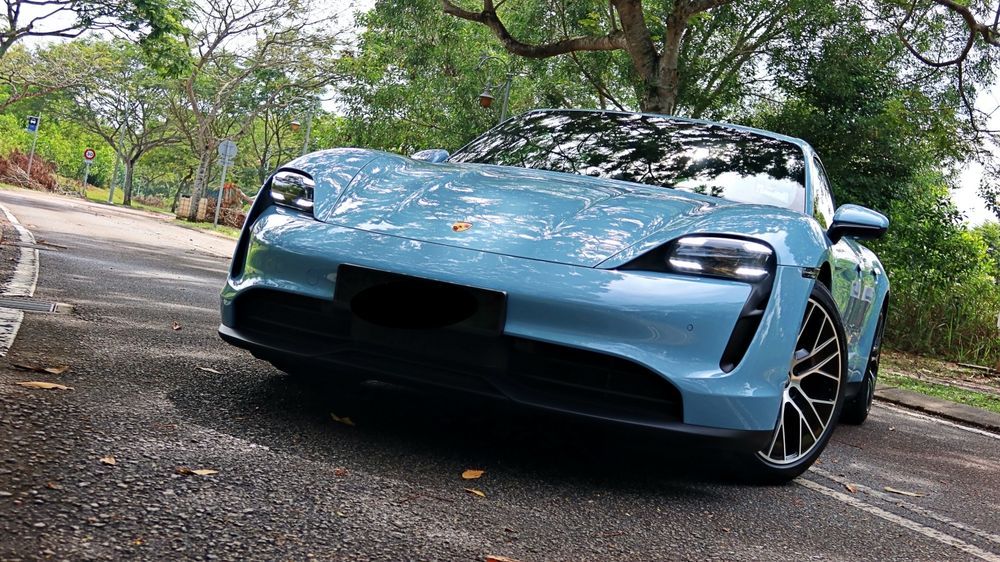 The Taycan 4S: First Impressions Matter
With this particular Taycan 4S, I'd probably not choose the baby blue-like Frozen Blue Metallic body colour or these Turbo Aero Wheels, opting for a darker or more aggressive looking combination. While they do measure 20-inches in diameter and fill up the wheel wells quite nicely, the attempt at replicating the RS Spyder style alloys on the 911 Turbo has mostly failed.
That said, you can't help but notice how low slung and sporty the Taycan's shape is, doing well to emulate the looks of a stretched 992, the latest car in the 911 lineage. Next to this, the Panamera looks almost Bentley-ish big, which is ironic considering that, even when equipped with the smaller of the two battery sizes offered (at 79.2kWh), the 4S still weighs a bit over 2.1 tonnes.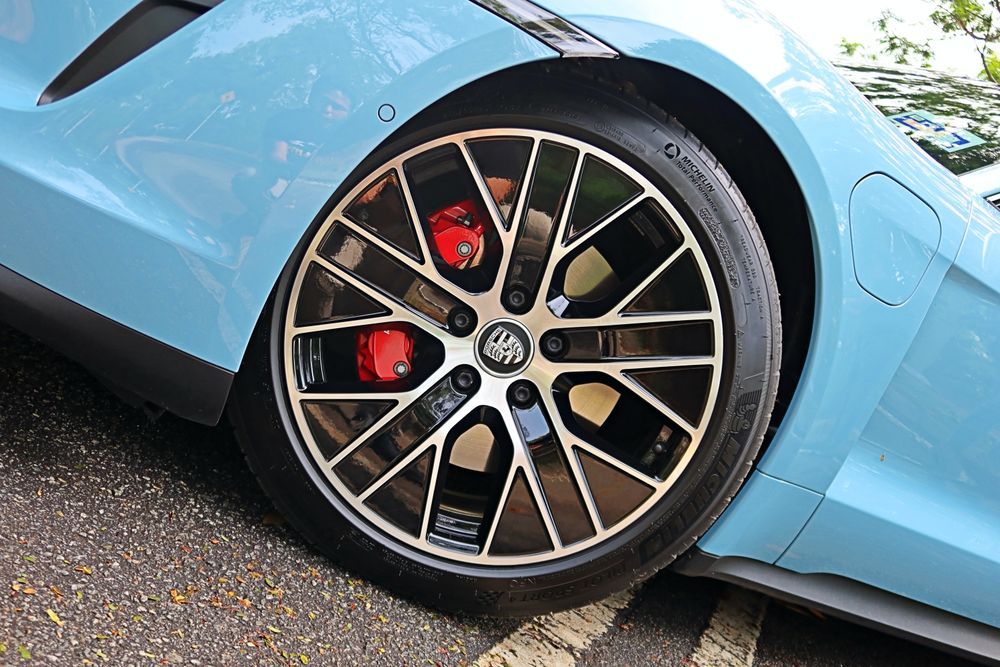 We also have to appreciate just how much Porsche stayed faithful to the Mission E concept car as so little of that original futuristic design was lost or altered besides the omission of rear-hinged suicide doors.
It's also a little cliche by now, but the door pulls extend out as you walk up to it with the keyfob to add an extra dose of 'cutting edge' flair. In typical Porsche fashion, the doors themselves feel like lightweight granite, as does the rest of the car, which just oozes quality.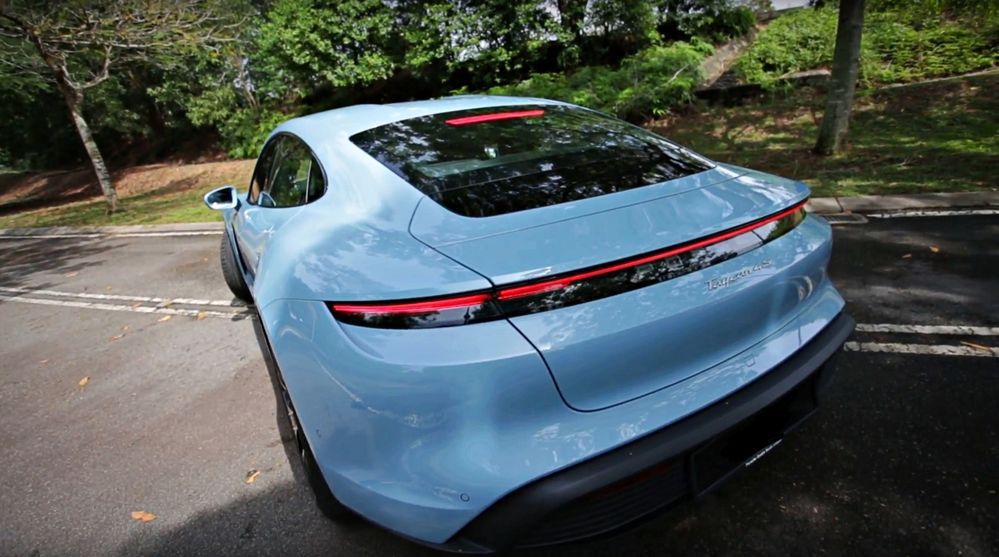 The seating position is very low indeed - almost to assure us again that Porsche wouldn't embark on an EV project without making it feel like a proper sports car. Immediately, all the screens come to life to let you know that the Taycan is already started, displaying a full battery at 100% and 373km of usable range - no customary pressing of the 'On' button required.
So far, everything's quite straightforward and familiar, which is a recurring theme. Notably, the shrunken 992-style gear selector is present here but repositioned from the centre tunnel to just behind the indicator stalk; push it down for the 'Drive' and the car creeps forward once you take your foot off the brake pedal. This is almost too easy.
Interior - Like Lightweight Granite, In A Good Way
Back to that driving position; it really is sports-car-like, leaving you without too much room to stretch out while every control surface, which is mostly touch-operated, is raised to cocoon you in an embrace of high tech electric performance - that's the idea, at least. Just as well, the front and back seats obviously prioritise bolstering and support over comfort and padding.
As you'd expect, everything about this cabin feels exceptionally rigid and unyielding. Nothing unexpectedly jiggles or squeaks in here - this isn't a Tesla. However, if you're going to pull the trigger on a Taycan, try to avoid this 4S' black on black combo and spruce it up with the various two-tone options unless you want a gloomier-than-usual interior.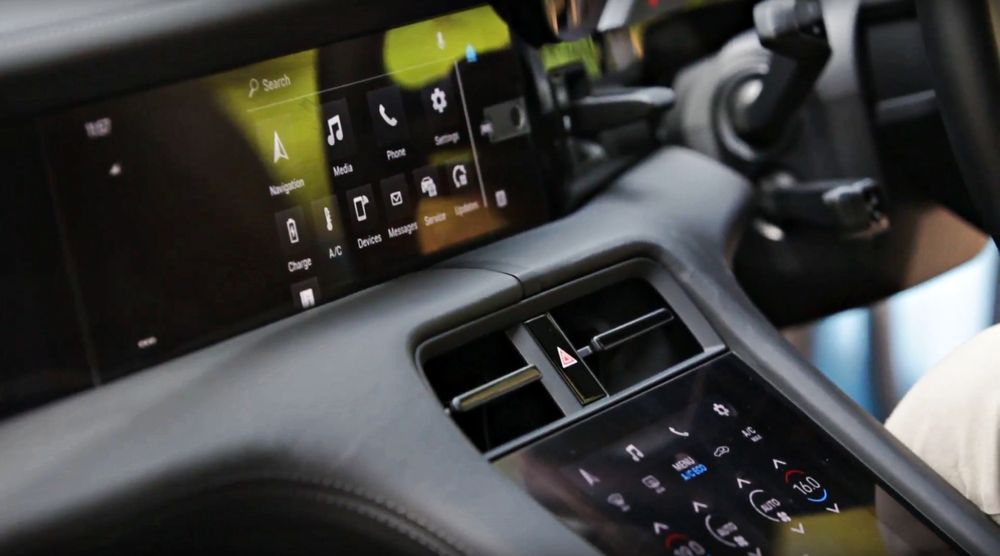 This is a strict four-door coupe layout, too, meaning only two tag-alongs can fit in the back, who will be met with a pair of surprisingly cozy seats. That's not to say it's cramped as there's a fair bit of legroom and headroom to spare, but this is again where the Taycan displays its sportier leanings, so just don't expect limousine-like airiness or opulence to match the EV silence.
There are a total of four screens up front which might seem like a usability nightmare, but the interface itself was a breeze to navigate, at least for the basics, and I appreciate that they're laid out across a dashboard that resembles the classic 911 style with its emphasis on horizontal elements.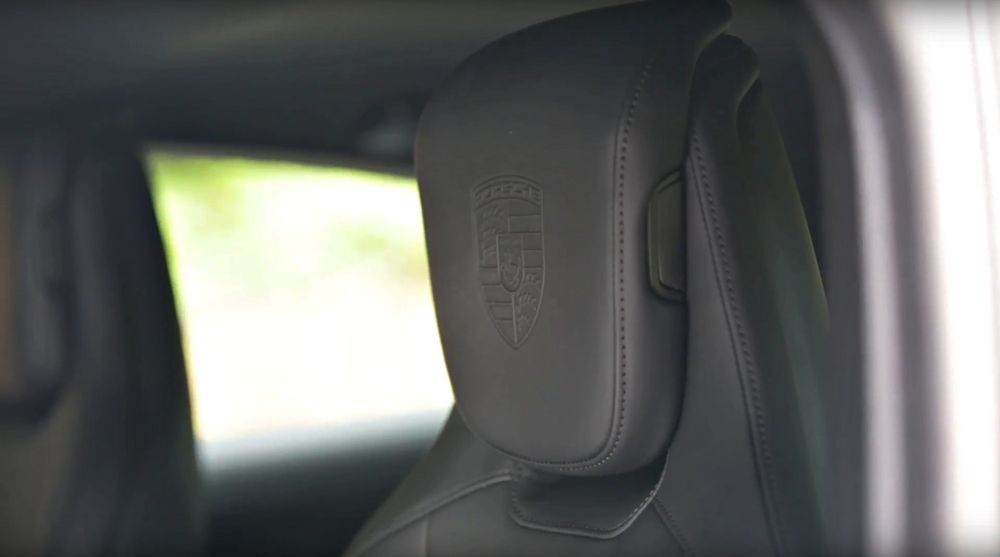 Because we only had a single day with the car, however, I probably only scratched the surface of all the functions I could toggle. Without doubt, though, the centrepiece here is definitely the curved and near-borderless digital instrument cluster.
Driving It - Almost Too...Perfect
Like I mentioned earlier, take your foot off the brake pedal and the Taycan creeps forward, feed in more pressure and it comes to a predictable smooth stop - normal. The accelerator pedal and steering also work so normally (and feel incredibly natural) that I needed to mentally remind myself that I wasn't driving a conventional car.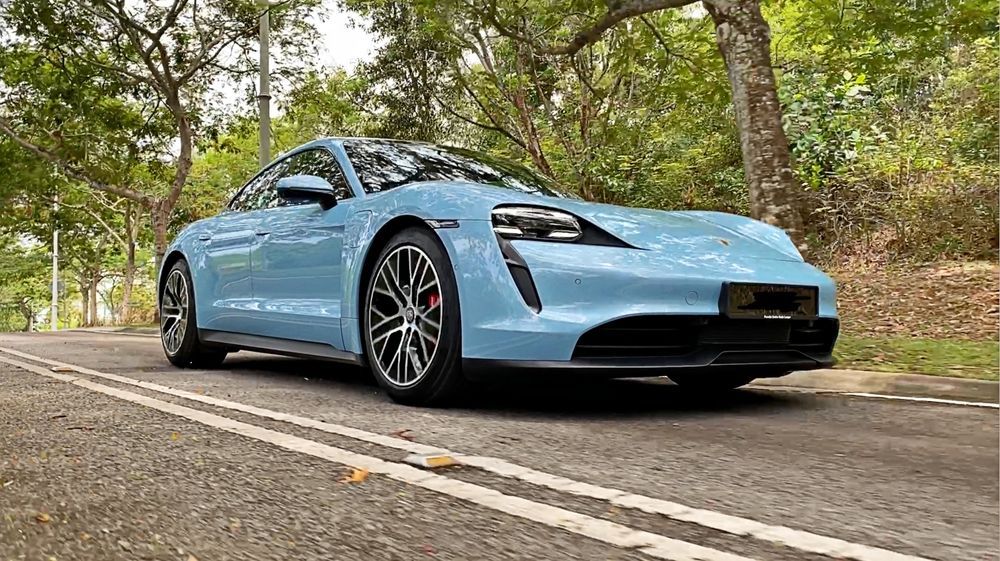 Porsche has really done a remarkable job at fine-tuning the feel of the Taycan to the point that you're immediately as confident behind its abilities as you would be with a 911 GT3. There's an otherworldly jet-like hum that the engineers have built into the dual-motor electric powertrain here, which can be amplified by selecting the Electric Sports Sound option within the infotainment menus, lending it a unique soundtrack that's never excessive but still audible inside and outside the car.
That aural feedback is pretty important to the experience as it would otherwise just be the wind noise and tyre roar to keep you company on the road. Otherwise, EV attributes aside the Taycan drives unbelievably well. In fact, it might be the most competent road car I have ever driven.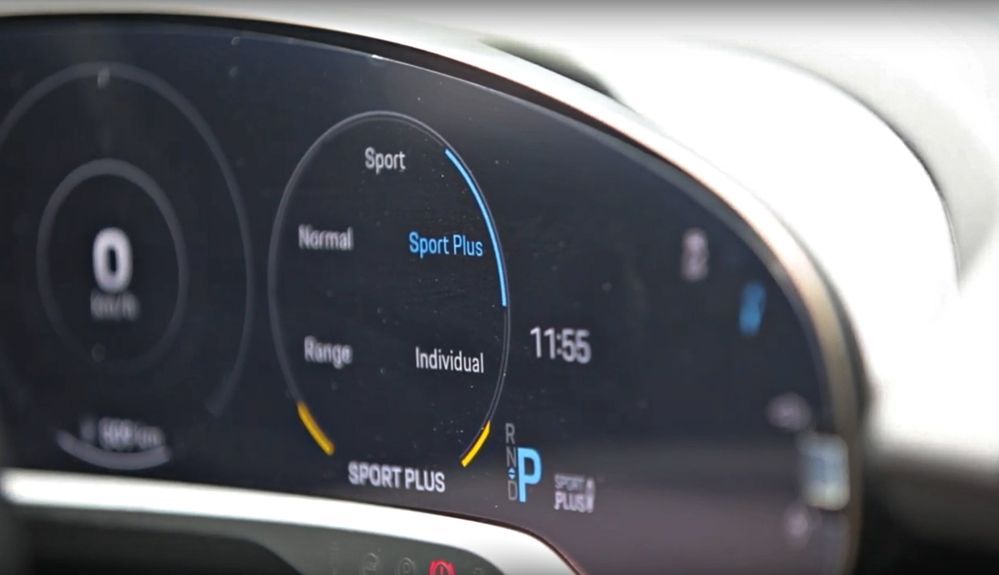 First of all, it's very assuring to know that the 435hp (530hp on Overboost) and 640Nm are instantly available through all four wheels, but even better than that is knowing the Taycan is sharp and nimble enough to deploy that wherever you choose. Those motors are also the most compact and power-dense fitted to a road-going EV and a direct result of Porsche's championship-winning WEC racers.
Porsche quotes 4.0 seconds for the Taycan 4S to shoot to 100km/h from rest, which is fast by any modern measure, but its acceleration is continually so effortless and immediate that speed soon became transactional, even boring, that I was much more eager to dig into the car's slower speed limits. By the way, at top whack, it peaks at 250km/h.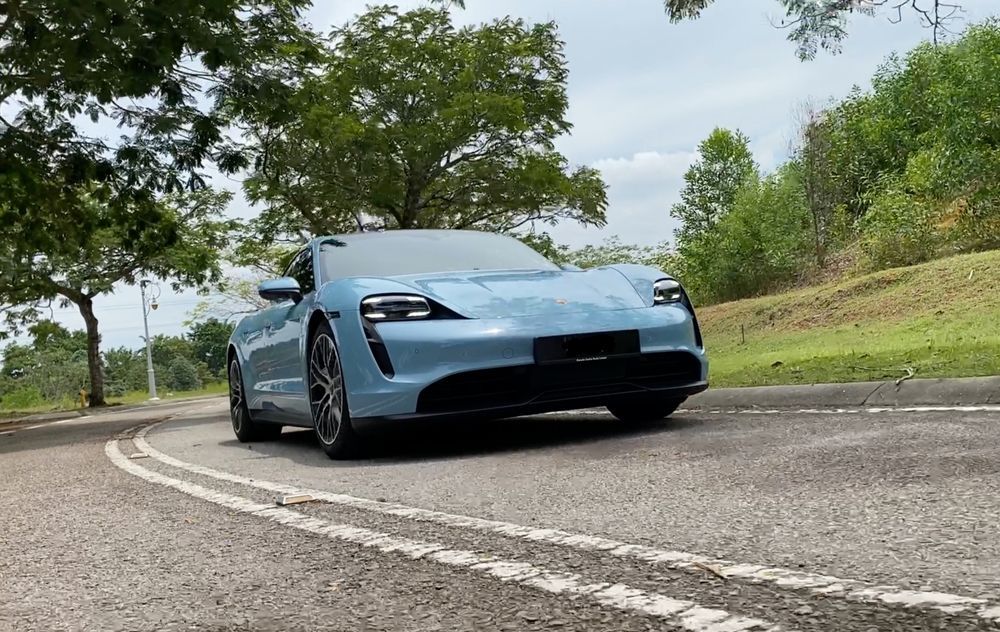 If it wasn't in the straights, I reckoned that its 2.1 tonnes had to make itself known somewhere else. But as I tried to upset it around some technical sets of bends, the car never relented, seeming to stay one step ahead of every sudden turn I threw it into. Nothing beyond the odd chirp from the Michelin Pilot Sport 4 tyres was heard, but the car never fell out of stride.
Very little understeer or body roll or noticeable structural flex was present, taking every curve with stoic calm. It became clear that I would need to be much more aggressive and going much faster to break the Taycan loose. Otherwise, this thing is on rails. And of course, it's also ruthlessly quick in between corners. Remember, too, that this 'just' the 4S, so how much more brutal could the Turbo S be with its 1,050Nm of torque.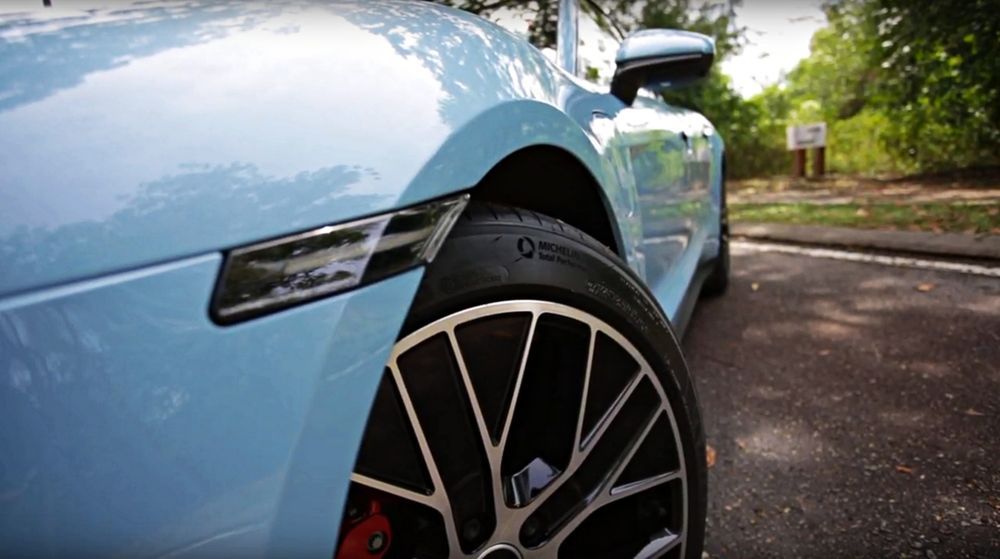 That word comes up again, though: competence. Though, rather than just emanating cold-blooded efficiency, the Taycan does deliver a lot of confidence to its driver through incredible steering feel and a chassis that's always relaying information - as a real sports car would.
Porsche's implementation of three-chamber air suspension also translates to an incredible mix of luxury and sure-footedness, likely a partial result of its floor-mounted battery array which endows it with an extremely low centre of gravity. Never did I feel the tyres' contact patch with the road not being maximised, but coupled with the magic carpet-like ride and refinement, the Taycan is without doubt the most comfortable and composed Porsche ever built, even on those 20-inch wheels.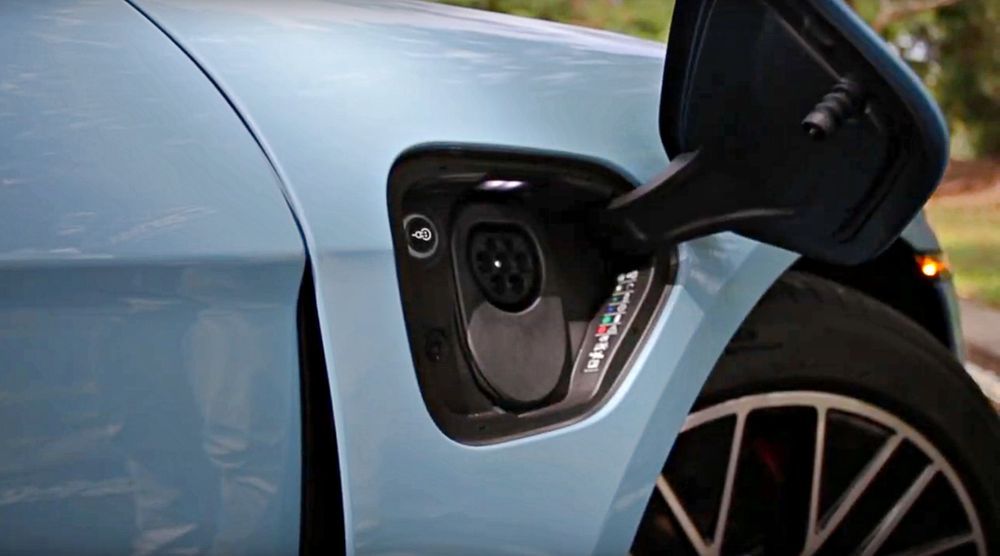 Charging - A Power Struggle
By no means was I going easy with the 4S electric powertrain with hard accelerations and sudden braking coupled with plenty of runs through some twisty roads and extended highway driving. Even with that level of disregard for where the next charging station could be, the Taycan finished the day with a little under 55 percent of its charge still left.
Having experienced it over the course of a full day with so much juice left over had me quite impressed with its power consumption. Even with 'only' the smaller 79.2kWh battery array, the 4S has more than enough in reserve to handle nearly every driving situation on most days - except, of course, an especially long road trip.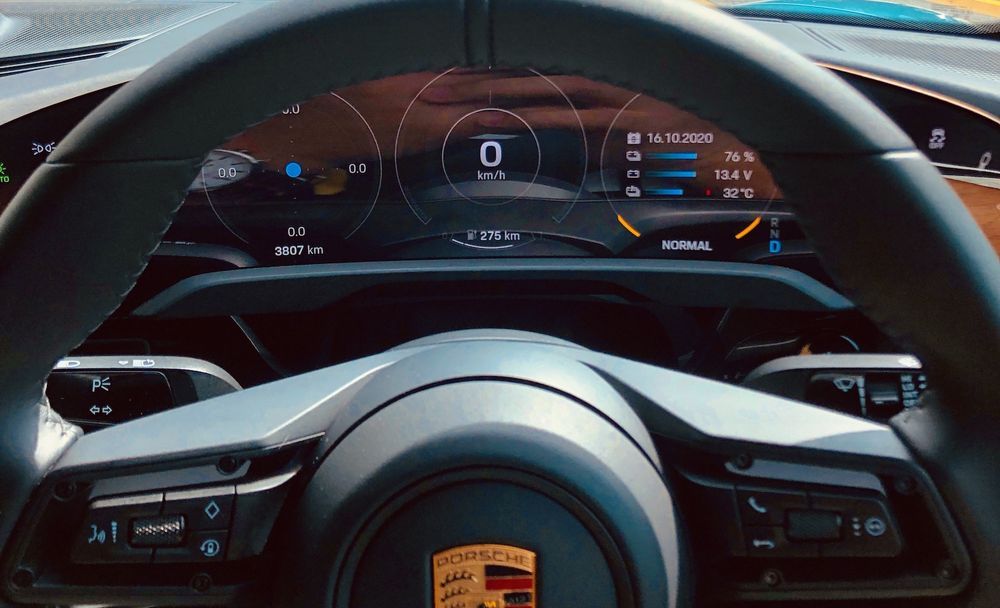 With its 800-volt electric architecture, the Taycan is able to make full use of fast 250kW DC chargers to replenish a near-spent battery to 80 percent in an incredible 20-ish minutes. However, the problem still lies in the scarcity of these stations. So far, Porsche has erected several 175kW charging stations at their own showrooms with more planned for the coming months, but the majority of Taycan owners will still be making use of the more widespread 22kW chargers, which takes charging times from a couple dozen minutes to several hours.
Again, having spent just a day with the Taycan 4S, time was too tight to look into the car's charging experience and wait times, but given where the infrastructure is at the moment, owners will still need to put more thought and consideration into their journeys and charging schedules than what they might be used to with combustion-powered cars.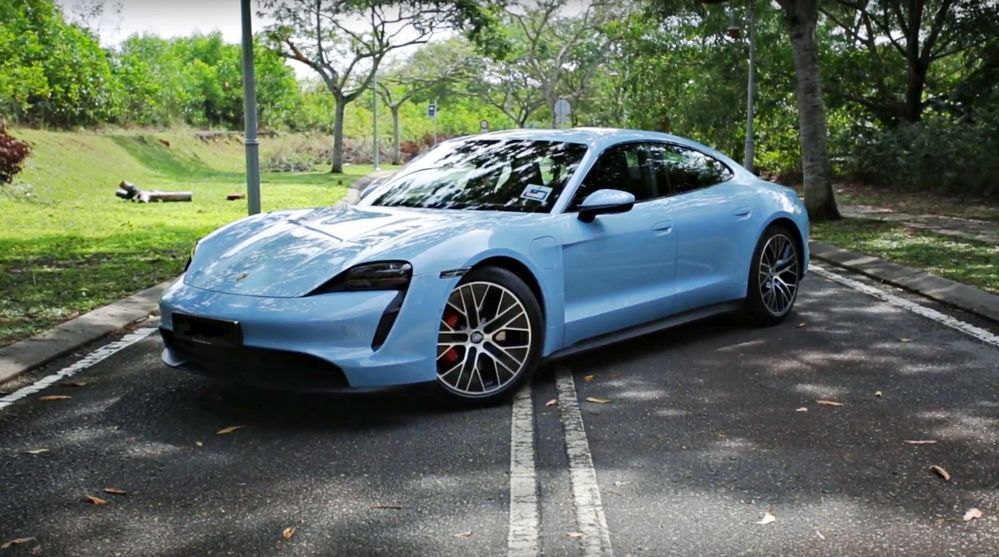 Porsche Taycan 4S: Summing Up
The Taycan is one of those rare cars that comes around only once every 20 years or so, maybe even more. Its combined technology, created from scratch and refined through motorsport, as well as the brashness of its message, has clear echoes of the iconic Porsche 959. It's a statement.
Porsche embarked on a project with a goal to merge two opposing ideals - the efficiency and high technology of an EV, with the soul and character of a true sports car - and the Taycan is the result. It might not be a perfect union, but it proves beyond question that no one else is capable of the kind of fine-tuning and obsessive calibration work necessary to make a 2.1+ tonne four-door drive as impressively as the Taycan does.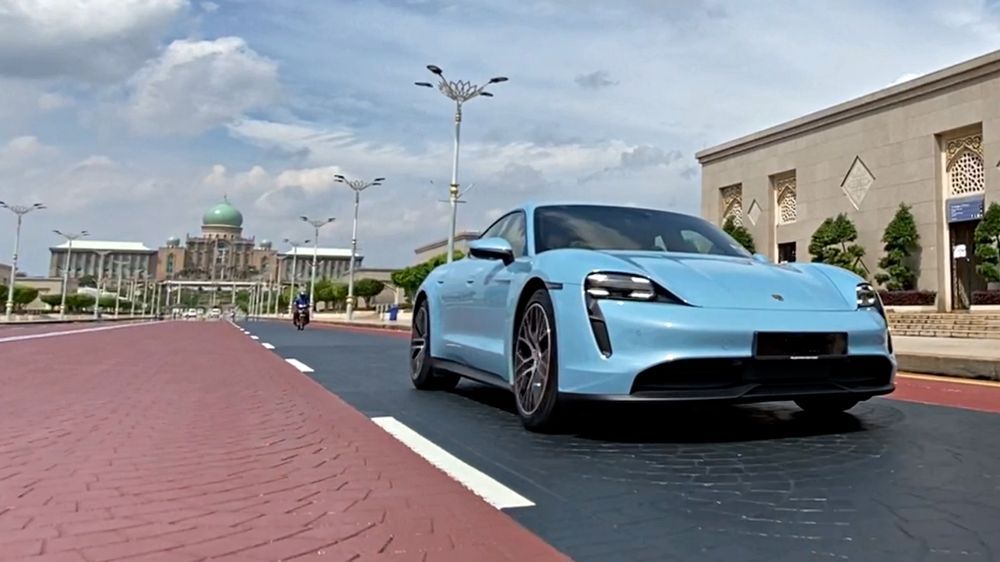 Like I said in the paragraphs above, it's the most competent road car I have ever driven. It's ruthlessly quick and capable of mind-bending dynamics. I almost wish it had more flaws to act as emotional tethers. Given just a day with the car, I might not have fallen in love with it in the same way that I might with a 718 Boxster Spyder, but there is a huge amount of respect for what Porsche has managed to accomplish.
It also paves the way forward for other Porsche electric cars, making this doubly important for the marque. We already know that a wagon-style Sport Turismo is on the cards, and perhaps a crossover-like variant similar to the Cross Turismo concept from 2018. Crucially, this is Porsche's first step to a fully electric 911. While that might have made me shudder with dread before, I'm not too worried about such a prospect now, having experienced the Taycan.
---
---
---
---
Comments