The 300hp Club – Mercedes-AMG A35 vs Porsche 718 Cayman vs Honda Civic Type R
Reviews We're finally in the thick of 2020, and looking at things, it is turning out to be quite an eventful and unforgettable one for us Malaysians to say the least.
Unfortunately, unlike what a lot of us had hoped for, there are still no flying cars but what we do have here, are three very exciting cars that can also "fly", but on the tarmac.
Say hello to the members of the 2.0-litre 300hp club, comprising three very exciting candidates who are highly capable in their own ways – the Mercedes-AMG A35 4MATIC sedan, the Porsche 718 Cayman, as well as the Honda Civic FK8 Type R.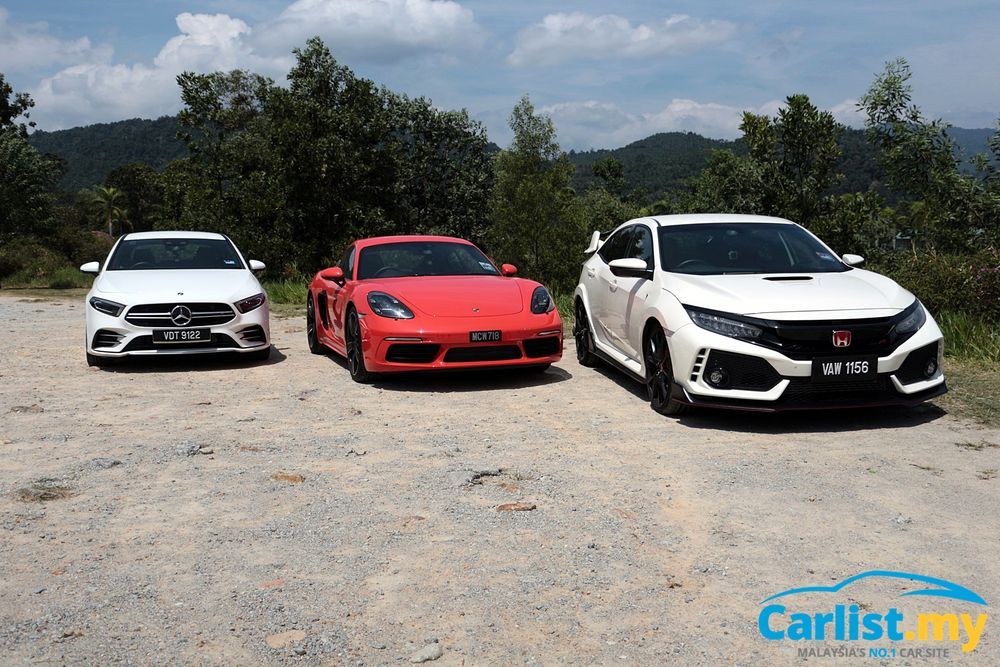 While all three cars are powered by 2.0-litre turbocharged engines and produce between 300 hp and 320 hp, they are actually worlds apart in terms of characteristics, but there is also another similarity between them – they are without a doubt, among the most fun cars to drive on our roads at the moment.
So, if money is not an issue, and you're looking for a super fun and quick car to drive both daily and over the weekend, watch the video above to see what these cars have to offer.
Having said that, let us jump straight into the cars:
The Ultimate Sports Car - Porsche 718 Cayman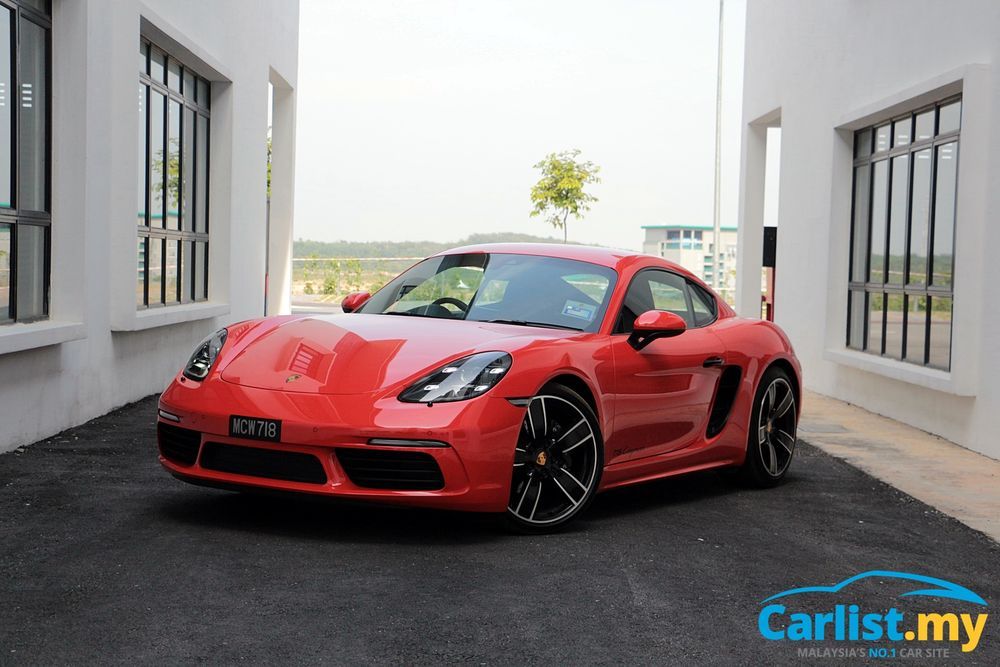 Price: From RM540,000
Engine: 2.0-litre turbocharged, horizontally opposed flat 4-cylinder, petrol
Transmission: 7-speed PDK dual-clutch automatic transmission
Max power: 300 PS at 6,500 rpm
Max torque: 380 Nm from 2,050 rpm to 4,500 rpm
0 to 100km/h: 4.9 seconds
Top speed: 275 km/h
Configuration: Rear Wheel Drive
Weight: 1,365 kg
The All-Rounder - Mercedes-AMG A35 4Matic Sedan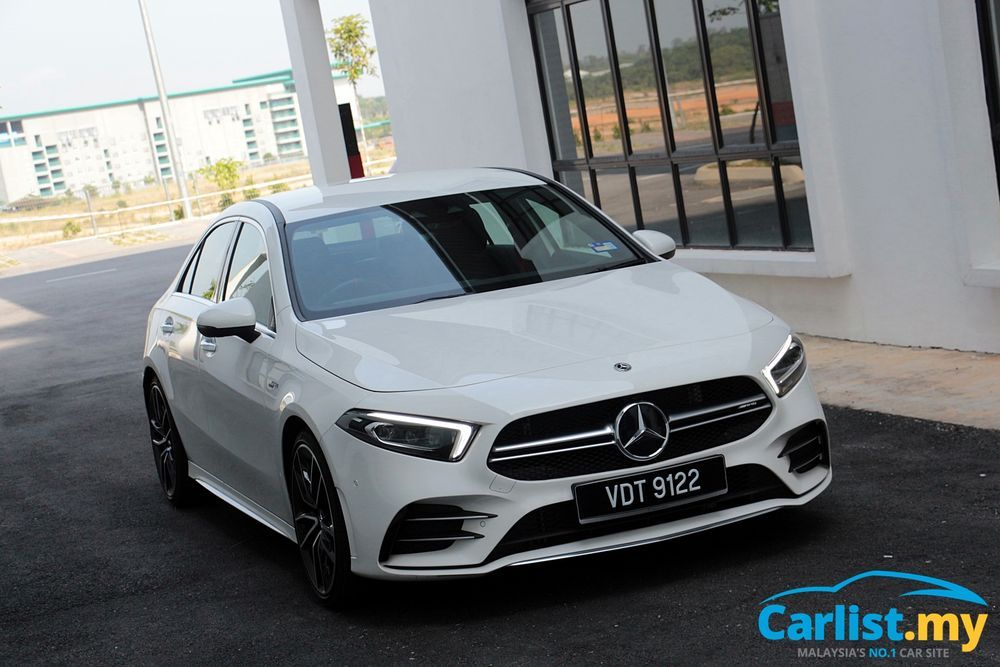 Price: RM348,888
Engine: 2.0-litre turbocharged, four-cylinder, petrol
Transmission: 7-speed AMG Speedshift dual-clutch automatic transmission
Max power: 306 PS at 5,800 rpm
Max torque: 400 Nm from 3,000 to 4,000 rpm
0 to 100 km/h: 4.8 seconds
Top speed: 250 km/h
Configuration: All Wheel Drive
Weight: 1,564 kg
The Purist's Dream – FK8 Honda Civic Type R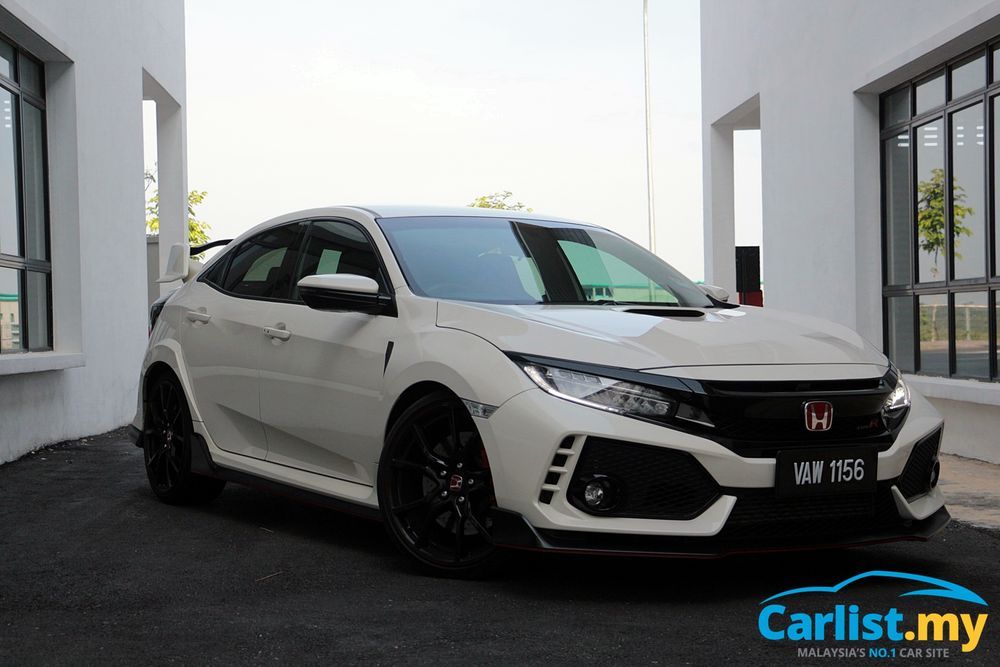 Price On Application
Engine: 2.0-litre turbocharged, four-cylinder, petrol
Transmission: 6-speed manual
Max power: 310 PS at 6,500 rpm
Max torque: 400 Nm from 2,500 rpm to 4,500 rpm
0 to 100 km/h: 5.7 seconds
Top speed: 272 km/h
Configuration: Front Wheel Drive
Weight: 1,391 kg
In order to understand the three cars better, we put them through a series of "tests" to see what they had to offer, and how different they are from one another.
The first test was a 250 m acceleration challenge where we got to see how quickly each car covered the distance, followed by a B-road test along the roads of Kuala Kubu Baru and Tanjung Malim, and finally a highway test, where we compared how the cars felt to drive.
In the acceleration test, the A35 AMG Sedan covered the distance the quickest, thanks to the 4Matic all-wheel drive system which kept the car absolutely planted, especially during take-off.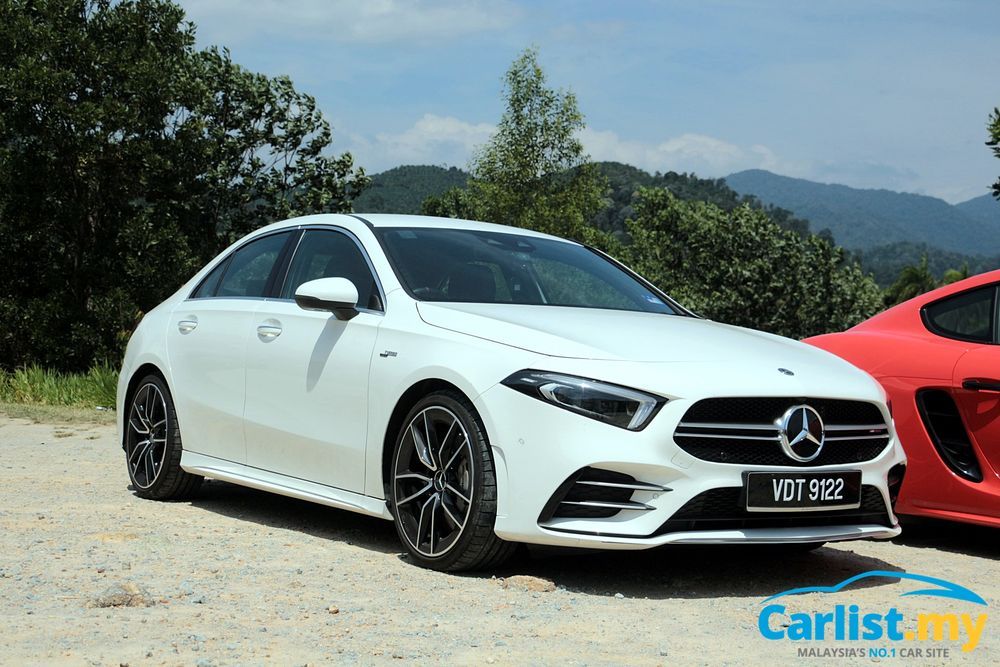 It was followed very closely by the rear wheel driven Cayman which, despite producing 6 PS and 20 Nm less, was only 0.2 seconds slower. Meanwhile, the Civic Type R did it a second slower since the driver needed to do the all the shifting manually.
Following the acceleration test, we headed over to some twisty roads leading to the famous Kuala Kubu Baru dam via Tanjung Malim, where the Cayman and the Civic Type R absolutely came to life and conquered the twisty bits "like a boss".
Now, make no mistake that the A35 was just as quick, but it just wasn't as lively. With the super smooth 9-speed gearbox delivering power seamlessly, and the 4Matic AWD system providing constant grip and traction, the car was so composed at all times, and tackled the B-roads so effortlessly that it started to feel a little boring.
Meanwhile, the Cayman was simply unbelievable through the twisty bits. With the pops, bangs, and crackles from the exhausts, the Boxer engine, the Porsche Stability Management system, the stiff dampers, the low centre-of gravity, and the ultra-quick steering rack, it tackled every corner with amazing sharpness without missing a beat.
The Civic Type R on the other hand, we heard the VTEC Turbo engine's blow-off valve singing the song of its people during shifts, and the exhaust screaming at high revs, making it an absolute riot behind the wheels.
Further complementing the whole experience were features like the helical limited slip differential (LSD), the automatic rev matching, and the adaptive dampers among others, which ensured that the car stayed planted, yet lively at the same time through corners.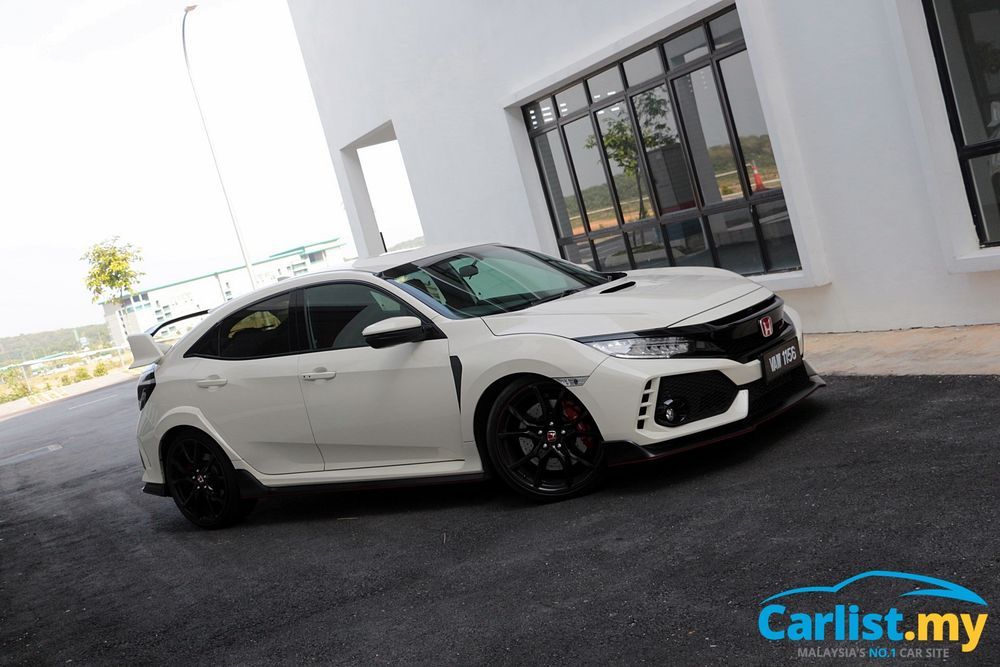 While the Mercedes-AMG A35 and the Porsche 718 Cayman had a fair deal of technological intervention especially during gearshifts, the Civic Type R and its manual gearbox was still keeping things traditional, where the driver had to be 100% on the ball to squeeze the most out of the car.
Overall, all three cars were mighty impressive on twisty roads, but the key difference was how they felt. While there was little to no drama in the A35 AMG, it was an absolute party in the Cayman and the Civic Type R.
As for the highway test where comfort, convenience, practicality, entertainment, and driver assistance came into play, the A35 AMG had the most to offer – four luxurious leather seats, MBUX infotainment system with voice command, ambient lighting, a big boot, as well as rear air cond vents, making it the most ideal among the three for long distance journeys.
And then we have the Civic Type R which was even more spacious due to its massive size, which was more comfortable than what we had expected. It is practical too, with plenty of storage compartments. So, if you want to take your family along for a long drive, the two white cars here are what you should go for.
However, if space, practicality, and convenience are not on top of your list, and you're looking for a true blue sports car that was actually designed to take on the race track, the Cayman here will definitely tickle you in all the right places.
The thing is that the Cayman can still be used as a daily driver, as it has nice leather seats, Bose premium audio, a user-friendly infotainment system, a reverse camera, parking sensors, and TWO boots to store your luggage!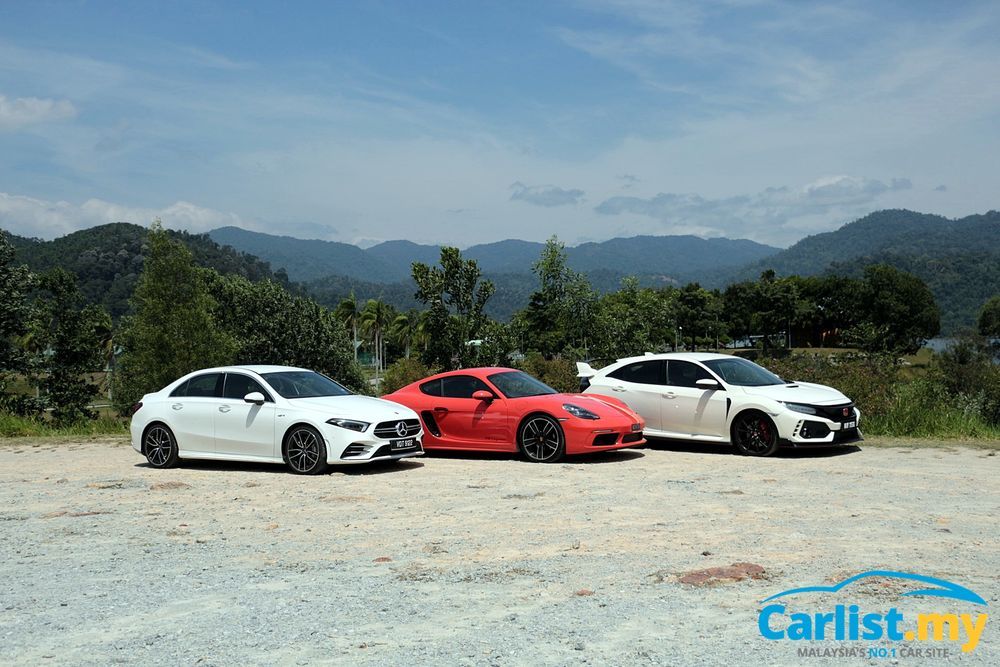 But then again, if you are one of those who are looking for a half-a-million Ringgit sports car, you probably already have a sedan or an SUV parked at home for people moving duties.
So, depending on your wants, needs, and your bank balance, the three candidates here, despite having the same engine capacity and somewhat similar output figures, are worlds apart.
Having said that, which one would you choose?
---
---
---
---
Comments