Review: Honda Civic Type R (FK8) – Don't Judge A Car By Its Rear Wing
Reviews The mere mention of the Type R names evokes for better and for worse, a mixed feeling of both awe and doubt.
Awe because the Type R is one of the last few remaining purist driver-only nameplates; three pedals, a stick shift and minimal driving aids. Doubt because the earlier generation FD2 (the last Type R sold here) was feared less for its VTEC note but more for its shockingly stiff ride.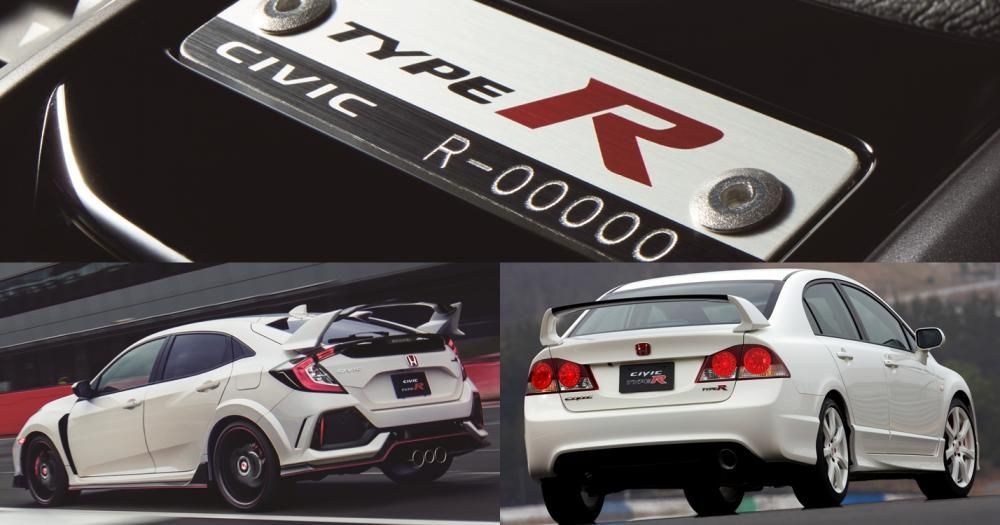 This all-new FK8 is quite a different animal from the FD2. Gone is the subtle styling. Instead, you get wings and inlets so big that the stock car fits nicely as a cast for the next Fast and Furious film.
Our lopsided tax structure for imported cars also means that at over RM300,000, the UK-made (yes, Japan no longer makes the Type R) FK8 is a car that the 20-year old you wanted but only the 40-year old you could afford; the sort of demographics who prefer an automatic transmission and a Mercedes-AMG badge, and that's the FK8's biggest problem.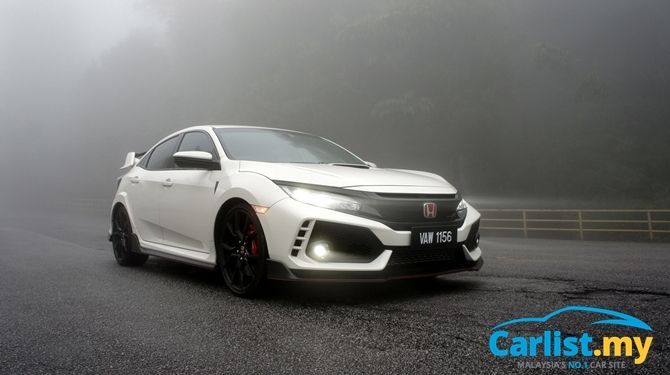 But what if we told you that this FK8 is more comfortable and easier to live with than any automatic transmission all-wheel drive German pocket rocket on your list? As diabolical as it sounds, do hear us out and then go experience it for yourself.
Specifications for Honda Civic Type R (FK8)
Engine: K20C1 2.0-litre four-cylinder, turbocharged
Power: 310 PS at 6,500 rpm
Torque: 400 Nm at 2,500 – 4,500 rpm
Transmission: 6-speed manual, front-wheel drive
Safety: Six airbags, ABS with EBD and BA, HSA, VSA, ISOFIX
Price: RM 301,928 excluding insurance (without GST or SST)
Origin: Imported from the United Kingdom (Swindon plant)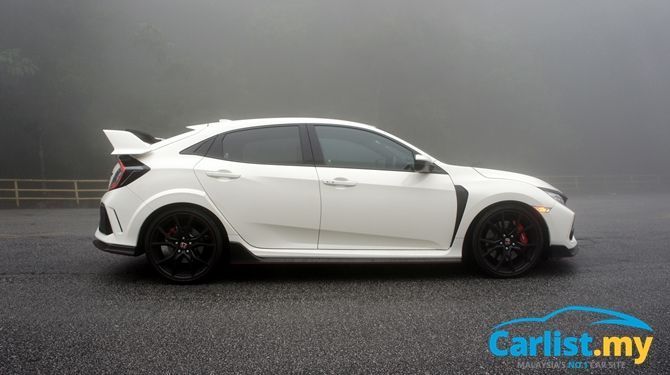 Overview
It might be only a front-wheel drive, but the Civic Type R is positioned closer to an all-wheel drive Volkswagen Golf R or Mercedes-AMG A45 than a front-wheel drive Golf GTI or A250, both in terms of power output and price.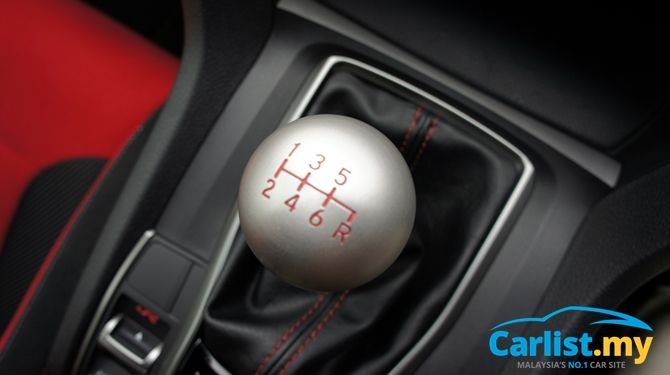 The highlight of the Civic Type R is its 6-speed manual transmission and genuine track-honed dynamics. If we can sum it up, it is a genuine performance car that you can drive daily, the keyword here being genuine.
That distinction is important because there is a difference between making a car go faster by giving it more power (which is what most German marques do these days), versus putting it through a proper motorsports-approved development process, weight reduction included.
Exterior
Yes the exterior styling is a little hard to accept. It looks like it's styled by some Wiralution owning tuner from Bandar Sunway's 'Jalan Horsepower' in the '90s. If there's any consolation, there's nothing frivolous about the FK8's exterior design. Every intake hole and protruding wing serves a specific purpose and its lap record at the Nurburgring is a testament to that.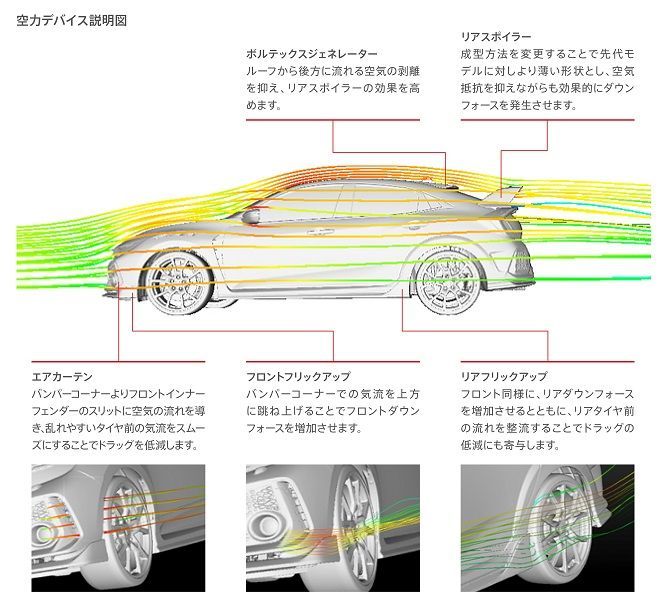 It's really all about function over form but there's no escaping that this car's styling won't do much to help your social standings. If you want to be subtle and be seen as a respectable, mature adult, the Volkswagen Golf R is still the way to go. The AMG A45 isn't any more mature but society will forgive you for it simply because it wears a three-pointed star.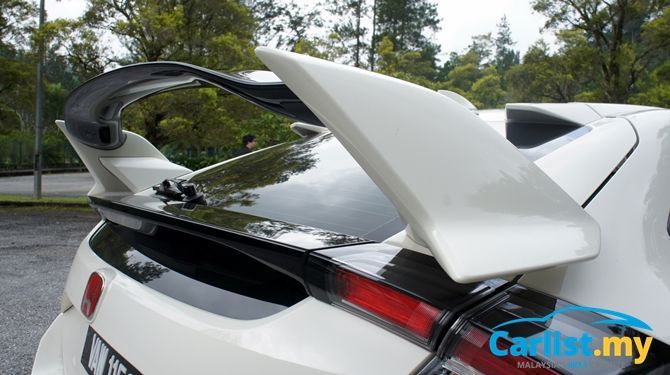 Interior
If the exterior puts you off, the interior is the FK8's redeeming feature. Yes, it's almost identical to a regular Civic but that's exactly why it's more user friendly than an A45 or a Golf R.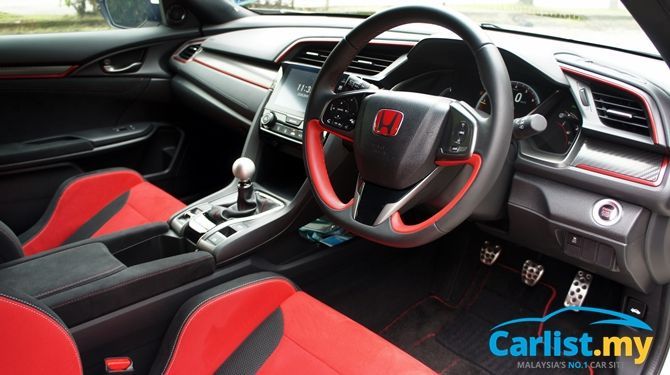 Nobody makes car cabins that are more spacious and more practical than Honda. Like a regular Civic, the FK8's centre console box have provisions to store items as big as a DSLR camera, as well as smaller items like loose coins and key cards. Even the adjustable depth cup holders are better than the rest.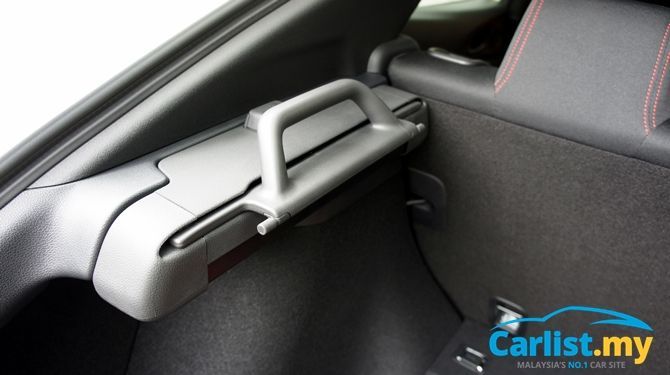 The retractable tonneau cover is an especially neat touch, and does away with the bulky bar that commonly plagues hatchbacks.
The Volkswagen Golf is often been praised for its ergonomics, but as we've have explained in our review of the Golf GTI, the Golf's cabin doesn't really work that well as a right-hand drive car. That criticism also applies to the Golf R.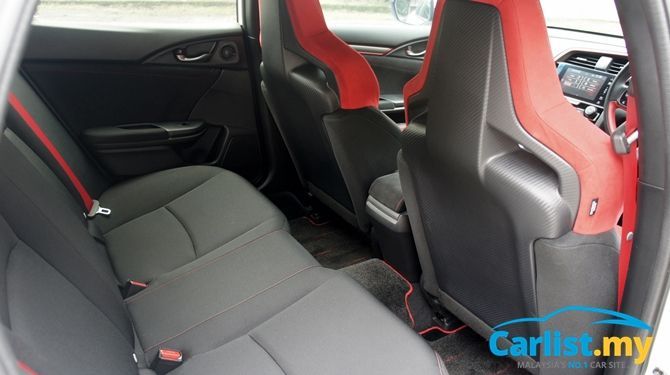 In comparison, the user-friendly manner in which all the controls for the FK8 are laid out, is beyond comparison. As for the A45, we love the car but not its cramped cabin while material selection doesn't quite measure up even without looking at the Mercedes-Benz badge.
In short, the FK8's cabin is the easiest to live with daily. Spend some time in it and it will force you to rethink the benchmarks for an all-rounder, daily use high performance car.
Driving Experience
If numbers are all that matter, then brutish 550 plus hp road cars like the AMG GT R and M6 would've been at the top of my list of personal best drives, but they aren't and the FK8 is.
In theory, I should enjoy the mechanically more sophisticated Golf R. Instead, the FK8 delivered loads of fun. It's a good example that sometimes, less is more.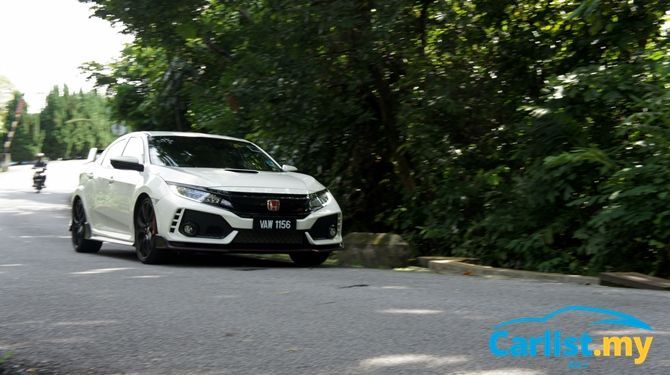 Does the lack of all-wheel drive make the FK8 a poorer choice than a Golf R? It's debatable. In terms of outright pace, especially when powering out of tight corners, it's no match for the Volkswagen.
But a simple, lightweight front-wheel drive is very much at the core of a Civic Type R's character, something which is almost non-negotiable for Honda, at least for now. Doing otherwise would be akin to asking Porsche to fit a V8 into a 911, or asking MINI to make an all-wheel drive Cooper hatchback.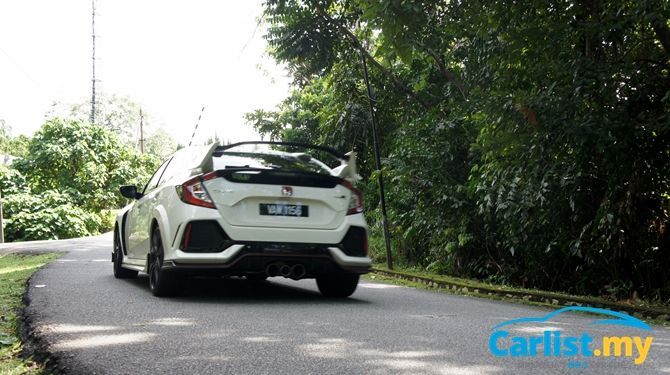 We are very certain that heated discussions are on-going within Honda on whether all-wheel drive is necessary. As power outputs increase, all-wheel drive will become inevitable. Even BMW has abandoned its rear-wheel drive-only philosophy for the M5. However if the purity of unadulterated driving experience is what you are after, the FK8 serves it in its purest form, so enjoy it while it lasts.
Where it lacks at the time attack sessions, it makes up for it with a more engaging driving experience, one where the driver rather than electronically-controlled differentials and driving aids is responsible for the car's behaviour.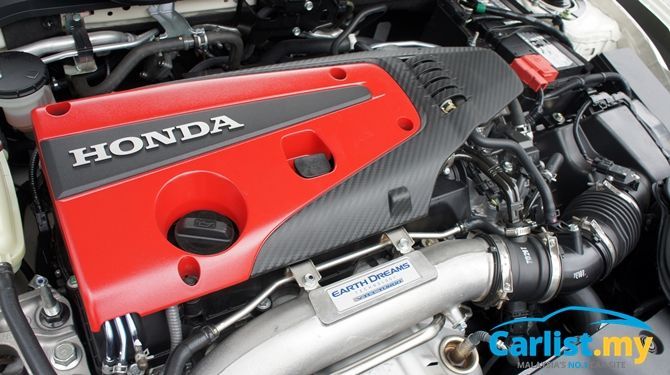 Steering feedback is sharp and unfiltered while the engine, despite being a turbocharged unit, delivers the 400 Nm in a very linear manner across the rev range. Sure, it's no longer as pure as the naturally aspirated FD2 but as far a turbocharged engines go, this K20C is the closest we've ever experienced to a high revving naturally aspirated VTEC. It won't satisfy purists who have grown up with the glorious high revving B-series naturally aspirated VTEC engines, but the days of old school VTECs are long gone and this is the closest we can have.
The lack of all-wheel drive never really bothered us, at least on dry surfaces. It's surprisingly easy to handle at the limit. Enter a corner too hot, understeer is easily corrected by lifting off the throttle and reducing steering input, with a slight dab on the brakes to bring the car back in line.
The excellent ergonomics of the Civic's cabin certainly helps in making the FK8 enjoyable right from the start. It's a car that you settle yourself into very easily. There's almost no learning curve to speak off. The same can't be said for the Golf, which as noted earlier, has controls that work better in a left-hand drive cabin than a right.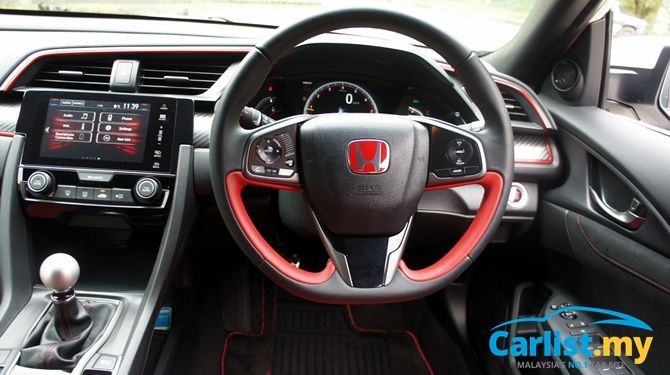 The position of the steering wheel and gear knob is very well placed, making shifting through the gears and working the automatic rev-match function (can be deactivated for those who prefer to do their heel-to-toe manually) an exercise of bliss. However be warned that it's a short shifter and if you are one of those drivers who grab the gear knob with your fist and slam into gears, it's time for you start to learn to shift properly lest you select a wrong gear and wreck the gearbox (hint: good drivers shift by moving their wrist to flick the gear knob). .
If you are too ambitious in powering out of a corner, the traction control will still cut power, with intervention levels and a manner not too different from a Golf GTI, but the Golf R will summon traction from all four wheels to launch itself away.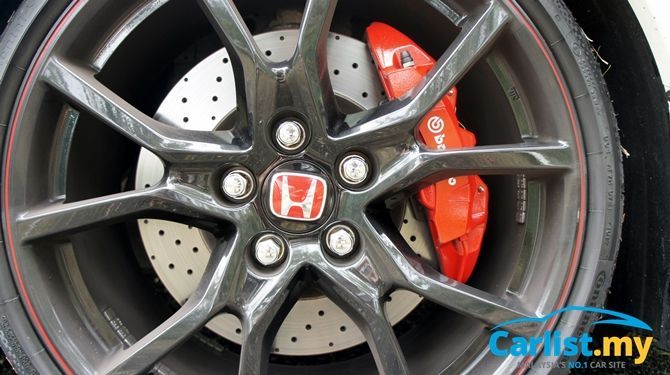 If there's any criticism, it will be the lack of a Custom drive mode. The FK8 has only three Drive modes to select from – Comfort, Sport, and +R. You can't, for example set the powertrain and steering to Sport while leaving the adaptive dampers in Comfort, which you can in a Golf R.
From our experience, leaving the adaptive dampers in a marginally softer setting while dialing up the powertrain's aggressiveness offers the best combination for our local back roads.
But penalizing the car on this is bordering on nitpicking because frankly, the FK8 remained surprisingly pliant even in Sport mode. Its ride in a Sport mode is just as comfortable a Golf R's default Normal mode (which in Volkswagen's hierarchy, is one level up above Comfort), which leads us to the next point.
Comfort
If your impression of an FK8 is influenced by the FD2, then you won't believe us when we say that the Civic Type R is more comfortable than a Golf R. The FK8 is not an FD2 with bigger wings and a turbocharged engine. Despite the wild child styling, it's actually a very grown up car beneath all that adolescent image.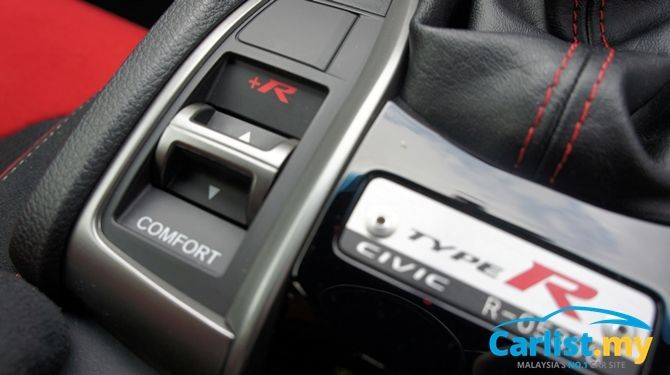 With the Drive mode set to Comfort, it's as comfortable as a regular Civic. Even in Sport mode, it's still pliant enough to handle poorly surfaced tarmac.
Yours truly had the car for three days, and throughout this period, I drove it through my daily commute. Three pedals and rush hour traffic are usually not a good combination but I was surprised at how easy it is to operate the 6-speed manual transmission. It even comes with hill start assist so don't worry about stalling it. Of course, I also have to qualify that I sometimes drive a 5-speed manual rear-wheel drive to work.
At highway speeds, the FK8 was refined enough and soft conversations can be done effortlessly until the car hits 140 km/h. Beyond that, it is the Volkswagen that's more hushed.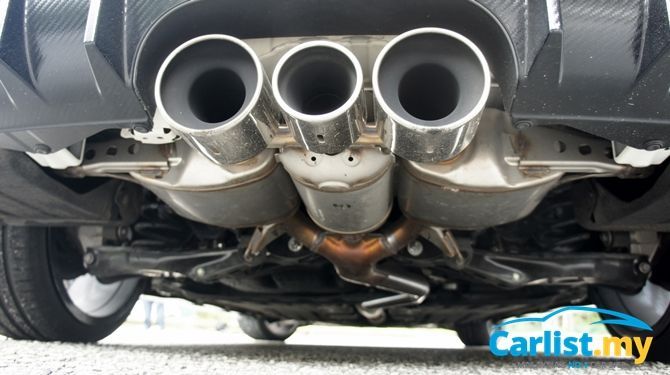 Much of this refinement has to do with the intelligently designed three-barrel centre-mounted exhaust pipes, which does not need any complicated electronically-controlled flaps or fancy valves to control exhaust note. It has no moving parts and uses simple theories of air pressure to keep the exhaust note quiet when the car is cruising.
However, we do miss the distinctive 'farting' exhaust note of the Golf R.
Conclusion
The FK8 is an excellent all-rounder high performance car but its potential is marred by the adolescent styling and that is its biggest problem. In our highly taxed car market's context, buyers have plenty of option from more premium brands but believe us when we say that none, including the Golf R and certainly not the A45, can rival the FK8's mix of comfort and performance, even if its adolescent styling and past experience with the FD2 are suggesting otherwise.
If maintaining a respectable, grown up image is very important to you, there's no denying that the Golf R is the better option, even if it rides marginally poorer than the FK8. But if all you care about is power, it's hard to argue against the Mercedes-AMG A45, where shelling out RM329,180 buys you 381 hp, with the prestigious three-pointed star added as a bonus.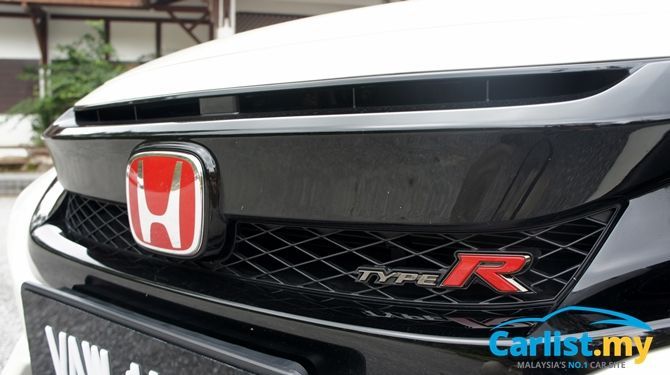 Some may see the FK8's 6-speed manual transmission as a hindrance but purists and the future car collectors' market will value it specifically for that. Purists and FK8 owners will appreciate the fact that the lack of automatic transmission option will filter out the pretentious drivers from their commuity. The stick shift is not really that intimidating because yours truly drove through three days of rush hour in it with very little trouble.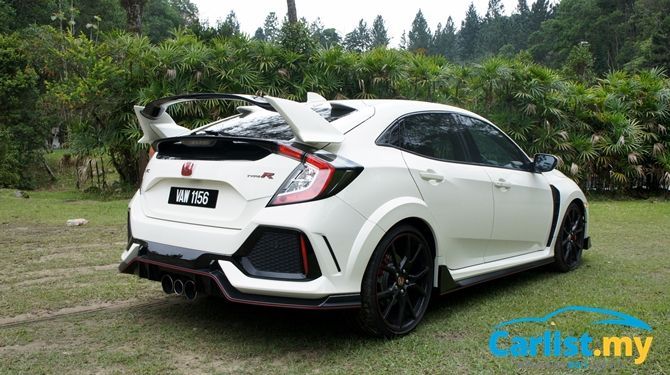 The lack of all-wheel drive is part of the car's character and storied heritage, both for better and for worse. Until Honda decides to follow BMW M's decision to abandon its decades-old identity to adopt all-wheel drive, this FK8 is staying true to its simple, front-wheel drive-only philosophy, three-pedals included.
---
---
---
---
Comments