Toyota Vios Challenge Racers Graduate, First Race In August
Auto News The twenty-four novice drivers who signed up for the Vios Challenge have completed their 6 training sessions, and they are now armed with new driving skills and a certificate of competency from Toyota Racing Development (TRD) Japan. Among the graduates who received their certificates were actors Fattah Amin, Diana Danielle, Shukri Yahaya and Janna Nick, singers Geraldine Gan and Danny Koo, blogger and model Venice Min and beatboxer Shawn Lee.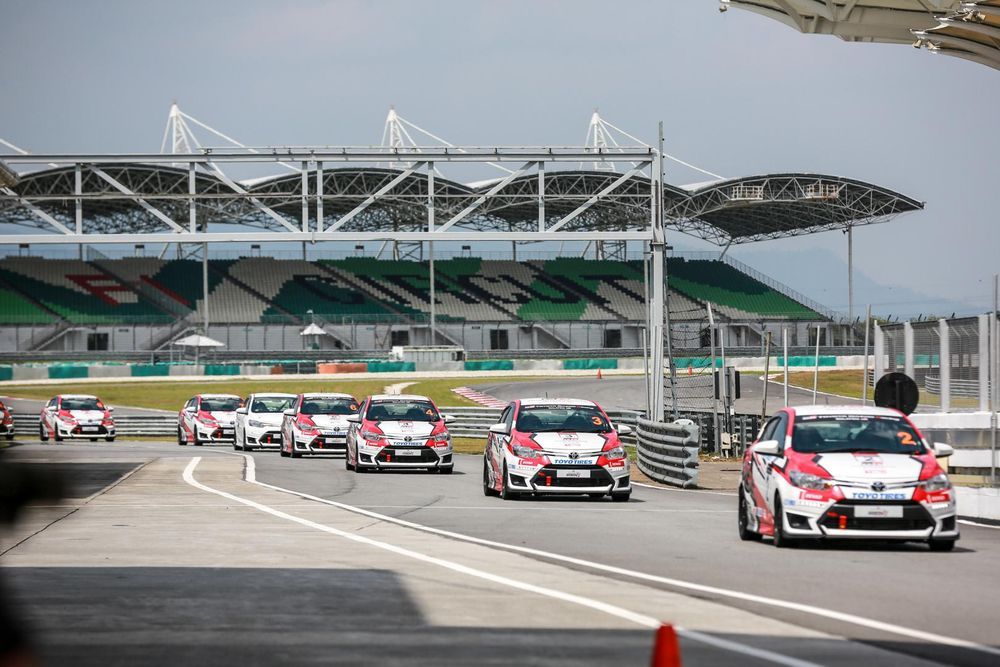 Their first race will be at Batu Kawan, Penang. The course in Batu Kawan is a specially-designed 1.656 km circuit that is shaped after a racing steering wheel in a clockwise direction. There will be nine turns with the longest straight slightly over 156 meters in length. While it's a relatively small and tight course, that is part of the fun and excitement of a street circuit: drivers will find it more difficult to overtake and it will require far more strategy than racing on a wider track.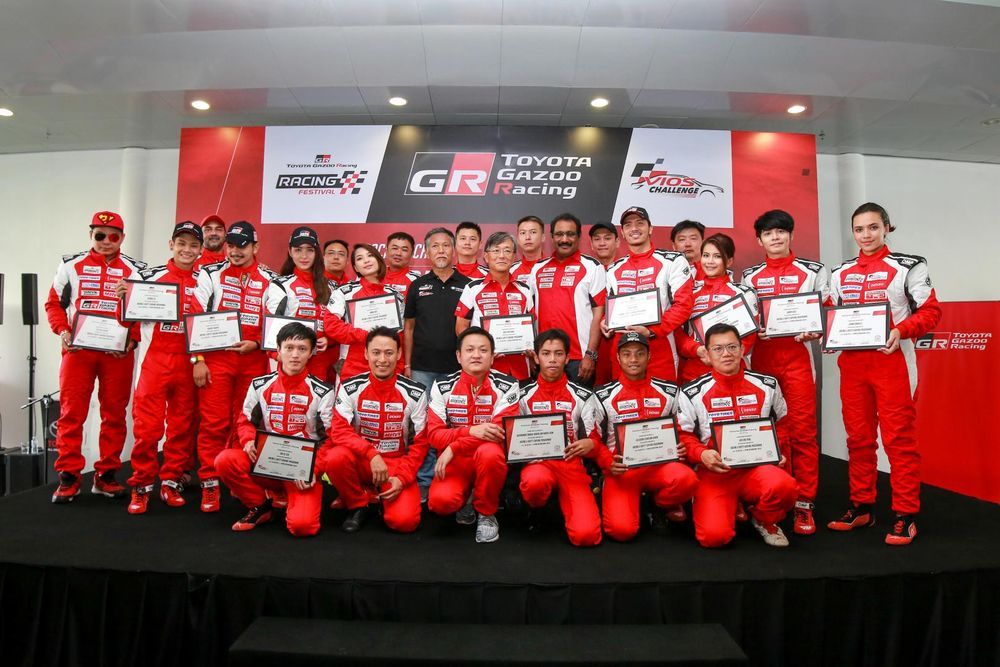 There are many reasons to be excited for the the Vios Challenge. One-make races allow for great racing as everyone fights on a fairly even playing field, and there can be no arguments over the performance of a car and few excuses to be made. The cars in question are fairly well prepared, offering a pretty good entry into the world of racing.
Perhaps best of all is the fact that a number of these races will take place on street circuits- circuits that few to no people have driven before. Compared to other forms of racing, the RM 90,000-odd asking price is a bargain considering the additional equipment and provided tyres.
Disclaimer: I am aware that my hand position is incorrect at certain sections of the track. Apologies for that.
At the drivers' graduation ceremony, we were given a few laps around Sepang's North Track in the Vios Challenge cars. In our short stint, we found the car to be very easy to drive. Clutch action was light, and gear shifts were easy without the risk of mis-shifting.
Power delivery is decent for a lightly-modified Vios, and handling is backed by sticky Toyo T1R rubbers, TRD suspension kit, TRD clutch and LSD, TRD tower bar and lower brace bars and TRD brake pads. This allowed the Vios Challenge race car to take corners with ease. We were able to enter corners with confidence.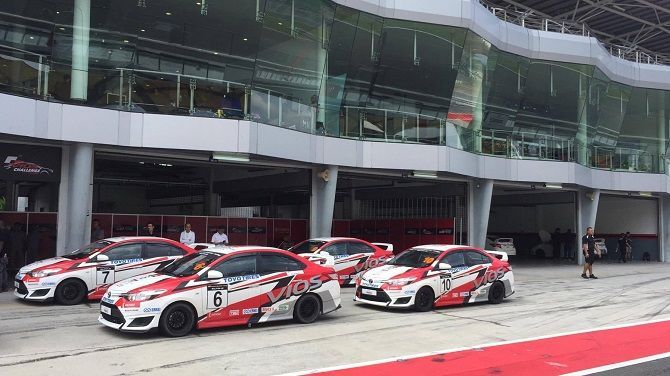 From a technical perspective these cars may not seem to be modified far beyond their stock standard state (10% increase in power output, suspension, brake pads, a gentle LSD), but there has to be balance between making these cars quick and keeping them reliable at the same time.
The Toyota Vios has always had fairly appreciable handling dynamics and reasonable performance (especially in manual form) so it was a good place to start off from. At the end of the day, if it's a one make race it doesn't matter whether you're racing a Lamborghini Huracan or a Perodua Kancil- everyone should be on a level playing field and it's down to driver skill and experience.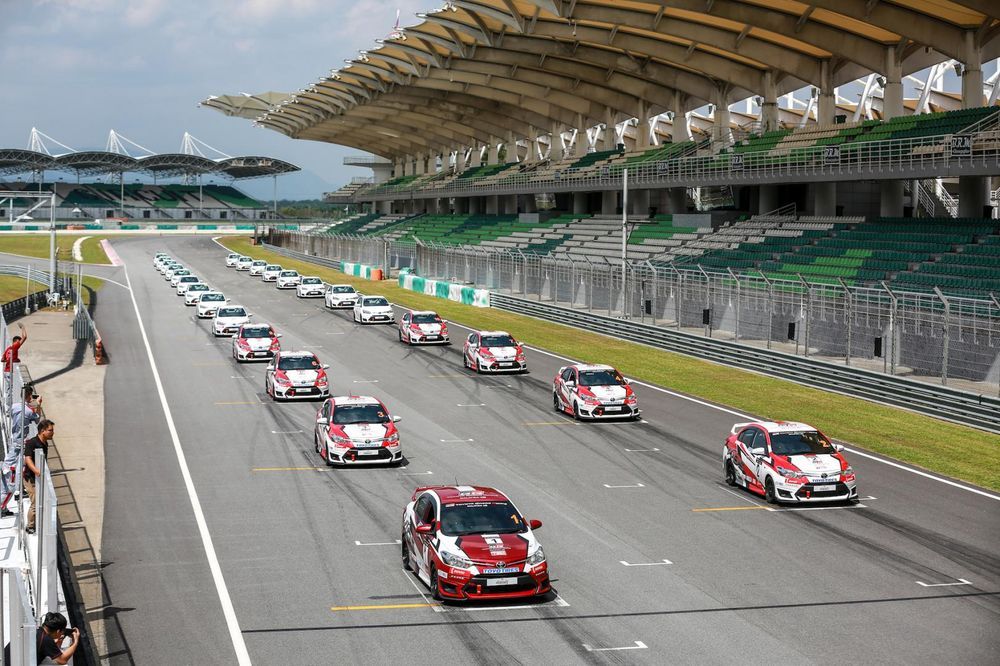 In order to create a level racing field, the Vios Challenge will feature 3 racing classes where 10 of the fastest racing record will be moved into the elite Super Sporting Category; the Sporting Category will feature 17 racers and the remaining 10 in the Promotional Category. Each category will have 2 heats with points being awarded for top positions in each heat.
The first Vios Challenge race will kick off on the 12th and 13th of August at the Batu Kawan Stadium in Penang. Besides the race, there will also be numerous activities and displays, along with a special showcase of the upcoming Toyota C-HR. Entrance to the festival is free and open to all members of the public.
Editor's Note: Story written in collaboration with Aswan.
---
---
---
---
Comments