The 2018 Audi A8 Can Drive Itself, But Will It Be Legal?
Auto News One of the key features of the all-new 2018 Audi A8 is its AI traffic jam pilot system that not only allows the driver to be hands-off during a traffic jam, but also to focus on other tasks while the vehicle accelerates, steers, and brakes itself without any intervention.
The system operated by a central controller, known as zFAS, which feeds on input from the car's surrounding radar, front camera, ultra-sonic sensors, and a laser scanner to gain an accurate picture of the vehicle's surroundings. The use of laser in such an application is a first among carmakers.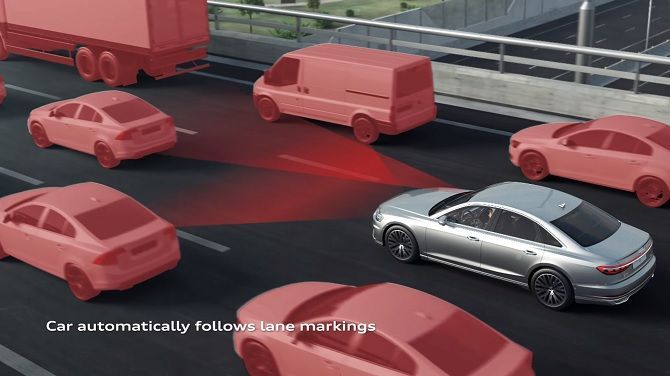 A button marked 'AI' on the centre console activates the system, which is restricted to operate at speeds no greater than 60 km/h and only on highways where oncoming traffic is separated by divider. When in operation, the system allows the driver to focus his or her attention elsewhere although it may prompt him or her to re-take the wheel if so needed.
Audi acknowledges that introduction of the traffic jam pilot system will require legal clarification at each individual market it sells the A8 in and will depend on country-specific requirements for testing and approval.
As the various countries differ in their respective pace in defining and legislating autonomous driving technology in their legal framework, Audi admits it faces a lengthy a step-by-step approach in its introduction of traffic jam pilot across its line-up in various markets across the world.
Whilst the technology behind autonomous driving systems have been in active development for sometime, the biggest hurdles between car makers and the full roll-out of self-driving cars are legislation and ethics, for both of whic have fundamental questions that remain unresolved as discussed in our guest spot at Autobuzz.my's Torque Show programme recently.
---
---
---
---
Comments