2015 Audi A6 Launched In Malaysia: Prices From RM325k For 1.8 TFSI
Buying Guides Off the back of what would technically be their first new model launch (Audi TT, in May) since their takeover from Euromobil Sdn Bhd, Audi Malaysia is making waves with their second model, the new 2015 Audi A6.
With only two variants previously available, Audi Malaysia is sticking with their guns and continuing the two, but have ousted its 2.0 TFSI variant in favour of a 1.8 TFSI instead.
Prices for the new variants are as follows (OTR without insurance):
Audi A6 1.8 TFSI: RM324,900 (previously RM336,900 – 2.0 TFSI)
Audi A6 3.0 TFSI: Estimated under RM500,000 (previously RM507,900)
Comparatively, the new A6 sedan is here to do direct battle with the hot-selling Mercedes-Benz E-Class and BMW 5 Series, so to keep things in focus for you, here's a quick look at their price ranges as well.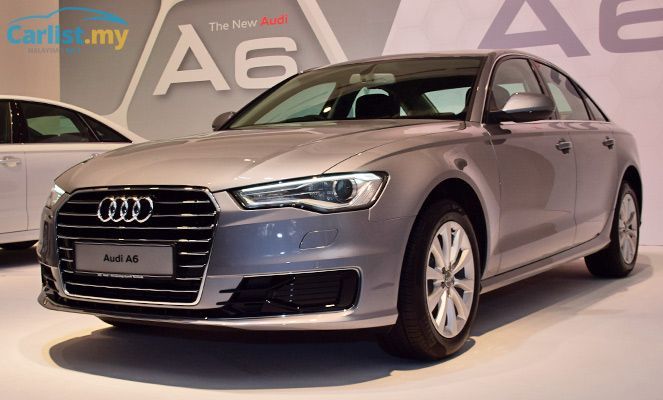 So, how does the new A6 hold up? Here's what's new
Obviously, there's a lot that's changed where the new A6's looks are concerned, but we've seen the BMW 5 Series and Mercedes-Benz E-Class competitor's looks already, so let's go over what's more specific for our Malaysian market.
PERFORMANCE: Starting from the top, the supercharged 3.0-litre V6 in the 3.0 TFSI quattro variant has been "comprehensively revised" to produce more power, and showcase large efficiency gains. Where power matters, it's a case of an additional 23hp added to the original 310 for a total of 333hp now, with 440Nm of torque on tap from 2,900 to 5,300 rpm – all the while returning 7.4-litres/100km.

The Malaysian-spec 3.0 TFSI will use a seven-speed dual-clutch S tronic transmission, which is also featured in the 1.8 TFSI variant. There's a new "coasting mode" available when the "efficiency" driving mode is selected.
Speaking of which, the 1.8-litre four-cylinder turbo engine in the 1.8 TFSI variant makes 190hp and 320Nm of torque from a low 1,400 to 4,100 rpm, allowing the front-wheel drive A6 to blast from 0-100km/h in just 7.9 seconds – despite the decrease in displacement, the newer Audi engine manages to be quicker than its 2.0 TFSI predecessor in Malaysia by 0.4 seconds.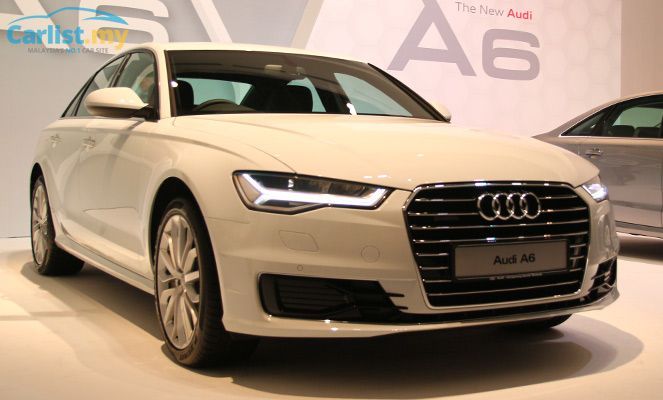 EXTERIOR: The front-end styling has adopted all the changes seen on the brand's newest models (think Q7), so naturally, there's the new single-frame grille, slightly more aggressive exterior kit, new tailpipe design, new taillight designs, new rear diffuser, and then some.
READ ALSO: The Evolution of Headlights
From what we can tell right now, both variants of the A6 are very similar in exterior offerings between each other, but for the 1.8 TFSI riding on 17-inch, 10-spoke alloys, while the more expensive 3.0 TFSI gets a set of 19-inch fifteen-spoke alloy wheels.
MATRIX LEDs: During the international reveal of this car, Audi made it clear that on top of its new headlamp designs, its impressive Matrix LED technology were an optional item now for the A6, and it's the same case for Malaysia. As standard, the Audi A6 1.8 TFSI will come equipped with Audi's xenon plus headlamps, while the higher-spec 3.0 TFSI gets LED headlights. The Matrix LEDs will of course come at an extra cost, but no mention of just how much has been made clear yet.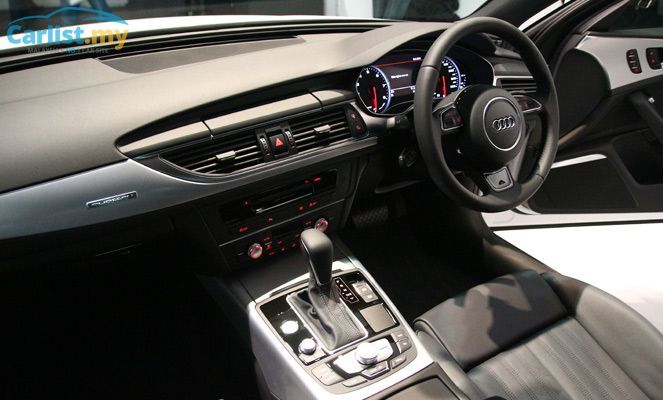 INTERIOR DESIGN: It's largely the same interior design here, but there are several minor improvements, key of which is the latest-gen MMI infotainment and connectivity options.
For the A6 1.8 TFSI, Audi Malaysia has kept the affair simple: specified is an MMI radio plus, which features an electronically-retractable 6.5-inch display screen, and a 10-speaker Audi sound system.
The flagship A6 3.0 TFSI is the one that gets it all: latest-gen modular infotainment system (MIB), which features MMI navigation plus with MMI touch system, a larger eight-inch display screen, a BOSE 12-channel amp, 14-loudspeaker sound system, and much more. There's also a 20GB memory for storing all your music and video data.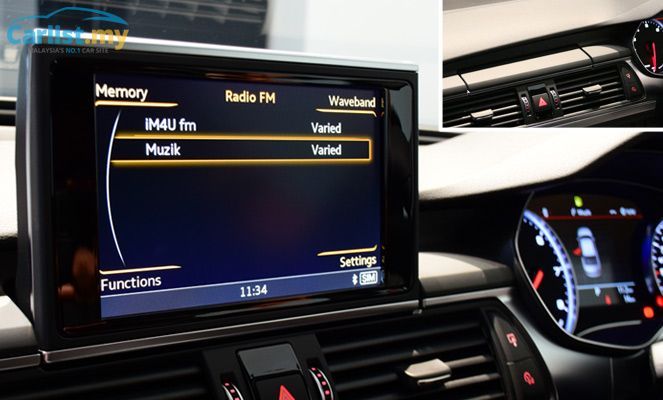 Of course, this generation of Audi's MIB is equipped with the cutting-edge Tegra 30 processor from Nvidia. This quad-core chip boasts a clock speed of over one GHz and performs some eight billion computations per second. It works together with a specialized 3D graphics program that generates sophisticated animations and images.
A DVD drive, two card readers, a Bluetooth interface, the Audi music interface, 64 GB of flash storage (ten GB of which for music) and the high-resolution, eight-inch monitor round out the list of features for the MMI navigation plus.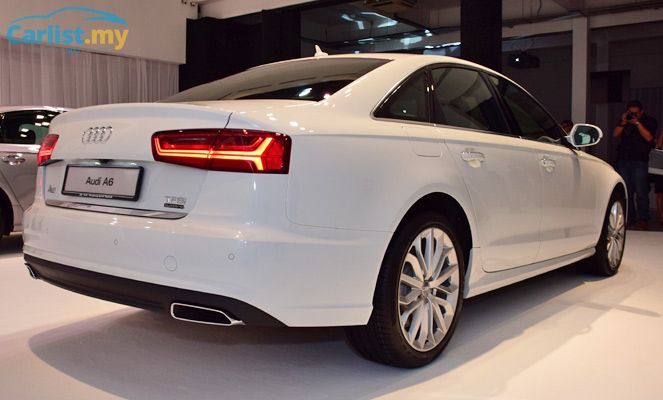 Buyer's Guide:
For now, Audi Malaysia tells us that bookings are only open for the 1.8 TFSI variant, which retails from RM324,900 (OTR, with GST, without insurance), while those keen on the 3.0 TFSI may have to wait a little longer for Audi Malaysia to bring it in: that, which has a price tag that is estimated to fall under the RM500,000 mark.
There's really no shortage of body colour options, with buyers able to choose up to thirteen different choices.
---
---
---
---
Comments