2015 BMW 2 Series Active Tourer Quick Review In Austria: Uncharted Territory
Reviews When BMW Malaysia rang us up to join them on a trip that would have us driving from Munich to Austria, you could only imagine our excitement at the chance. It's a downright privilege to say the least, being whisked away to drive brand-spanking new BMWs in foreign lands.
But the model we were up to drive didn't seem all that "BMW" at first, if we're honest. At the time, in fact even now, it's admittedly strange to associate the brand with anything outside of thrill-making sportsters with a knack for going sideways around an aircraft carrier.
*BMW 2 Series Active Tourer Malaysian Launches in Malaysia for RM219k
Think about it. While it was actually a monster BMW M4 that was filmed drifting around an aircraft carrier for real, how difficult would it be to imagine any other BMW doing the same? Anything in their current line-up could easily step in and offer the same amount of tyre smoke, fun and awe.
However, BMW does now have an MPV. Right: Multi-Purpose Vehicle. And no, it isn't a spin-off of something they've got, tweaked to feature a plainly larger boot or have more doors.
Taking a far more unusual approach (at BMW, at least), they've actually made a compact five-seater MPV in the most commonly accepted sense: a minivan, a people carrier, soccer mom's special, a B-Class; whatever you want to call it.
And if that wasn't enough to shock the everyday BMW Blog reader when news of it first surfaced, they've made it front-wheel drive too – that's two major 'firsts' for BMW. Blasphemy? Sell-out? Treason? Go on, have at it while you can, because as we've found out on a trip to the Alps of Austria, all our pre-empted dispositions were way off from any accurate assessments of the all-new BMW 2 Series Active Tourer in question, post driving it.
And by the time you'd have read this (our lips have been sealed by BMW for a while now); they would have launched an even larger version of the car, giving it two more seats in the back, and then calling it the BMW 2 Series Gran Tourer.
So, what is it?
If you haven't come around to accepting it yet, let's recap that the 2 Series Active Tourer is BMW's first front-wheel drive model, and their first attempt at producing a full-on MPV – albeit a compact one. To give you an idea of its size, the 2 Series Active Tourer is no more than 20mm longer than a 1 Series, but 11mm narrower than a 3 Series. For height, the Active Tourer stands 10mm taller than a BMW X1. Its measurements in full are: length: 4,342 mm, width: 1,800 mm, height: 1,555 mm.
Underpinning the Active Tourer is an architecture believed to be based on the all-new F56 MINI Cooper's BMW-made UKL 1 platform, but adapted for a longer wheelbase. The MINI chimes in with 2,495mm, while the Active Tourer features a 2,670mm design.
The measurements listed above have predominantly one purpose, and that's to ensure sufficient cargo and passenger spaciousness inside to keep up with the vehicle's purpose - and there's certainly a lot of room. The tall roofline also allows for a higher seating position than common to most compact BMWs.
Driving a 2015 BMW 2 Series Active Tourer:
Having had the opportunity to personally enjoy the company of BMW's chief designers and engineers while visiting facilities such as the BMW FIZ (Forschungs- und Innovations zentrum, a.k.a. Research and Innovation Center) in Munich, one thing was made very clear about the Active Tourer's development: as much effort as they've put into making this a practical MPV, even more effort was put into ensuring this was still a properly dynamic BMW to drive.
Fortunately, while the company itself may have zero previous front-wheel drive models to draw insight or inspiration from, let's not forget that it does own MINI: a brand synonymous with an insatiable and distinguished talent for making relatively large FWD vehicles that boast unrivalled go-kart-like handling.
The chassis similarities include a single-joint spring strut axle at the front and a multi-link rear axle, and way before any of us got to driving it, the sheer delight at the outcome visible on the faces of the BMW's engineers on site may as well have spelt the result.
Day 1: The 218d Sport: On the road ourselves, the smoothness of Austria's blacktop played a major part in keeping us comfortable along our initial six-hour journey from Innsbruck to Sölden. We were driving the 218d variant, which features a new four-cylinder 2.0-litre TwinPower Turbo diesel engine which makes 150hp @ 4,000rpm and 330Nm of torque @ 1,750rpm. A six-speed manual transmission was specified for in this model, although, we don't expect the stick shift option to make a debut back in Malaysia.
Rated consumption for the 218d Active Tourer is 4.1-litres/100km, and if you're disciplined and patient enough, similar figures (if not slightly higher) are very achievable in the real world with the aid of the manual transmission. The four-pot diesel is near noiseless from where you sit, and delivers its power very smoothly. From the outside, the clatter is inescapable.
More importantly, day one of our drive left us with a positive impression of the car. Undeniably, the chassis doesn't shy away from showing its eagerness to attack corners at speed. It's a strange sensation: sitting so high up and feeling so obviously in a vehicle designed for people/ cargo carrying, but slowly finding more and more bravery to wrestle for grip in a corner.
BMW's electromechanical steering translates not only perfect feel and weight, but also works hard to keep away the FWD's torque steer from interfering with your wheel work.
Day 2: The 225i Luxury: Having made the trip to Sölden in the 218d and taken part in the official media launch event, the trip back to Innsbruck Airport allowed us to get in the top-spec 225i variant: a four-cylinder TwinPower Turbo petrol engine tuned to deliver 231hp @ 5,000rpm and 350Nm of torque @ a very low 1,250rpm.
An eight-speed Steptronic transmission is specified as standard on the 225i, but it isn't the same ZF-sourced unit found in almost every other modern rear-wheel drive BMW in the market today. Assigned to send power to the road on the front-wheel drive BMW is an Aisin gearbox instead, with the Japanese gearbox maker recently co-developing eight- and six-speed torque converter automatics (including the one in the Active Tourer) with BMW and MINI.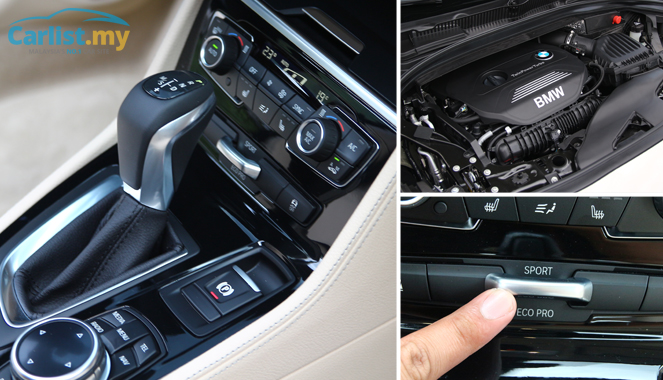 Needless to say, the powertrain pairing is highly efficient, being able to maximising its generous spread of ratios to offer fierce acceleration and excellent low-rev coasting. Any driving differences between the Aisin box and the familiar ZF one aren't easily noticeable, but the transverse-mounted engine in the FWD Active Tourer calls for a different positioning, fitting, of the transmission versus BMW's familiar longitudinal engine layout for its RWD cars.
Handling on the Active Tourer 225i was as sharp as we remembered it on the 218d the day before. Estranged to driving on the right side of the road whilst in a left-hand drive vehicle, this writer was certainly more confident on day two, and gave it the beans around a few of Austria's quieter b-roads. In short, what was discovered is that this handled just like a taller, larger, MINI would. BMW's wizardry is strongly apparent and appreciated.
However, it should be noted that the cars we were driving in Austria had the benefit of BMW's electronically-controlled dampers, which allowed you to actively select between different setups for different demands. If or not this feature becomes available in Malaysia may make all the difference to how the car handles here – let alone what our horrendous roads will do to the ride quality.
Living with a 2015 BMW 2 Series Active Tourer:
Moving inside the 2 Series Active Tourer, and the entire cabin is very familiar. The positioning of the switchgear and the materials used is similar to everything we've seen from the brand. Although, if you're familiar with most BMWs, you'll find the way the A-pillars stretch far forward and the sloped, distant windscreen typical to an MPV, very different to what you know.
INTERIOR DESIGN: The high seating position is something else to get used to. It isn't misplaced or anything like that, it's just different to anything we've seen the Bavarian badge slapped on to – more familiar, if we may say so, to a rival brand's B-Class, which as far as we remember, is a very good benchmark if you're looking to inject more family friendliness.
The one major difference to the positioning of the switchgear is the relocation of the drive mode selector switch. Previously located on the center console for most BMWs, near the gear lever, the selector is now a flick switch on the dash, facing the gear lever. The area there has been redesigned, showcasing something new from the brand.
The floating middle armrest is nicely designed, and makes for so much storage potential in the center console. The armrest itself opens up to a slot fit for the largest modern mobile phones, while the floating concept allows a second level of flat storage for other items like your wallets and keys and what not. There's also the convenience of a USB and AUX ports. Just ahead, you get the further convenience of two cupholders.
If we had to summarize the cabin for its seating and spaciousness, we must say that it all really is very impressive stuff. The overall ergonomics, space, function and form of this car has apparently (in the most literal sense) done lots to make this an extremely sensible choice for your everyday driving.
CARGO: Come around to the rear, and the 40:20:40-split folding seats can be lowered flat to increase cargo carrying potential from a readily available 468 litres to 1,510 litres. The second row seat can also be slid forwards and backwards to create either more legroom for rear passengers or more boot storage. And, with no spare wheel, there's a further 100 litres of space under the boot floor.
If you're still not satisfied with the length of the cargo, BMW has one more trick in store for you. The front passenger seat can be folded completely flush with the rear seats for a cargo length that spans from the boot door to the dashboard up front. Comfortably, this writer would trust a 2 Series Active Tourer for transporting everything IKEA could throw at it - bar some of the things reserved for a one-tonne lorry, of which we wouldn't want to attempt assembling ourselves anyways.
EQUIPMENT & FEATURES: Elsewhere, the floating 8.8-inch Connected Drive control display screen has been specified on our European test cars, along with the iDrive Touch controller. Unfortunately, only a 6.5-inch screen has made it to Malaysia, albeit in a lower-spec 218i variant. Regardless, it has to be said that the onboard BMW navigation system is in a class of its own. Having never been to Austria, let alone these parts of the countryside, the system doesn't just relay information precisely and clearly via split-screen abilities on the control display screen, simple and easy to understand directions are also relayed to the head-up display system.
BMW hasn't held back in offering their Active Tourer with loads of driver assistance systems either. On top of the already mentioned adaptive chassis control functions, the MPV also benefits from camera-based Cruise Control with Stop & Go function, Collision Warning with City Braking function, Pedestrian Warning with City Braking, Lane Departure Warning and more. These will come at an additional cost to you, as part of the Driving Assistant Plus package.
Verdict: Here's what we think…
There's a lot riding on this for BMW. If you look across the street to Mercedes-Benz and what gains they've achieved with their latest brood of front-wheel drive compact vehicles, it only makes sense for the Bavarians to attempt to get in on some of that market share. And while we expect more FWD BMWs to come in the future, the Active Tourer is the first, and has a lot of weight on its shoulders to impress.
Against the B-Class, the five-seater BMW MPV is a fair alternative at first glance: it's newer, promises just about as much functionality as you'd expect from a compact MPV, and most importantly, drives like a proper MINI when the wife/husband and kids aren't looking.
Is better than a B-Class? We can't say for sure. We like the B-Class for its spaciousness, clever and ergonomic design, and the benefits of being built for the single purpose of being a good compact MPV. In that same respect, while the Active Tourer's could have gotten carried away with wanting to appear all athletic and sporty, they haven't - which makes the Active Tourer a very sensible alternative, with the bragging rights of effectively having a MINI underneath it and accountable for the thrills.
On the other side of the fence and despite a recent mild facelift, the B-Class is inevitably an aged vehicle. The new changes shook up the interior and exterior so slightly and introduced an AMG design package, but it still doesn't smell as fresh as the Active Tourer does.
---
---
Comments