2015 Hyundai Veloster Turbo Full Review - Appeal Of The Sporty Nonconformist
Reviews Call up memories of your typical daily commute, you've probably not seen many a Veloster - the unique meddling of hatchback and coupe from Hyundai that hit Malaysian showrooms in 2012 - roaming around. And perhaps even fewer of these sportier, more powerful Veloster Turbo variants.
Alright, perhaps you've seen a couple to a few. But not that many, and there's a likely chance that the sight of it trigged a second look or at least remained in your periphery until it was completely out of sight.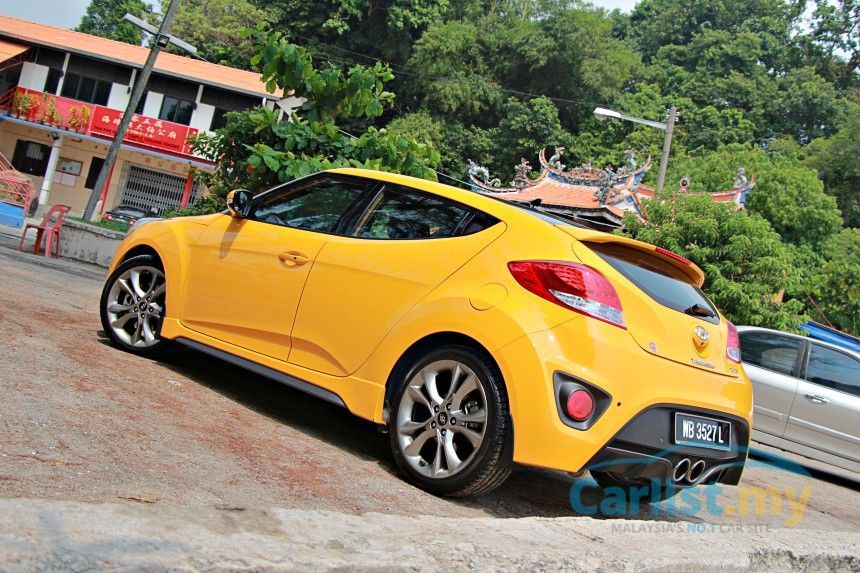 Simultaneously, that happens to be the Veloster Turbo's achilles heel and surprise feature: it's rare enough to make people notice, and unique enough for them to wonder about it. This may be stretching the thought experiment somewhat, but if you see a bright red Ferrari with its wedge shaped body coming down the highstreet, yes you will look (probably) but only long after you realised it was there. You can take your time before tilting or head or turning your eye because you already knew what it was.
Not quite so with the Veloster Turbo. Eyes linger on this car just because it takes a more than just a passing glance to figure out what it is or why it has just one rear door, and perhaps why is it so yellow? That unfamiliarity makes it stand out.
Unfamiliarity does not translate well to the folks at Hyundai, I imagine, as I'm sure, like every other manufacturer, they'd love to sell as many as they can. Let the Veloster (Turbo variant or not) be as ubiquitous as a Myvi, they might say. Minus the Myvi reference.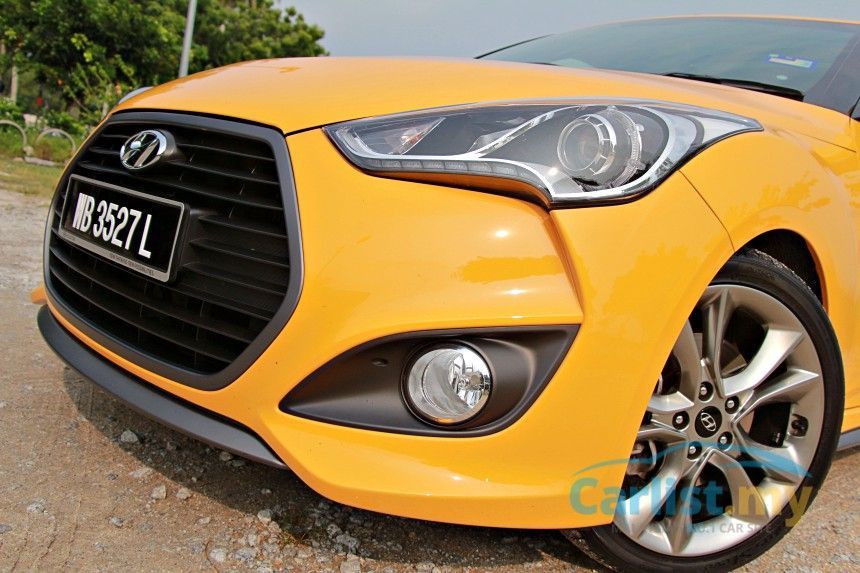 Commendably, Hyundai dared to push their HND-3 Concept from 2007 further, turning it into the production car that aims to combine the looks of a coupe while retaining the practicality of a hatchback. And after three years, have they refined the formula enough to make their bold Veloster into the car they wanted it to be, while at the same time taking it into the fringes of hot hatch territory with the new Turbo?
Key Specs
Price: RM154,437, inclusive of GST and excise duty
Engine: 1,591cc turbocharged 4-cylinder Gamma T-GDI
Power: 186PS @ 5,500rpm
Torque: 265Nm @ 1,500-4,500rpm
Transmission: 7-Speed Dual Clutch (DCT)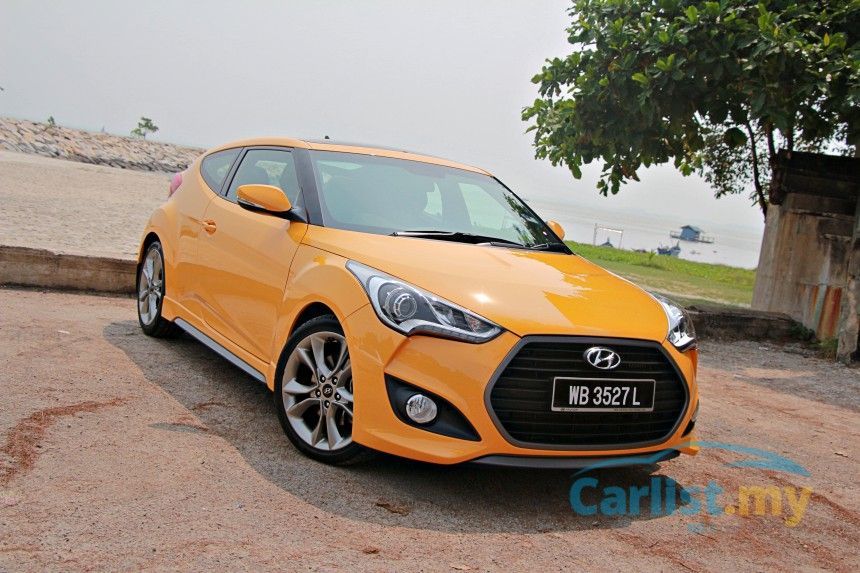 The Outside
Let's deal with a couple of key points from the get-go: (1) Yes, this one is very yellow, and that does lend to its appeal; (2) That third door is always placed on the passenger's side, so on left hand drive markets, the door will be on the right side as opposed to the units sold in Malaysia.
On to the actual look of the Veloster Turbo, it doesn't stray far towards ostentation to display its enhanced performance or sporting pretensions, but as the car draws closer you'd be able to appreciate the styling changes over the standard Veloster. It's still a cool if quirky looking car, though. The bigger wheels in a gunmetal finish are the most obvious giveaway, before noticing the lowered stance, the more aggressive front fascia and the large and dark hexagonal grille, more angular fog lamps, front lip, side skirting and twin circular exhaust pipes flanked by a rear diffuser.
On the whole, they are a welcome addition to the Veloster's already unique styling and adds a healthy dose of visual drama. It might not have the flowing lines of something from an Italian marque, but it is a striking thing to look at in the flesh.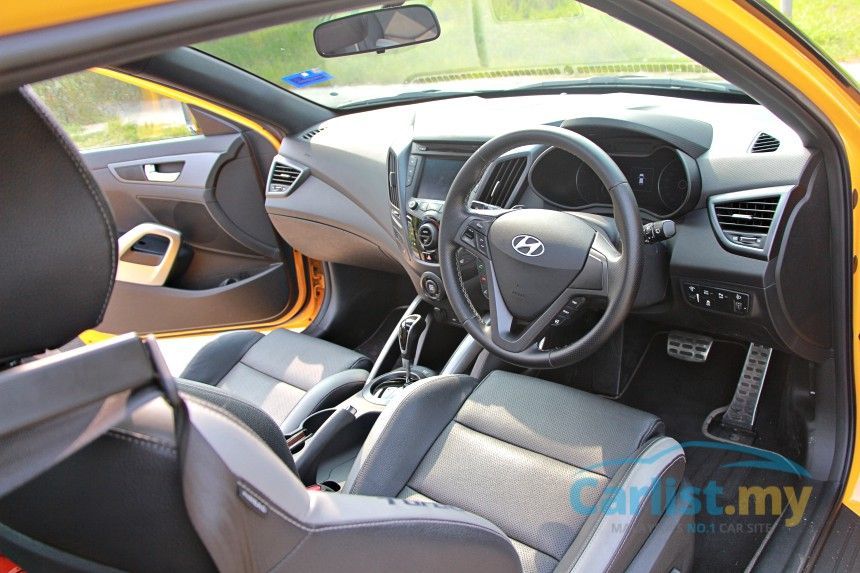 The Inside
Step inside and it becomes clear that Hyundai has come a long way in refining the interior design of their cars across its lineup, with functional placement of controls, decent aesthetics, and a clever combination of materials that do not quickly betray its more 'affordable' rank.
I say 'quickly' because upon closer inspection, the aluminium isn't so much metal as plastic and the textured material that comprises most of the dashboard is acceptable if not luxurious. Having said that, it does feel like a solid place to be in, and once you close the doors and adjust your seating just so, also quite accommodating and airy, even for a 6-foot 4-inch friend of mine. While it is possible to fit a pair of average-sized adult in the back seats, the sloping roofline means headroom will likely be a pressing issue, and they won't be at all too comfortable over a long distance haul. Still, there's more room there than in your traditional coupe.

The leather quality is also decent and the seats themselves are supportive and comfortable, but I predict that the grey accent colours with the word 'Turbo' imprinted on them will show their age rather quickly against the black seats. The recessed instrument gauges are pretty standard-fare Hyundai - a tachometer and speedometer flanks a digital readout of your fuel, temperature, and such. While they are sharp and informative, it won't be a bragging point or, inversely, a distraction.
The infotainment unit here is decent as well, with a touchscreen centre-mounted LCD to control your media options and telephony features once paired to a device via Bluetooth. It was a fairly straightforward setup process and there was no issue scrolling through media or taking/ending calls through the steering wheel buttons. However, the panel itself is sharp and responsive to touch but doesn't handle bright sunlight particularly well and the interface could do with a visual overhaul.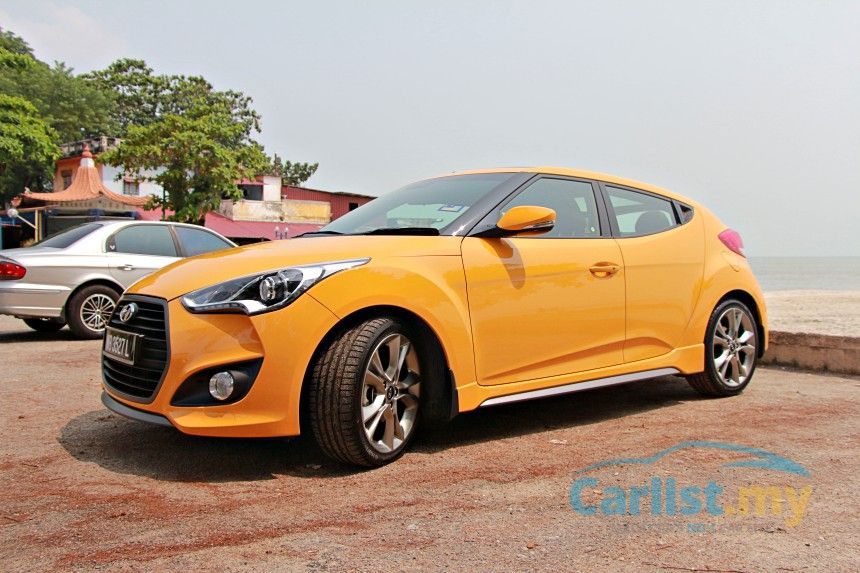 The Drive
Despite what you may think of its outward hints of performance or its Turbo branding, I'll begin this section by saying that this Veloster Turbo, with its 183hp engine, does not quite deliver the out-and-out grunt to match the established hot hatch contenders.
Granted, it is a fair amount faster than its naturally aspirated sibling but that sensation of speed is figuratively muted somewhat by the engine's the lack of character. However, it can be a fun experience when tackling short sprints if you're able to anticipate the power delivery and squeeze in the throttle earlier to compensate for its slightly sluggish throttle response.
There's a satisfying amount of induction noise coupled with an exhaust note that is a bit on the coarse side but is most welcome nonetheless and almost makes up for the engine's less than colourful personality.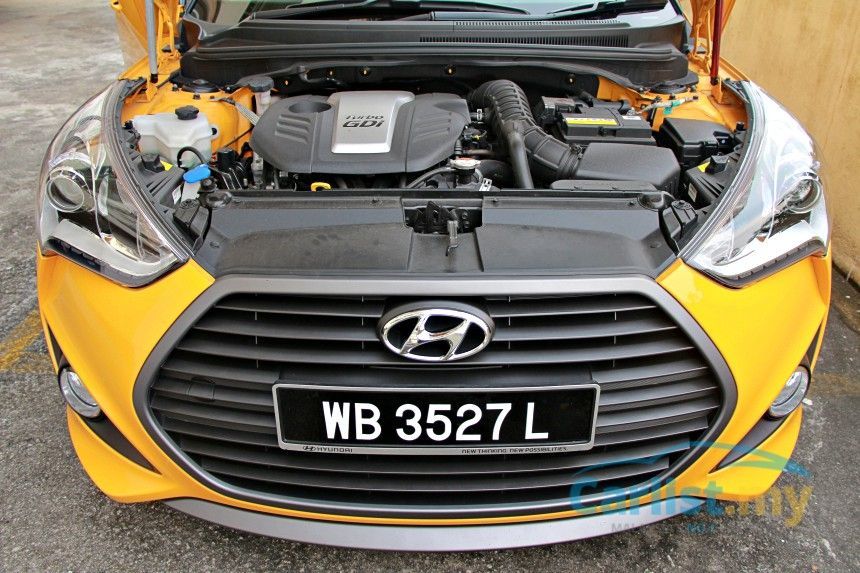 That's assuming you're in the best gear, because I found the 7-speed DCT box to seem a little absent-minded when predicting what gear I wanted to be in, especially when driving harder. Luckily, there's shift paddles behind the functional, though slightly bland, steering wheel, and with that you're able modulate that juicy early torque delivery and keep the engine in its sweet spot for longer. Developing a rhythm with the Veloster Turbo is quite a rewarding experience.
Around the corners and over bumps, the Veloster's suspension is more compliant than I was expecting while body roll was kept fairly at bay. The steering is accurate enough for me to try a few riskier moves around bends, but that only came after gradually pushing the car quicker and quicker to build sufficient confidence.
It is at its best at moderate speed, driving briskly but not overly so while leaning on that torque to pull you out of corners once the car's weight is left to settle - that gets the all-important smile factor kicking in. It is eager to change direction into a corner, and its aluminium engine can be thanked for the reduction of mass at the nose that might have otherwise corrupted the turn-in. Yes there are faster things out there and more precise instruments out there, but for the majority of my time driving the Veloster Turbo, I wasn't wanting for power. And at low speeds, it soaks up bumps well and with the kind of upmarket thud you expect from more expensive offerings.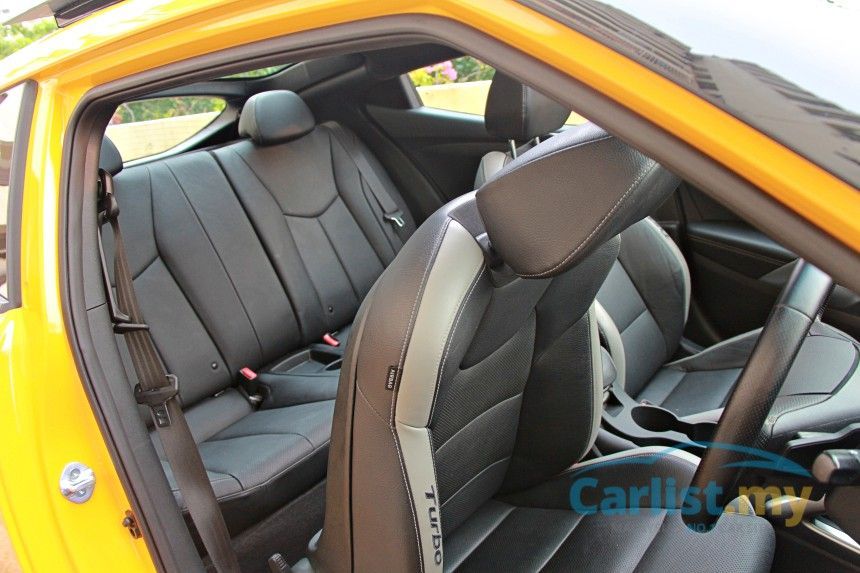 The Practicality
Better looks and more access than a coupe, but not quite the rounded practicality package that a proper hatchback offers. You take the good with the bad. But really, is rear seat space really a paramount concern, or would you trade that for a shapelier but quirkier vehicle?
You don't have to answer very carefully because Hyundai has been trying to convince us that it has already squared this circle with the addition of that single rear passenger-side door. In my opinion, utmost function over form does not weigh heavily on the prospective customer that would even consider a car like this.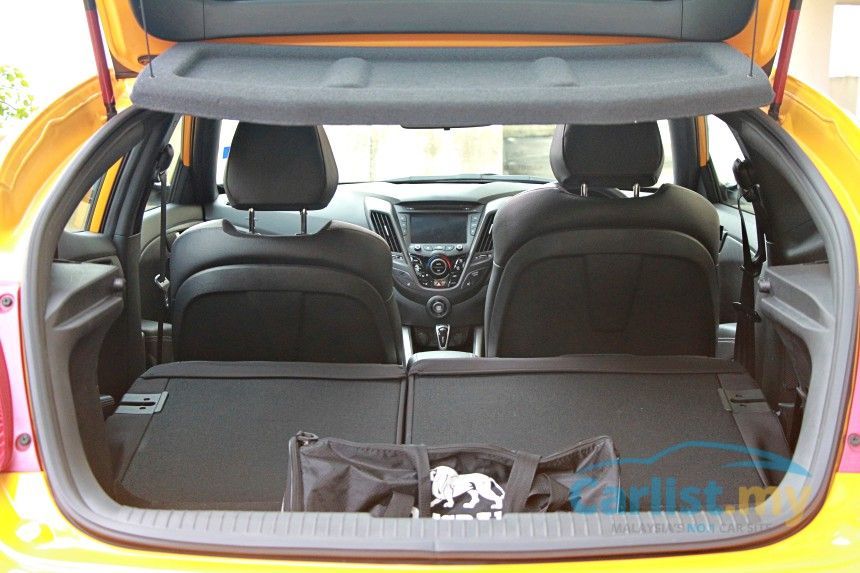 However, passenger comfort aside, the boot is quite commodious and recessed enough to fit the thickets of travel bags, and for its size there are loads of storage compartments inside the Veloster Turbo - large storage areas on each front door, dual cupholders just south of the gear shift panel and another pair in between the two rear seats, even a large spot lined with grippy material perfect for your smartphone along the centre console.
There's good all-round visibility and despite a line running across the rear window, everything is view for easy reversing (the rear camera helps too).
The more powerful engine does yield some impressive cruising fuel economy figures too, with average fuel consumption dipping to around 6.5-litres/100km on the highway.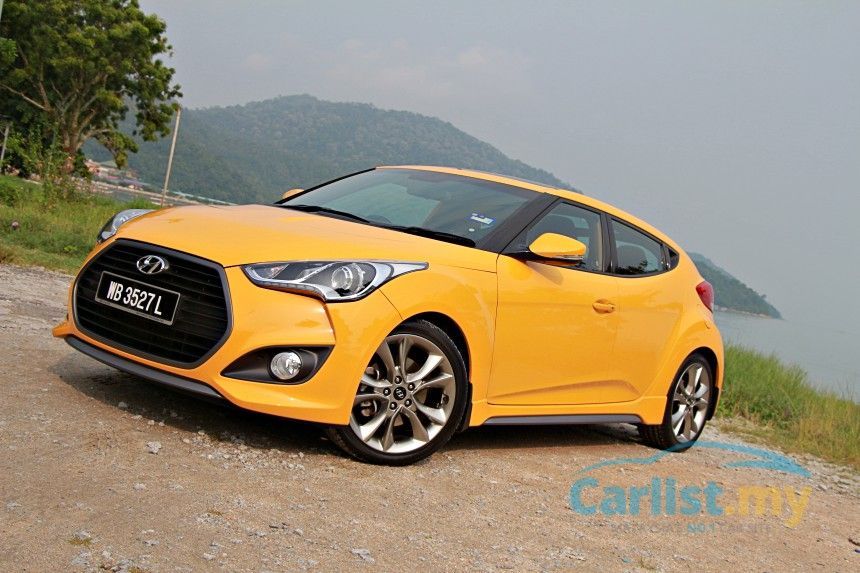 Wrapping Up
A solid offering from Hyundai that catches your attention with its quirky but aggressive looks and unusual layout that defies conventional classification, but with effort made to ensure it is a comfortable and quick everyday car that also happens to hold its own admirably through the bends. It showcases much of what the South Korean marque is now capable of, but also highlights where their shortcomings - engine and transmission calibration, as an example - are. There's many reasons why European cars (fast hatchback, in particular) justify their higher price tag, but the Veloster Turbo manages to offer a lot of their perks without that extra cost. But you are sacrificing the badge.
It's got the right ingredients to satisfy a lot of younger customers, but is a Hyundai something you'd want to buy when looking for a sportier car? Perhaps not. And that's a shame. Because while I mentioned that the turbocharged engine lacks effervescence and personality, the car as a whole is dripping with character.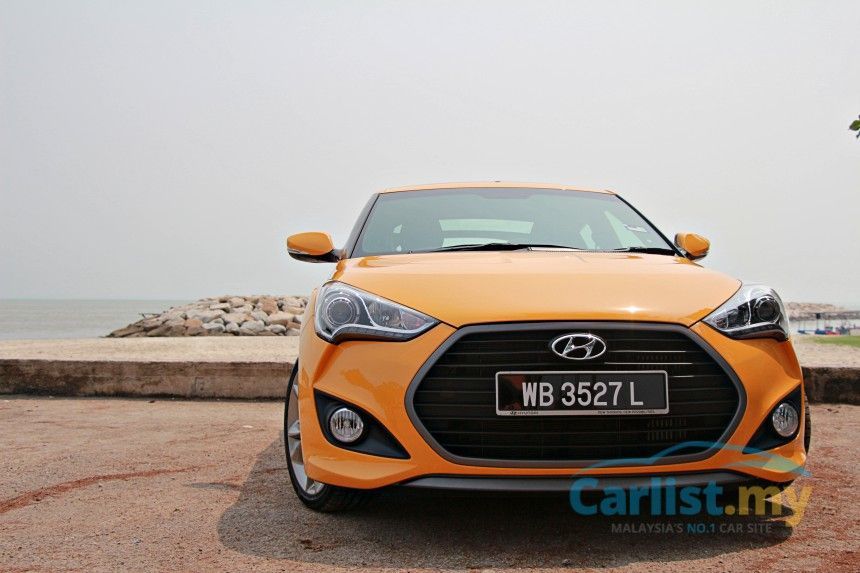 The Veloster Turbo is ultimately something of a Catch 22, at least towards Hyundai: sell more Veloster Turbos, and the rarity will cause those who want that differentiation to look elsewhere. Driving the Veloster Turbo garners more eyes turning your way in curiosity and intrigue, and while it isn't all that special to drive (quickly), it does make you feel refreshingly distinct on the road. Pulling up for a quick dash at a petrol station got me (and the Veloster Turbo, of course) more looks than the Audi S5 parked a few pumps down. True story.
If the RM154k Veloster Turbo had only the Volkswagen Golf GTI to contend with, its price would have considerably more draw. But since 2012, when the Veloster first made its appearance, other manufacturers have added hot versions of their smaller hatchbacks with dynamics that trump the Veloster Turbo's handily.
The Ford Fiesta ST, the Volkswagen Polo GTI, the Renault Clio R.S 200, Peugeot 208 GTI - they're all priced squarely in the bracket where the Veloster Turbo has made its stand, leaving its quirky character as possibly the only factor left to swing customers in its favour.
For the nonconformist, that could be enough, but it likely won't be for the pragmatist. On which side do you land?
---
---
---
---
Comments