2015 Isuzu MU-X 2.5L 4x4 AT Full Review: Battles Of A Grown-Up Workhorse
Reviews Isuzu Malaysia is playing to its strengths, as it should. With the MU-X, the company looks to tackle the pick-up truck-based SUV segment for the first time in Malaysia, doing so with the underpinnings of a product we know to be tried, tested and a proven workhorse: the mighty D-Max.
We've covered the MU-X's release cycle extensively, from the first Malaysian previews, to its official launch ceremony, to a quick review surmised from a day spent in the hills of Cameron Highlands with it. But how has it held up after the hype has gone from boil to a simmer? Does it bring enough into the ring to put up a fight with the established players?
You can clearly see the pick-up's influence, but can also identify the new vehicle Isuzu wants the MU-X to be – less utilitarian, more every day and passenger-centric. Despite similarities to the D-Max, the differences are what would endear the car, at least ideally.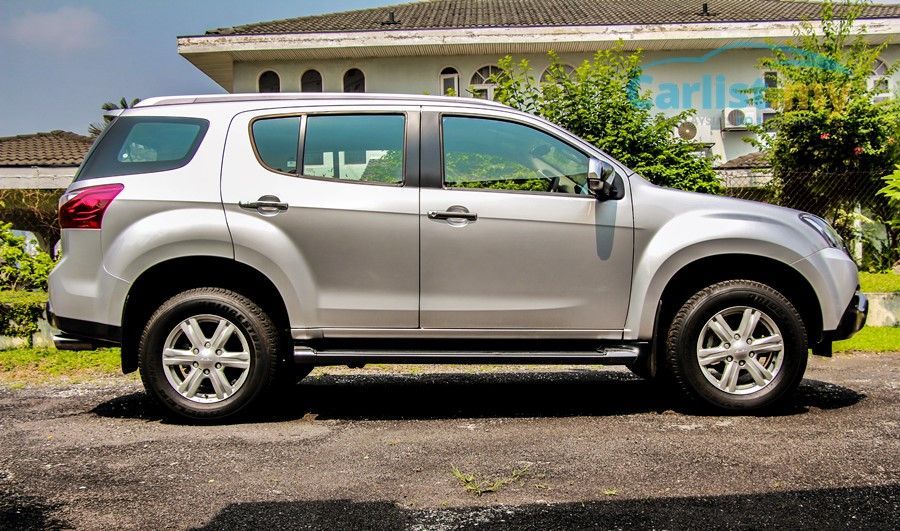 The MU-X faces a tough challenge to break out of the D-Max's shadow and appeal to the wider mass SUV market, albeit those not willing to sacrifice decent off-road ability and robustness. What resulted is an interesting blend of modern comforts with the reliability of the old-school. But has the MU-X passed the balancing act?
Buyer's Guide
Stiff competition will come from the usual suspects in this pick-up-based-SUV arena: the Toyota Fortuner, Mitsubishi's Pajero Sport, and the Ford Everest.
At a starting OTR price of RM151,944 for the 4x2 model and RM164,969 for the 4x4 model (with GST inclusive), the MU-X certainly undercuts its closest price competitor, the Mitsubishi Pajero Sport, particularly at the top-spec level, with the VGT going for RM177k.
Isuzu is banking on this to swing the pendulum in their favour, but doing so without sacrificing the comforts and premium selling points of its competitors.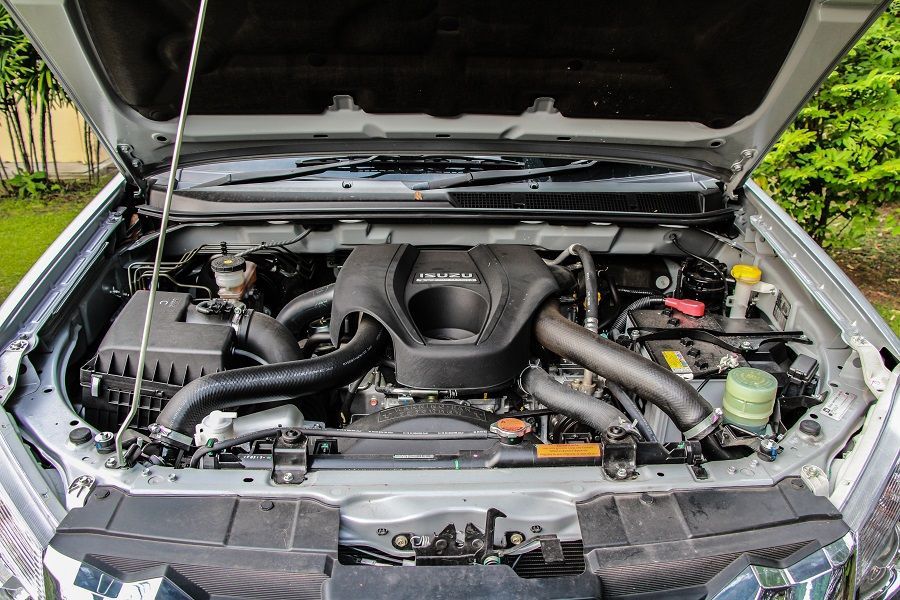 KEY SPECS: 2015 Isuzu MU-X 2.5L 4x4 (AT)
Engine: 2.5-litre four-cylinder VGS turbo-diesel (4JK1-TCX)
Transmission: Five-speed torque converter automatic with sequential shift mode
Power: 136hp @ 3,400rpm
Torque: 320Nm @ 1,800 to 2,800rpm
Driving The 2015 Isuzu MU-X
PERFORMANCE: Despite some lamenting the MU-X not getting the 3.0-litre turbodiesel unit from the D-Max, the 2.5-litre VGS Turbo four pot diesel unit makes a case for itself as being a worthy alternative. Its performance figures might not blow anyone away, but 320Nm is still a generous amount of torque. Enough to propel the MU-X with satisfying grunt, especially when the boost kicks in.
It has no problem climbing hills or pulling away quickly, even when it's carrying five adults. However, power for the sake of power is always a good thing. We have a feeling, though, that Isuzu deliberately chose this lower tune engine in the name of reliability, feeling we won't need the extra performance. And actually, we think they've made the right call.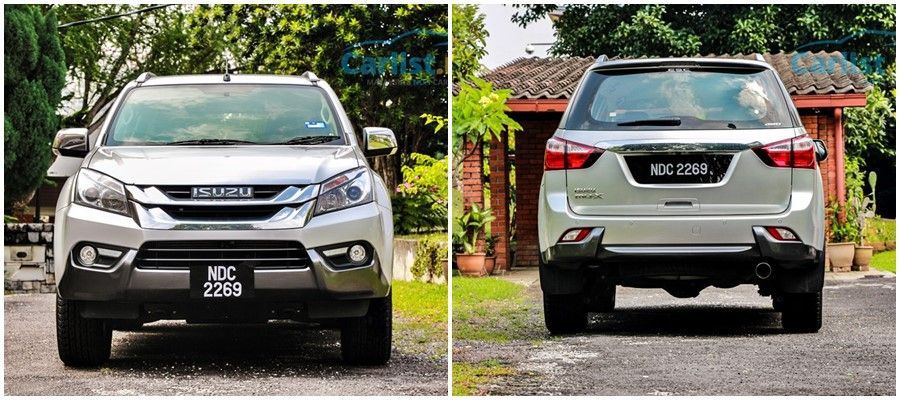 RIDE & HANDLING: The ride is really quite comfortable and doesn't jiggle about too much like the ride, say, of a Ford Ranger if you're not careful about the surface changes. It handles bumps much like a pick-up would, with a noticeable judder across a pot hole, for example. But there's some extra work put into the MU-X to make sure it's not jarring or disruptive. You could even call it relaxing.
Heading back after a day of work, the MU-X makes for an unusual but capable candidate for a calming drive back. The engine, despite its vibrations making you fully aware of it being a diesel, is relatively quiet if you keep the revs sedate, the ride is quite good, and there's a good amount of sound insulation.
You wouldn't expect a large and heavy SUV to be anything special in the corners. And you'd be right. But the steering, despite its overall lackadaisical response, is quite direct once you learn to dial in the angle sooner.
Driving the MU-X did take a little getting used to, coming from a normal-sized hatchback, but once that small adaptation has run its course, it feels very similar to driving a larger saloon – just one that's taller.
Living With The 2015 Isuzu MU-X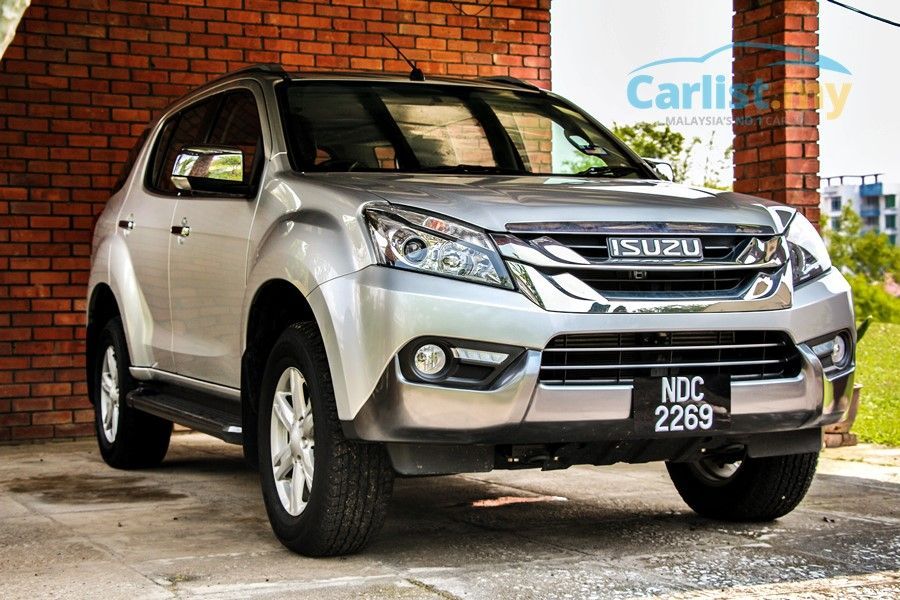 EXTERIOR: The first thing that strikes this reviewer about the MU-X is how you can't quite place how it looks. It's not an odd or bad looking car – far from it, in fact. But it is at once striking, balanced, deceptively large, and from some angles, quite appealing. It certainly projects a friendly persona.
Isuzu has learned a lot from the many consumer-focused alterations, many being aesthetic, that they have made to the D-Max, and it shows here. The subtle curves running alongside the MU-X, the chromed grille, side mirror LED turn signals, and LED daytime running lights (only on the top-spec 4x4 variant), for example, are contrasted with the ruggedized two-tone bumpers and flared wheel arches to give the MU-X a blend of go-anywhere confidence with about-town class. Overall, a good effort from Isuzu.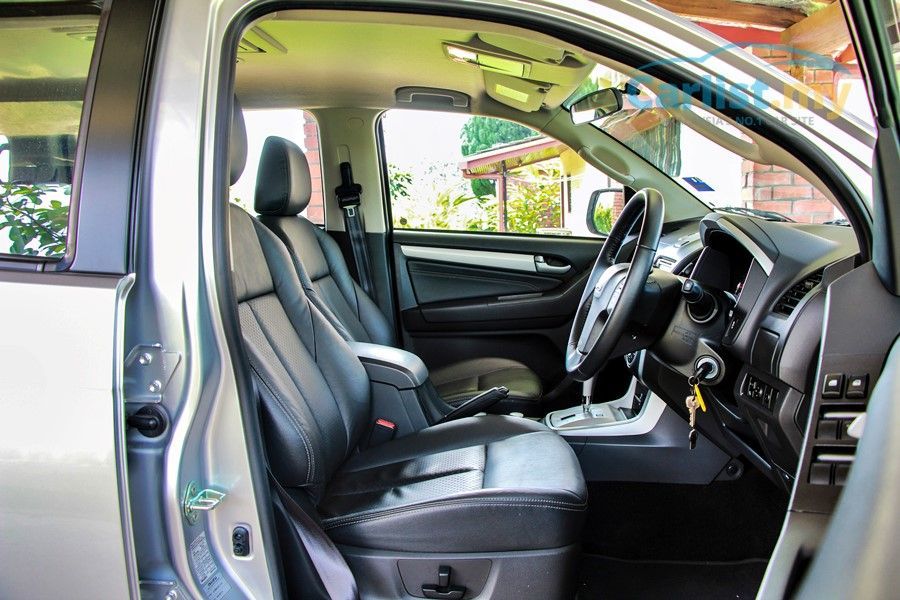 INTERIOR: Step inside the MU-X and you're greeted with a leather interior, which is comfortable enough, and a very airy cabin. Upon closer inspection the leather does seem to have been plucked from a lower shelf, and there are areas where Isuzu could have skimped on the hard and hollow plastics – particularly along the door panel, gear-shift surround, and parts of the dashboard. A little soft touch material would go a long way.
With that said, the three-spoke steering wheel is a good size and the multifunction buttons are a much appreciated touch of convenience. There aren't many things for our fingers to press on the MU-X's interior, and it's a surprisingly minimalistic dashboard, but the buttons that are found are tactile and have good travel and padding. Dig a little deeper and the functions for the climate control as well as infotainment are all there and intuitively placed.

Special mention needs to be made of the control dial that switches the four-wheel-drive modes. Clearly Isuzu is aware of such control surfaces, and should use that particular one as a basis for all other buttons and dials for its next iteration of vehicles. It's modern but rugged, simple, and a joy to use.
Headroom is ample, so is legroom for middle row passengers. Things can get cramped in the back row, however, when the rear-most seats are deployed. Hopefully, the children can squeeze in there and leave the larger seats to the grown-ups.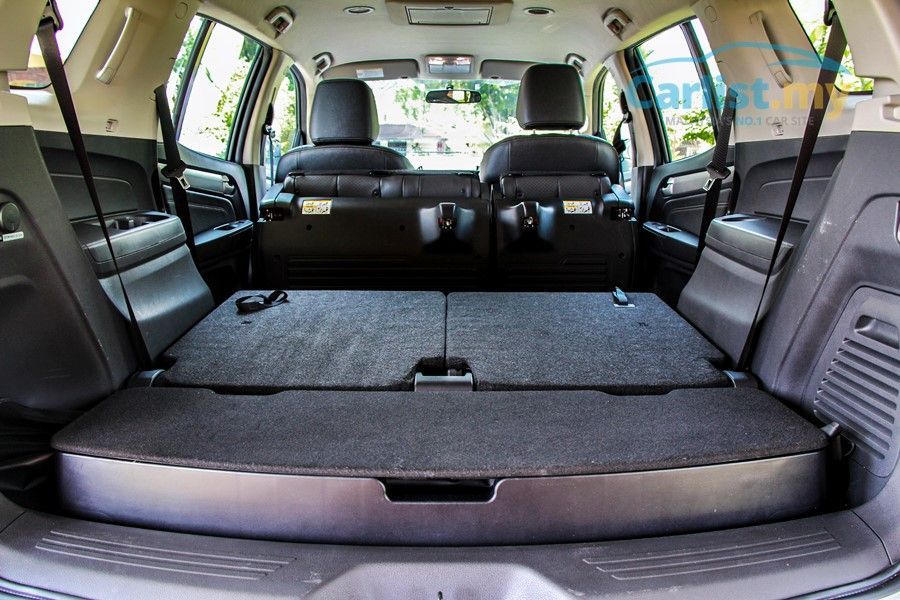 PRACTICAILITY: We found the MU-X to fit rather easily into our daily routine. There wasn't much issue with parking and the rear-view camera did make that easier. Overall it was easy to manoeuvre, even in the somewhat cramped confines of Kuala Lumpur. Fuel economy, too, was a major plus as is the norm with Isuzu engines. The many journeys undertaken during the review period only impacted the fuel gauge by a mere notch or two.
It is still a tall car, however, and getting in and out can be a bit tricky, as demonstrated when this reviewer had to ferry some relatives. They noted the comfortable ride while on the way but did not appreciate the "ungraceful" exit they had to endure after. Perhaps they're just not used to an SUV.
Should you need to carry a lot of luggage or some furniture, the flat-folding rear and middle seats transform the MU-X to accommodate pretty much any large load you'd attempt to carry without needing to resort to professional assistance.
FEATURES & EQUIPMENT: The usual modern touches are included. And again, this comes down to the MU-X straddling that balance, opting for only the more necessary comforts while consciously omitting superfluous "luxuries" that add tend to only add complexity.
As an example, it forgoes the keyless entry system that Mitsubishi has equipped the Pajero Sport with, instead using simple lock/unlock buttons on the key fob that links to the MU-X's immobilizer system. Why? Perhaps because it's a simpler solution. And it is.
Instead of a fancy built-in infotainment deck, Isuzu opted to use a touchscreen head unit sourced from Blaupunkt. The Android-based system's interface has some Isuzu touches, but nothing intrusive, and the experience is less cluttered for it. However, a peeve is that the singular button on the head unit is located on the left side of the screen, not ideal when we in Malaysia drive on the right.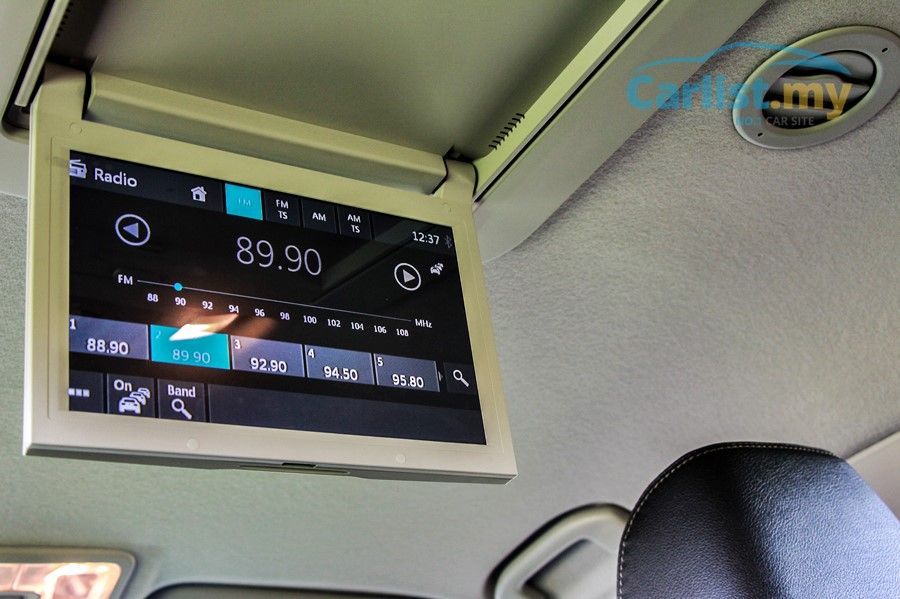 It unit does have a decent resolution screen, good visibility in bright sunlight, and is very responsive no matter whether you choose to stream via Bluetooth, USB, AUX, or listen to the good old FM radio. The included GPS navigation is decent as well, providing accurate turn-by-turn directions and had no trouble plotting routes to various points of interest within the Klang Valley. Maps were clear, roads accurately rendered, and with nearly no confusion with spoken instructions.
The ceiling-mounted pull-out screen is a nice touch, but is merely a projection of what is playing on the main dashboard screen. However, should a video be loaded up, it can be sent to only play to the rear screen as to not distract the driver.
Conclusion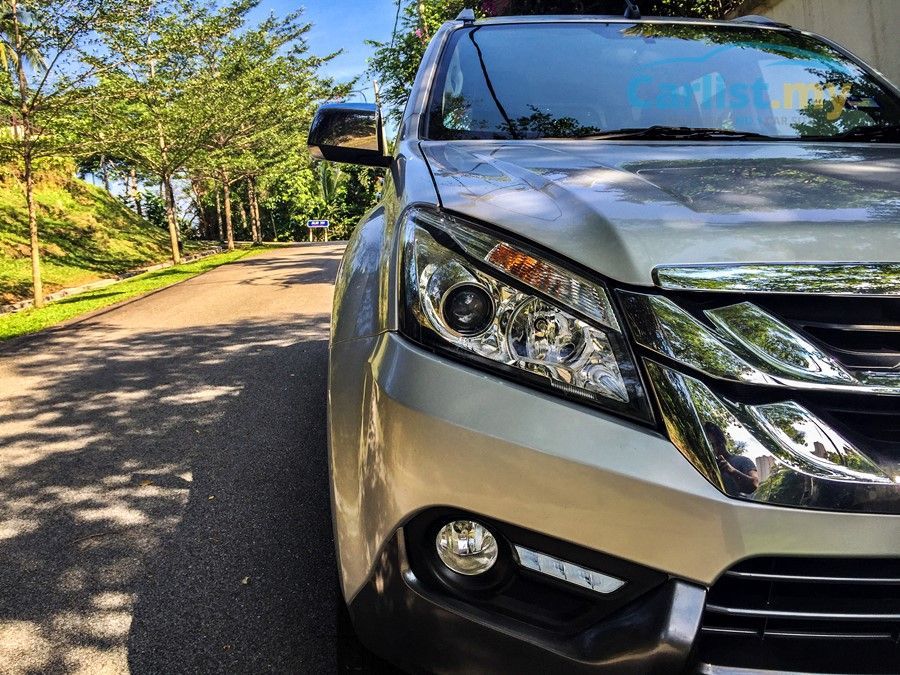 The MU-X has a lot riding on it. Isuzu is banking on it to really make a lasting mark in the SUV space, and to expand its name beyond that of commercial vehicles and recapture the dominance it once had.
The MU-X is a car that cuts through the mumbo jumbo. Sometimes the simple ways do work best, and while it does feel 'basic' – and I mean that in a positive way – it doesn't give the impression of it coming at an expense. It proves over time that there was a complete thought to a particular addition or omission.
Those looking for toys the MU-X is not for, but it would appeal to an owner that wants something that just works. Something that fits in easily into their lives.
It may not be a pack-leader in terms of features or out-and-out specification, but it doesn't need to be, and there's nothing we could point to that is a deal breaker of a chink in the MU-X's armour. It's a solid, likeable, practical, comfortable, tough-as-nails SUV. And, it comes at a great price.
---
---
---
---
Comments