2015 Lexus NX Debuts In Malaysia: RM292k And Up For The BMW X3 Fighter Lexus Malaysia has finally launched its all-new 2015 Lexus NX; the brand's latest local model takes the shape of a luxury compact crossover.
A total of five variants are available for your pickings, as per introduced by UMW Toyota Motor Sdn Bhd – the official distributors of Toyota and Lexus vehicles in Malaysia – and they are (prices without insurance):
2015 Lexus NX 200t: RM292,000
2015 Lexus NX 200t Premium: RM323,000
2015 Lexus NX 200t Luxury: RM343000
2015 Lexus NX 200t F Sport: RM369,000
2015 Lexus NX 300h: RM375,000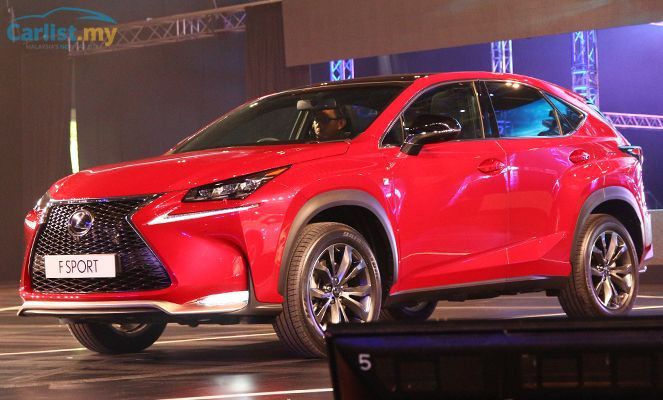 Buyer's Guide:
The NX features a lot of first for Lexus, one of which being the body type the car comes in: for the first time, Lexus has a car that slots in under the larger RX, and can now compete directly with the likes of the BMW X3 and X4 types; each of which are priced at RM328k and RM438k locally.
Another first for Lexus is the introduction of an all-new 2.0-litre turbocharged petrol engine, featured across four of the five variants in the range.
KEY SPECS: NX 200t
Engine: 2.0-litre four-cylinder twin-scroll turbo
Transmission: Six-speed torque converter automatic, Dynamic Torque Control AWD
Power: 235hp @ 4,500 to 5,600rpm
Torque: 350Nm @ 1,650 to 4,000rpm
0-100km/h: 7.1 seconds
KEY SPECS NX 300h (all else is as above)
Engine: 2.5-litre, four-cylinder 2AR-FXE
Electric motor: 145kW (194hp) (front amotor: 141hp, rear motor: 67hp)
Battery: NiMH
Transmission: E-CVT, E-Four AWD
Power: 197hp total system output (engine + electric motor)
Torque: 210Nm
0-100km/h: 9.2 seconds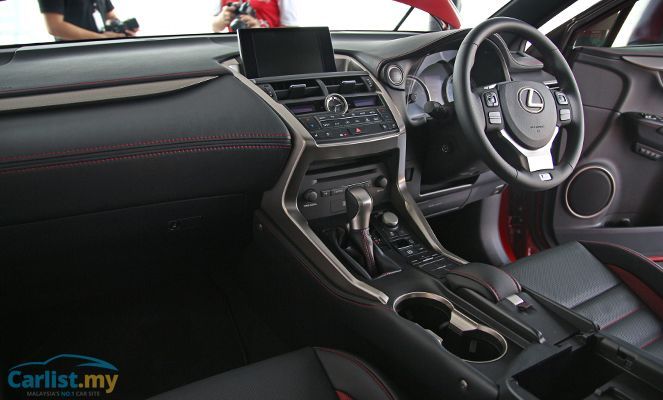 Performance:
NX 200t: Powering four of the five variants here is an all-new 2.0-litre twin-scroll turbocharged petrol engine that makes even more power and pace than the range-topping NX 300h. Despite its haste, the new Lexus mill is also capable of switching between Otto and Atkinson cycles "on the fly" to ensure optimum fuel consumption and performance where necessary.
With a conventional six-speed torque converter automatic, the NX 200t range also employs a Dynamic Torque Control AWD system that can cleverly manage torque between the front and rear wheels. Much alike the Mercedes-Benz 4MATIC system, the NX 200t variants drive predominantly on its front wheels alone, only when necessary, is torque can be automatically distributed up to a maximum 50:50 split.
The NX 200t variants are equipped with three driving modes: Normal, ECO and Sport. The NX 200t F Sport gains a unique Sport+ mode which also adapts the car's active suspension system (on F Sport variants only).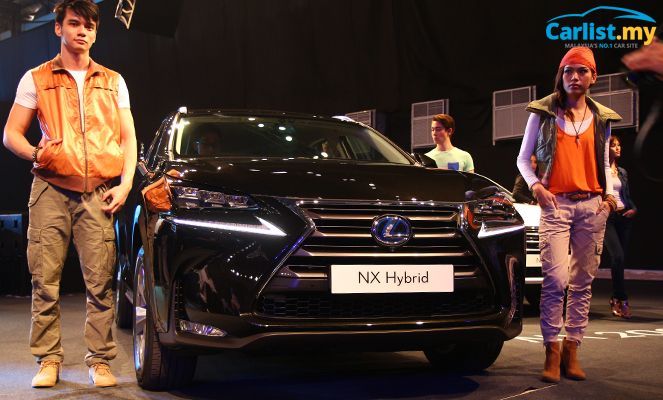 NX 300h: Carrying forward a familiar powertrain to what's available in the current IS, GS, RX and ES models. A modest 153hp is made from the 2.5-litre petrol engine, but total system output for the NX 300h is 197hp and 210Nm of torque, aided by two electric motors, each powering individual axles (front and rear).
An updated version of the electronically-controlled CVT (E-CVT) transmission sends power to an all-wheel drive system, and now features a kick-down function for more instantaneous power delivery. The transmission also offers sequential gear shifts to simulate the manual capability of dropping or climbing up a gear.
The next bit of wizardry involved in the Lexus NX 300h comes courtesy of its E-Four 'proactive all-weather drive system.' With engine power and a traction motor largely powering the front wheels only, the NX 300h has a second electric motor which solely powers the rear wheels. When any traction loss is detected up front, the system can immediately cut power there, and fire up its rear motor in an attempt to regain maximum stability – be it in a corner, or over a loose surface. The rear motor also serves as generator when the vehicle is energy regenerative braking mode, improving/ quickening electric energy recovery.
On top of the three driving modes available as in the NX 200t variants, the 300h features an additional EV mode which maintains the car's driving on pure electricity only.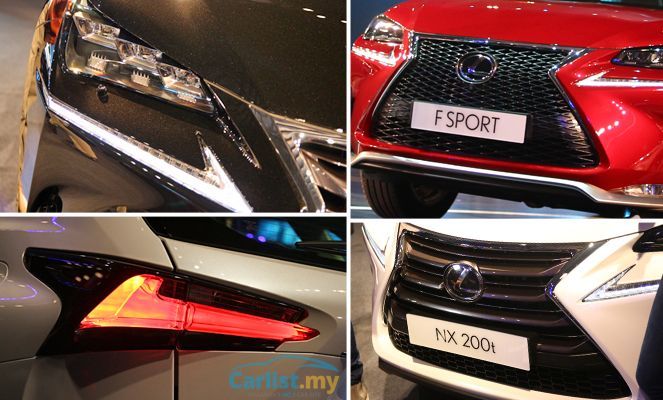 Exterior Styling:
Apart from the F Sport's unique exterior elements, the rest of the NX range bear very similar resemblances – the best way to pick an F Sport out of the bunch is to take a look at the iconic spindle grille, which features a wire mesh design, rather than the horizontal slats. Looking back down the range, it's also easy to spot the base NX 200t variant when looking at its headlamps – it's the only variant here that doesn't get the triple L-Shaped LED ones, but are still LED headlamps no less, and mind you, there are a lot of LEDs here (front, rear, signal lamps, DRLs…).
Overall, the NX wears a very recognisable shape, much sharper and athletic than its larger RX sibling. And the form is not without function: the NX achieves a drag coefficient value of 0.33, and it's a commendable feat given the SUV dimensions of this car that don't flirt with "coupe-like" sloping rooflines.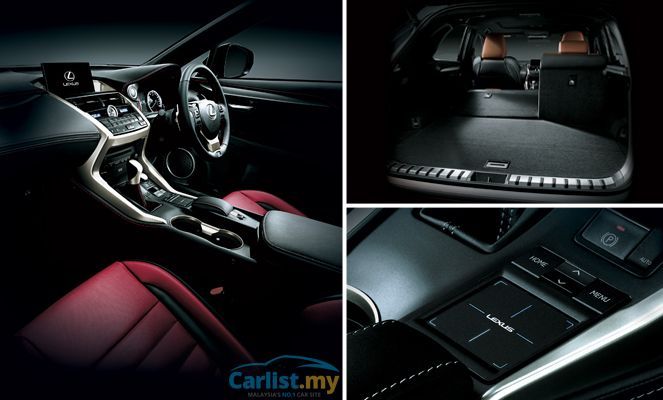 Interior Design:
It's a very athletic interior for the Lexus NX across the board, but one that isn't short of the brand's distinct luxury and refinement. Despite maintaining the functionality of a proper SUV, the NX features a very sports-minded cabin.
All NX models get leathers to start with, but depending on which variant you look at, there are various accompanying materials: i.e: F Sport gets leather upholstery with red stitching and silver trim panels, while the NX 300h would get leather, wood trims and so on for its own unique style.
Across the range, the Lexus NX introduces touch-sensitive dome lights and map light switches, which activate with a gentle touch over the lamp itself.
The instrument cluster in the F Sport is a marvel of its own, featuring a four-dial gauge with a G-Ball & Boost Meter (a first for Lexus), which can indicate lateral and forwards G forces. This is one of the many things you've got to see to fully appreciate.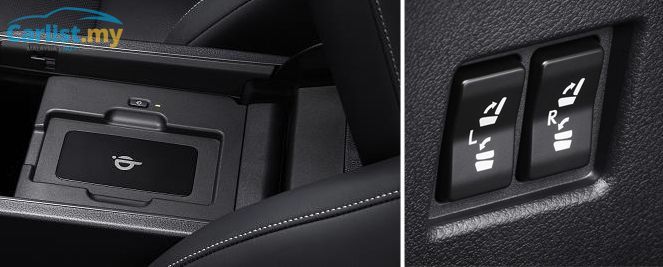 FEATURE HIGHLIGHTS: Two other major highlights of the NX's interior include a Wireless Charging Tray (applicable to mobile devices with the connectivity, available on all NX variants except the base 200t), and the Remote Touch Interface (for 200t Luxury and F Sport, and 300h only).
The Remote Touch Interface is a touchpad located on the center console, which adds further control of what's displayed on the seven-inch screen. You can operate what you see on the screen via pinching, swiping, pushing or touching the touchpad in the same way you would operate a mobile phone.
AUDIO: The base NX 200t and 200t Premium gain a Lexus Premium Audio system with eight speakers, while the 200t Luxury gets an additional two speakers. And while the Mark Levinson 14-speaker system is reserved for the F Sport and the 300h, you'd be greatly mistaken for thinking the Lexus Premium Audio was any slouch in that department – this is something we've been allowed to sample, and it's utterly fantastic. As for the Mark Levinson system, well, we'd need a bit more than a few words to describe the capabilities of that beauty.

Safety Features:
Needless to say, the full Lexus NX range comes equipped to the brim for active and passive safety features: eight SRS airbags, ABS and brake assist, Traction Control, Vehicle Stability Control, Hill-start assist and more.
The 200t Luxury, F Sport and 300h gain an additional Panoramic View Monitor, while the two lower-spec cars settle for a reverse camera system. And additional Blind Spot Monitor is spread across all variants apart from the base 200t, and so it's a Rear Cross Traffic Alert system the same way.
The Blind Spot Monitor gives you an indication on your wing mirror should something be in your blind spot, while the Rear Cross Traffic Alert System can warn you of any oncoming vehicles along your sides should you be reversing out of a parking spot into traffic.
---
---
---
---
Comments