2015 Mazda 3 SkyActiv Full Review - The Hero You Know
Reviews This review covers, as best of its author's abilities, the Mazda3 SkyActiv at a macro level as well as the mid-spec hatchback (CKD) variant and the high-spec sedan variant (also CKD).
I won't make any bones about the fact that Mazdas have always carried with them a certain weight of responsibility with each iteration. Over the years, the mention of this particular Japanese marque has conditioned us to expect something more, but also distinctive, and in some key areas, markedly better.
Despite that greatness-to-reality ratio tending toward a more grounded outcome over the past years and Mazda's varying lineup and generational successions having echoes of brilliance while others falling short, their current crop of vehicles - the 'gen-SkyActiv', as we have labelled it for the sake of ease - has been almost unanimously received as a leap forward.
The Mazda3, arguably, is one of the most important cars in their stable. After all, the C-segmenter is what a lot of their customers will be considering because of that sweet spot it occupies in terms of size and price, giving their new 3 the added duty of showcasing Mazda's newfound stride.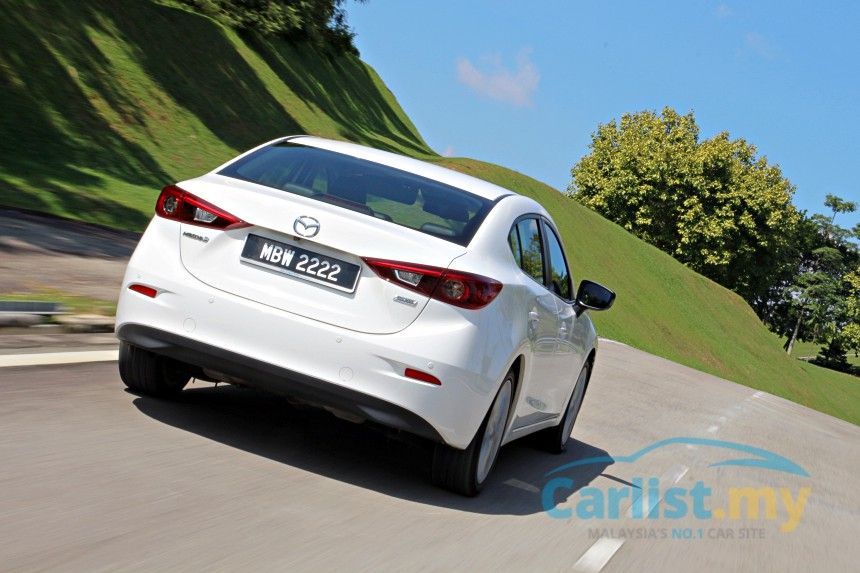 You've seen the Mazda3, I'm sure, just as I'm sure you have turned your head to look at it for a few moments longer. You know it's just Mazda, but oddly your gaze lingers anyway. The initial reaction is more emotional, but that kind of good first impressions doesn't necessarily translate to an overall good car. It's a winning formula that has eluded many an automaker far too often, as we're sure Mazda knows all too well.
Key Specs
Price (high-spec sedan): RM121,105, on-the-road (OTR) without insurance inclusive of GST
Price (mid-spec hatchback): RM121,105, on-the-road (OTR) without insurance inclusive of GST
Engine: 1,998cc SKYACTIV-G direct injection inline four-cylinder petrol
Power: 162hp
Torque: 210Nm
Transmission: 6-speed SKYACTIV-Drive torque converter automatic with paddle shifters
Fuel Tank Capacity: 51-litres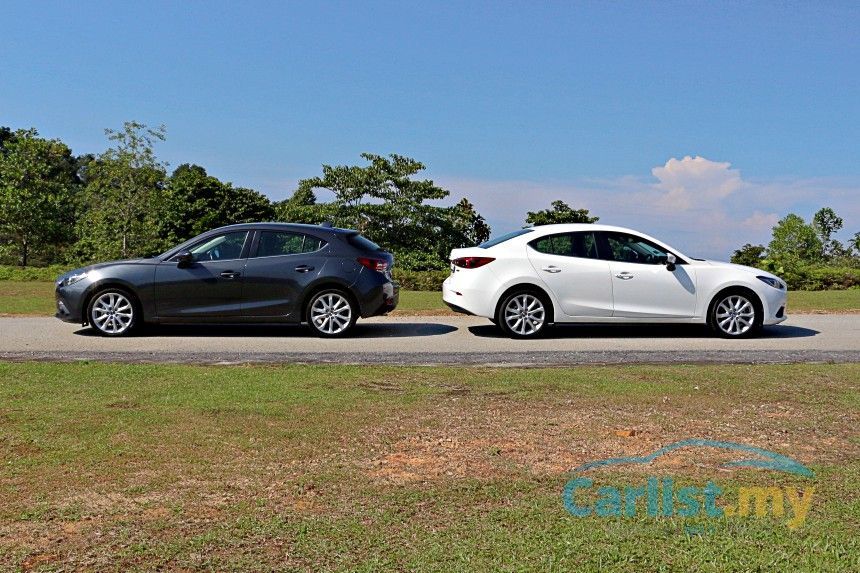 Overview
Let's pause. Examine that picture a little closer, if you please. You're very likely to have seen one (or many) of these newest-generation 3s - sedan or hatch, either way - driving along some road somewhere around here. Like I said; you looked. That's okay. Really, it is. We all did. A lot of us still do. Including me.
But the story of the Mazda3 goes far deeper than fascade. Never mind that its one of the best looking cars on our roads, not just among the C-segment sedans or hatches, how much of a fight can it put up against rivals such as Ford's venerable Focus (an updated version is due to hit Malaysia soon), the Volkswagen Golf, Volkswagen Jetta, Honda Civic, and Toyota Corolla Altis
Regardless of the variant you choose here, the internals of the Mazda3 remain the same, with the single engine and transmission combination uniformly used. Trim levels plus the amount of kit and conveniences are the only variables.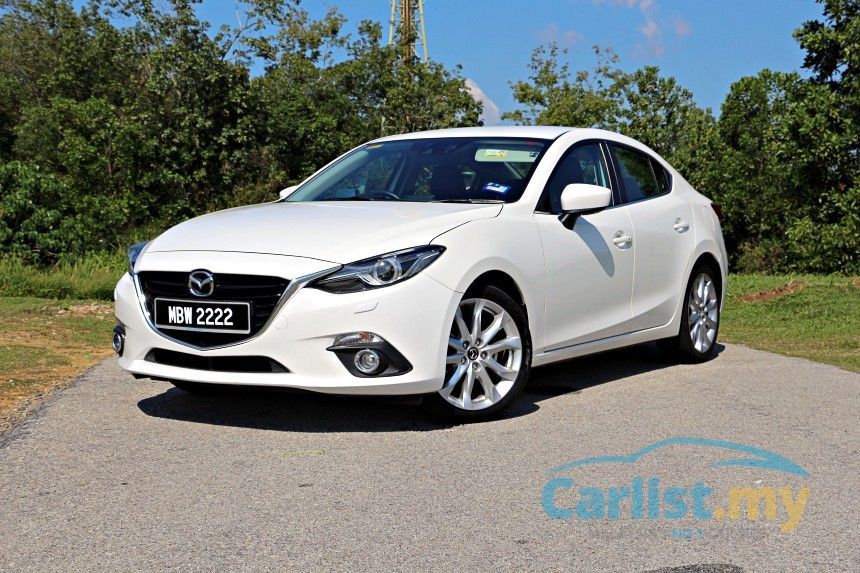 Exterior
If you've noticed with other Mazdas such as the Mazda6 SkyActiv, Mazda2 SkyActiv, CX-5, and CX-3, the common visual markers are found on the Mazda3 as well: the pronounced five-point grille, strong shoulder lines, swept back headlamps, ever-so-slightly bulging hood, and an overall more dynamic stance. All tenants of the company's 'KODO - Soul of Motion' design philosophy.
There's a lot I could say about the Mazda3's exterior, but without delving too much into the minutia, I'll conclude that, subjective as looks may be, this is one of the best looking cars you can get for this price. In fact, it might even make a few models from premium European marques (and their owners) a little insecure as you pull alongside.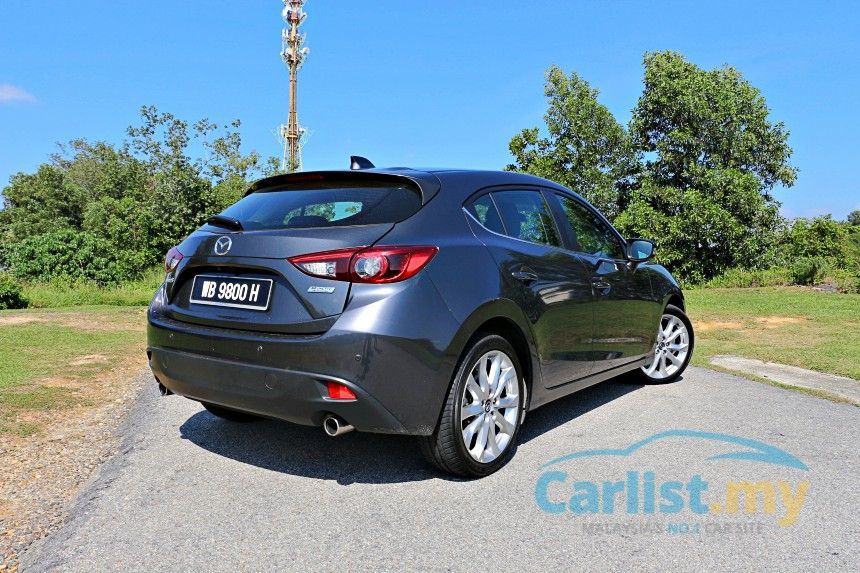 Having said that, the right colour should be chosen to best accentuate the many definitions lines that run along the car's body. While a white finish doesn't quite bring out its best, the popular Soul Red Metallic finish does very well to flatter the car but unfortunately that has been dropped as a colour option since the jump from fully imported (CBU) to to locally assembled (CKD). For the more understated, however, there's still the Blue Reflex Mica finish that's seen on our Mazda3 hatch test car which looks much more dark grey than blue to our eyes.
While the mid-spec hatch variant is a real looker, the sedan doesn't fall far behind with its boot barely extending from the car's rear baseline, leaving an additional overhang that's quite subtle. From a front three-quarter angle, it is so discreet that you'll barely notice the longer rear end just because of how neatly it tapers off.
Of course, both variants share the 18-inch alloy wheels, a set of bi-xenon auto-levelling headlamps, LED daytime running lights up front, and LED tail lamps. Curiously, the dual exhausts ports are hidden away on the high-spec sedan variant while the hatch's protrude more evidently with its tips finished in chrome.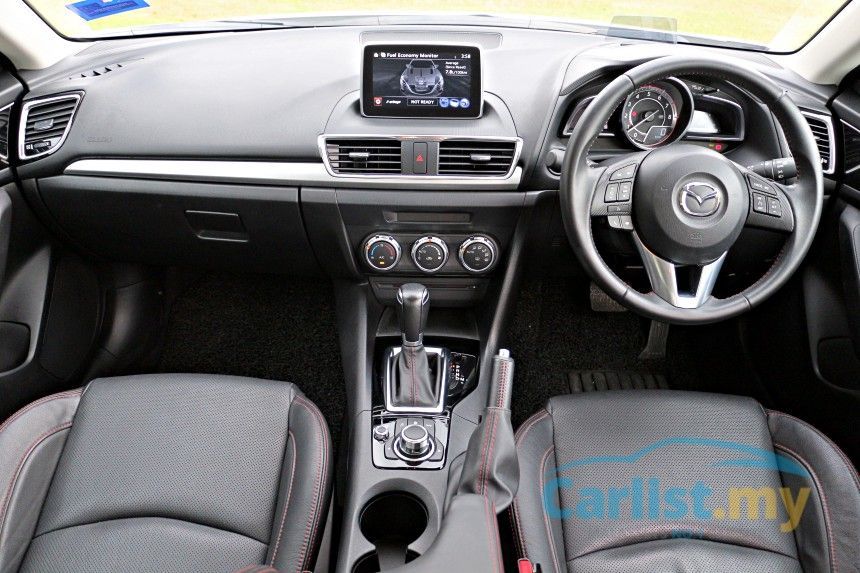 Mazda3 SkyActiv - Hi-spec Sedan- Interior
Interior
Stepping inside the Mazda3, or pretty much any current-generation Mazda, is an exercise of managing surprise. The fit and finish of the cabin immediately brings to mind those from more expensive marques. Premium-feeling. It feels tightly pieced together, too, with surfaces and controls thoughtfully placed with the driver in mind.
There's leather, tastefully textured plastics, glossy finishes, and a blend of real and faux aluminium that, for the most part, fades into the background as fixtures you won't touch but can appreciate from a distance. It is an cabin that's very congruent with the exteior, having similarly subtle undulations in material, geometry and function.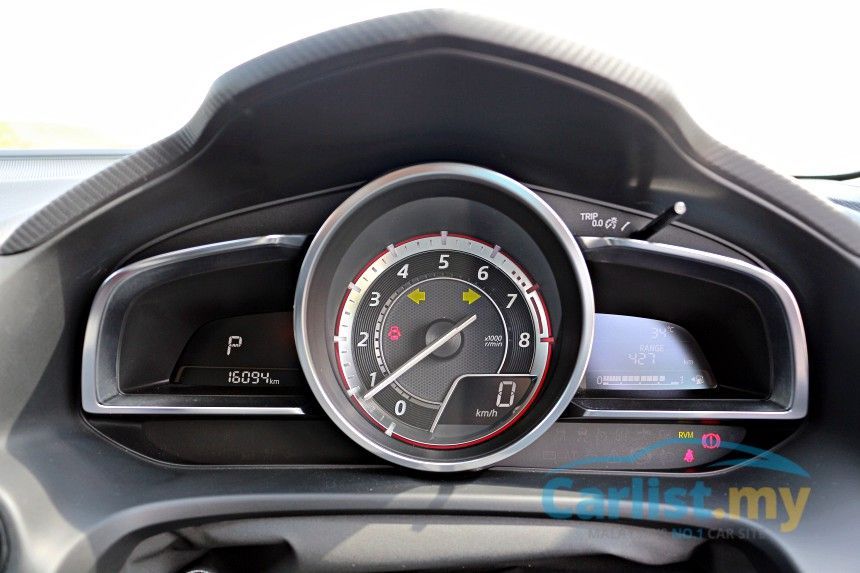 Mazda3 SkyActiv - Hi-spec Sedan- Interior
Sitting inside and driving along is a comfortable experience, even cozy. It's quiet and plush, with supple materials matched with a supple ride and smooth engine. Whatever tradeoffs Mazda has chosen to exploit seem to be quite clearly the right ones as this level of quality is rare at this price.
The MZD Connect system worked like a charm, with quick responses to input and an intuitive interface that's easy to navigate. Audio performance was punchy, crisp and defined while Bluetooth connections we're exceptionally quick and reliable, taking an average of five seconds to resume my Spotify tunes upon starting the car. Screen placement is good, as was daylight visibility, and required little eye movement to quickly glance from the road to the screen as opposed to a lower placed panel found in many other cars.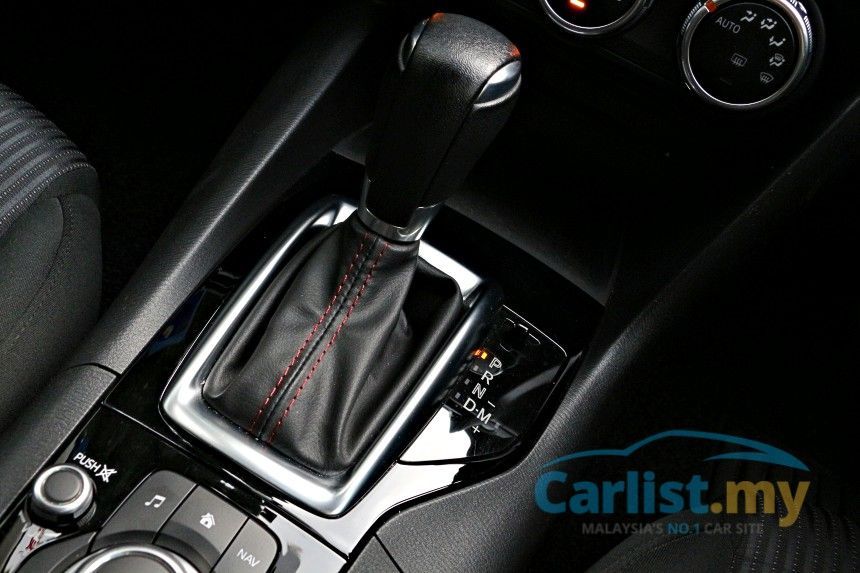 It's a wonder why so few automakers still only provide one interface interaction model for their infotainment solutions; in modern cars, they're typically a touchscreen or capacitive buttons around the panel's perimeter, or both.
Each is flawed since the screens themselves are usually mounted towards the top of the centre console, requiring a lot of stretching and poking at whatever approximation the driver thinks the button is located. The rotary dial that's used in the Mazda is a much more sane and ergonomic solution. It's not a new one either - think BMW's iDrive that debuted in 2001.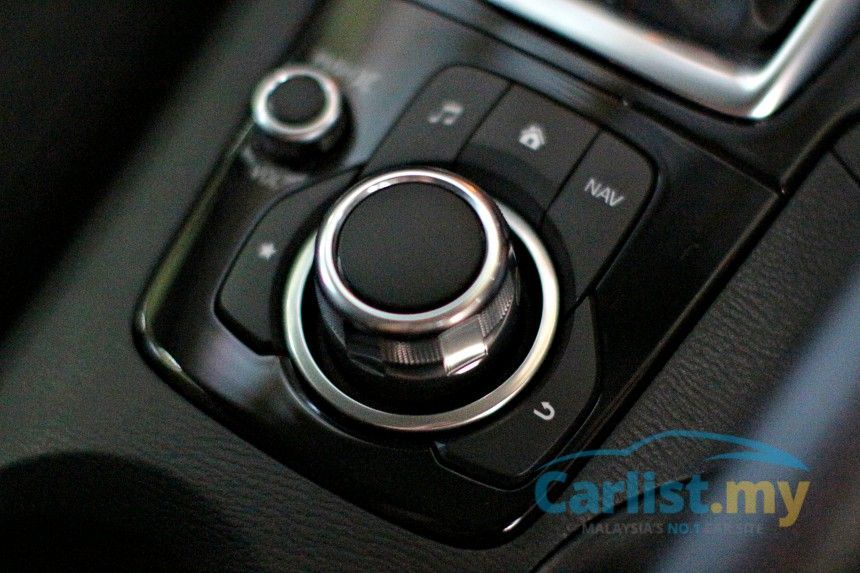 A headlining difference between the sedan and hatch variant of the Mazda3 is the upholstery, with the sedan gaining semi-perforated leather seats while the hatch having to make due with fabric seats. That may seem like a downside for the hatch, but (and this is an issue I've raised before) after driving them both back to back, I prefer the fabric seats. To be honest, they feel higher quality than the leather option.
In spite of their lower tier placement, I found the fabric seats to be more comfortable, more supportive and altogether a better match for the car and the interior. The Mazda3, as I think I've alluded to, is an act of balancing congruence, and the leather seats seem a less-than-ideal fit for the car overall.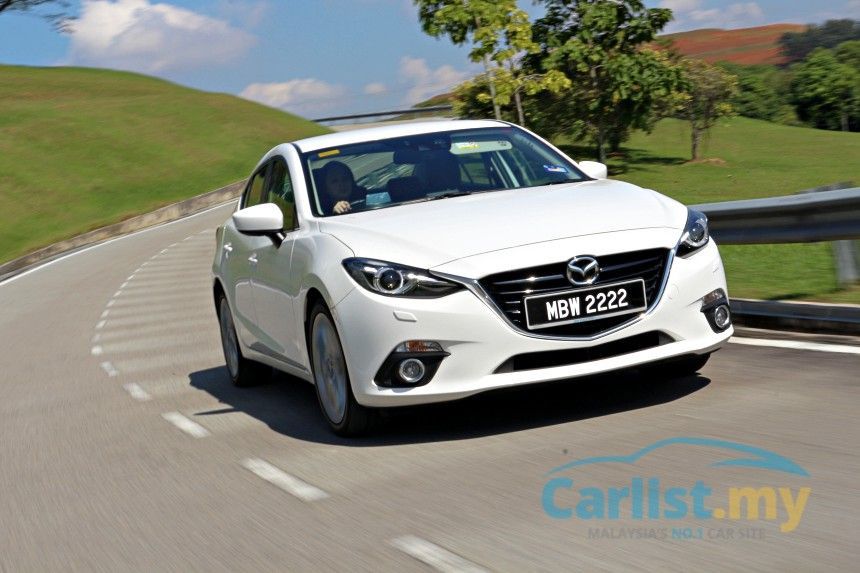 Drive And Handling
If there's just one word that could describe how the Mazda3 feels to drive, it's 'supple'. And it's a recurring theme throughout the car that is (I'll use the word again) congruent with the car. It's got those soft curves that implies aggression. Same goes for the interior, it's soft and cosseting and wraps around the driver well.
Sitting inside, that sentiment is communicated as how the car behaves - with poise. It's rigid, and doesn't roll much through the corners unless forced, but even that tilt is quite controlled and linear. Electronic Power Steering is likely never going to reach that level of bumpy, jittery dialogue to the driver's hand as hydraulic racks, but in the Mazda3 the accuracy is quick to breed trust.
During turn in and through the remainder of the corner, the front wheels feel as if they're much further in front than they actually are. It's a little tricky to describe, but instead of pivoting from either side of the engine, the front wheels feel as if they're placed more toward the corners of the car.
I'm not sure if this is due to steering ratios programmed to being a little quicker toward the centre, either deliberately or otherwise, but as a result the turn-in does feel quicker doesn't feel unsettled due to its forgiving suspension, proving how a car's ride need not be firm to be fun and handle well. It seems to reward a driver that's willing to work with it, and is able to compensate for the extra give with smaller adjustments to urge the car into line.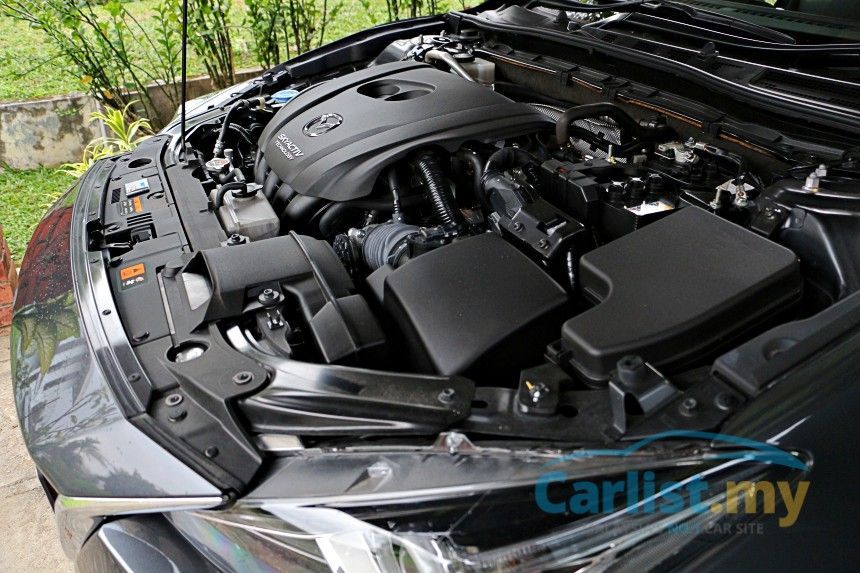 The 2.0-litre SkyActiv-G engine is a strong and responsive performer, and had no trouble pulling along the 1,300kg Mazda3 even on steep inclines. At times, I do wonder how much more engaging a drive it would be if fitted with the 2.5-litre SkyActiv-G unit from the Mazda6, or even if/when Mazda introduces a turbocharged SkyActiv powerplant for it, but as it stands the 2.0-litre 162hp unit does a fine job to complement the Mazda3's typically relaxed but easily excitable character.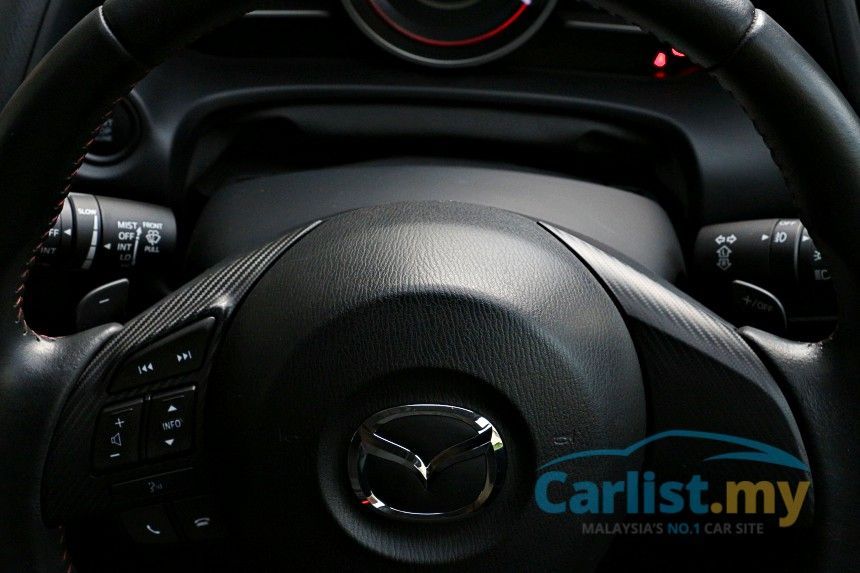 The six-speed automatic transmission does a good job as well. Mazda chose to rely on the strong low-end torque of their SkyActiv engines, which allows the transmission here to not kick down when most cars would have done so immediately. When the actual shifts do occur, the action is smooth and near-imperceptible especially under light engine load.
The paddle-shifters behind the steering wheel are a nice touch, and the added connection became one that I relied on time and again even in normal driving, such as wanting to overtake on highways with more finesse and not wanting to wait for the transmission to reasses and react. Just a pull or two, down a gear, and off I go.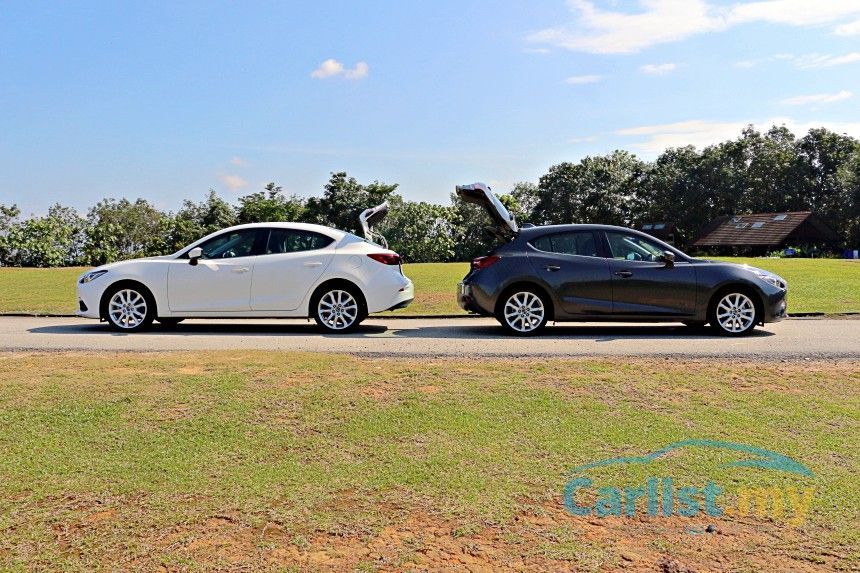 Practicality
Being a C-segment vehicle, the Mazda3 has to be flexible enough to fill a number of roles, especially when more people and cargo are thrown into the mix. This car would, after all, likely be its owners' primary vehicle, being used for the grocery haul, the congested commute, or the road trip.
In these respects, the Mazda3 fairs middlingly. It has enough rear space to occupy three adults, although taller passengers might find that the roofline could get in the way. Legroom is sufficient but not stellar, and adequate for everything other than exceptionally long journeys.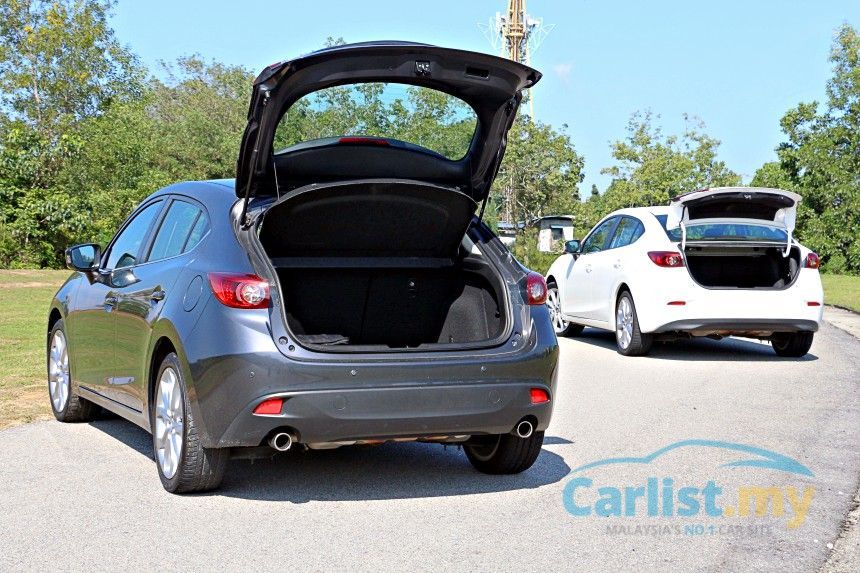 In terms of cargo carrying, the Mazda3 sedan obviously wins in terms of space with its deeper boot compared to the hatch (408-litres v.s 308-litres), but loses out in terms of accessibility. The sill is rather high and the boot floor sits a few inches deeper, making unloading more cumbersome.
The hatchback does have that same tall sill, but the aperture is much larger, able to accommodate a wider range of cargo sizes without having fold the rear seats. Even then, the hatch still has the advantage with a taller overall trunk space. The rear seat release is located in the boot for the sedan, but pulling it won't cause the seats to fall flat and you're still required to go to through the rear door to pull it down. The hatch's rear seat release is more conveniently located on top of the rear seats, next to the headrests.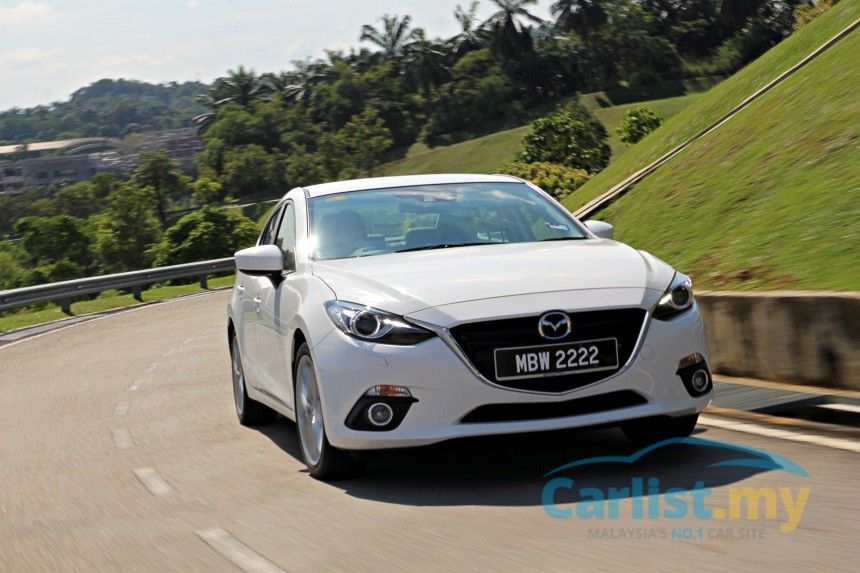 Fuel Economy
Despite being a 2.0-litre engine in a world and economy where even large Audis have downsized further, and even rarer to find that it's not turbocharged, the naturally aspirated SkyActiv-G unit proved to be surprisingly economical even in mixed driving conditions, yielding consumption figures that are uncommonly low for its displacement.
During my time with it, switching from driving slowly to briskly didn't have much effect on the fuel gauge, and the Mazda3 calculated it was consuming a mere 7.3-litres/100km. That's verging on unbelievable.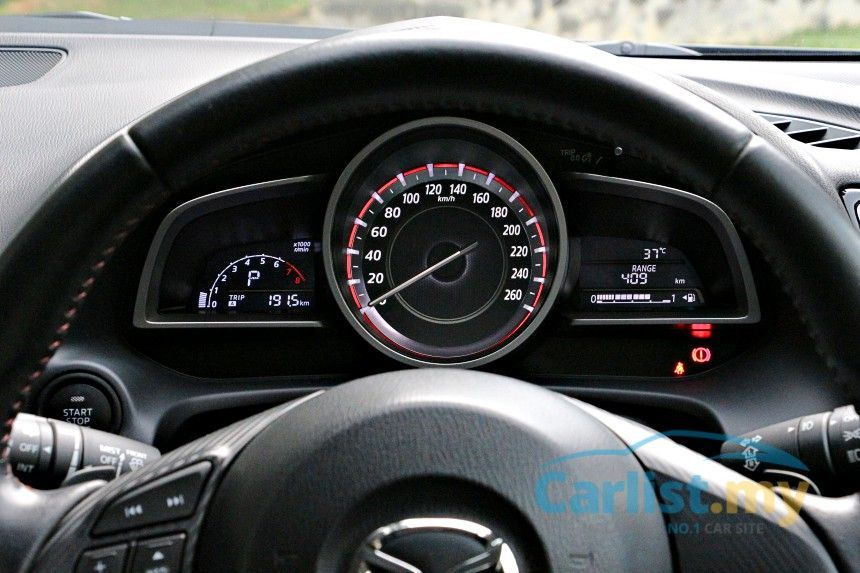 Without detracting the inherently efficient nature of the engine, Mazda's i-Stop system, which cuts the engine when the car is stationary at idle but quickly reengages when the brake pedal pressure is released, did very likely play a significant role in achieving that impressive consumption figure.
Bermaz Motor, official distributors for Mazda vehicles in Malaysia, offers the Mazda3 with a 3-year warranty and 3-year (or 60,000km) free maintenance package.
Safety
The Mazda3 scored a full 5 stars from Euro NCAP as well as another 5-stars from ASEAN NCAP. Regardless of variant, it comes with a total of six airbags, Anti-lock Brakes (ABS), Electronic Brake-force Distribution (EBD), Brake-Assist (BA), Dynamic Stability Control (DSC), and Traction Control (TCS), and ISOFIX child seat anchor points on the rear seats.
Sedan Or Hatch?
Comparing both cars spec for spec, the identical selling prices for both variants is indeed perplexing, especially when the sedan seen here is sold as the highest trim level whereas the hatchback is relegated to playing second fiddle in the mid-range. There's also a base sedan for RM105k, just FYI. Does Mazda not want to sell more hatchbacks?
The high-spec sedan gets a rather long list of extra features for the same price as the mid-spec hatchback:
Leather seats

Satelite Navigation

Cruise Control

Autonomous City Braking

Automatic High Beam Control

Rear Vehicle Monitoring

Lane Departure Warning system

Head-up Display

Rev counter instead of speedo as central gauge

Electrically-adjustable seats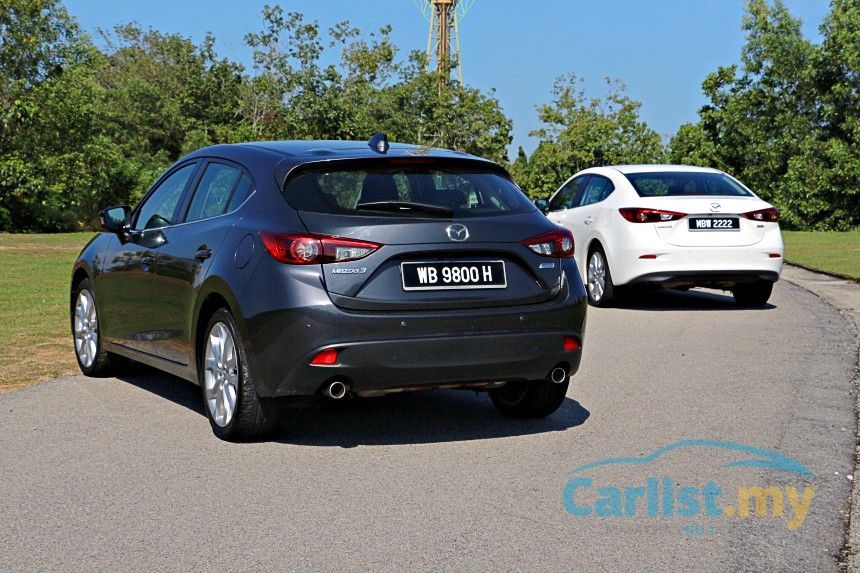 With the value proposition clearly favouring the high-spec sedan, what does the mid-spec (but identically priced) hatchback have going for it? I suppose it comes down to personal taste. My opinion stands that the hatchback is indeed the more practical option even if outright boot space is volumetrically smaller, it is marginally easier to park with the shorter overhang, and to my eyes it looks better than the already handsome sedan.
For me, personally, I would choose the hatchback, throwing 'value propositions' to the wind, and happily living without the frills of the high-spec sedan. It sounds impulsive, and perhaps even slightly foolish.
Obviously, out on our roads, the sheer degree to which the high-spec sedans outnumber the mid-spec hatchback speaks volumes about buyers not being able to justify the hatch over the sedan, which is a shame.
We're still left to wonder why. Surely Bermaz could sell many more mid-spec Mazda3 hatchbacks if it were priced lower (as it should be) than the highest-spec sedan variant. There's obviously some draw to the hatchback that's not yet being taken advantage of.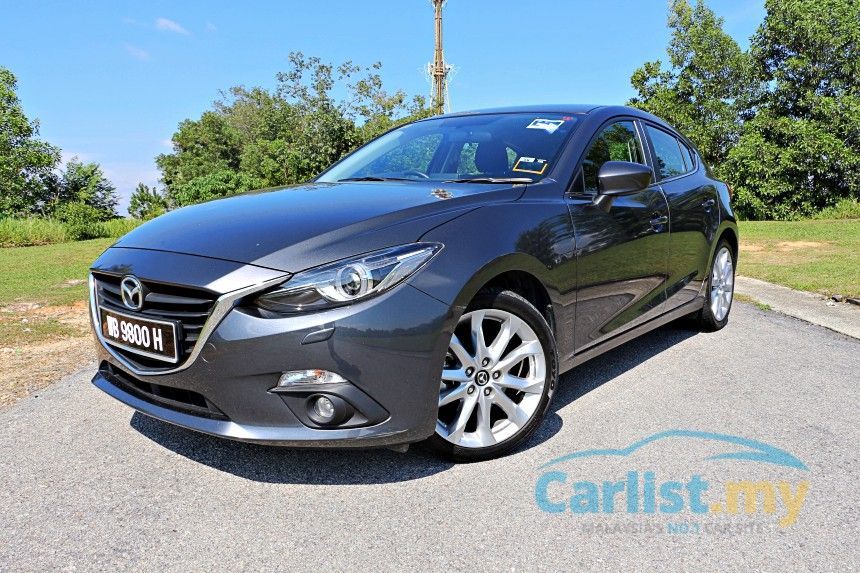 Conclusion
The Mazda3 is a very capable car, and now that it's locally assembled, presents Malaysians with more reason to own one of the best vehicles in its class. It's a car that smoothly melds two seemingly opposing attributes: it's beauty with brains, cosmetic flair with practical competence, powerful but economical, comfortable but engaging to drive, premium-feeling without the hefty price tag, popular but distinctive. There should be more on the road.
If you were given no other choice but to drive a Mazda3 for the rest of your life (hypothetically assuming that you'll never crash it and it'll never break down), you should consider yourself lucky. It's a very good car. If only it was offered in Malaysia with a more sensible price separation between variants and perhaps a couple more engine choices and trim levels to go with body styles.
---
---
---
---
Comments