 Naza Quest Sdn Bhd, sole distributor and importer of Chevrolet vehicles in Malaysia has officially launched the latest generation of their popular pickup truck, the Chevrolet Colorado.
The main highlights of is an expanded line-up, from the previous three to now five variants, spread across three engine choices in six-speed manual and auto guises. The new lineup also includes a new flagship variant – the Colorado 2.8 LTZ High Country Automatic.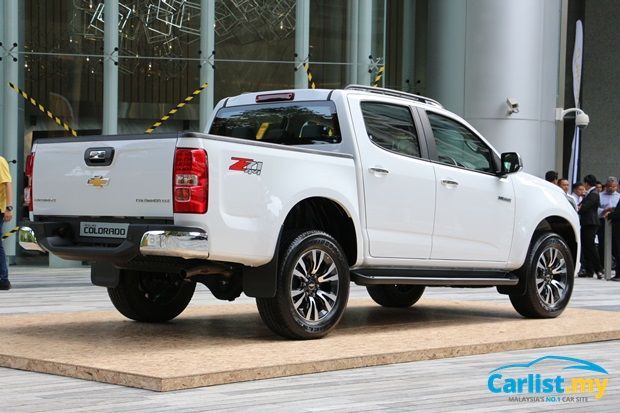 The Colorado also introduces a few new features, which were not offered on previous models; such as Lane Departure Warning, tire pressure monitoring sensors and Apple Car Play, but more on that later.
Speaking at the launch of the new Chevrolet Colorado was Datuk Wira Hj. SM Faisal Tan Sri SM Nasimuddin, Group Executive Chairman of Naza World Group of Companies added, "Chevrolet has been on an interesting journey since we took over the brand back in 2010. Several models have been introduced since then and nothing can be compared to this new Colorado truck. The design has improved exponentially with a lot of attention to details that will make this new Colorado a game changer in its segment in Malaysia."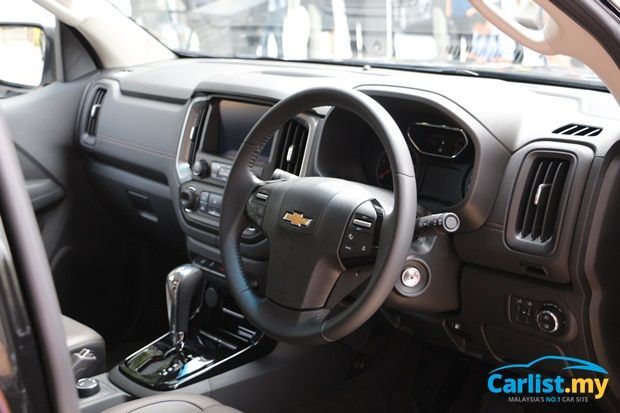 He goes on to add, "We are excited to see how great the engineering design for recent new Chevrolet models has developed and this is a positive sign for the brand to move forward in this country. Chevrolet's handling and comfort have always been the key selling points for us and this new Colorado's transcendent driving pleasure will definitely something to look forward to by the Malaysian consumers."
The Colorado is only available in Double-Cab configurations, and with permanent 4x4 underpinnings. The variants of the all-new Chevrolet Colorado are as follows:
Colorado 2.5-Litre STD LT MT: RM97,053
Colorado 2.5-Litre STD LT AT: RM104,897
Colorado 2.5-Litre STD LTZ AT: RM111,787
Colorado 2.8-Litre STD LTZ AT: RM121,451.88
Colorado 2.8-Litre High Country AT: RM129,189
Prices quoted are on-the-road, excluding insurance in Peninsular Malaysia for private registration.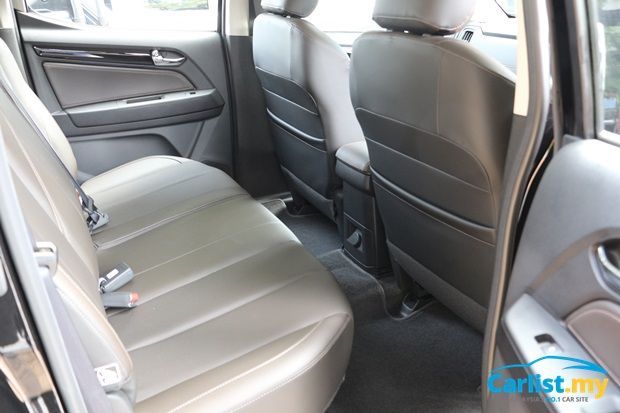 What's new?
There are three engines on offer now – all offering more torque and power.
2.5-litre Duramax (Fixed Geometry Turbo) – 163hp at 3600rpm / 380Nm at 2000rpm (up 13hp and 30Nm)
2.5-Litre Duramax (Variable Geometry Turbo) – 180hp at 3600rpm / 440Nm at 2000rpm (similar output to previous 2.8-Litre LT variant)
2.8-Litre Duramax (Variable Geometry Turbo) – 193hp at 3600rpm / 500Nm at 2000rpm (up 13hp and 30Nm)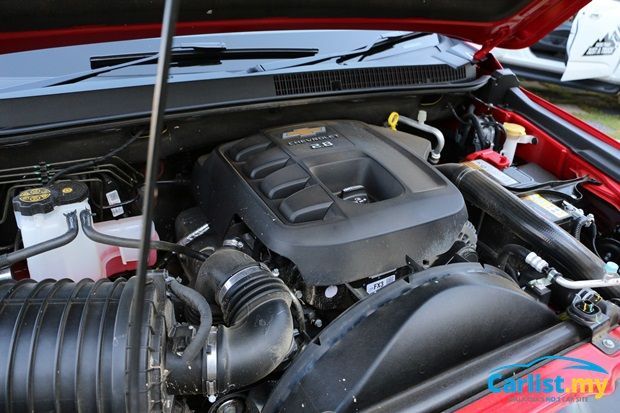 The manual transmission also gains a ratio, from the previous generation's five-speed 2.5-litre entry-level variant.
Chevrolet has paid special attention to the overall driveability and refinement of the Colorado. On the top of that list is an Electronic Power Steering (EPS) system – unlike the conventional hydraulically assisted setup common for pickup trucks, Chevrolet claim its EPS system allows for faster response, dampens out unwanted steering vibration and reduces steering pulls when going off road.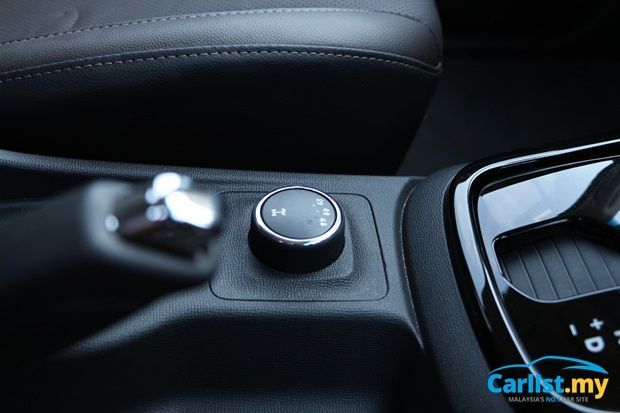 A new engine mount design and Centrifugal Pendulum Absorber (CPA) torque-converter (in the automatic models) improves Noise, Vibration and Harshness (NVH) levels by reducing unwanted torsional vibrations in the drivetrain and allows for more precise transmission calibration.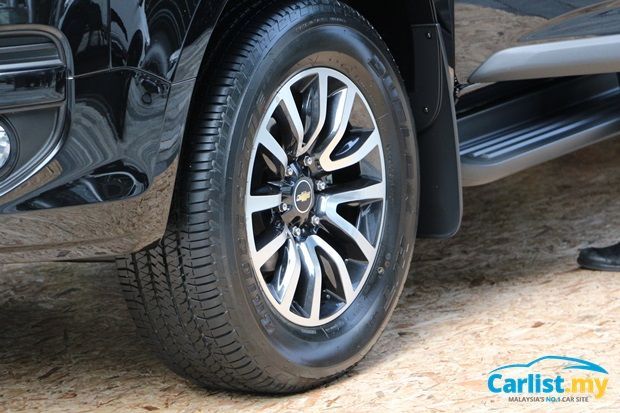 Improved windscreen and window seals, roof ditch molding, thicker door glass and bladeless wipers on the other hand, are claimed to reduce noise within the cabin. Chevrolet claim the Colorado is up to 8 percent quieter on the road now.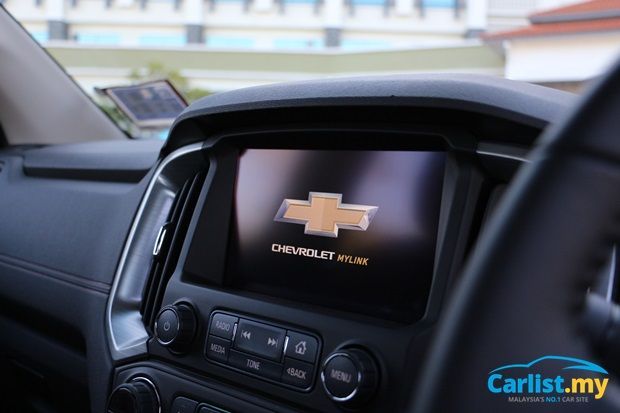 A new suspension package boasting revised damper and spring rates, including improved damper technology is said to cope with the added power and increase on driving refinement and stability.
New safety equipment highlights include Tire Pressure Monitoring System (TPMS), Lane Departure Warning (No-Corrective Steer), Front Collision Alert, Hill-Descent Control (HDC) and Anti-Roll Protection.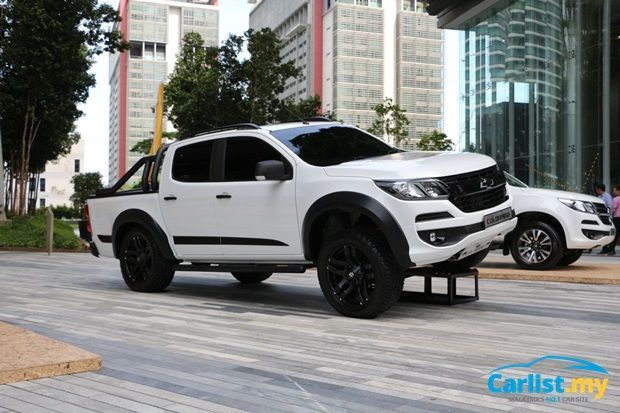 Please refer below for the trim highlights of each variant.
Colorado 2.5-Litre LT MT
Six-speed manual
Hydraulic power steering
16-inch alloy wheels
Dual front airbags
Driver knee airbag
Seatbelt reminder
Rear park assist
Rear view camera
ABS with EBD
Immobilizer key
Tube type LED DRLs
Front and rear fog lamps
Bedliner
Manual climate control
Seven-inch touchscreen infotainment unit with Bluetooth, Apple Car Play, four speaker setup
Colorado 2.5-Litre VGT LT AT
Electronic Power Steering
Grip handles on A-Pillar
Colorado 2.5-Litre LTZ AT
Forward collision alert
Lane departure warning
Front park assist
Electronic Stability Control (ESC)
Traction Control System (TCS)
Anti-Roll Protection (ARP)
Hill-Start Assist
Hill-Descent Control
Trailer Sway Control (TSC)
Tire Pressure Monitoring System (TPMS)
Remote Start function
Auto Climate Control
Auto Wipers
Auto headlamps
LED rear lamps
Cruise Control
Multifunction steering wheel
Electrochromic rear view mirror
Eight-inch touchscreen infotainment unit with Bluetooth, Apple Car Play, seven-speaker
Powered driver's seat adjustment
Leather seat and door panels
18-inch alloy wheels
Colorado 2.8-Litre LTZ AT
Equipment list identical to 2.5-litre LTZ Automatic
Colorado 2.8-Litre High Country AT
Gloss black front grille
Front bumper with nudge bar
Black rear bumper
18-inch two-tone alloy wheels
High Country interior and exterior trim badges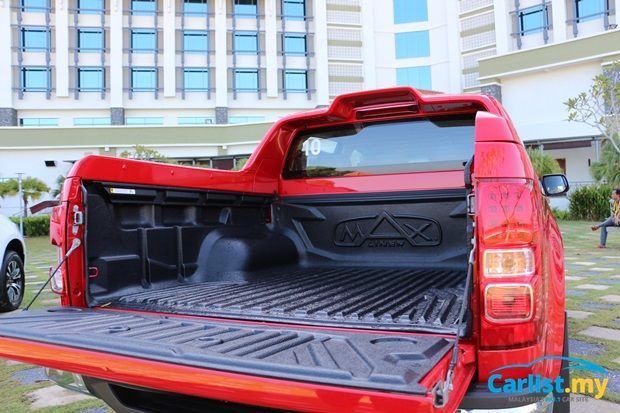 As before, all-new Chevrolet Colorado is imported as a Completely Built-Up (CBU) vehicle from General Motors' production plant in Rayong, Thailand.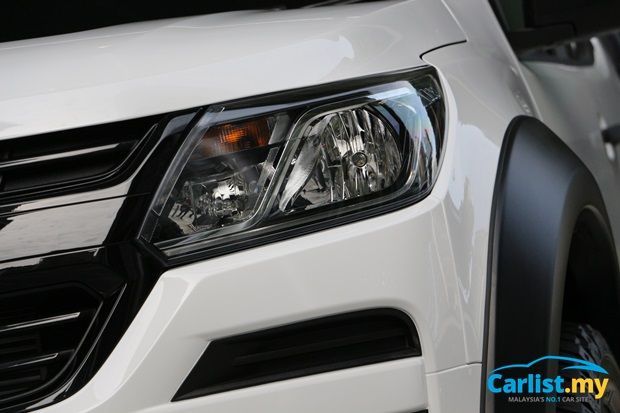 The Chevy Colorado comes with 5 Years or 200,000 km factory warranty, whichever comes first.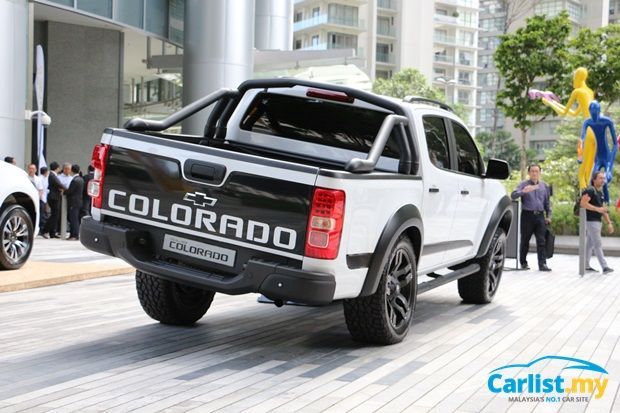 We recently had an opportunity to drive the all-new Chevrolet Colorado, find out what we think here.
---
---
---
---
Comments