2016 BMW 7-Series (G11/G12) Quick Review in Portugal - One For the Drivers in Us
Reviews Let's do some simple maths. As I do not have the figures for 2015 as yet, and working with what I know from 2014, the year of twenty-fourteen ended with close to 1 million sales figures for these individual models combined:
• 373,053 units of the BMW 5 Series
• 307,791 units of the Audi A6
• 257,571 units of the Mercedes-Benz E-Class
Why do I mention about the sales figures of the premium executive segment of the German Big Three when I'm trying to talk about their flagship class limousines here? Because of a trend known as 'upgrading'.
You see, as much as brands like to snatch sales or win customers from their competitors, it's actually much more effective to simply retain their existing customers. When you buy a 1 Series, BMW will make sure you can happily upgrade to the 3, and then the 5, or veer off to letting you sample something different such as the X5 or 6 Series Gran Coupe later on. It's a very common strategy that is both proven and prevalent in the automotive industry.
Hence for close to a combined one million buyers of the Audi A6, BMW 5 Series and the Mercedes-Benz E-Class, their only choice for their next purchase is either cross shopping from alternate brands, or head on for the full monty that each of their respective brands has to offer - the Audi A8, BMW 7 Series and the Mercedes-Benz S-Class, the 'Luxury Flagship Limousines'.

But that's the thing isn't it, 'Luxury Flagship Limousines' is what they're commonly touted as. As though an owner of a 5 Series or E-Class would suddenly want to relinquish the driver's seat and hire a chauffeur to do the dreaded task of actually driving around town while they're seated behind, sipping champagne and thinking about mergers. A common scene for TV commercials for these cars would somehow always seem to involve a scene where the main character arrives at the airport, and is immediately climbing up the ramp to board his Gulfstream jet. As if a person who suddenly buys a few hundred thousand ringgit car will happen to have a hundred million ringgit Gulfstream G6 conveniently parked in a private hangar.
Gentlemen, that's never the case.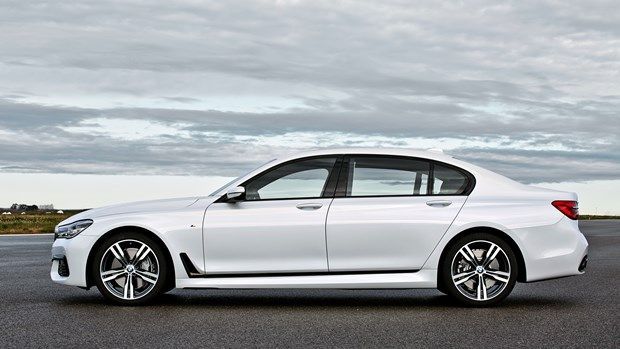 Before we discuss the new design, let's take a look back to 2002, the year Chris Bangle penned the highly-controversial E65 7 Series. The car was the first opening salvo of BMW's new radical avant-garde design. It was such a visual assault from the German norm of conservative and evolutionary design that BMW's biggest number made the then three-year-old W220 S-Class look old and tired. And it's impossible to not draw a comparison to the Mercedes-Benz S-Class when we talk about a new 7 Series.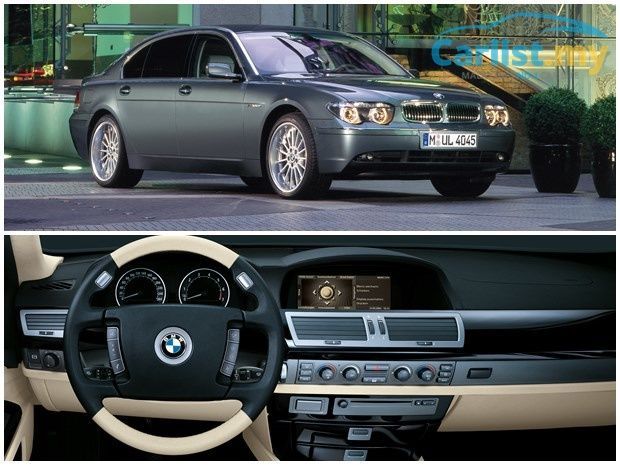 As the first car in the world with an integrated infotainment system, the iDrive, along with the famed Bangle butt design, it sky rocketed the 7 Series' sales tremendously. The controversial E65 out-teched, out-luxuried, and out-classed the S-Class of that same era. It earned the spot BMW long yearned for, and played a pivotal role in establishing the brand as the world's leader in luxury car making. Fast forward to today and we find that Mercedes-Benz has basically dominated the sales charts with its new S-Class luxo-barge.
And I believe at some point in the development of the new 7 Series (codenamed G11/G12), BMW decided that they didn't want to position it just as an all-out pursuit for the traditional luxury of a superb transportation device piloted by someone else four feet in front of you. Instead they also wanted the 7 Series to be the epitome of modern luxury for a driving machine with you enjoying the moment for yourself – much like that of the 5 Series, but larger, much better equipped, brimmed with unimaginable conveniences, and yet immaculately appointed and supremely well-constructed.
Yes, modern luxury. BMW told us that when they're developing the 7 Series, they sent 7 of their designers to 7 different cities in the world to catch the pulse of how modern luxury is interpreted differently across the world, and capture the essence of what entails 'modern luxury'. Now that must have had something to do with why this interior isn't designed to deliver any specific visual impact. Instead, everything has sort of a minimalist approach, intentionally hiding or downplaying the capabilities it is hiding underneath, both exterior and interior.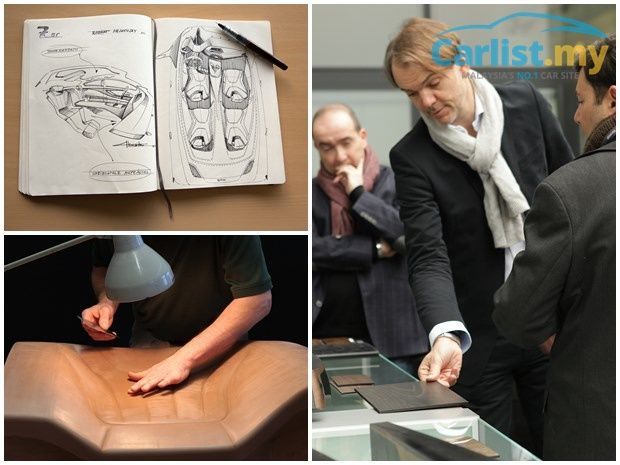 Contrary to what Mercedes-Benz is trying to accomplish as the ultimate chauffeur driven luxo-barge, the new 7 Series is no barge. It's a super saloon that you can comfortably upgrade from your E-Class or 5 Series. Key of which is because it retained the beautiful sporty proportions of the 5 Series, it promises supreme, class leading handling, and the engine line up - do we even need to talk about how efficient and powerful BMW engines are? And how well their transmissions work? It's by default. BMWs have reach such an ingrained impression through continuous achievements that no one ever questions their achievements in this front anymore. They make some of the best engines in terms of performance, but they're always some of the most efficient ones - always.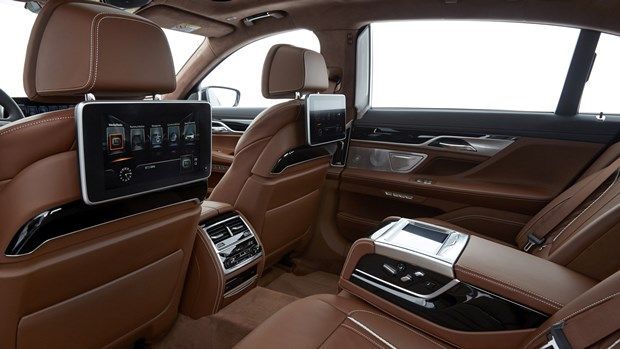 Inside, it is as spacious as the current generation F01/02. Key of which is yet another BMW hallmark - they know what they want to achieve - and retained the same exterior dimensions as the previous generation as they didn't see a need to grow it any bigger in size. But on the oft side they developed a great way to make it better, integrating something class leading. Something called 'Carbon Core', and this will change how BMWs are made forever.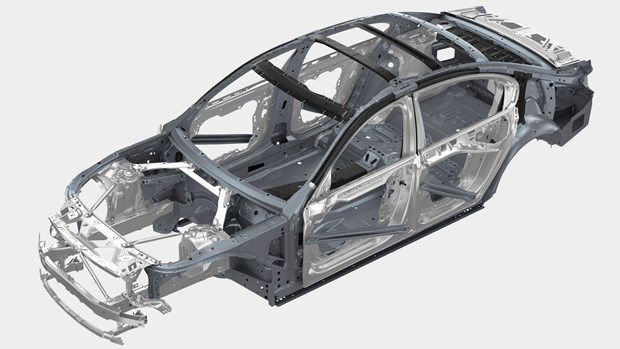 You see, amongst all major premium car makers, BMW is the most hardworking in pushing boundaries of technology, they invested heavily and learn how to mass produce carbon fibre, they made a supercar with a 1.5-litre 3-cylinder engine that out drags the V8-powered Mercedes AMG GT, and then there's the i3 electric car with a range extender engine - or not - yes, it's optional. And throughout those endeavours and learning experience, they implement these innovations bit by bit into their core product line-ups.
Consumer perception that BMWs drive well and are fuel-efficient isn't just purely a perception. There is a lot of hard work and technology that has gone into their cars to live up to its longstanding reputation. And this new 7 Series is no exception, by replacing the core structures of the car with carbon fibre, not only it is now stronger, it is also lighter while lowering the centre of gravity to improve handling. So much so that even if the new 7 Series is more luxurious and loaded than before, it is 100kg lighter than the previous generation.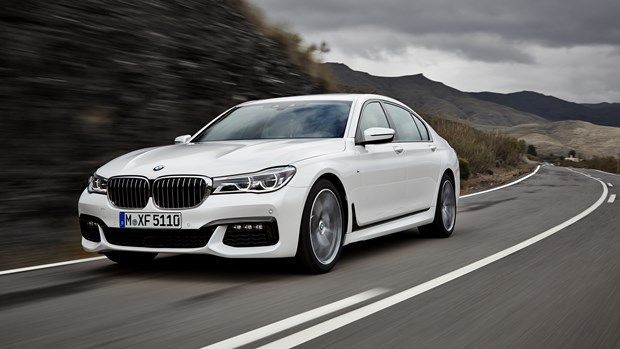 And a lighter, stronger car with improvements done in terms of efficiency and safety makes driving enjoyable too. And driving this car is what makes it a whole lot different from its peers. This also opens up a big opportunity for BMW.
As previously mentioned, when owners of 5 Series or E-Class upgrades, they only have two routes to choose from currently. To go full size and sit behind while staring at the hopeless driving skills of their chauffeur, or squeeze their family members into the Panamera, or the 6 Series Gran Coupe, A7, CLS segment; all of which are legitimate upgrades for owners who still want to drive themselves, but you're paying higher price for way lesser interior room, and thus sacrificing practicality for the sake of style.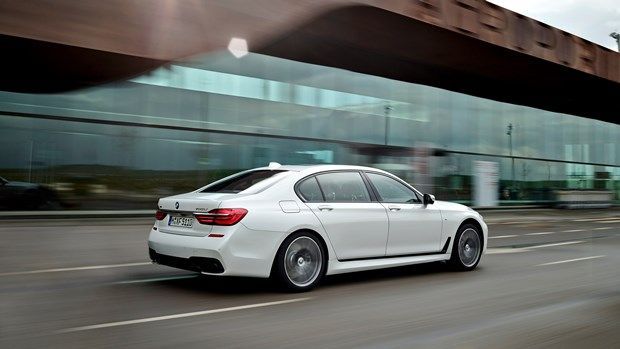 The new G11/G12 BMW 7-Series on the other hand, is just a simple, straightforward upgrade. More technology, more luxury, more room, and the same driving enjoyment that you would expect from something wearing a roundel badge, or better. What's most amazing is despite its size, it behaves very well on tighter curves that snakes up the horizon like gigantic slaloms. The experience of helming this flagship is natural, you can feel that BMW had taken plenty of time in honing to handle these kind of roads, and unlike Mercedes-Benz's Active Curve Tilting - which uses complex sensors to tilt the car into tricking the driver that you're actually not cornering at all - the big BMW does it with a fluidity of anticipation, so that you can explore further and further into pushing the car. It's one of those modern good cars that you can't feel the steering at slow speeds, but communication intensifies the faster you go. It's a very nice, very authentic experience.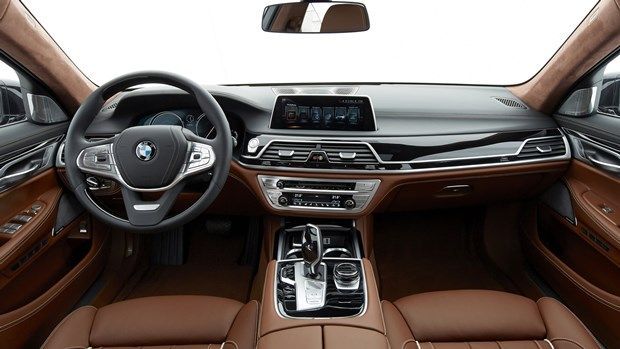 Of course, I tested two variants, and without further guesses, the LWB trails the SWB slightly in terms of handling, but that's a trade-off for the Executive Lounge, which to cut short, is a function that with a push of a button turns the rear seat into a Business Class lounge. While most luxury flagship limousines have a set of controls in the centre arm rest for the rear passengers to have access to half the controls available from the centre console, the 7 Series has a custom built tablet by Samsung for controlling every single entertainment, comfort related features in the car. Don't worry though, you don't need to deal with Android's rubbish interface designs, as the interface is entirely designed by BMW's iDrive team.
Those who are familiar with BMW's iDrive, the controls are expectantly sleek in its operation, the visuals are beautiful, and the way it is seamlessly integrated into the rear arm rest, especially the visual extravaganza when you want to release it from its dock - an engineering showcase befitting of something from a Sci-Fi movie - where the clasps slowly retracts and your tablet raised mechanically for you to grab hold of. It's an excellent show stealer this, and definitely a conversation piece for rear passengers.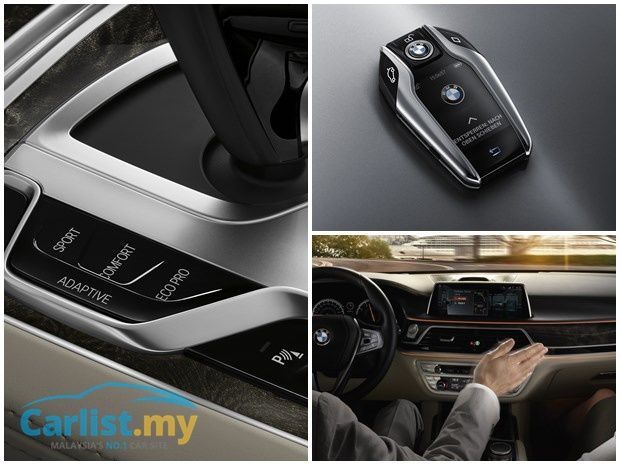 There are plenty more new and beautifully integrated features that has been shoehorned into the 7-Series, each well deserving of a feature article on its inner-workings and purpose. However we had made an earlier post that serves as a brief summary of some of these new features found in the 7-Series,

So is the 7-Series a better choice than the Mercedes-Benz S-Class as the default choice of a luxury flagship limousine? No its not.
It's almost impossible as well given the Mercedes-Benz's EEV incentive status in Malaysia, as the BMW will definitely end up costing a lot more when it arrives on our shores sometime this year. And to be honest, far and few will appreciate BMW's subtle approach of an understated interior.
But if you are tired of seeing so many Plus size C-Classes running around town, all of them in either black or silver colour, you can opt for the BMW 7 Series with an M-Sport bodykit, in an eye-catching shade of Sepang blue and you wouldn't look out of place at all as you step off your car at a red carpet event passing your keys to the valet. Whereas the S-Class owner must make sure his chauffeur is not on leave that day.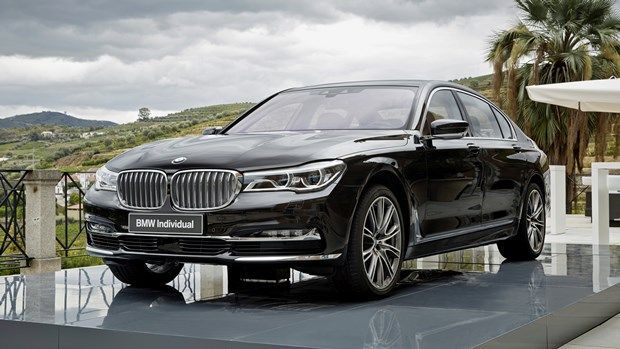 ---
---
---
---
Comments