2017 Honda CR-V: Why It Works Best As A Five-Seater
Insights Prior to today's launch of the all-new fifth generation Honda CR-V, Carlist.my sat down with one Mr. Daiga Ito, the Project Leader for the all-new Honda CR-V to better understand the development story behind Honda's latest SUV.
Our time with Ito-san was especially important because Ito's specialty is in vehicle packaging. Like all Honda models, interior space is the CR-V's forte. Ito's work in arranging mechanical/electrical components around the CR-V's cabin as if it's an elaborate game of Tetris is the one of the reasons why the CR-V can boast of having the most spacious cabin in its class.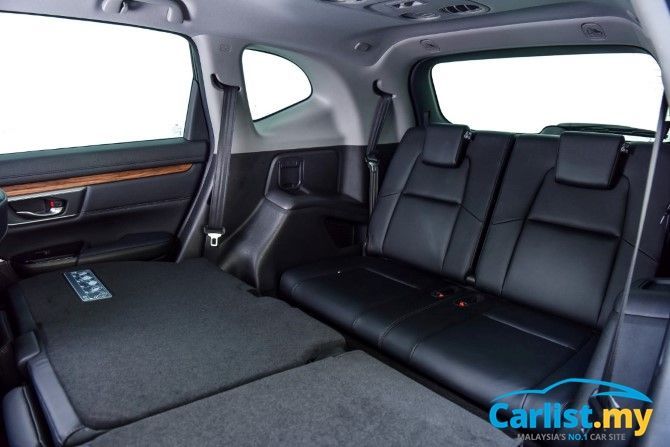 The most obvious question that we had to ask if of course, what was the rationale behind the decision to introduce the Malaysian market CR-V exclusively as a five-seater. In case you don't already know, our neighbours in Thailand and Indonesia are getting their CR-Vs with seven seats - actually it's a 5+2, with the additional two seats meant only for short trips.
At a glance, it might appear as if Malaysian consumers are shortchanged, or that Honda Malaysia might have shot itself in the foot by not matching the Nissan X-Trail, which comes with a 5+2 seater layout.
Ito clarified that all over the world, the CR-V's identity is of a five-seater crossover-like SUV, one that offers the utility of an SUV without compromising on traits that buyers trading up from a family sedan are already used to - ease of handling, comfort and good fuel economy.
"The base development is on a five-seater, but of course during development of the packaging we did take into consideration for a seven-seater," said Ito.
In other words, the CR-V is designed first and foremost as a five-seater. At the same time, concessions were made to the roofline and wheelbase to allow for the option of adding a third row seat, as surveys in countries like Thailand and Indonesia have suggested that there is a need to offer a third row seat.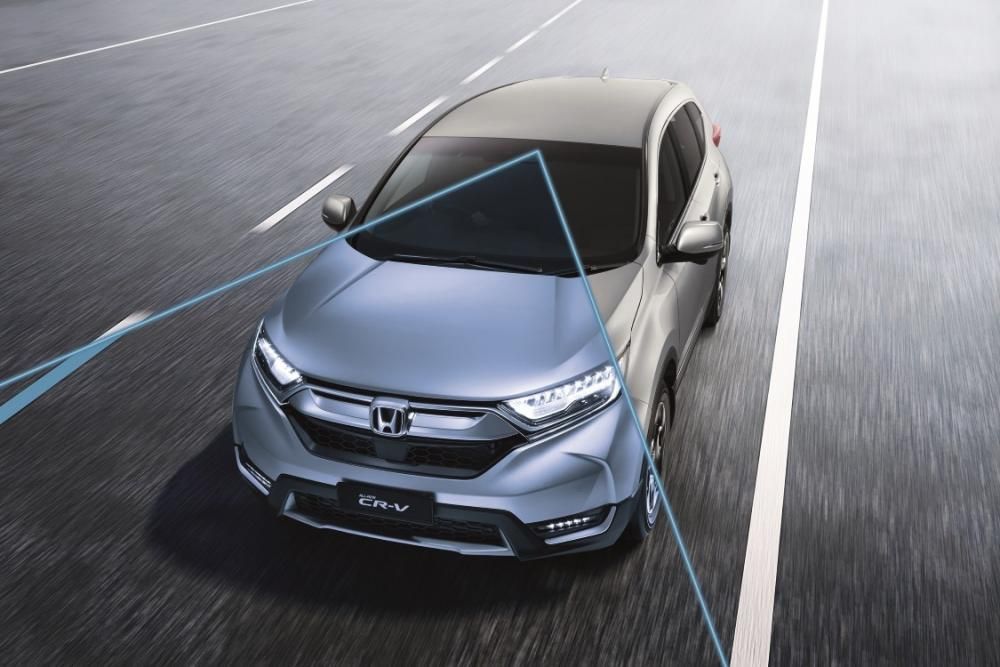 Honda distributors in Thailand and Indonesia have elected to take up the seven-seat option but Malaysia declined, choosing instead to offer Honda Sensing, an Advanced Driving Assistance Systems (ADAS) active safety feature that supports the driver in avoiding collisions. If necessary, Honda Sensing is capable of automatically braking the vehicle or steering the vehicle out of trouble, should the driver failed to respond despite repeated warnings. Malaysia is the only country in the region to offer Honda Sensing in the all-new CR-V. More on Honda Sensing here.
Also, Honda Malaysia's own surveys show that owners of this class of SUVs don't use the third row seat, simply because it is too small to be of any practical use. Privately, Honda understands that the X-Trail has temporarily overtaken the CR-V on the sales charts simply because the outgoing CR-V is an aging product and is due for a replacement, a situation which this all-new model will address.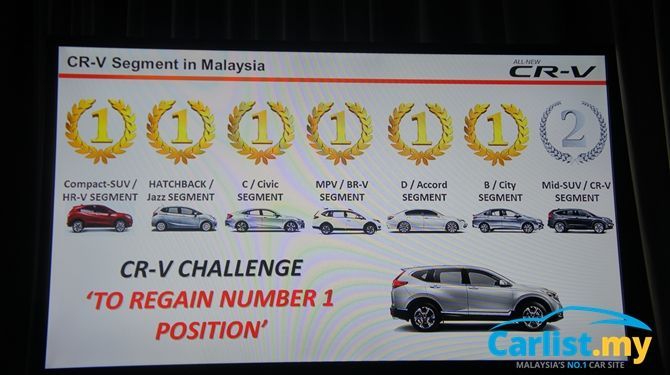 The old CR-V was the only model within Honda's line-up that is not the best-seller in its segment, a blemish which Honda expects this all-new CR-V to clean up. While Honda Malaysia didn't put it that way, they did suggest that the CR-V will dominate the market with just five seats, and that the additional safety provided by Honda Sensing will be better appreciated over 5+2 seats.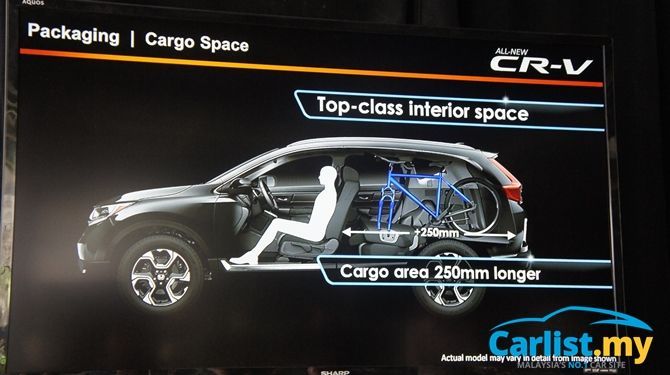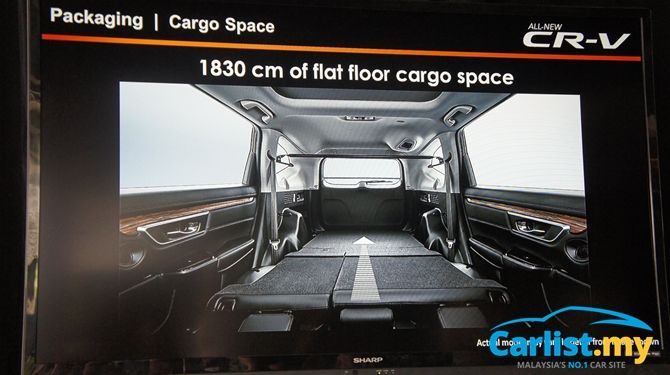 Besides, Ito also added that having the third row seat will reduce boot space by at least 300 litres, even if you fold the third row seats under the cabin floor. In contrast, the five-seater model offers a boot space of over 1,000 litres if the second row seat are folded down. Leave the seats up, boot space is still a very usable 520 litres.
The images below will give you an indication of how much space there is left if one is to squeeze two more seats into the boot.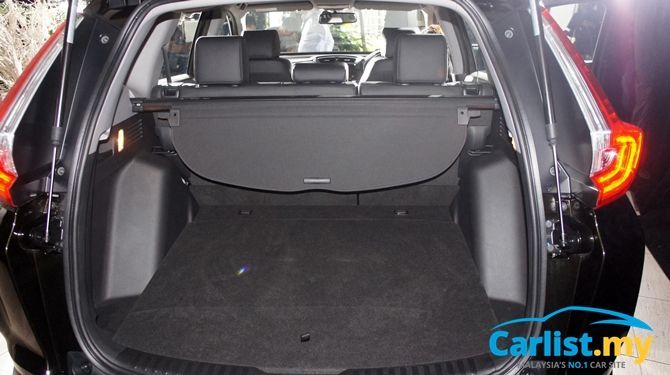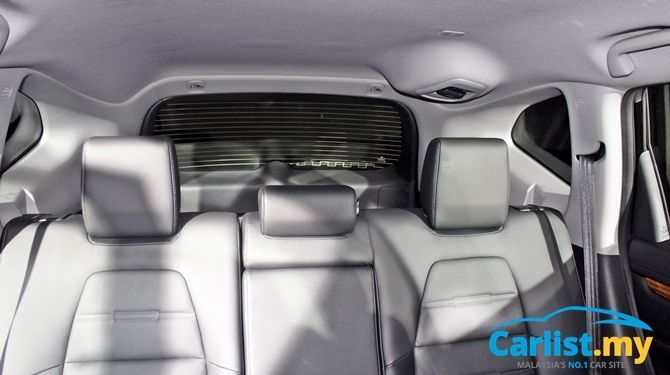 We should also point that in places like Indonesia and Thailand, the unique market conditions there meant that there is a strategic advantage in adding a third row seat for the all-new CR-V. Indonesia is predominantly a MPV-dominated market while in Thailand, the dominant SUVs tend to be seven seaters that are based on pick-up trucks – models like the Toyota Fortuner. Thus there is an expectation for large vehicles to offer seven seats, but at the same time, consumers there are also less picky about having sedan-like handling dynamics and safety features.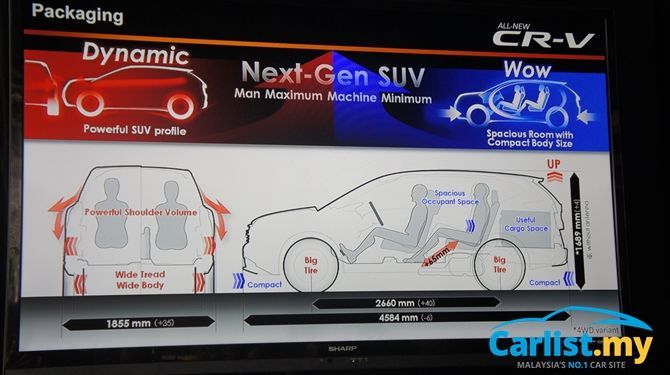 Ito added that the all-new CR-V's wheelbase has been lengthened by 40 mm, while the redesigned cabin has allowed Honda to push the first row seats 20 mm forward. In total, this has allowed Honda to increase legroom in the second row by at least 60 mm. At the same time, the rear seat has also been lengthend by 90 mm, thus greatly improving comfort for long distance journeys.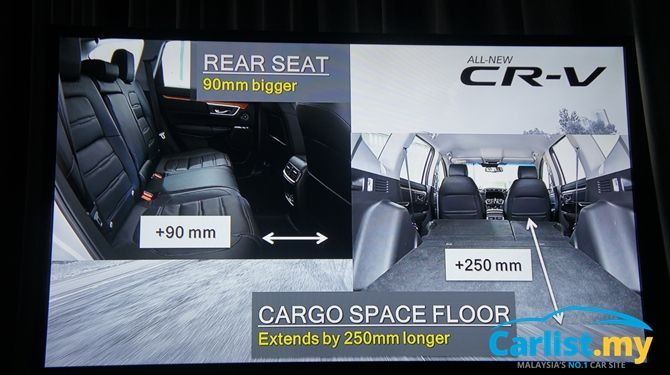 So there you go, if you are looking for a seven-seater SUV, we suggest that you look to the Mitsubishi Outlander instead, or the Kia Sorento or Hyundai Santa Fe, as these are full-size seven-seater SUVs with third row seats that you can actually use.
Of course, Honda Malaysia won't rule out the possibilty of introducing a 7-seater variant in the future, should the market show sufficient demand for it.
More on the 2017 Honda CR-V
2017 All-New Honda CR-V Launched, Priced From RM143k
2017 Honda CR-V: No 4WD For The Highest Specs Variant, Why?
---
---
---
Comments