30 Years of Proton – Tracing Back To A Time When Malaysians Cheered For Proton
Insights Proton, that one word which mere mention in any headline on any publication will elicit strong, emotionally charged responses, be they for or against Proton.
For some, Proton can do no right. Whatever that Proton does, no matter how good it is, will always be seen as a negative. For others, Proton by virtue of it being Malaysian, has to be supported at all cost, even if it is at the expense of investment in public transport or inflated prices of cars.
At which point did Malaysians become so divided over Proton? As a kid growing up in the '80s, I remember that there was a time when Malaysians were generally rather proud of Proton. At least that was description of the environment that I grew up in – my father cancelled his booking for a Nissan Sunny 130Y for a Proton Saga 1.3S – because he believed that the Proton offers better value and is as good as the Nissan, worthy of support from us Malaysians.
Sure, we grumbled about our Protons – the dodgy strength of its body shell, the lacklustre performance - but deep within us, we were proud of Proton.
There was a time when even the harshest critic would beam in pride at the sight of a Proton in a foreign country.
"We made that. That's one of us and it's here in a foreign country," is a common response of a Malaysian tourist when coming upon a Proton wearing a foreign number plate. What was a regular car to some random driver in a foreign country was to a Malaysian tourist a familiar link to home.
I remember school boys beaming with pride when they noticed a Proton Iswara making a cameo appearance in an episode of Mr. Bean on TV.
And admit it – chances are you did your first street racing in a Proton, at an age when you were young and stupid.
There was a time when every 21-year old who, upon making a little bit of money on the sides, would spend it on a 1.8-litre MIVEC engine conversion for their Proton Wiras.
Over the years, something else happened. Malaysians felt that they have been taken for a ride, that their goodwill to Proton in its early years – tolerating unfairly high excise duties levied on foreign brand cars – were taken for granted.
Politically connected individuals started opening Proton dealerships while others got lucrative contracts to supply parts to Proton. With guaranteed success in a closed market, there was little or no incentive to improve themselves.
The Malaysian public was their proverbial goose that lay the golden egg. In a not too dissimilar analogy with the fairy tale story, greed got the better of the owners and they ended up killing the goose to get more golden eggs. The public reacted accordingly and today there was no love lost between Proton and the Malaysian public.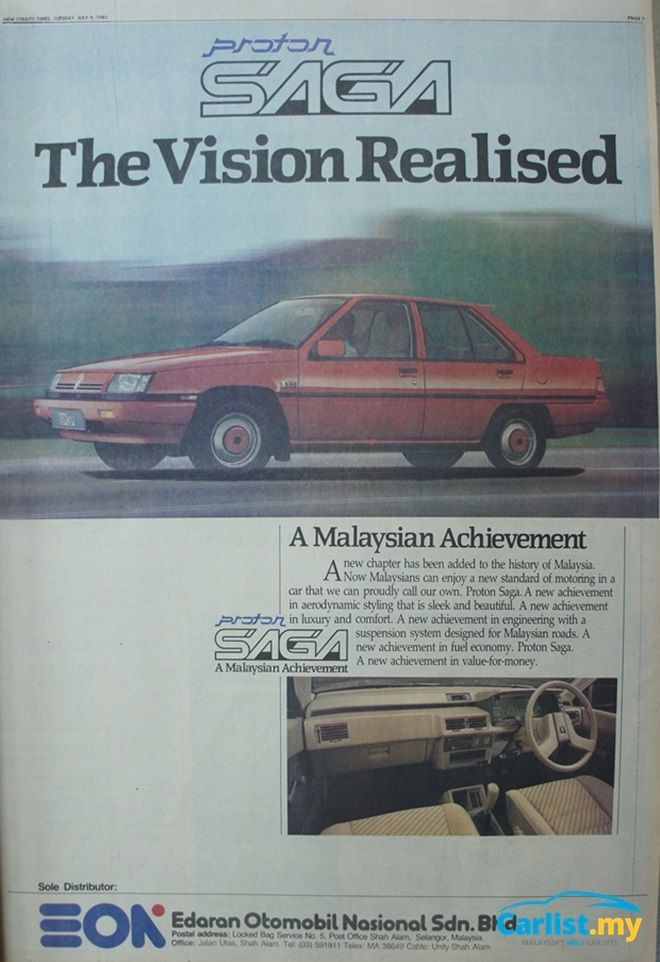 Still, beneath all the negativity, we believe that there are still many Malaysians who genuinely want to see Proton succeed, as do the brilliant engineers at Proton, whose brilliance often go unappreciated by the public because the people above them simply kept interfering with their jobs and making poor strategic decisions.
How else would you explain the presence of three C-segment Protons (Preve, Inspira and Persona) priced at more or less the same price range and thus eating into each other's sales, but not a single SUV model after 30 years, not to mention the loss of heritage everytime Proton changes the names of its cars.
Toyota for example, maintained a laser-like focus on its C-segment Corolla since the first generation model appeared in 1966, continoustly refining it for nearly 50 years to build the Corolla brand to be what it is today. Likewise Hyundai with their Elantra.
The task of reinvigorating Proton is akin to 'raising the Titanic' – it's difficult but not technically impossible.
Today marks the 30th anniversary of Tun Mahathir's historic unveiling of the first Proton. 9-July 1985 is the day when Tun Dr. Mahathir Mohamad, then the Prime Minister of Malaysia, revealed the Proton Saga to the media by driving a metallic blue Proton Saga 1.5S around Proton's test track in Shah Alam.
It was also the first time Malaysians got to see the pictures of the full car, which will only go on sale on 28-August.
For now, we want to put aside for a moment on those "What went wrong?" questions because we have written enough about them and we are sure the people at Proton already know the answer themselves. It's just a question about whether are the people at Proton empowered to do what's necessary.
Instead, follow us as we take a nostalgic trip to where it all began.
July 1979: Malaysia was under the leadership of Prime Minister Tun Hussein Onn, with Tun Dr. Mahathir as Minister of Trade and Industry. A strong believer the heavy industries is necessary for Malaysia to progress, called for a feasibility study for a Malaysian car.
October 1981: The late Yohei Mimura, the-then President of Mitsubishi Corporation, was invited by Tun Dr. Mahathir to participate in Malaysia's national car project.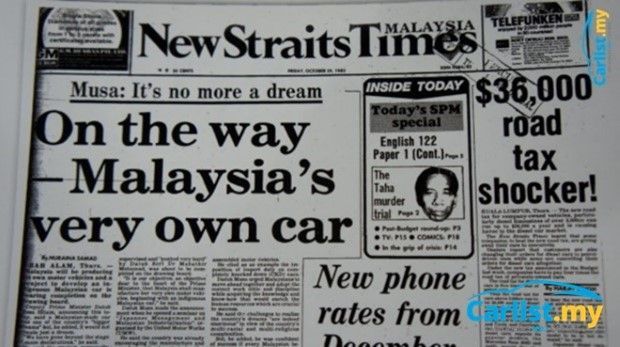 28-October 1982: New import and excise duty structure announced on Budget Day. Deputy Prime Minister Datuk Musa Hitam announced plans for a Malaysian car.
January 1983: Tun Dr. Mahathir visited Mitsubishi's Okazaki plant to view two proposed designs by Mitsubishi – codenamed LM41 and LM44.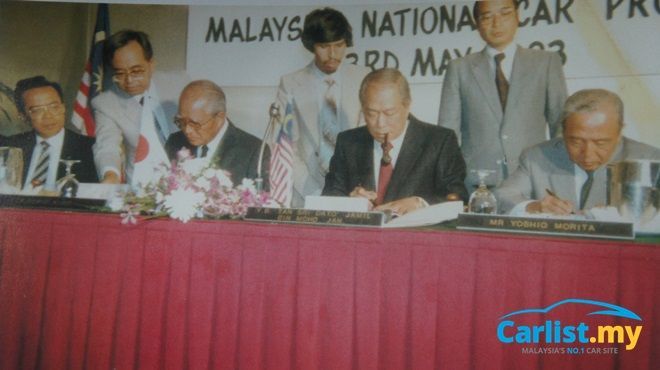 23-May 1983: Agreement signed between HICOM, Mitsubishi Motors Corporation and Mitsubishi Corporation to kick-start the Proton project. To show its commitment to Proton, Mitsubishi Motors will gradually exit from Malaysia's passenger car market to avoid competition with Proton. Sales of Pajero 4x4 models remained.
July 1983: Public invited to suggest a name for Proton's first car.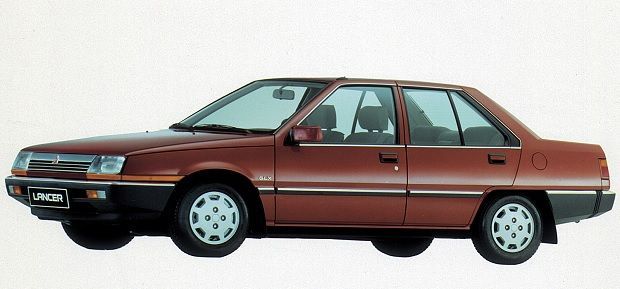 December 1983: The F (final) prototype Proton car, codenamed Perkasa, was completed in Japan. 24 F prototypes were built. It was based on a Mitsubishi Lancer Fiore.
April 1984: Proton prototypes send to Malaysia for durability testing on Malaysian road and weather conditions.
November 1984: The P (production) prototype was signed off in Tokyo. A total of 12 P prototypes were built.
January 1985: Trial production started at Proton's newly constructed Shah Alam plant.
June 1985: A total of RM405.4 million was spent by HICOM to get the national car project going.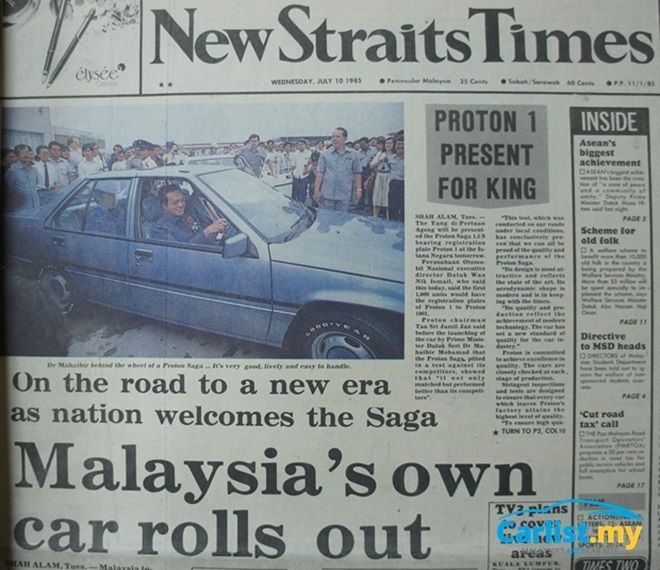 9-July 1985: The first production Proton Saga, bearing registration number Proton 1, was given to the-then Yang DiPertuan Agong Sultan Iskandar of Johor. Tun Dr. Mahathir, as witnessed by the media, test drove a metallic blue Proton Saga 1.5S around Proton's test track in Shah Alam. Full specifications and pictures of the Proton Saga made public. Prices will only be announced during its commercial launch in August.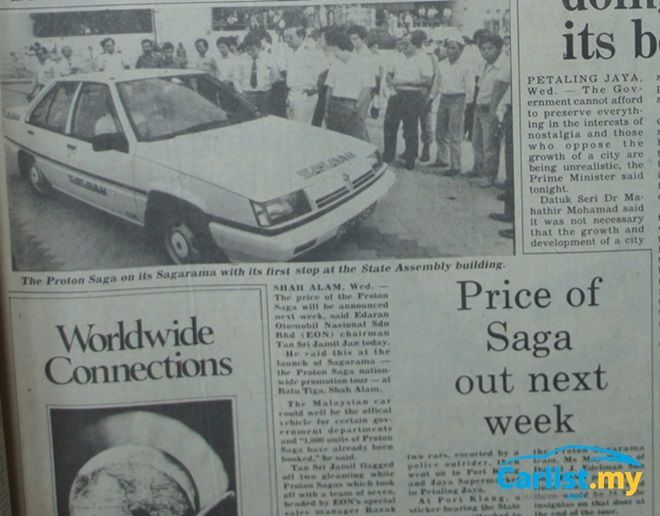 8-August 1985: Two Proton Sagas bearing registration number BCH 1351 and BCH 1352, started on a three week 'Sagarama' nationwide drive across Malaysia, including an airlift to Sabah and Sarawak, as part of a month long pre-launch teaser campaign to demonstrate the durability of Proton cars, which completed the 4,109 km drive without breaking down.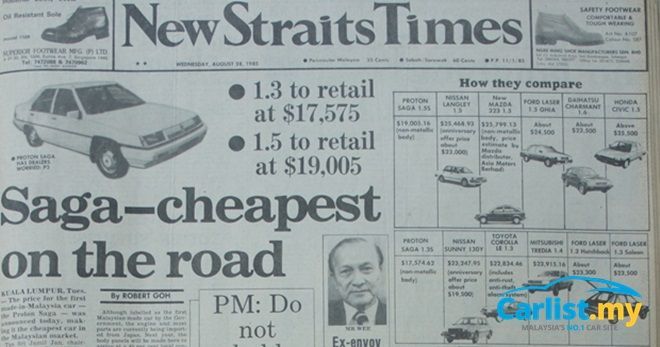 28-Aug 1985: Proton's starting price announced – RM17,575 for 1.3S and RM19,005 for 1.5S. It had an 8-Valve Orion engine from Mitsubishi.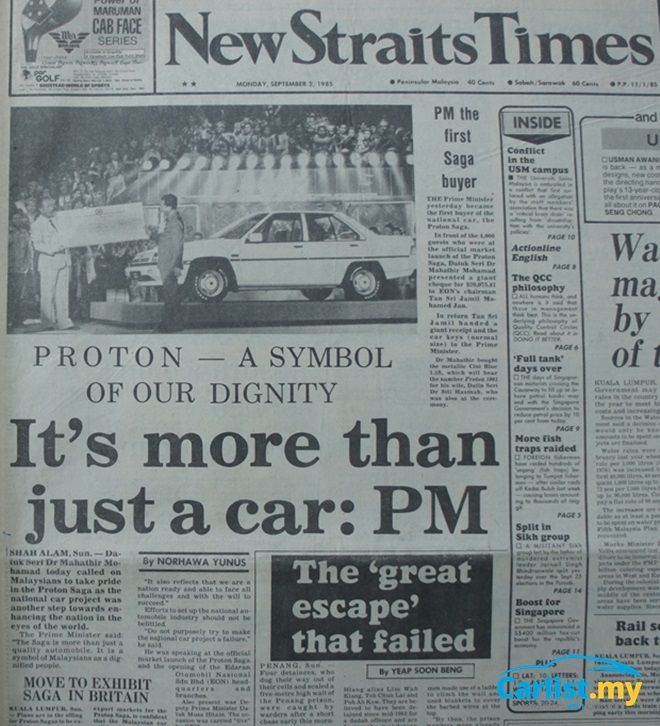 1-September 1985: Tun Dr. Mahathir became the first paying customer for a Proton Saga when he took delivery of a metallic blue Proton Saga 1.5S, bearing registration number Proton 1001, as a gift to his wife Datin Seri Dr. Siti Hasmah.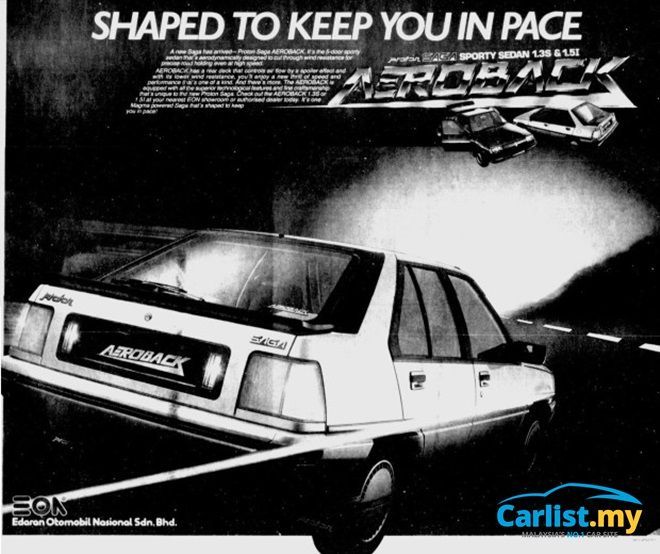 28-October 1987: Hatchback variants join the Saga range – RM20,013 for Proton Saga Aeroback 1.3S and RM23,905 for 1.5I. It was in this year where the Saga facelift was launched – with new bumper claddings, and a new 8-valve Magma engine to replace the previous model's 8-valve Orion unit.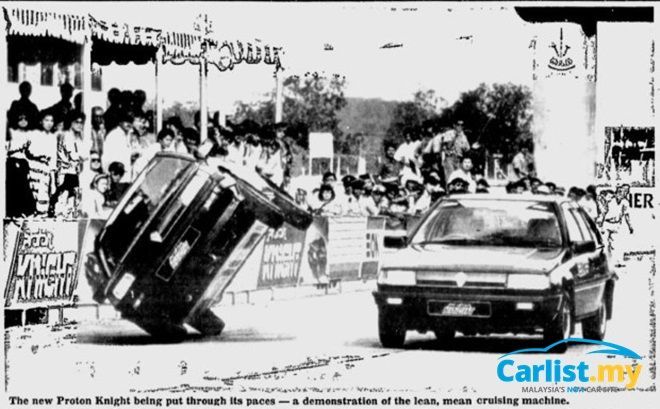 8-March 1989: Proton Saga Knight replaces Aeroback variants.
March 1989: Export to UK begins, achieves 5,000 sales within just six months. In comparison, Hyundai took 1.5 years to achieve the same. The UK-specifications Proton Sagas feature a different dashboard to comply to European environmental and safety regulations, and an optional sunroof.
March 1989: Britain's Daily Mail voted Proton Saga as Top-10 economy cars in the UK, beating Hyundai Pony.
20-October 1989: AutoCar UK's review of the Proton Saga reads "It proves to be an unexpectedly competent effort; it is very well equipped, handles well and rides acceptably, with brisk performance and good build."
12-August 1990: The Saga received its second facelift, featuring new headlights, radiator grille and a 12-valve Megavalve engine.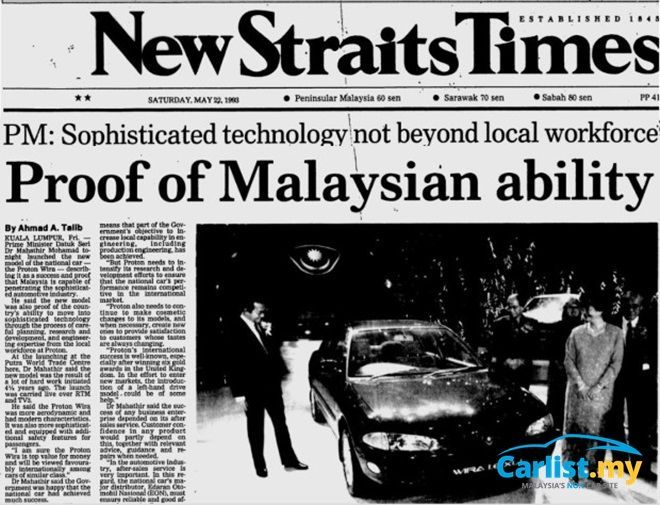 21-May 1993: Proton Wira launched, with a six-month waiting period. Wira 1.6 AT – RM54,306, Wira 1.5AT – RM42,301, Wira 1.5 MT – 39,278.
1994: Proton outsold Hyundai and the Volkswagen-owned Seat in UK for two consecutive years, becomes one of UK's fastest growing brand.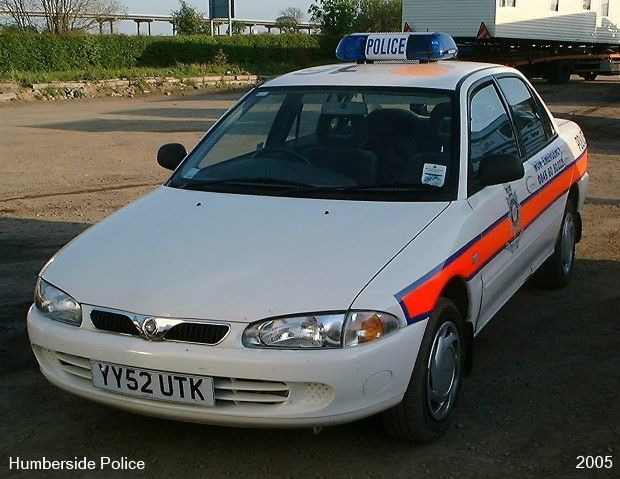 1994: Proton becomes the only non-European car manufacturer selected by the British Home Office to supply cars to the British police force. Image from Flickr.
12-November 1994: Proton Satria launched.
January 1995: Proton Perdana launched – RM92,755
30-October 1996 – Proton acquires Lotus Group.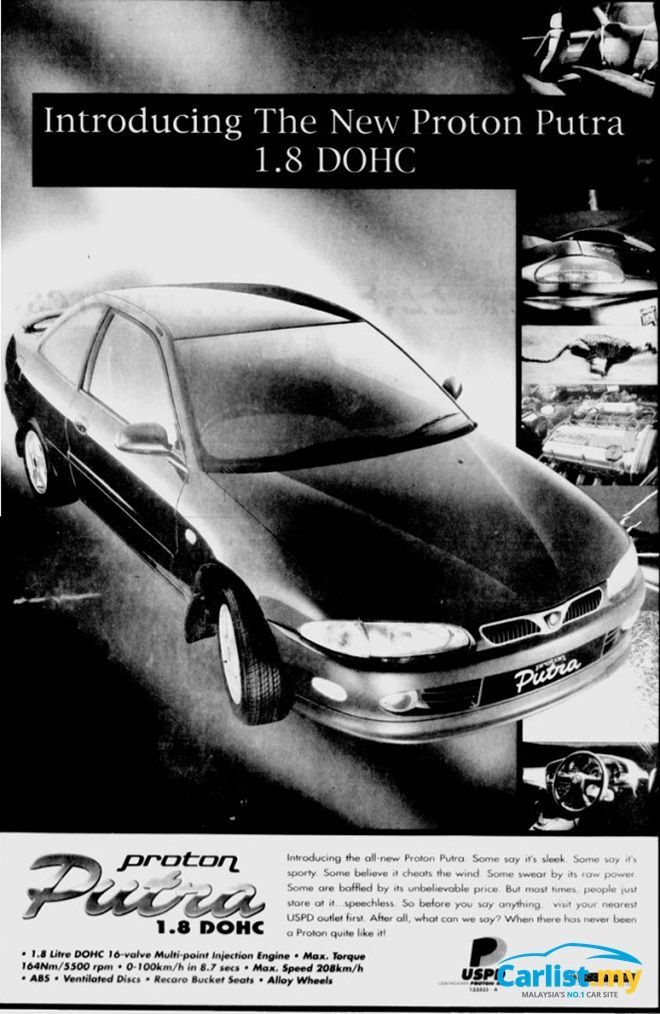 March 1997: Proton Putra launched.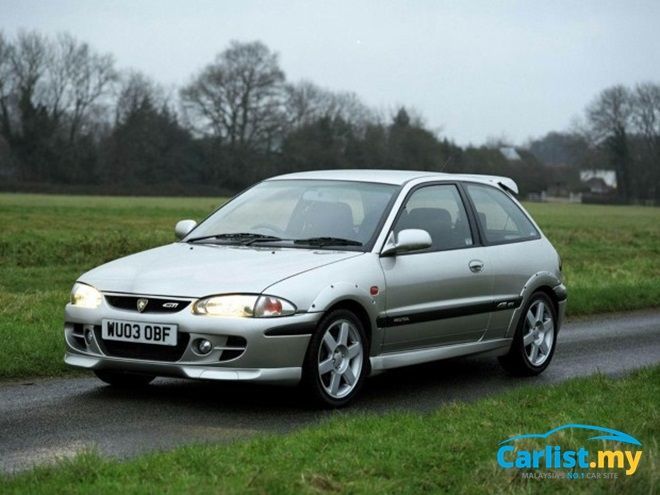 December 1999: AutoCar UK and Evo UK rated Proton Satria GTi to be better than a Peugeot 206 GTi.
April 1996: Proton Tiara launched at RM36,000.
May 2000: Proton Waja launched – RM58,000 base specs, RM63,000 high specs.
November 2002: Proton Waja 1.8X launched.
March 2003: Proton Perdana V6 launched.
6-February 2004: Proton Gen.2 launched – RM52,888 to RM55,888.
19-June 2006: Proton Satria Neo launched – RM43,500 to RM54,800.
8-June 2005: Proton Savvy launched – RM40,970 to RM43,714.
15-August 2007: Proton Persona launched – RM44,999 to RM55,800.
18-January 2008: After multiple facelifts (Saga Magma, Saga Megavalve, Saga Iswara), the Saga was finally replaced by an all-new model, commonly referred to as the Saga BLM.
15-April 2009: Proton Exora launched – RM69,998 to RM75,548.
16-April 2012: Proton Preve launched - RM59,540 to RM72,990
17-Aug 2013: Proton Suprima S launched - RM76,668 to RM79,638
25-September 2014: Proton Iriz launched - RM42,438 to RM62,888
Read also:
Remembering The Late Datuk Gurcharan Singh – A True Malaysian Who Made Proton A Success In The '80s
Proton To Launch Three New Models Next Year, Perdana To Lead Revival Charge
---
---
---
Comments