AD: Low Interest Rate Promotions And Why It Matters
Auto News For the majority of consumers, buying a new car is only possible with financing. Technically, auto financing should be referred to as hire purchase rather than car loan, because unlike a home loan, your car is not given as a collateral to the bank. Instead, the bank owns your car until you've settled all outstanding charges.
However for the sake of simplicity and ease of understanding, we will continue to refer to hire purchase for cars as a car loan.
In many ways, choosing the right financing option for your new car is just as important as choosing the right car.
Before deciding on the best option, it is important that you have a clear, detailed record of your monthly expenses, and how much you can put aside for your car.
Remember that maintaining a car involves more than just about paying your monthly installments and fuel. There are also other costs like annual insurance and road tax cost, as well as servicing cost.
Next, the two most basic elements of auto financing are interest rate and tenure period. While one can stretch the financing period to 9 years to lower your monthly repayment, it's not recommended because you will be paying a lot in interest charges.
Not many realize that a RM80,000 loan spread over a 9-year period, at a typical rate of around 3%, will incur over RM21,000 in interest charges! That's nearly enough for you to buy a brand new base model Perodua Axia! This is why longer loan tenure periods are not a wise option.
At the same time, it also goes to show why you should take advantage of low interest rate promotions.
Let's take Volkswagen's on-going Year-End Sedanza promotion for example, which offers interest rates of as low as 0.28%. It's nearly as good as borrowing money with near zero cost.
The table below illustrates several borrowing scenarios for a Volkswagen Vento.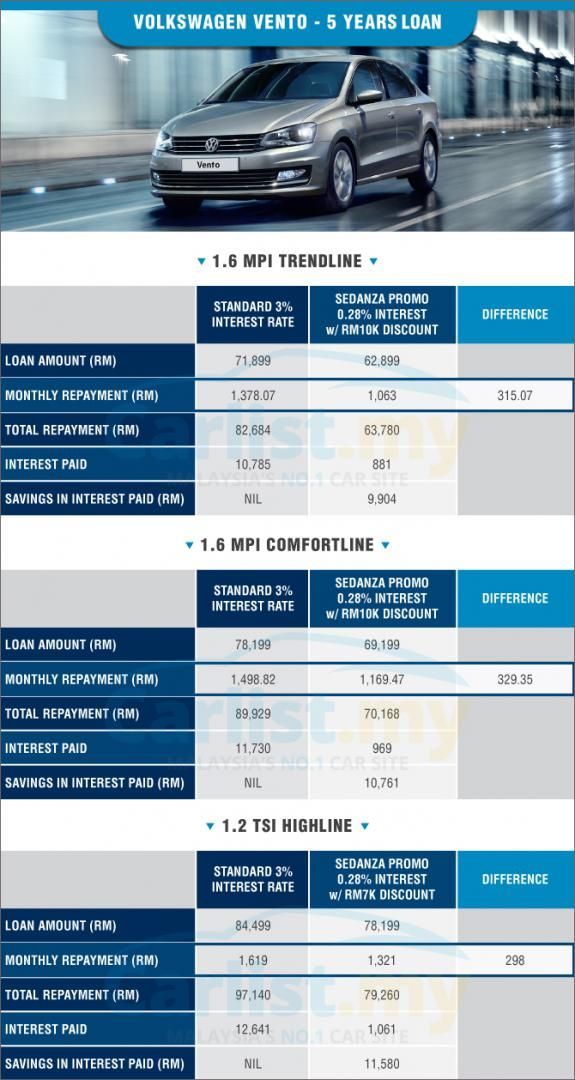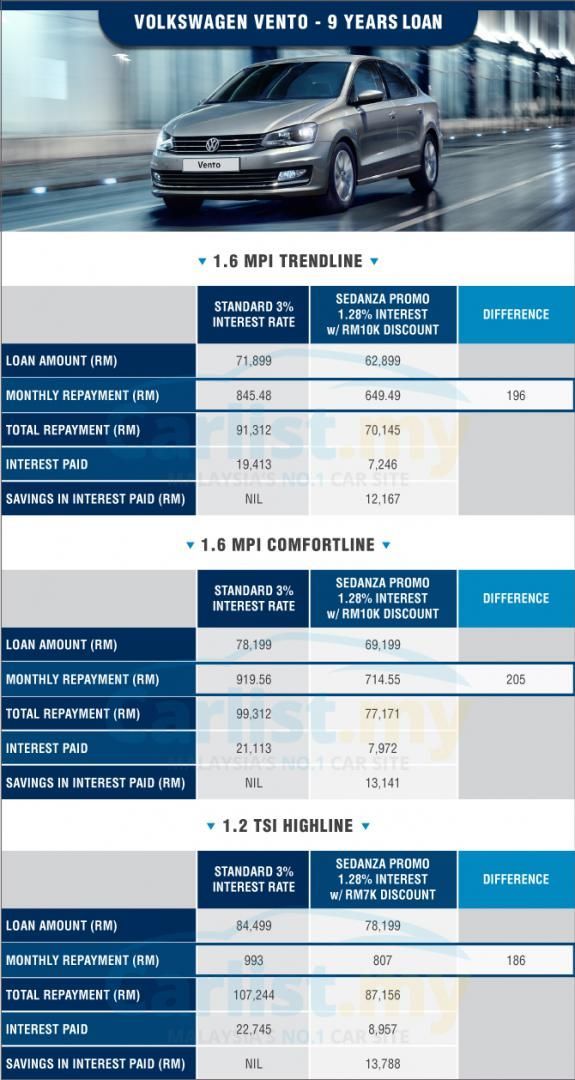 Prices for the Vento starts from RM79,888 for the Vento 1.6 MPI Trendline but under Volkswagen's Year-End Sedanza promotion, buyer of the Vento Trendline stand to gain from a very significant RM10,000 discount, bringing its price down to RM69,888.
On top of the discount, Volkswagen will arrange for you the buyer financing packages with interest rates as low as 0.28% (five-year loan).
Compared to standard financing options during off-promotion periods, the low interest rate deal saves you an additional RM200 to RM300 every month, depending on the loan tenure period. For most people, that equals to free petrol every month, with change left for toll.
Further savings are also possible with the higher range Vento Comfortline and Highline.
On top of this, the Vento also comes with a 5-year manufacturer backed warranty and a 5-year free service package. This means that for the next five years, you pay nothing for maintenance apart from filling it up with petrol, changing the tyres, battery, wipers and brake pads.
The 5-year free service package is worth close to RM6,000, bringing your total savings to between RM15,000 to RM18,000.
Think about that – you buy a car with near zero borrowing cost, and with the monthly savings in instalments, you could balance your budget so you no longer pay for petrol and toll, while maintenance is already covered by Volkswagen for five-years.
Think of what you can achieve with the RM15,000 to RM18,000 savings gained can contribute to your retirement savings, investment funds, or children's education fund.
The promotion is also applicable for the Volkswagen Passat and Jetta (1.4 TSI Comfortline only), as illustrated in the table below: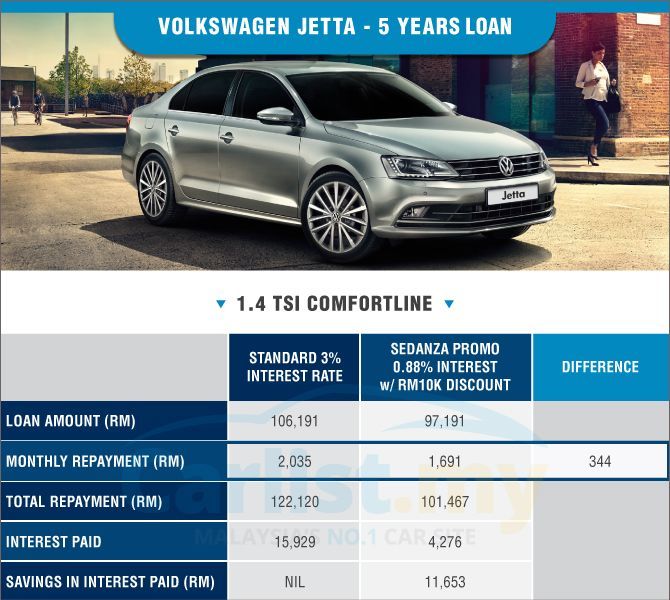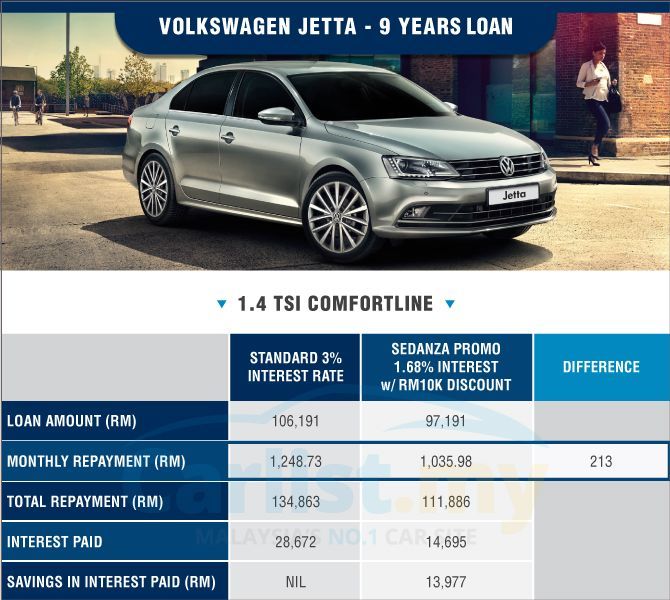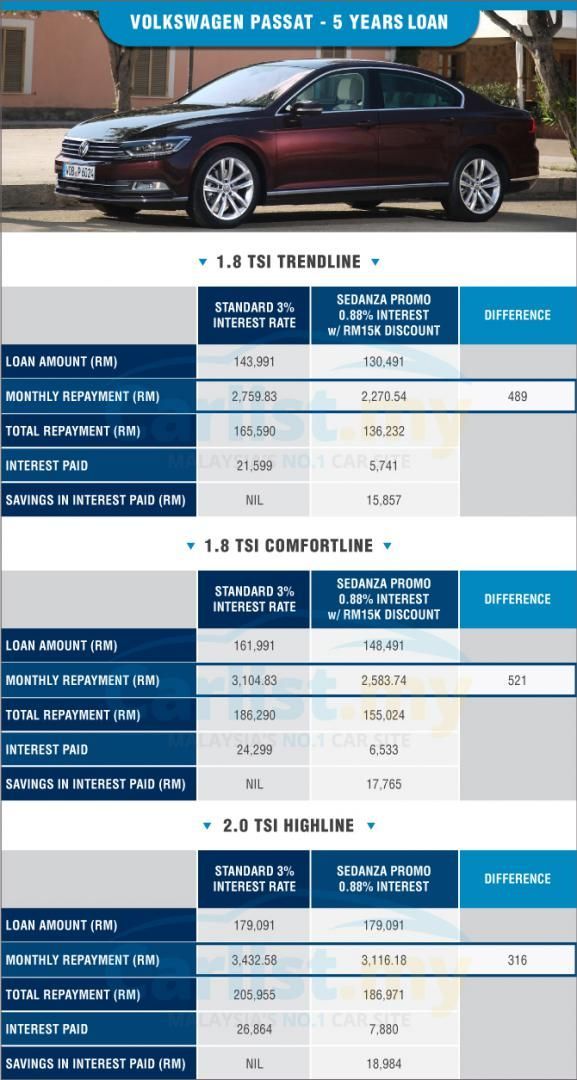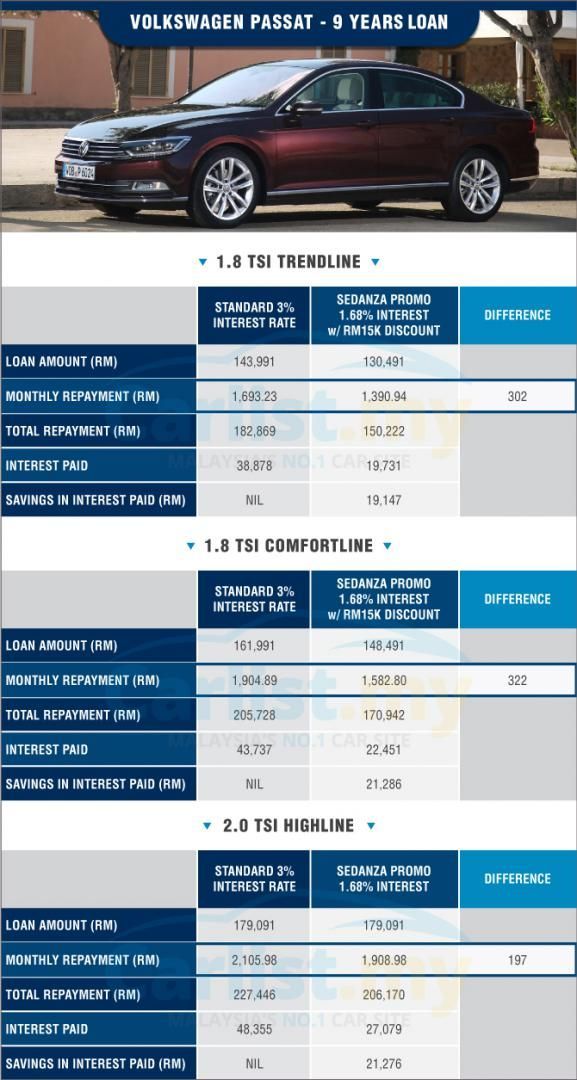 Like the Vento, both the Jetta and Passat are covered by a 5-year free service package, which is worth about RM5,000 and RM6,000 respectively, raising the total savings to up to RM18,000 for the Jetta and RM25,000 for the Passat.
For more information about the Volkswagen's Year-End Sedanza promotion, go to www.volkswagen.com.my or visit your nearest Volkswagen dealer.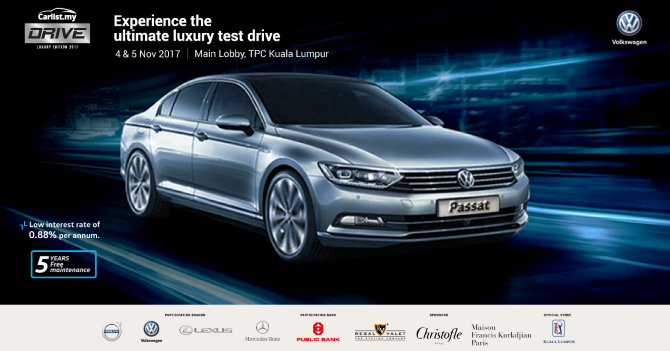 Alternatively, prospective buyers in Klang Valley are invited to test drive a range of Volkswagen models at the Carlist.my DRIVE: Luxury Edition 2017 test drive event this weekend at TPC Kuala Lumpur. More information can be found here.
---
---
---
---
Comments