ADAS Systems – Do they really Help or Just Interfere?
Insights The American Automobile Association (AAA) recently reported that over the course of about 6,500 kilometres of real-world driving, vehicles equipped with active driving assistance systems experienced some type of issue every 13 km, on average.
---
Among the features that fall under the ADAS systems include:
Adaptive Cruise Control
Collision Avoidance System
Blind Spot Monitoring
Electric Stability Control
Driver Monitoring System
Drowsiness Detection System
Lane Keep Assist
Hill-Start Assist
Hill-Descent Control
Parking Sensors
Lane Departure Warning System
There are many other features as well, but the ones listed above are some of the ones which we are familiar with.
While these features were once available only on high-end models, they have slowly but surely made their way to more affordable vehicles, including the best-selling car in the country – the 2020 Perodua Myvi.
The new 2020 Perodua Myvi, which was just updated with Advance Safety Assist 2.0 just like the Aruz, now comes with Pre-Collision Warning, Pre-Collision Braking, Front Departure Alert, as well as Pedal Misoperation Control.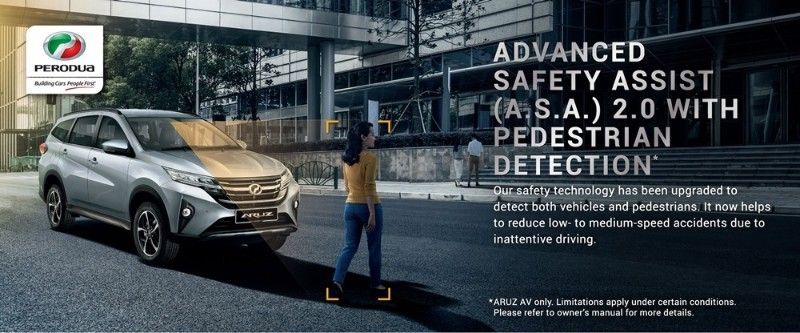 Coming back to the report by AAA - Researchers noted instances of trouble with the systems keeping the vehicles tested in their lane and coming too close to other vehicles or guardrails.
AAA also found that active driving assistance systems, those that combine vehicle acceleration with braking and steering, often disengage with little notice – almost instantly handing control back to the driver.
Now, this is a dangerous scenario if a driver has become disengaged from the driving task or has become too dependent on the system. So, do these systems actually help the driver or do they just interfere with the whole flow?
Most of the features above, which are only classified as Level 2 Active driving assistance on a scale of six (0-5) created by the SAE International, which means that for a majority of drivers, their first or only interaction with vehicle automation is through these types of systems, which according to AAA, are far from 100% reliable.
Now, keep in mind that most of these features have gone through rigorous testing by manufacturers before they actually come to us. So, how is it that they are far from 100% reliable?
According to a few manufacturers we spoke to, there are many factors that affect the performance of these systems. For instance, features like the Lane Keep Assist, and Lane Departure Warning rely solely on sensors which have to detect the white painted lines on the road in order to identify where the lane is. If the lines go missing for a short distance, how is the system going to work?
The moral of the story here is not that these systems don't work or that they can't be trusted, but the fact that they are here purely to assist, and the driver still needs to be the person in charge of the vehicle with 100% concentration and involvement at any given time.
Since we are still some time away from seeing Level 4 or 5 autonomous driving, looks like us humans are still in control, so please pay attention and be safe behind the wheels.
---
---
---
---
Comments