All-New 2016 Audi A4 Sedan, Avant (B9) Unveiled
Auto News As promised, Audi has just taken the covers off its all-new Audi A4 sedan and Avant variants. The fifth-generation (B9) model is expected to make its full metal debut come this year's Frankfurt Motor Show in September, but here's a first look at what's in store.
The all-new A4 is of course firmly sitting on the Volkswagen Group's latest MLB Evo platform – one that will underpin all A4 models from this model upwards. Predominantly a FWD architecture, a lot of weight have been saved by its engineers in the process, making this car not only look sharp, but potentially drive a lot sharper too.
Aiding that approach is a suspension redesigned to incorporate better handling and comfort: new lightweight, five-link front and rear suspension system is on board, along with the latest development of Audi's electromechanical power steering system.
Power has also been massively improved on the new A4 range, with Audi telling us that performance output figures are now up by 25% against its preceding models, likewise 21% better with fuel consumption. A total of three petrol (TFSI and four diesel (TDI) euro 6-compliant engines have been will be made available at market launch, with power figures ranging between 150hp to 272hp.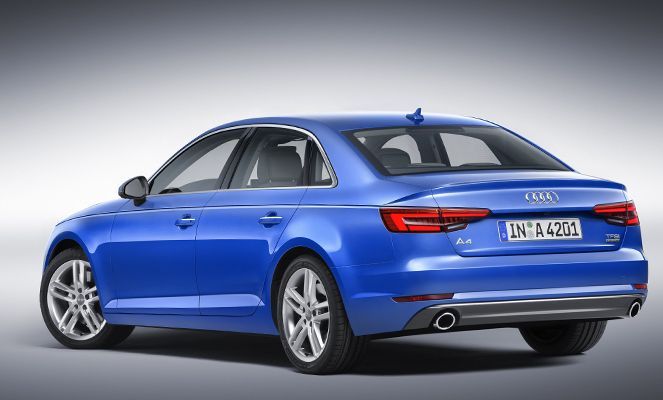 Exterior Styling:
Styling wise, the A4 largely adopts the design language we've seen on the all-new Q7: yes, that means the similarly wide single-frame grille is probably your easiest way to spot new from old. The headlamps are completely new designs as well, offering Xenon plus units as standard, with LED or matrix LEDs as options.
The tail-end of the vehicle has been reworked as well, but not in too many ways to set itself far apart from its predecessor. The trunk lid, multi-faceted 3D design taillamps and rear bumper are all distinctive from old. A total of 96 LED units make up the new rear lighting system (48 LEDs a taillight).
Overall, the all-new A4 is also significantly larger than its predecessor, measuring 25mm longer and 16mm wider: total figures are 4,726mm length, 1,842mm width. The height of the vehicle remains unchanged at 1,427mm – the lowest in the segment, says Audi, while thanks to the new MLB platform, the wheelbase is also longer by 12mm (2,820mm total).
Through its new dimensions, Audi is also claiming the best drag coefficient figures in its class, having achieved 0.23 Cd for the sedan variant.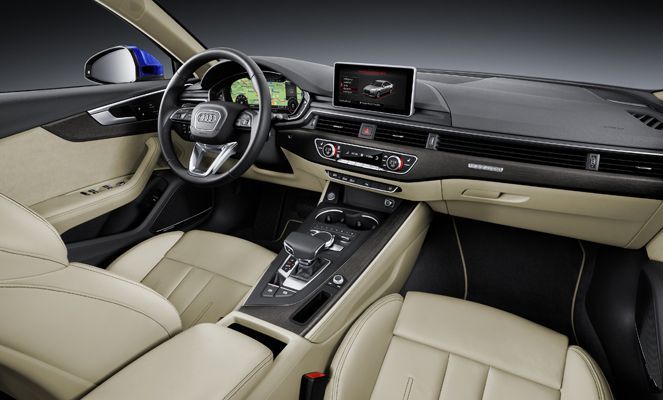 Interior Design:
Thanks to its new, larger exterior body, the A4 is also being pinned by its makers to feature the "longest interior and greatest shoulder width at the front" against its competitors.
New colours and materials are available for greater interior customisation, with a further ambient lighting system available optionally. Most of all, Audi is for the first time offering new 'sport' and 'design' lines equipment concepts. You may also notice that the automatic climate control system features an entirely new interface.
Most eye-catching of all, is the optionally-available Audi virtual cockpit, which like you've seen in the all-new TT here in Malaysia, is mesmerising with its highly customisable displays, courtesy of the 12.3-inch LCD display screen that displaces the standard instrument panel.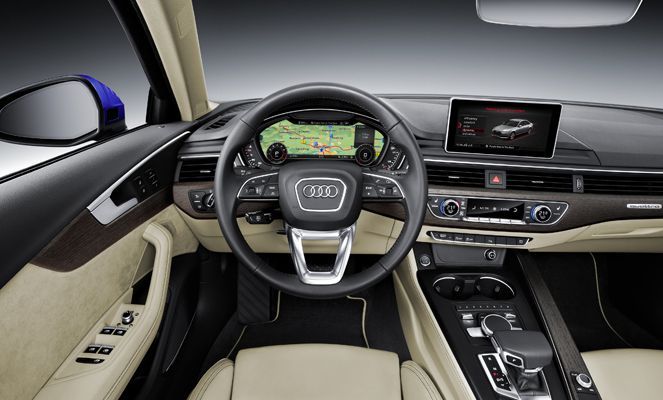 For the infotainment, there's a completely redesigned MMI operating concept, which now comes with a free-text search function, and a new "more natural" voice-control system" that understands more normal, everyday language voice inputs.
Choose to specify the optional MMI Navigation plus with MMI touch, and you'll also be in for an 8.3-inch monitor, with the touchpad located within the rotary dial knob – just like you'd have it in the BMW iDrive system. The MMI Navigation plus also features LTE network capabilities.
TABLET: For those who desire further infotainment optimisation, Audi is including its new, removable, tablet computer system for rear passengers. To be used also as a rear entertainment system, the 10.1-inch display connects with MMI Navigation plus via Wi-Fi, allowing access to the menus of the radio, media, navigation and car functions.
For example, the rear-seat passengers can send a planned route to the driver, or the driver can start a radio or media program for them. Sound output is through the car's sound system or through headphones.
The Android-based tablet features Tegra 40 processor from NVIDIA. The 32-gigabyte internal memory can be extended with micro-SD cards.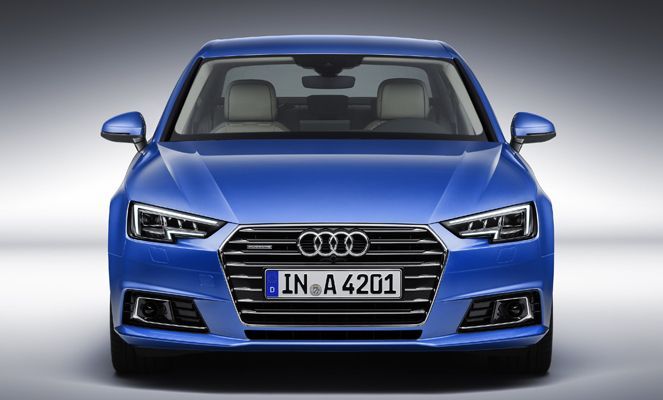 Performance & Powertrains:
At market launch, the all-new A4 will offer three petrol (TFSI and four diesel (TDI) Euro 6-compliant engines with power outputs ranging from 150hp to 272hp. As mentioned, the range of units have been updated to reduce fuel consumption by 21% and increase performance by 25%.
The auto start/stop function has been improved to now be able to shut off the engine at 7km/h upon deceleration to a stop. This is applicable for all engine variants, apart from the top-spec 3.0 TDI, which can perform the feat at 3km/h.
The baby of the engine family offered by the all-new A4 is a 1.4-litre TFSI (turbocharged) four-cylinder petrol engine. Power outputs for this new base model are 150hp and 250Nm of torque, with max torque kicking in at 1,500 to 3,500rpm. This is enough to propel the A4 1.4 TFSI from 0 to 100km/h in 8.9 seconds.
Two 2.0-litre TFSI models are available as well, with the more powerful version developing 252hp and 370Nm of torque, while the lower output version making 190hp and 320Nm.
The 2.0-litre TFSI feature a new innovation from Audi, who explains, "Its technical refinements are the exhaust manifold integrated into the cylinder head, the rotary-valve model for thermal management, the Audi valve-lift system (AVS) for the outlet valves, the electric wastegate of the turbocharger and the dual fuel injection. In partial load, indirect injection in the inlet manifold supplements the FSI direct injection.
"The intake valves close much earlier than usual; in connection with increased pressure in the intake manifold, this reduces throttling losses during aspiration."
The four diesel-powered variants come in two states of tune each for the 2.0 TDI, and the 3.0 TDI - the latter's top tune pushes up to 600Nm of torque!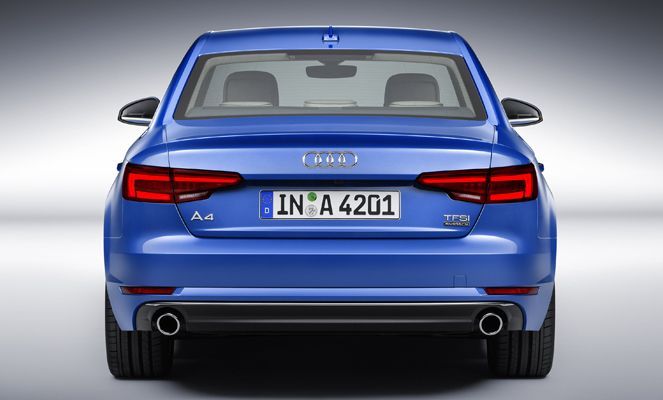 New & Updated Transmissions:
To match its new range of powertrains, the all-new A4 offers a brand-new manual transmission (standard included for all TFSI and TDI A4s in Europe) – something we in Malaysia will most likely not get here.
Focusing on what is more likely to come to this part of the world, Audi has also incorporated its latest seven-speed S tronic to all A4 versions excluding the top-spec 3.0 TDI (that gets an eight-speed tiptronic, which itself has been reworked).
The seven-speed S tronic is a dual-clutch automatic transmission, which takes over from the continuously variable multitronic transmission. Low weight, reduced friction, and highly efficient oil lines are amongst the key developments for the use of this new transmission.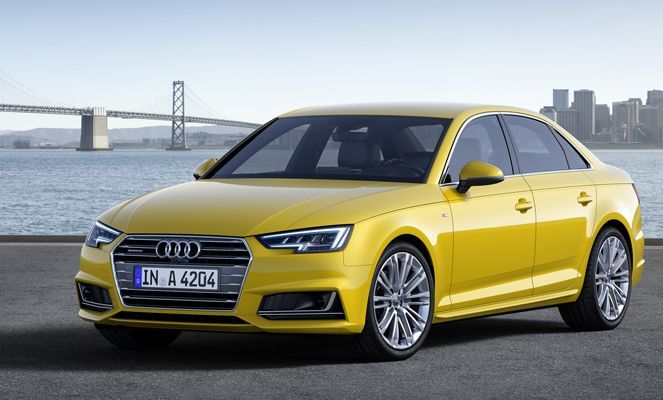 A4 Avant g-tron:
Taking a cue from the A3, the all-new Audi A4 is the second g-tron model to be offered by Audi. Running on natural gas (CNG), the A4 g-tron is powered by a 2.0-litre TFSI engine, which makes 170hp and 270Nm of torque.
The car itself will be available to the market late 2016.
Special gas tanks have been developed for the A4 g-tron, which are located near the rear axle of the vehicle. Audi explains, "They can hold 19 kilograms (41.9 lb) of gas at a pressure of 200 bar and are particularly light thanks to their novel layout.
"The inner layer consists of a matrix of gas-proof polyamide, while a second layer of mixed carbon-fiber-reinforced plastic (CFRP) and glass-fiber-reinforced plastic (GFRP) ensures extremely high strength. The third layer made of glass fiber helps visualize any external influences. Epoxy resin is used to bind the fiber materials."

VIDEO: A closer look at the all-new Audi A4: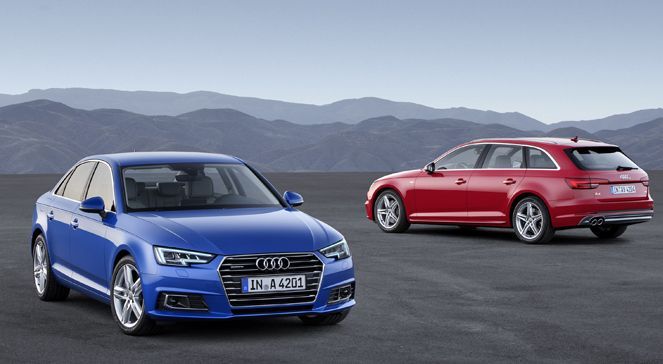 ---
---
---
Comments