Live From Italy: Technical Details Of The All New Audi A4 B9 For The Tech Geek In You
Buying Guides So, to bring you closer to the scene, we've travelled all the way to Venice, Italy; to bring you first hand information on how the all new 2016 Audi A4 drives, whether it's comfortable, and how does it compare to the current Audi A4 B8, and of course how it matches up to its nemesis, the BMW 3-Series, and the new Mercedes-Benz C-Class.

Will it have what it takes to secure its position amidst such strong and convincing rivals? You can read the full test drive here. This page, on the other hand, will be delving into the technical details of the all new Audi A4.

POWER & EFFICIENCY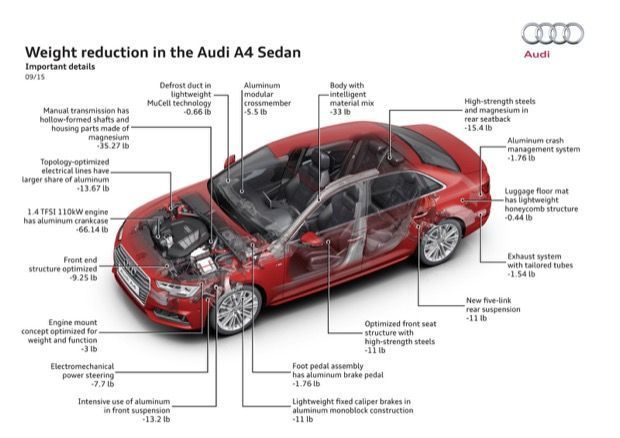 Though bigger in size, Audi managed to reduce the weight of the A4 B9, and at the same time reduced its fuel consumption as well as increase its power output drastically. And last but not least, introduced class leading features while delivering class leading levels of comfort, ergonomics, and handling.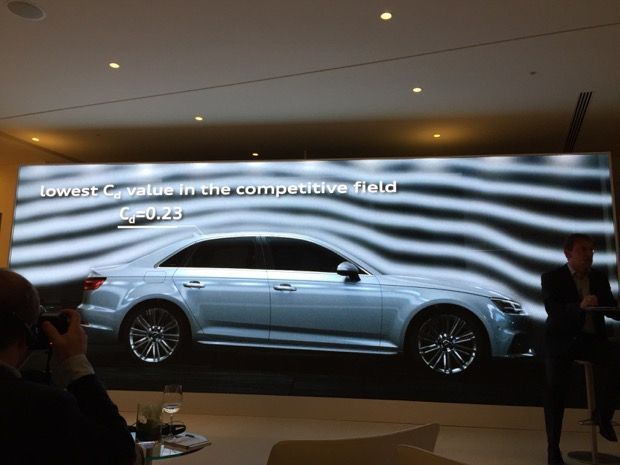 When it came to developing the new A4's drivetrain, Audi gave themselves a target of achieving a 25% overall increase in power whilst attaining a 21% lower fuel consumption figure. To achieve that, Audi spent a tremendous amount of time honing the A4's body in the wind tunnel, thus clothing the new A4 in a body that would give it the world's lowest drag coefficient of any production car, at only 0.23Cd. On top of that, Audi's engineers managed to developed a new range of engines, as listed below.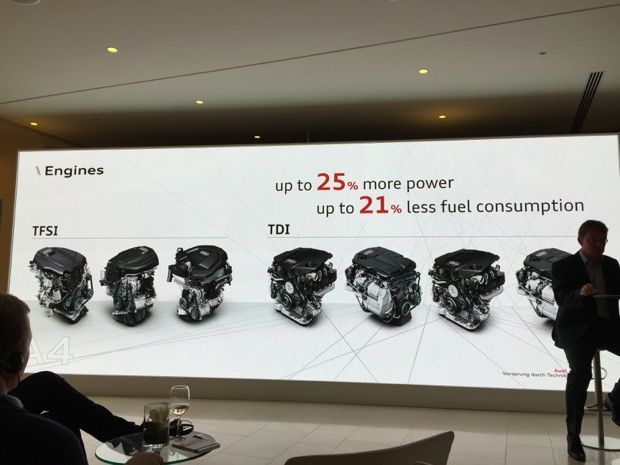 Below are the engines newly developed for the Audi A4 B9:
1.4 TFSI with 150hp and 250Nm
2.0 TFSI with 190hp and 320Nm (ultra)
2.0 TFSI with 252hp and 370Nm
2.0 TDI with 150hp and 320Nm (ultra)
2.0 TDI with 190hp and 400Nm
3.0 TDI with 218hp and 500Nm (ultra)
3.0 TDI with 272hp and 600Nm
One very important new progress Audi has made in developing their new powertrain trange is differentiating their engines that veer towards performance in power delivery, or performance in fuel efficiency. Hence Audi developed the 2.0 TFSI, 2.0 TDI and 3.0 TDI to have an Ultra variant, which employs different measures to save fuel.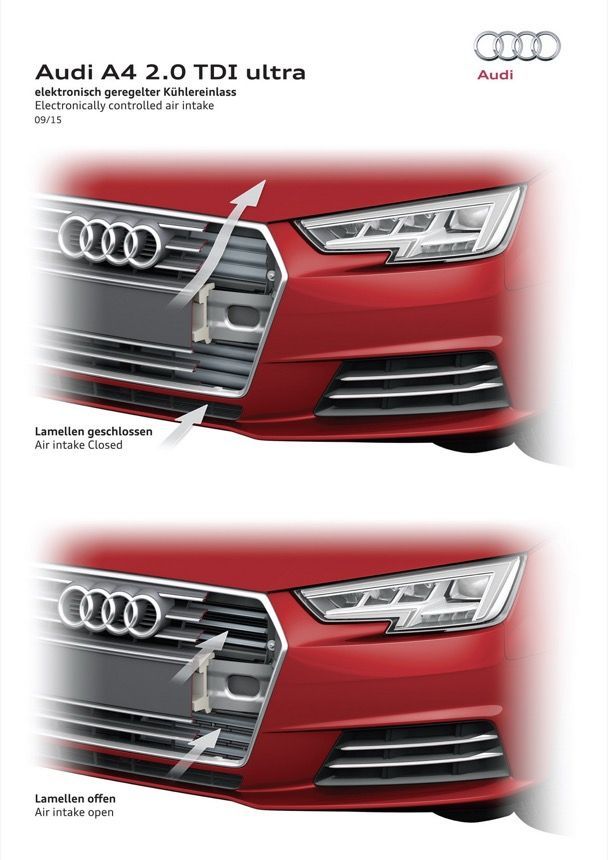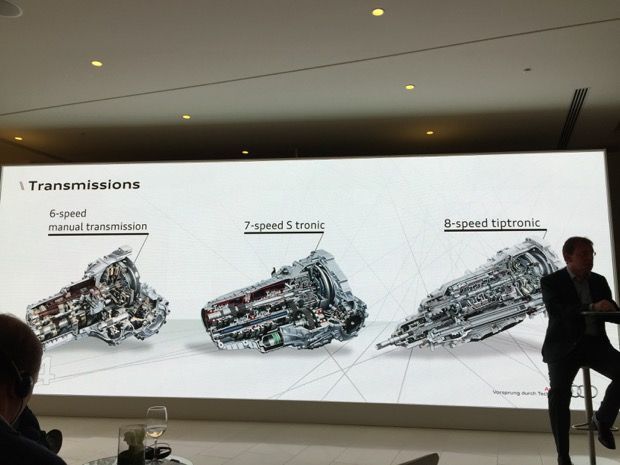 In terms of transmission, Audi has developed three new transmissions, the standard 6-speed manual which was paired to the 1.4TFSi variants they prepared for our test drive, a newly developed 7-speed S-Tronic wet clutch transmission that will be available for all engine variants except the 3.0TDI in its 600Nm tune, and an 8-speed torque converter Tiptronic which is made available only for that 600Nm 3.0TDI variant.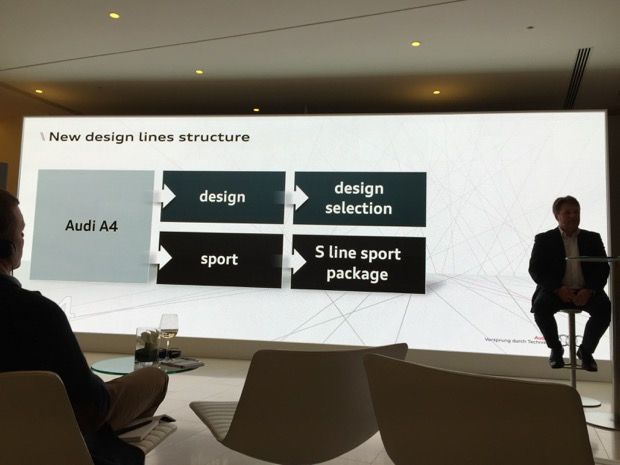 Audi's new ideology for the A4, which I strongly believe will be applied across its entire range, is to include a new Design Line to accompany its established S-Line to have a clear differentiator between owner's preferences. So as the nomenclature suggests, one's sportier, one's prettier. The differentiations between the two 'Line' options is to be seen on the car's trim and fitments. Next up, the party piece of the A4, a first-in-segment feature, the Virtual Cockpit.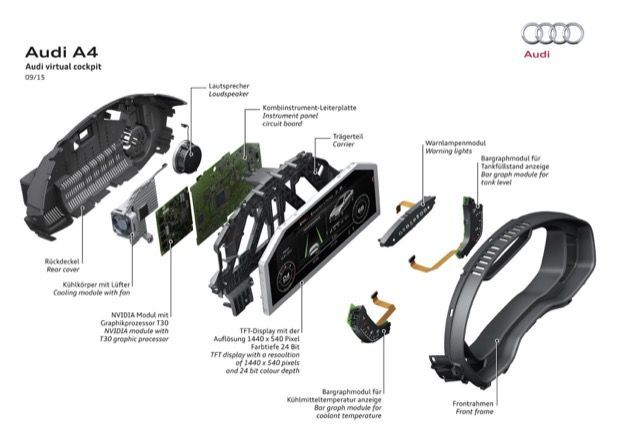 TECHNOLOGY & CONVENIENCE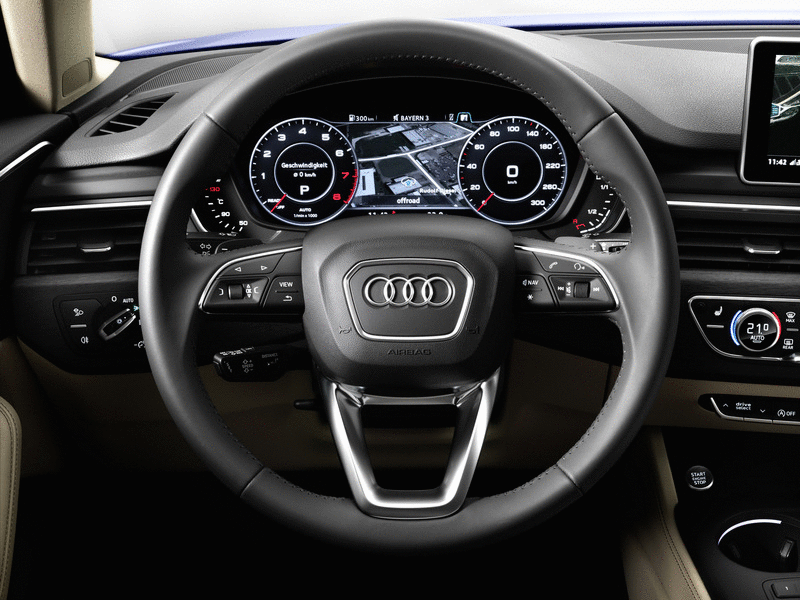 The ambient lighting in the new A4 doesn't just boast a few choices of customisation, but offers a full 30 colour spectrum, which you can mix and match different colour combinations to your liking. You can have blue lighting for the footwell but illuminate the door panels in pink, which is unnecessary, but awesome nevertheless.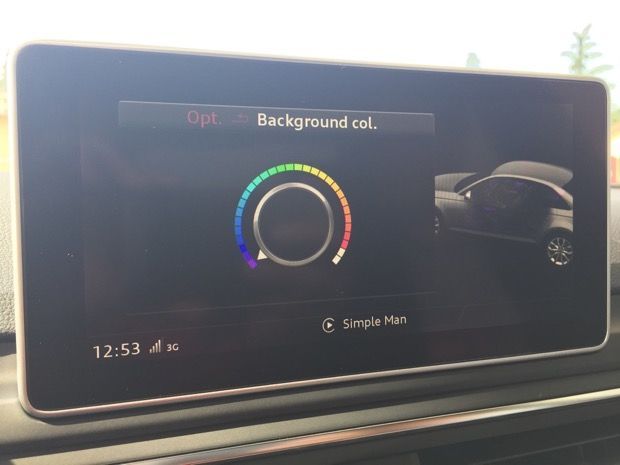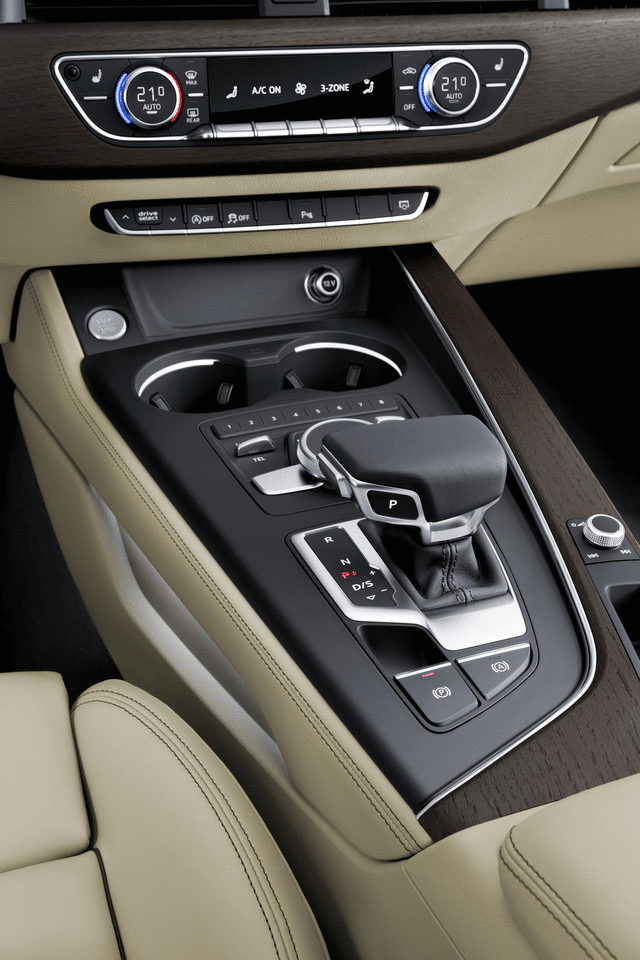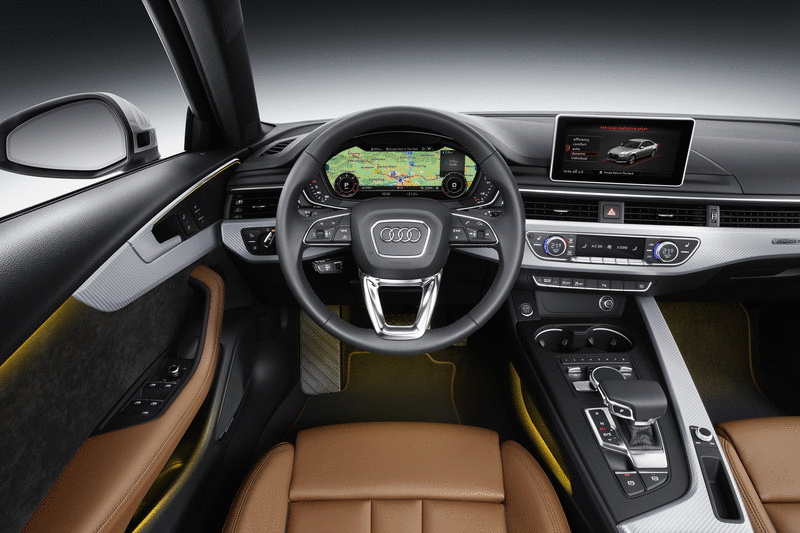 You can also specify the car with the rear seat entertainment Audi tablet. These tablets, which runs on the Android operating system, are detachable and can be used like any other regular Android tablet. Only that these tablets comes nicely finished with a beautiful bezel, and wearing the Audi logo, of course.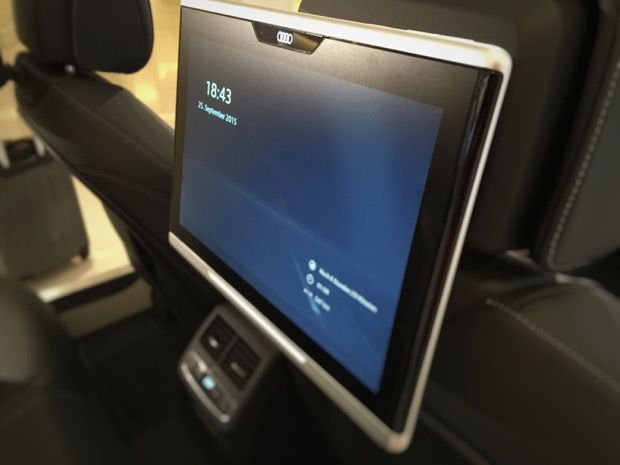 One might be quick to assume that it is a waste of money, but Audi took extra precaution in ensuring its safety and assures us that the rear seat entertainment tablets utilises glass that won't shatter in the event of a car accident, and is much stronger than the already hefty Gorilla glass that is used on regular tablets.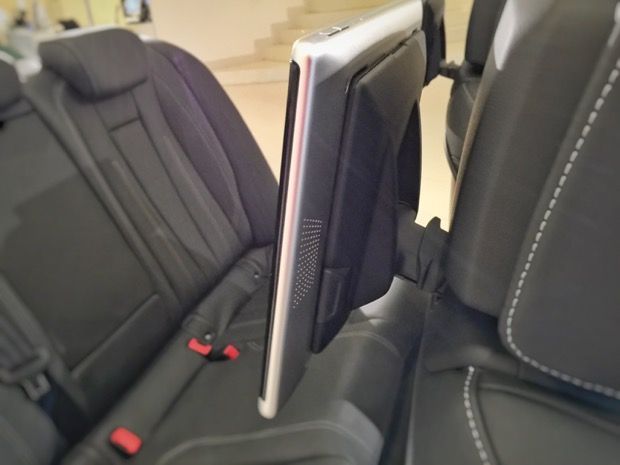 The rear seat entertainment tablets can also access the MMI's shared WiFi connection and access the car's jukebox, but of course certain functions are off limits.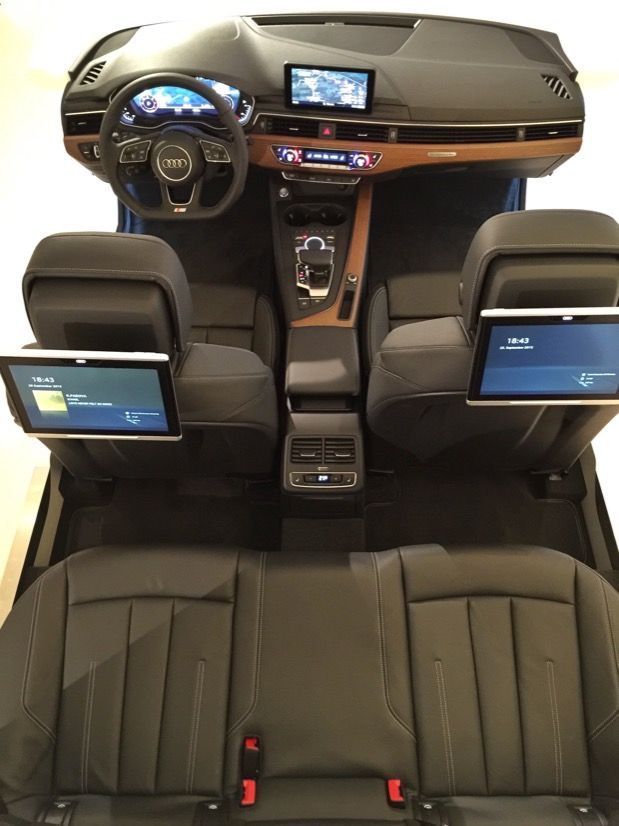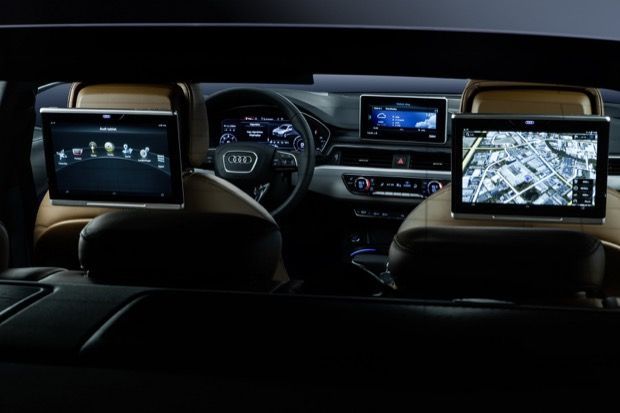 You wouldn't think much of your regular air-conditioning buttons, but Audi's engineers seem to have poured a fair amount of thought and effort into giving it a sophisticated look and feel. The climate control is operated through beautifully crafted metallic buttons on the centre console that are touch-sensitive as well. This is a marked departure from Audi's very familiar climate control systems, which all Audi owners have gotten used to. Key to this rethink in its design was to cater for Audi's new in-car air diffuser concept, which we will go into detail later. Its operational aspects of this new layout is pretty straightforward, the knobs with the integrated LCD displays will show the temperature, and can be adjusted via the circular housing itself. As for the buttons, touching them will activate it's corresponding column's options, and then you either toggle up or down the selection.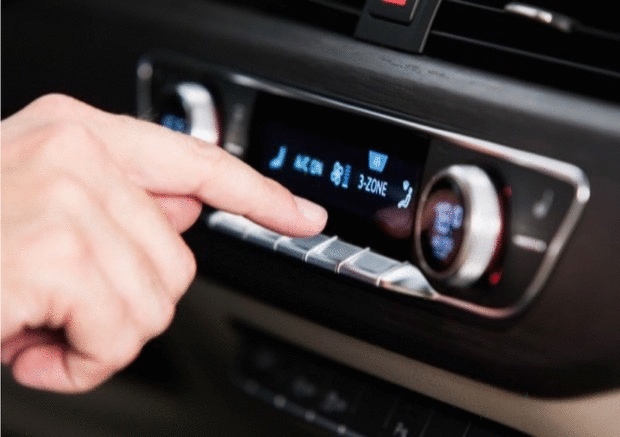 Upon pressing the exact button to choose how you would like the airflow, the diffuser vent (on top of the quattro badge shown in the picture below) is activated. What this does is that it delivers the same volume of air into the cabin, but diffuses that volume of air so that it doesn't blast air directly at the passenger's face. Genius, a first-in-class feature that owes its inspiration from the Volkswagen Phaeton.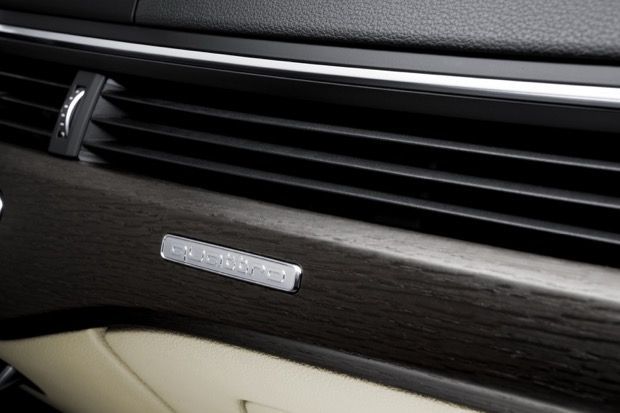 As for the rear passengers, there's now heated rear seats and the temperature control panel. Though considering how much changes and improvements have been done to the dashboard, we feel that this rear panel could've been better designed.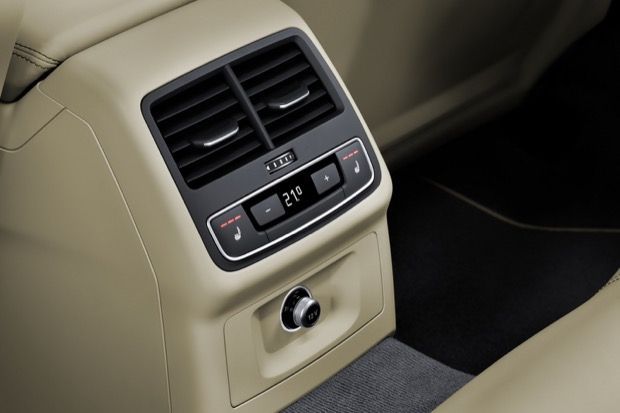 Coming back to the 8.8" centre mounted display, no it is not retractable like it is in the A3. But with everything so neatly integrated into the car's systems and working in tandem with each other, it is unlikely one can operate the car's features entirely without relying on the screen half of the time. And the MMI system controls everything, most impressive of which is overlaying Google Maps into the SatNav. Not only so, you can actually customise a list of newsfeeds into the MMI, and once it receives any news updates, the system can even read the news for you. Serious, it is having your own personal newsreader.
And if you're travelling towards a distant location using the SatNav, you can also recieve information on the weather of the location you're headed too.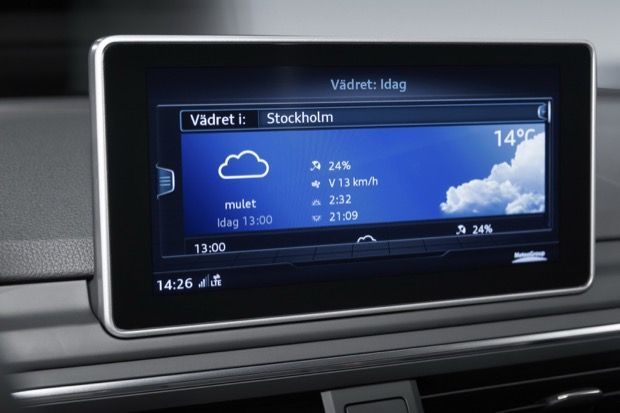 This integration with location based features is the biggest difference Audi's MMI has over its other rivals. In a sense the MMI system has now progressed to a point of becoming 'Smart' or 'Location Aware'. The Matrix LED headlights for instance, can point itself in the direction of an approaching bend, based on the information it has read off the satellite navigation system, well before the driver could dial in any steering movement. Not just limited to lighting tricks, the Adaptive Crusie Control system will also use the information gleamed from the satellite navigation to determine whether to ease off the throttle when a corner is approaching, to save fuel. This is a very clever application of integrated technologies.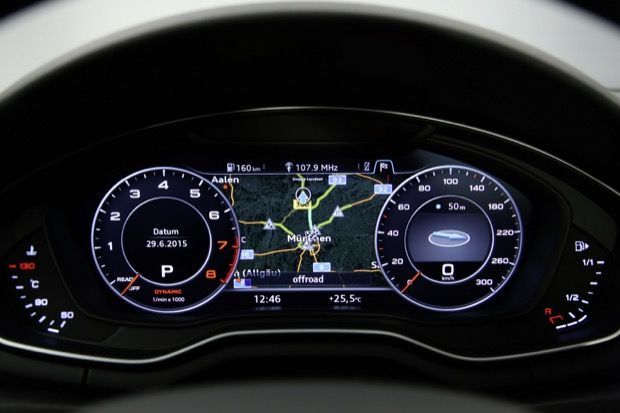 Another awesome feature, is again based on your satellite navigation's location and destination, the car can prioritise which petrol station that is cheapest to refuel at, and singles out stations that are closest to the route planned out in the satellite navigation system when the fuel level runs low. Audi has placed in so much effort into the MMI, that if I were to explore every feature, I won't even have time to drive the car. So here's a quick explanation on everything:
The car interfaces with both Apple CarPlay and Google Play
It also allows you to access to Apple's Siri, Google Now, or Microsoft's Cortana voice assistant
There's an integrated WiFi hotspot, and the car can be set to read out Messages, Emails or Twitters that you have recieved.
Supports Digital Radio and online music streaming
Reads you your news from the RSS feeds (as mentioned)
Checks fuel prices for you that is in your current vicinity or towards your destination (as mentioned)
Checks the weather of the location you're at or the one you're headed to
Information of famous locations are accessible, so if you drove up to something interesting, the MMI can pull information on the point of interest for you to know more (e.g. If you stopped at Trafalgar square in London, and it'll tell you about its significance to the Battle of Trafalgar and how it established Britain's naval supremacy)
Satellite Navigation wise, by overlaying Google Earth, Audi made the best In car satellite navigation system, but still, where is Waze's traffic information and navigation alglorithms?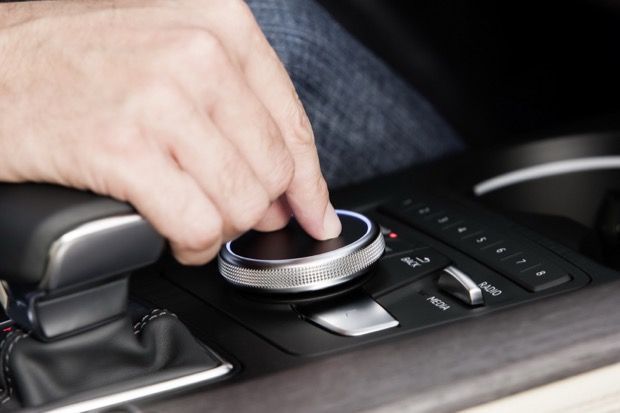 ​To simplify zooming in and out of Google Earth's maps, the touch-sensitive surface of the MMI Touch controller, not only enables handwriting recognition for quick searches, but also employs the same pinch and zoom finger movements that is commonplace on any smartphone or tablets today.
Ok, moving away from the dash, the center console is more or less looks the same, except there is now a Qi inductive charging, a rubberized panel that can be used to wirelessly charge your Samsung Galaxy (iPhones doesn't come with Qi inductive charging features)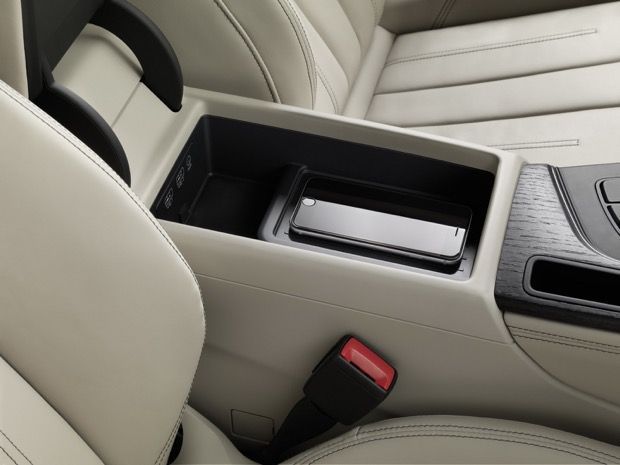 Inside the centre console you would find two USB ports and an AUX port, so that you can plug your mobile devices in and enjoy its glorious recreation on the car's Bang & Olufsen sound system, which is among the best sound systems available in this segment.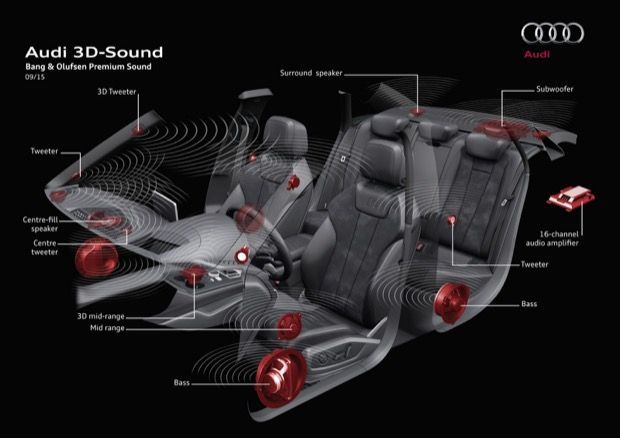 And also one of the ugliest in terms of speaker faceplate design. Seriously?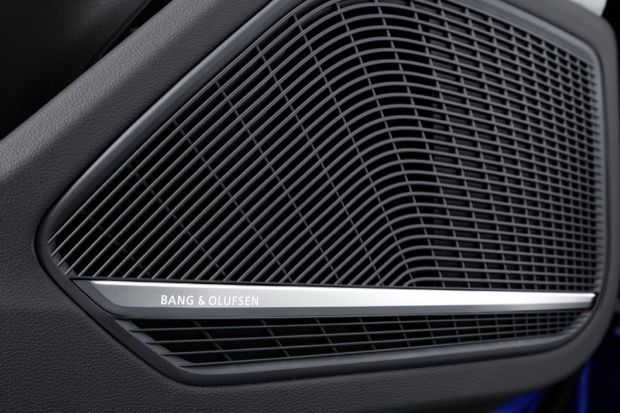 TECHNOLOGY & SAFETY
Now to the heavy technical stuff, the features which Audi has stuffed into the A4 which, infrared red night vision aside, are features that you would find comparable to those fitted in the latest German luxury flagships.
Let's get the ball rolling on the boring stuffs. The new A4 is fitted with so many advanced systems which makes this one of the safest cars out there in terms of active safety systems. And all these safety systems are able to perform their roloes thanks to an advanced software that allows all these systems to talk to each other.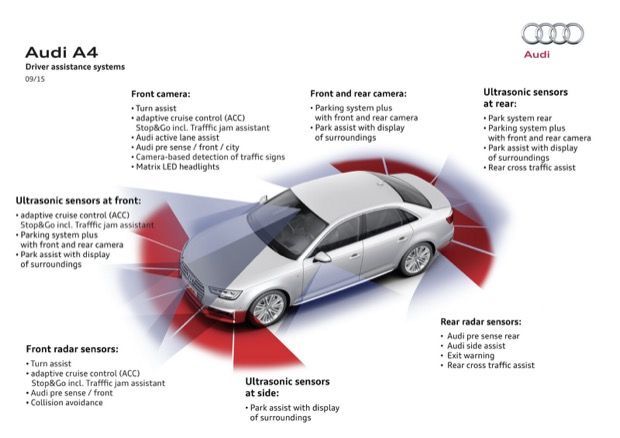 First off, let's have a look at Turn Assist. What this does, is that as you activate your turn signals to turn into a road at a junction, the car will monitor oncoming traffic that is coming down the opposite lane, and prepares the brakes in case the driver made a wrong judgement in anticipating the approaching speed of the oncoming traffic. If the system determines an accident is imminent, the system will automatically apply the brakes. This feature should be able to reduce a huge number of accidents year in year out. Watch the video below to understand more.
The turn assist employs the following features to function, and these features are also working with others to achieve different aspects of the new A4's safety assistance systems.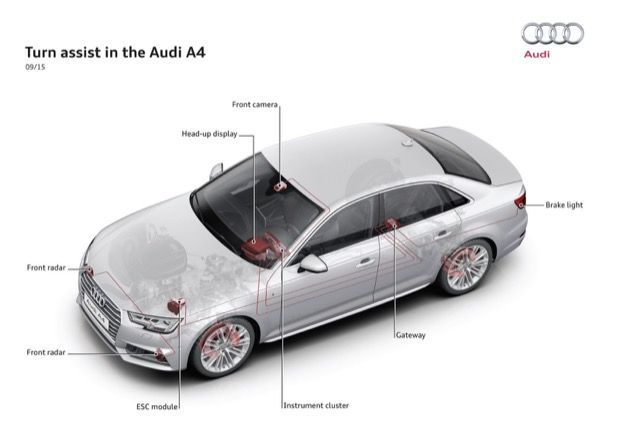 Next up, is the Predictive Efficiency Assistant, which uses the car's satellite navigation as well as the on-board systems to judge whether there's an inclination, or downhill, or a bend coming up to adjust throttle input. Crazy stuff.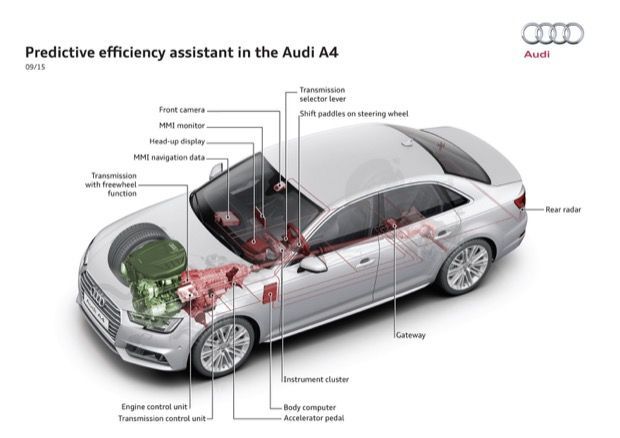 Next up, Traffic Jam Assistant, which literally takes over for you during traffic jam so that the morning rush hour is way less stressful.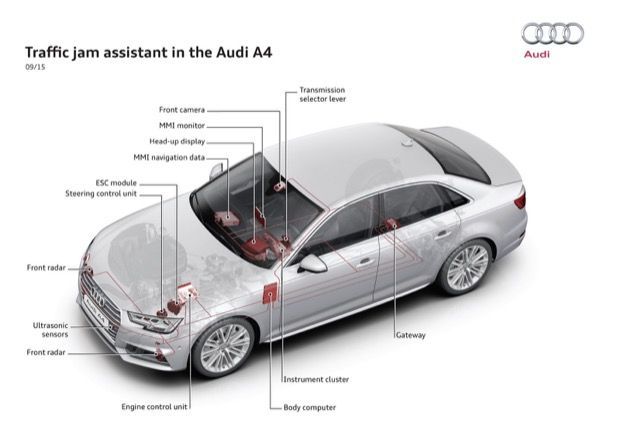 Exit Warning Assistant, which monitors traffic from behind and alarms the driver should it detect an impending danger from an approaching car or cyclist upon alighting the car.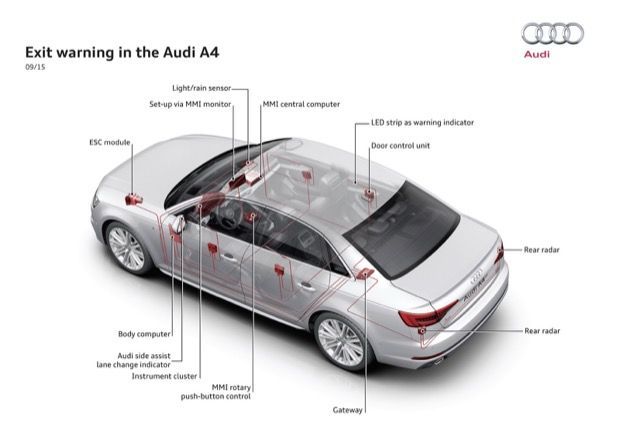 Audi's Pre-sense City Pedestrian Assistant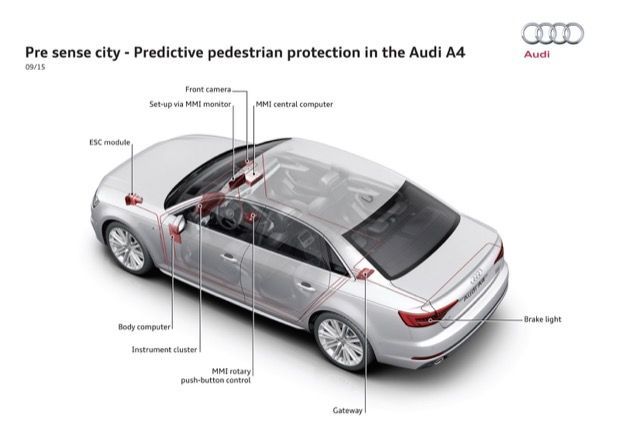 Park Assist System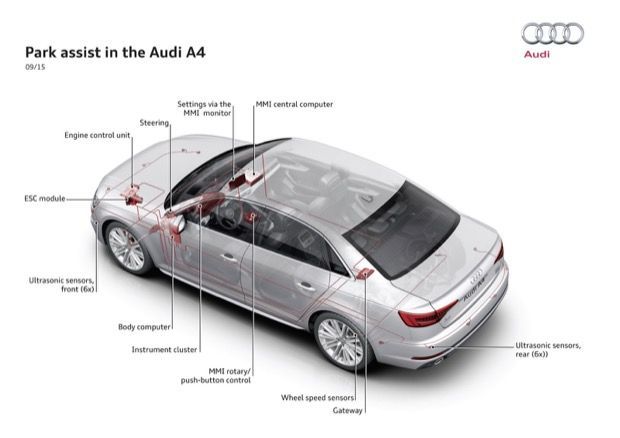 Rear Cross Traffic Assistant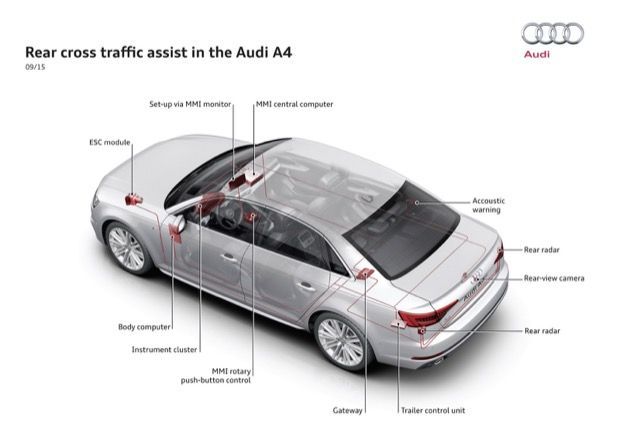 Overall, madness. Now the only question to ask if just what will the car be specified with when it arrives in Malaysia.
---
---
---
---
Comments