All-New Audi R8 Makes Full Debut Ahead Of Geneva Motor Show: Strictly V10
Auto News Aha! Didn't we say this would happen? Spurred by a leak of an official photo, Audi has finally opened up about its all-new second-gen R8 sports car, ahead of its 2015 Geneva Motor Show debut.
As expected, the R8 will no longer offer a V8 engine, making up for things with a choice of two V10 variants: the R8 V10, and the R8 V10 plus.
"The new R8 V10 plus is therefore the most powerful and fastest series-production Audi of all time," says Prof. Dr. Ulrich Hackenberg, Board Member for Technical Development. And they're right.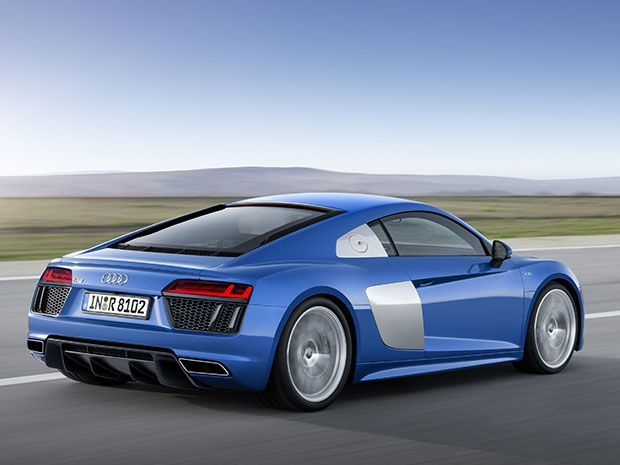 The lesser, if you will, of the two variants features a 5.2-litre FSI V10 petrol engine which makes 540hp and exactly the same number of Nm of torque at 6,500rpm. 3.5 seconds is what it'll take to hit 100km/h, and then on it's a top speed of 323km/h to chase.
The R8 V10 plus (they aren't even capitalising the plus here), makes 610hp and 560Nm of torque, also at 6,500rpm. The range-topper requires no more than 3.2 seconds to reach 100km/h, and features a top speed of 330km/h.
Tough luck for the purist because it's bye-bye manual transmission: Only a seven-speed S tronic is available. There is however, an updated quattro all-wheel drive system to help put its power down to the road. Audi tells us that in extreme conditions, 100% of the engine's torque can be delivered to either the front or rear wheels, if needed.
Built on a new multimaterial Audi Space Frame (ASF), Audi has managed to shave off 50kg of its all-new R8 against its predecessor. The new ASF features a combination of aluminium and carbon fibre reinforced plastics (CFRP), which also improves the sports car's overall rigidity and crash behaviour. You'll also find this architecture underpinning the Audi's Italian cousin, the Lamborghini Huracan.
Audi promises a lot of design changes to its exterior design, and while the car does look fresh, it's still a bit too familiar for our 'nit-picky' liking. Bits here and there have been reworked (like the iconic side blades which have been split in half, and a whole new front-end appearance), but the first-gen R8's familiar silhouette remains untouched. In all fairness, the car has in fact grown, in width, specifically, by 1.6-inches…
LED headlamps are now standard across both variants of the car, but if it's the laser headlamp tech that you want, that's be at an extra cost to you.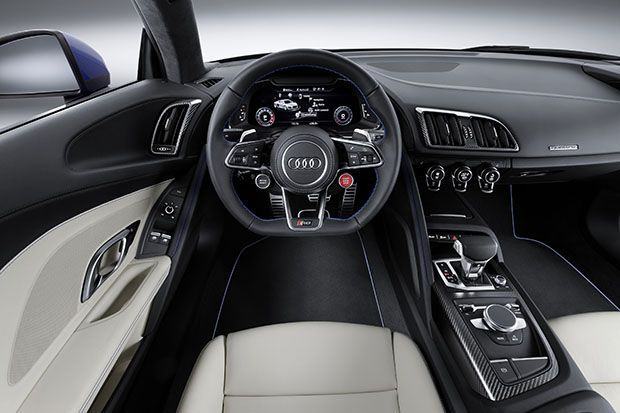 Inside, Audi's virtual cockpit is prevalent, with a 12.3-inch display screen housing all the information you need, reserved solely for the driver's view. Different modes will display a digital instrument cluster, while in performance modes, various driver programs and telemetry can be drawn up.
Audi R8 e-tron: The electrified sibling…
No images of this all-electric R8 have been revealed yet, but Audi will be showing off its R8 e-tron at the coming Geneva Motor Show as well. The e-tron will manage a range of 450km on a single charge, courtesy of its 92kWh T-shaped battery (almost doubled in capacity) which is located to the rear of the vehicle's transmission tunnel.
Using all the CFRP material seen on the regular R8, the e-tron will benefit from the material providing better energy absorption in the event of a crash.
Describing its performance characteristics, Audi tell us that, "The power is now twice 170 kW and the maximum torque twice 460 Nm (339.3 lb-ft). The R8 e-tron 2.0 accelerates from 0 to 100 km/h (62.1 mph) in 3.9 seconds on its way to an electronically restricted top speed of 210 km/h (130.5 mph) or 250 km/h (155.3 mph)."
On top of being available to customers, the new e-tron will also function as a "mobile high-tech laboratory" which Audi says will help in their development of a sedan character. Hmmm… what are you up to, Audi?
---
---
---
---
Comments