Berjaya Sompo Aims For Top-5 Ranking By 2020, Offering Japanese-level Customer Care
Auto News General insurance provider Berjaya Sompo, a joint venture between Sompo Japan Nipponkoa Insurance and Berjaya Group, has announced its ambition to become one of the top-five general insurance providers in Malaysia by 2020.
Supporting this ambition is a range of initiatives aimed at making Berjaya Sompo's products more user friendly, as well as evolving its brand image.
Mr. Tan Sek Kee, CEO of Berjaya Sompo said, "Customer feedback is key to product innovation and this allows us to incorporate solutions into products that customers value and want. We execute this by listening to customers and gathering data trends through consumer surveys and market research. Ultimately, Berjaya Sompo is working towards improving the overall experience and journey for all customers across different touch points."
The company has simplified its products and purchase processes, removing confusing terminologies and streamlining optional add-ons, while embracing digitization to allow it to reach out to new customers and service them irrespective of their distance from the nearest Berjaya Sompo branch.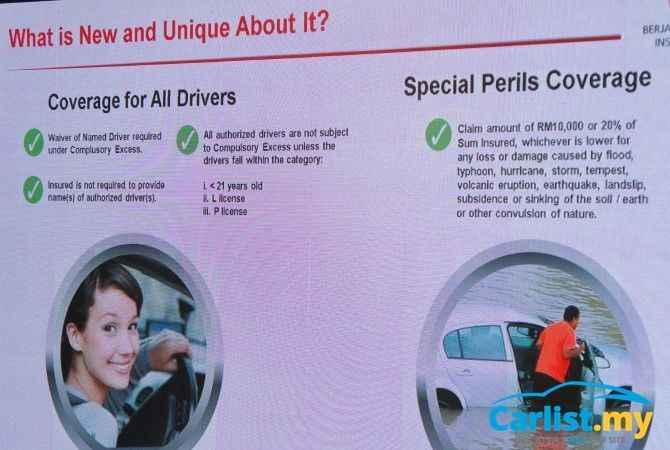 For example, its Sompo Motor comprehensive motor insurance now includes a basic special perils coverage (up to RM10,000 or 20 percent of sum insured, whichever lower) as standard. Of course, full special perils cover and other options like unlimited towing costs, waiver of betterment (cars less than 15 years old), and e-hailing fee reimbursements are available as an option.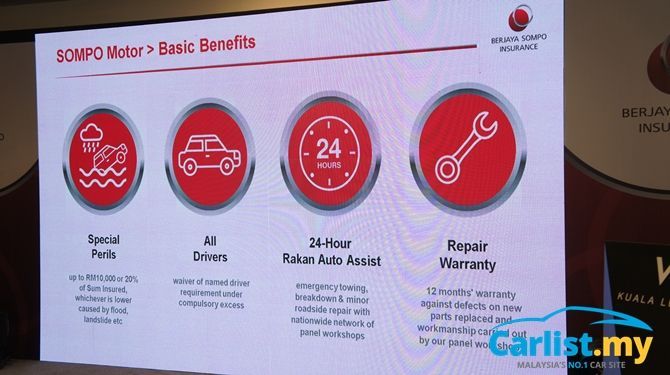 In the past, the insured vehicle's owner needs to list down the names drivers to be insured. This has since been waived by Sompo Motor. It also offers a 12-month warranty against defects on new parts replaced and workmanship carried by their panel workshops.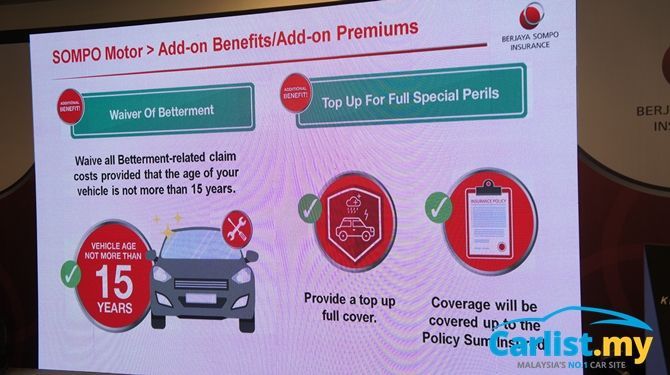 "Sompo Motor has reduced the hassle of going through commonly included add-ons for a comprehensive private car insurance by including them in the basic benefits. New add-on benefits also include better coverage for older vehicles and full coverage against natural disasters. We welcome the implementation of motor detariffication as it enables Berjaya Sompo to compete on a level playing ground, giving the spotlight to the true hero: Sompo Motor. With this product, our main focus is enhancing the base level features and service level. We want to ensure we have a product that our customers find useful and beneficial," said Mr. Stuart Chua, Chief Distribution Officer of Berjaya Sompo.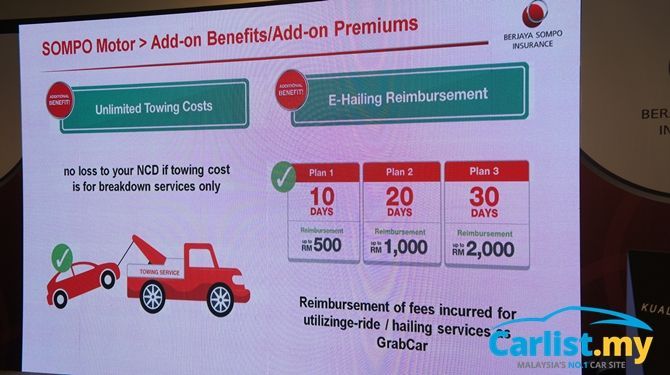 Berjaya Sompo is now collaborating with Honda Malaysia, Mazda Malaysia, and Nissan Malaysia to provide bundled insurance packages.
As for its new branding, Berjaya Sompo is leveraging on its partner Sompo Japan Nipponkoa Insurance's 130-plus years heritage (since 1888) and reputation as Japan's largest non-life insurer. Sompo Japan owns 70 percent of Berjaya Sompo, the maximum allowed by Bank Negara regulations.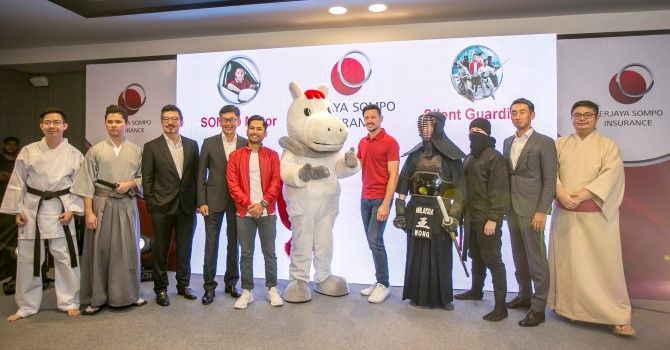 Its latest branding campaign, called 'Silent Guardians' incorporates a lot of Japanese elements while a new 'Sompony' mascot will be the icon of Berjaya Sompo.
Berjaya Sompo currently has 20 offices and 2,800 agents nationwide but there will be no further expansion of its brick and mortar stores beyond this. Instead, the company will be digitizing its services.
Mr. Tan said, "Berjaya Sompo will be investing heavily in digitalization as a key focus area to move the brand forward. One example of this is digital innovation, as we are developing new B2C channels to serve today's mobile customers, as well as the simplification of our online products across Motor, Travel, Snatch and Home as we make it quicker and easier for Malaysians to purchase our products. In the near future, we will also be looking at strengthening our data capabilities and translating meaningful data that will help us serve our customers better."
---
---
---
---
Comments