BMW Oil Inclusive – 5-Year Oil Change Programme For Existing BMW Owners
Auto News BMW Group Malaysia has rolled out the BMW Oil Inclusive Programme for owners of BMW vehicles that are out-of-warranty and have lapsed their original free service programmes.
Owners of existing BMW vehicles can purchase oil change coverage for their vehicles at a fixed price for a five-year duration with mileage caps of either 60,000 and 100,000 km.
Under the terms of the programme, owners are covered for engine oil, oil filter, and oil change labour at all authorized BMW dealerships with BMW Genuine Oil and original parts. Fluids as well as wear & tear items, however, are not covered under the programme.
The programme is available for purchase with all BMW models of all ages including units that were parallel-imported. It is transferable to the vehicle's next owner upon sale, thus helping to boost the said vehicle's resale value in the market.
Pricing of the programme is based on model and are identical regardless of variant or model generation. So, in the case of the 5 Series, for example, an E60 525i, F10 520i, and F10 535i all pay the same amount.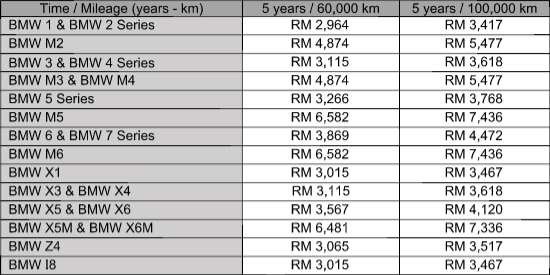 ---
---
---
---
Comments