BMW's The Hire Series – How BMW Created Viral Videos Before Youtube and Facebook Existed
Insights It's just three more days to go before BMW premieres 'The Escape,' a highly anticipated follow up to the hit short film of the 2000s, 'The Hire.' As before, Clive Owen will once again star as a getaway driver in a BMW.
The film's premiere is also timed with the global debut of the all-new G30 generation BMW 5 Series, which will be driven by Clive in the first episode of 'The Escape.'
The Escape will go live on bmwfilms.com on 23 October, 7 pm Malaysian time. While we wait for that, it's worth looking back 15 years ago to revisit how BMW pioneered Internet short films and viral videos long before social media was even invented.
When it was first released in 2001, broadband Internet was limited to university campuses and high-end institutions. There were ISDN connections in other parts of the world but it's less prevalent here at that time.
Everyone else had to make do with 56K dial-up modems, and it took hours to download one 10-minute episode of The Hire. Thumb drives haven't been invented and I remember having to take my desktop computer apart, removing the IDE hard drive, and bringing it over to a friend's place to copy/share the videos.
It was quite a hassle but it was worth it. The Hire was such a hit that it brought the BMW brand to the attention of a new group of youths who would otherwise not be bothered with cars. Friends who were normally not into cars, were asking for copies of the videos, handing over their hard drives, and later CD-RWs.
Seeing BMW's success with Internet marketing, Audi and Mercedes-Benz tried to copy the same formula.
Seven years after The Hire's premiere, Audi produced the 'Meet The Beckers' series to promote its B8 Audi A4, positioning the A4 as a car for progressive people, while poking fun at the stereotypes of BMW, Mercedes-Benz and Lexus drivers. However it didn't quite catch on.
Three years later Mercedes-Benz commissioned the production of 'The Heist' to promote its W204 C-Class Coupe, and it was shot in Putrajaya! The film follows an awefully similar getaway car driver-esque type of plot.
The success of the The Hire can be traced back to an ex-Porsche marketer Jim McDowell and his creative agency Fallon McElligott.
It Started With James Bond
In 1992, McDowell left Porsche AG for BMW USA. He noted that while BMW has a great product range that will carry the brand through even when the market is slow, its advertising wasn't up to standards, and he is convinced that the effects of a bad marketing strategy will only manifest itself five or seven years later so he is not going to sit around doing more of the same thing.
In 1994, he recruited his former agency from his days at Porsche, Fallon McElligot. The product placement for the BMW Z3 in Goldeneye in 1996 was the agency's first major success for BMW. It certainly isn't the first product placement in a movie because Mercedes-Benz premiered the first generation ML-Class in Jurassic Park Lost World but what set the Z3's placement apart was its coherent campaign, set just several months before the Z3's market launch in the US.
The fact that a BMW is replacing Aston Martin as Bond's car of choice set off a controversy of sorts, which played well into BMW's interest as it created even more talking points for the brand.
The dialogue by Bond's weapons specialist 'Q' to the MI-6 spy, "Now, pay attention, Bond. First your new car. A BMW…" was a crucial part of arrangement.
This was followed up by appearances of the Z8 and E38 750iL in subsequent Bond movies. McDowell had found a formula that works well for the brand.
At around that time, the Internet was beginning to change the way consumers, especially BMW customers, consume media content.
Airtime on TV channels was getting too cluttered and people were turning away from the mass media.
By 2000, the Internet was becoming a serious problem for BMW. The brand's pressed for time target consumers were tuning themselves out of mass media but the company had not quite figured out how to market themselves on the Internet.
McDowell hated ugly banner ads and hideous pop-ups that directed users to a very corporate looking BMW website.
At the same time, success from placements in James Bond movies were tapering, and other manufacturers began copying the same formula (GM used The Matrix Reloaded to introduce the Cadillac CTS) so BMW figured it's time to move on.
Besides, the car scenes in Bond movies, with elaborate weapons and all, was becoming a bit too cartoonish for BMW's liking.
It was time to rethink advertising beyond the mass media. McDowell sent an email to Fallon, saying "We're taking the gloves off. Let's get beyond thinking about ads."
Beyond advertising
Fallon's creative team put together a video featuring car chase scenes from movies like Ronin, Bullit and The French Connection. They were all less than 10 minutes and the agency believed that Internet short films is suited to BMW's target customers, as many of them already have access to high speed Internet.
A decision was made to recruit A-list stars and A-list directors. Even though this was a BMW USA initiative, McDowell and Fallon were conscious to recruit directors from different nationalities to reflect the global nature of the Internet.
John Frankenheimer, Ang Lee, Wong Kar Wai, Guy Ritchie and Alejandro Gonzalez Inarritu didn't need much persuasion to jump on board as they loved the prospect of a short two-week shoot, 10-minute film.
Clive Owen was recruited as the main star, with Forrest Whitaker, James Brown and Madonna appearing in some of the episodes. Even Marilyn Manson made a cameo apperance!
In a move that will certainly raise eyebrows among marketers and management of less marketing savvy brands, BMW made a conscious decision to not direct viewers of the film back to BMW's corporate website. Not only that, the films were not even hosted on BMW's corporate website.
McDowell was firm in keeping the films at distance from any sales-related initiatives, believing that the success of the film project depends heavily on viewers not seeing the films as an advertisement. In fact, the directors were even told to shoot the films as they would with any of their movies, and not to 'pamper' the cars, or include 'beauty shots' as they normally would when shooting a TV commercial. The last thing McDowell wanted was to pay these A-list directors to produce yet another TV commercial.
The success was almost immediate. Media outlets that don't normally talk about BMWs, were raving about the brand – entertainment publications, movie review columns, even Time magazine were talking about BMW.
Within just one week, traffic on BMW Films spiked from 138,000 unique visitors in the preceding week to 214,000, with 33 percent of them aged between 35 and 49, exactly within BMW's target profile. Along the way, BMW also collected millions of e-mail addresses and other information about the film's viewers, information that would otherwise require BMW pushing an ad to them to collect.
After making The Ultimate Driving Machine as the most recognisable tagline in the world, The Hire is BMW's single most effective branding exercise.
Five films were produced for the first season, costing about 15 million US Dollars. It's a rather good deal considering that the same number of 30-second TV ads will cost 1.5 million US Dollars.
The success of the first season spurred BMW to commission three more episodes for Season 2, this time involving John Woo, Joe Carnahan, and Tony Scott.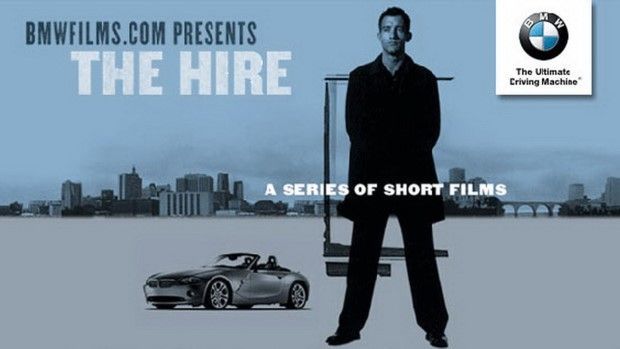 For his effort, McDowell was named Marketer of the Year by Automotive News in 2002, and was twice named Marketer of the Year by Brandweek Magazine. The Advertising Club also named McDowell the 2003 Silver Medal Advertising Man of the Year.
"Traditional advertising will not go away, but we have to expand our palette of ways of reaching increasingly hard to reach people," said David Lubars, then the executive creative director at Fallons. "The way to reach these people is to have them reach you, and that requires an entirely new set of creative tools."
For this upcoming Season 3, BMW have assembled some of the brains behind the original The Hire series. According to a report by Automotive News, Fallon's former creative director Bruce Bildsten is back, as are Executive Producer Brian DiLorenzo and creative consultant David Carter, who co-wrote the new film with director Neill Blomkamp. Anonymous Content's Eric Stern and Steve Golin, who were producers on the original round, also returned to produce the film.
The Escape, featuring the all-new G30 BMW 5 Series, will go live on bmwfilms.com on 23 October, 7 pm Malaysian time. Curiously, bmwfilms.com does not explain the background of Clive Owen's character, Luc Velant. Below is a dossier written by the script writers:
Born in 1963 in Alencon, France, his wife and two children were killed in a terrorist car bombing in Algiers. Schooled at Harvard, he served in the French Foreign Legion Special Forces as a critical-mission driver/transporter. He was discharged in 1989. Since then, he has lived in Bangkok, participating in high-stakes, brake-knuckle extreme fighting competitions. He hires himself out to perform critical-mission driving jobs. He is highly sought after by persons in discretion-imperative, crisis and high-risk situations. CIA/Interpol is unable to ascertain how clients contract Velant or what his fees are, though they are estimated to be in excess of $75,000. While it has proven extremely difficult to track Velant as he moves among nations, it is hoped that he will lead CIA/Interpol to more significant suspects and/or fugitives. Velant is not guilty of any crime. While it is important to continue surveillance whenever possible, do not approach or attempt to apprehend.
Reference: Driven – Inside BMW, the Most Admired Car Company in the World, by David Kiley (ISBN 0-471-26920-4)
---
---
---
---
Comments