Buyer's Guide: Nissan Grand Livina - The Old Faithful
Reviews When it comes to affordable compact seven-seaters, the Nissan Grand Livina has been a firm favourite amongst Malaysians. Even though it was first introduced in 2007 and has since been given two facelifts, a minor one in 2011 and a huge revamp in 2013, the Grand Livina has remained largely unchanged for the past nine years. But with nine-years of automotive progress passing it by since its introduction, does the Grand Livina has anything to offer for today's car buyers.
Nissan Grand Livina 1.6L Specifications
Price (OTR incl. GST without insurance): RM83,975 (M/T), RM87,024 (A/T)
Engine: 1,598cc 4-cylinder, petrol
Power: 105hp @ 5,200rpm
Torque: 150Nm @ 4,400rpm
Transmission: 5-speed manual (M/T), 4-speed automatic (A/T), front-wheel drive
Safety Features: Dual airbags, ABS with EBD and Brake Assist
Origin: Locally-Assembled at Serendah, Selangor
Nissan Grand Livina 1.8L Specifications
Price (OTR incl. GST without insurance): RM96,574
Engine: 1,798cc 4-cylinder, petrol
Power: 126hp @ 5,200rpm
Torque: 174Nm @ 4,800rpm
Transmission: 4-speed automatic (A/T), front-wheel drive
Safety Features: Dual airbags, ABS with EBD and Brake Assist
Origin: Locally-Assembled at Serendah, Selangor
Exterior
Though the Grand Livina had undergone two facelifts since its first introduction, its compact body shape, which resembles an elongated hatchback rather than the traditional upright box on wheels, has been left relatively untouched. Look beyond the 2011 and 2013 changes, and the profile has barely moved an inch.
In 2011, the facelift work done on the Grand Livina only amounted to a sleek new front grille and the fitment of new wing mirror mounted LED side indicators.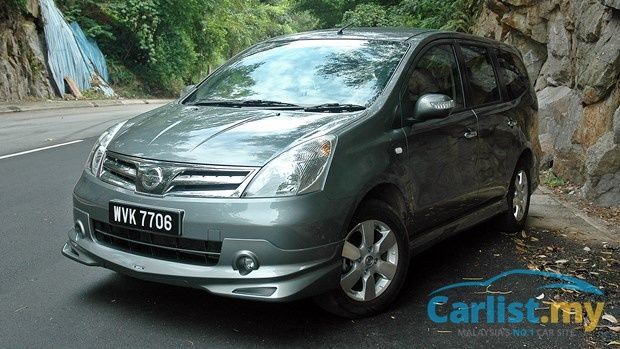 It was only with the 2013 facelift where notable changes were done on its exterior. The straight grille was swapped out for a more prominent 'V' shaped design motif, and its lighting clusters were replaced with more shapely headlights and bigger horizontally arranged taillights.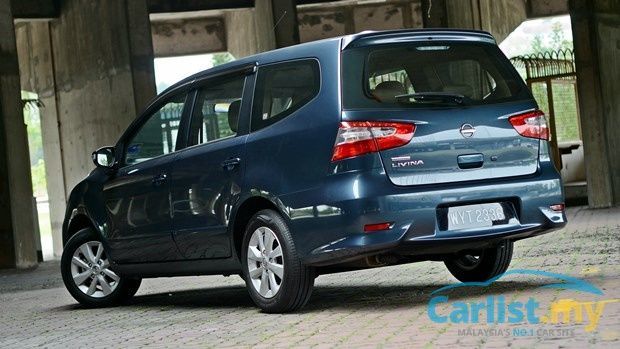 Interior
Like its exterior, very few changes were done to its interior over the course of its time on the market either. Even with the 2013 facelift model, the Grand Livina managed to retain the same dashboard design and layout. The only changes in the cabin is the fitment of a more sophisticated instrument cluster with a digital information display, a new multi-function steering wheel that is integrated with the information display and audio system, and larger headrests on the third row of seats.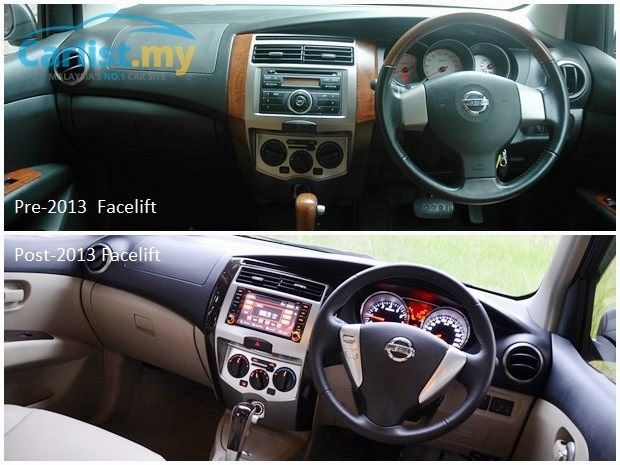 While the Grand Livina was first offered with a beige interior when it was launched in 2007, Nissan decided to change its cabin trim with darker colour options of either black fabric or brown leather trim in the 2011 update. According to Nissan the choice of picking a darker colour palette was that these colours were less prone to being stained over time. That change however was reverted with the 2013 facelift, with beige fabric trim being offered as standard.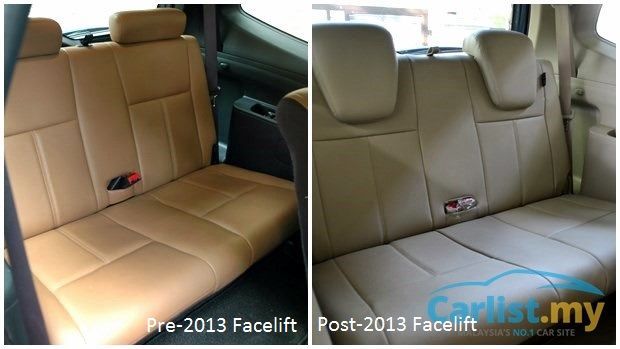 Mind you that while the Grand Livina does seat seven, it really isn't an MPV you would want to take six of your nearest and dearest on a long vacation. Luggage space with the third row of seats up is rather limited as there is only enough depth to fit a small suitcase, or backpack. Folding down the third row is made easy with a one touch mechanism, though the head rests would have to be removed in order for it be folded flat.
How Does it Drive?
When the Grand Livina first arrived on the scene, its low ride height and use of front independent MacPherson strut suspension and a rear torsion beam setup gave it car-like ride and handling qualities. Considering that its direct competitor of the day was the rough and rudimentary Toyota Avanza, Nissan's entrant offered a superior comfort and handling. Little wonder why it became a hit amongst compact MPV buyers who were looking to upsize from their family cars.
Throughout its nine-years on the market, the Grand Livina was offered with a choice of either a 1.6-litre 4-cylinder engine producing 105hp and 150Nm of torque, or a 1.8-litre 4-cylinder unit with 126hp and 174Nm of torque on hand. Both engines are remarkably smooth running and paired to an equally smooth-shifting 4-speed automatic (the 1.6-litre engine is also offered with a 5-speed manual).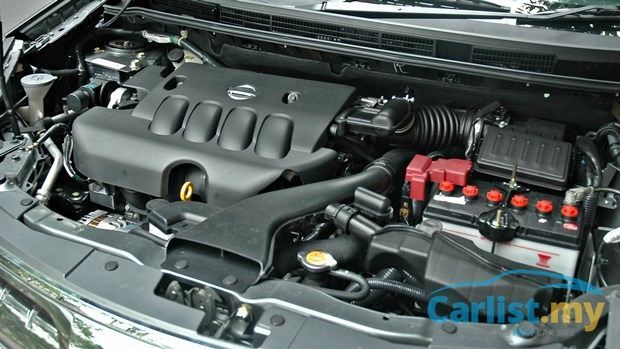 If you are opting for the 1.6-litre variant, it is better to stick with the slick 5-speed manual and avoid the 4-speed automatic, which is a little slow and saps too much of the 1.6L's humble power outputs. With a light clutch, the 1.6-litre manual variant is easy to operate in traffic, and frugal too. Otherwise, the 1.8-litre variant is the one to go for as it has sufficient power on hand to haul a full load on-board around with relative ease.
How Comfortable Is It?
Besides being granted car-like ride and handling with its suspension setup and monocoque construction, cabin refinement is rather good, and as expected of a Nissan, the front and middle row seats are very plush. Legroom in the middle row however is adequate for all who are under 180cm in height, whereas the third row is more suited for pre-adolescent children.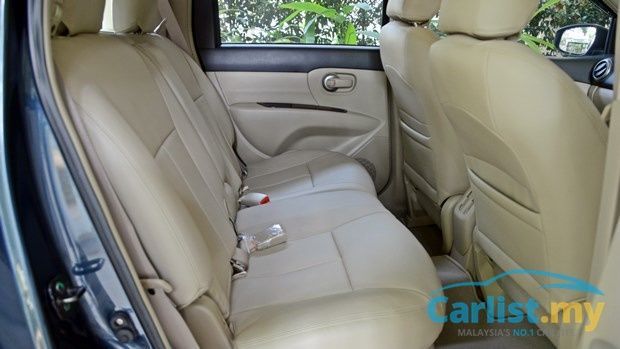 That being said, while the middle row only is equipped with a lap belt for a middle occupant, fitting three in the middle row might prove to be a bit of a squeeze as the cabin isn't wide enough to seat three comfortably. Though there are a pair of rear air-conditioning vents protruding out from the front centre console, it is rather narrow and doesn't dispense enough air to cool the second row occupants quickly, much less the third. That is better than nothing.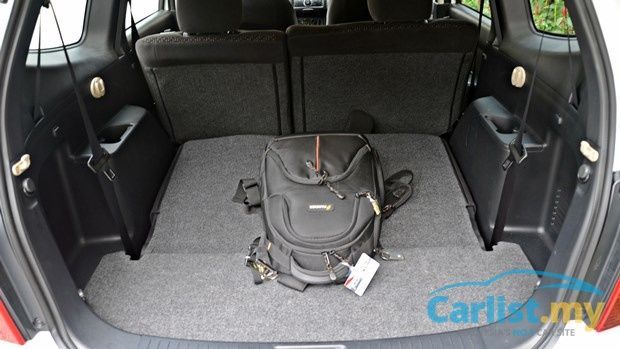 To ease access into the cabin, the range-topping 1.8L variant of the post-2013 facelift models come with the i-Key keyless entry and ignition feature.
How Economical Is It?
Based on our observations the fuel consumption of the Grand Livina ranges around the low 8L/100km and right up to high 9L/100km figures, depending on driving style and drivetrain specification.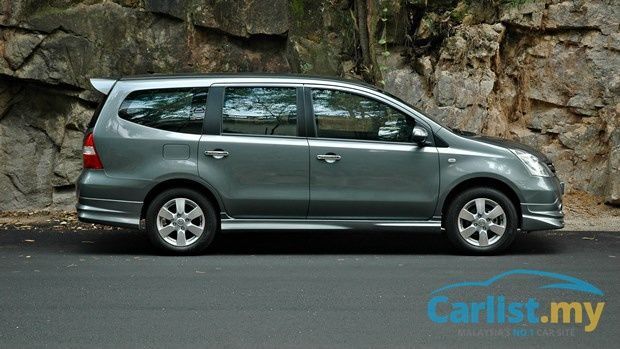 When it comes to servicing costs however the post-2013 facelift models turns out to be cheaper to maintain over a 5-year/100,000km period than its pre-facelift variants as its service interval is set at 10,000km. The 2007-2013 pre-facelift models come with 5,000km service intervals.
Following Tan Chong Ekspres Auto Servis' 5-year/100,000km preventative maintenance schedule, the total maintenance cost for the last two years of the pre-2013 facelift Grand Livina models (considering the latest models are of the 2013 model year) would amount to RM2,530 for the 1.6 M/T, RM2,571 for the 1.6 A/T, and RM2,617 for the 1.8 A/T.
As for the post-2013 facelift model, a full 5-year/100,000km maintenance cost would amount to RM3,325 for the 1.6 M/T, RM3,657 for the 1.6 A/T, and RM3,703 for the 1.8 A/T. Considering the maintenance cost difference between the 1.6 A/T and the 1.8 A/T, the big engine option is the better choice to opt for if you really do need an automatic.
Safety Features
Since the Grand Livina was first introduced in 2009 its safety features are understandably minimal by today's standards and expectations. The MPV makes do with just two airbags, and basic braking assistance in the form of ABS with electronic brake force distribution and brake assist. This being a product of nine years ago, there wasn't much of a demand for ISOFIX child seat anchor points, and as such it doesn't come fitted with them.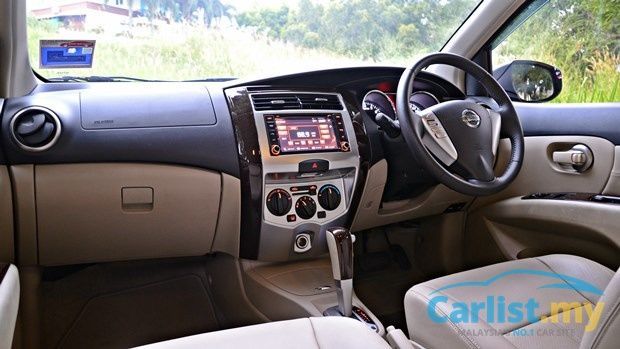 Options Galore – Picking the Right Grand Livina
While a Grand Livina in its basic form is decently equipped, the good thing about Edaran Tan Chong Motor (ETCM) is that if the car's equipment level doesn't satisfy your needs, there is a whole list of options available for you to spec it up with right off the showroom floor.
The current post-2013 facelift models comes with the option of fitting a 6.5-inch multimedia system with navigation, rear-view camera, and Bluetooth connectivity. This RM3,356 option might seem a bit steep, but it is worth the premium as the standard audio head unit lacks all the expected multimedia support. For an additional RM707, there is also an option to fit a roof-mounted 10.1-inch monitor with video playback capability for rear-seat occupants. Both systems, together with wing mirror mounted LED signal lights and LED kick plates, can be packaged together under the Navi Package, which is priced at RM4,014 for the 1.6L variants, and priced cheaper at RM3,714 for the 1.8L as the LED signal lights are a standard fixture.
For those who want combination leather trim on the seats and door panels, there is the Luxury Package, which is priced at RM3,835 for the 1.6L variants and RM3,558 for the 1.8L, with a choice of either outfitting the cabin in black or beige colour interior. Alternatively if you are feeling flushed with cash, you can have both Navi and Luxury additions bundled in the Family Package, which will set you back RM7,050 for the 1.6L variants, and RM6,781 for the 1.8L.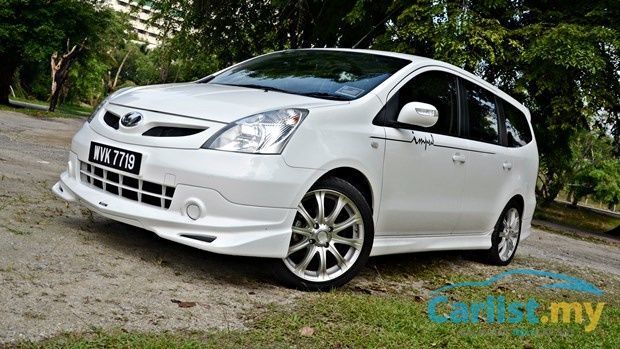 That's not all. If you would like to put a sporty verve on your Grand Livina, ETCM is only too happy to strap on some bodykits from Japanese tuning partner, IMPUL. The IMPUL brochure includes bodykit (RM4,663), 17-inch rims (RM4,770) with performance tyres (RM1,822), sport suspension (RM2,914), and an exhaust muffler (RM1,884). The complete range of IMPUL bits can be had in a bundle for RM11,071, though there is some caution to be made.
We found the IMPUL sport suspension to be a little too stiff and compromised for use on Malaysian roads, and fitting the 17-inch rims with low-profile tyres would also eliminate much of the Grand Livina's smooth ride quality. While the sports suspension does reduce body roll and the tyres deliver plenty of grip, it does nothing in amending the Grand Livina's shortcoming of its numb steering. The standard 15-inch tyre delivers enough grip with a good level of cushioning comfort, which suits its smooth and refined character better. Also the noise from the IMPUL's sport exhaust muffler is intrusive and can get quite annoying on long highway journeys.
Conclusion
If you are looking for an affordable compact MPV with no frills, reliable, frugal, and offers a quiet and comfortable ride for your family, you can't do better than the Grand Livina. With all the right ingredients found here, it is little wonder why the Grand Livina has soldiered on for so long.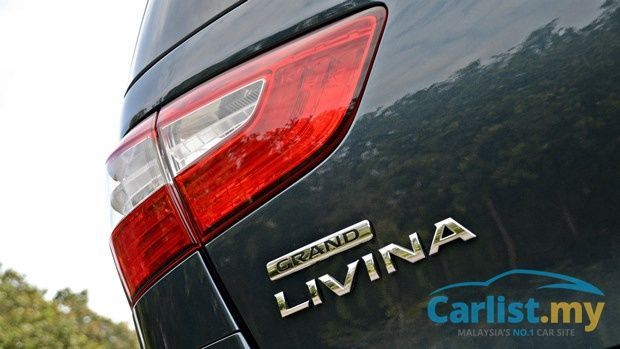 That being all said, since its mechanical bits has gone unchanged over the past nine years, used Grand Livinas represents great value for money over a new one. As seen by the wide selection of used Grand Livinas that are listed on our site, you can pick a used one up for under RM50,000. And there isn't much concerns about the Grand Livina's reliability, as from what we have heard the Grand Livina's drivetrain is pretty bulletproof, so even early examples are still hardy and dependable. 4-year old examples from 2012 can be picked up at prices that range between 60 and 50 per cent of its original selling price. Or alternatively if you want a used Grand Livina with a 12-months/20,000km warranty with complimentary scheduled maintenance services and after sales support, you can look up ETCM's MUV certified pre-owned vehicle dealers for a fine used example.
---
---
---
---
Comments