Coldplay Taja Kapal Interceptor 005 Untuk Bersihkan Sungai di Malaysia
Auto News Interceptor 005 AKA Neon Moon 1, sebuah kapal autonomi yang bertindak sebagai alat pembersih sungai dengan mengutip sisa plastik di sungai Malaysia dijangka akan mula beroperasi pada pertengahan tahun ini selepas ditaja oleh Coldplay!
---
Sebuah kumpulan muzik dari Britain, Coldplay telah mengumumkan kerjasama mereka dengan The Ocean Cleanup, sebuah NGO dari Belanda dalam usaha mencegah sisa pencemaran sungai daripada masuk ke laut.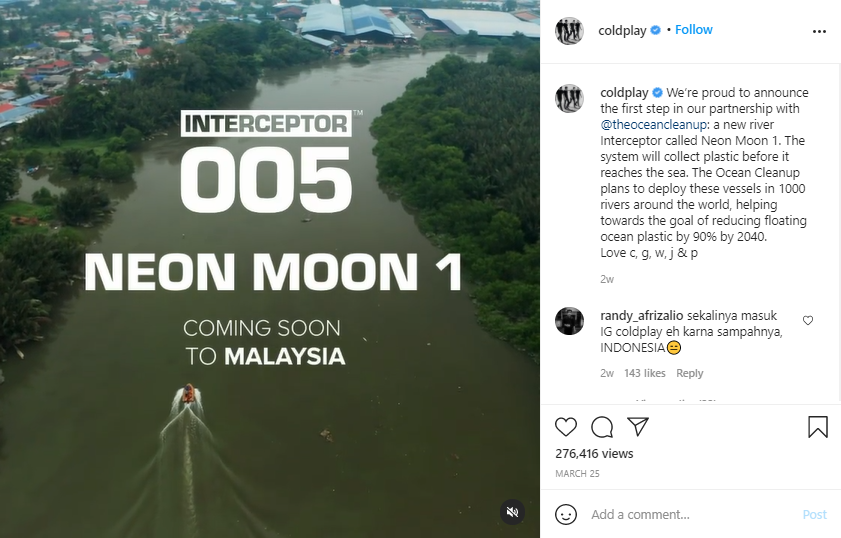 Coldplay dilaporkan telah menyumbang RM3.2 juta (AS$777,000) untuk membina kapal yang kini berada dalam proses pembinaan di Klang dengan kerjasama firma Finland, Konecranes. Meskipun Coldplay belum lagi pernah membuat persembahan di Malaysia, namun Malaysia bakal menjadi negara pertama yang bakal menerima Interceptor 005 tajaan mereka!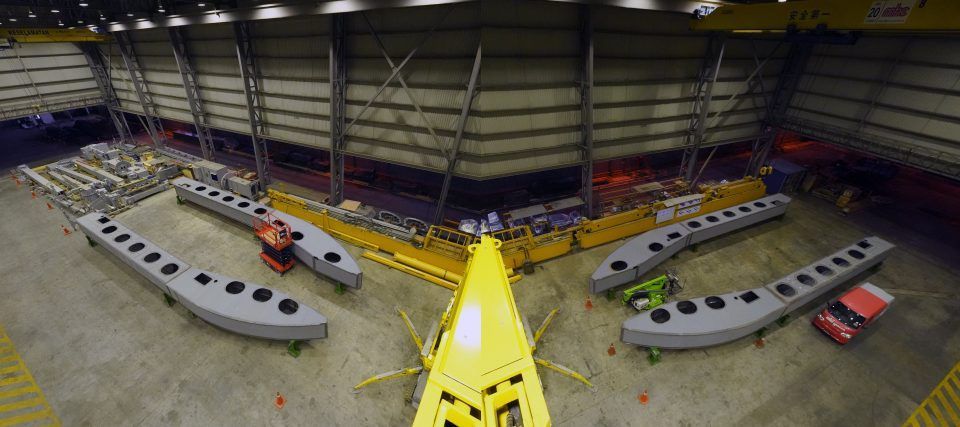 *Kredit foto: The Ocean Cleanup
Walau bagaimanapun, ini bukanlah mesin Interceptor pertama yang diterima Malaysia. Malaysia telah menerima Interceptor 002 pada Ogos 2019 dan kini ditempatkan di Sungai Klang, Selangor. Tapi untuk generasi Interceptor yang ketiga, Malaysia terpilih sebagai negara pertama yang bakal menerima manfaatnya.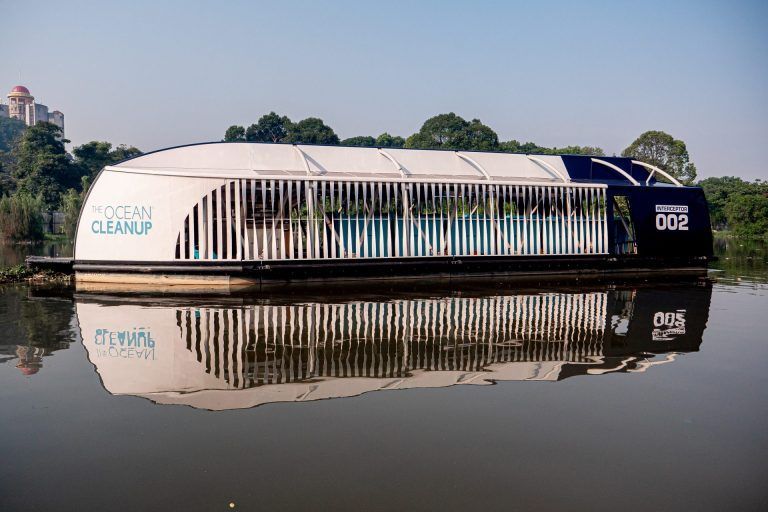 *Kredit foto: The Ocean Cleanup
Bagi yang masih tidak tahu, Interceptor merupakan sebuah kapal yang mampu memerangkap hingga 100 tan sampah terapung di sungai dalam masa sehari. Kapal ini merupakan teknologi inisiatif The Ocean Cleanup yang berazam ingin membendung pencemaran di 1,000 sungai paling tercemar di dunia termasuk Malaysia, Indonesia, Republik Dominica, Vietnam, Amerika Syarikat, Jamaica dan Thailand.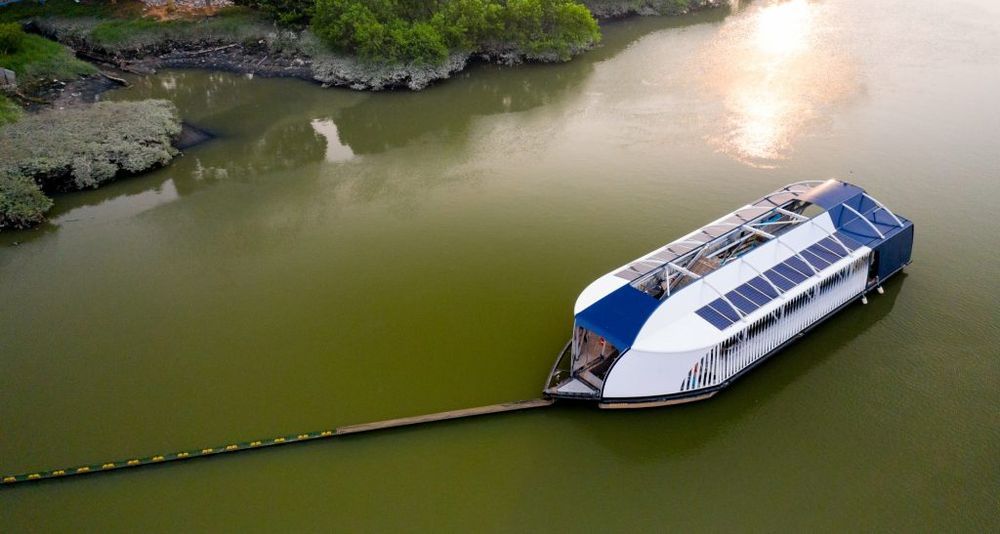 *Kredit foto: The Ocean Cleanup
Jadi bagaimana kapal ini berfungsi? Kapal bertenaga solar ini bakal ditempatkan di sungai tercemar dimana sisa-sisa pencemaran sungai akan dialirkan masuk ke dalam bahagian 'mulut' jentera ini. Kemudian, sisa sampah terbabit akan diasingkan daripada air sungai dan dibawa naik ke kapal menggunakan tali sawat.
*Kredit foto: The Ocean Cleanup
Oleh kerana kapal ini berfungsi secara autonomi atau dengan sendirinya, Interceptor ini juga mampu untuk memenuhkan kesemua enam tong sampah yang diletakkan di dalam kapal secara sama rata. Apabila sudah penuh, Interceptor bakal menghantar isyarat kepada pengendali tempatan bagi membawa keluar tong sampah yang sudah penuh itu.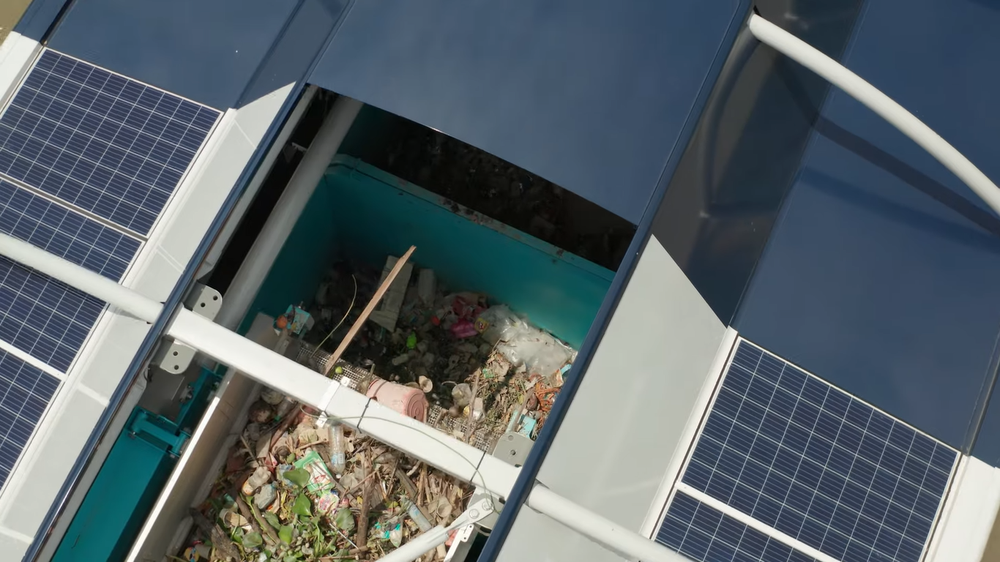 *Kredit foto: The Ocean Cleanup
Generasi ketiga Interceptor ini menerima beberapa penambahbaikan baru tidak seperti interceptor generasi kedua seperti yang digunakan di Sungai Klang, Jakarta dan Santo Domingo. Bagi meningkatkan tahap efisien jentera ini, tali sawat yang digunakan Interceptor 005 kini ialah 2.5 meter, 1.6 kali lebih lebar berbanding sebelumnya bagi mengurangkan aliran obstruktif serta memberikan proses pembahagian sampah yang lebih lancar untuk memenuhkan enam tong sampah yang tersedia. Lihat lah perbezaan generasi kedua dan ketiga ini berdasarkan gambar dibawah.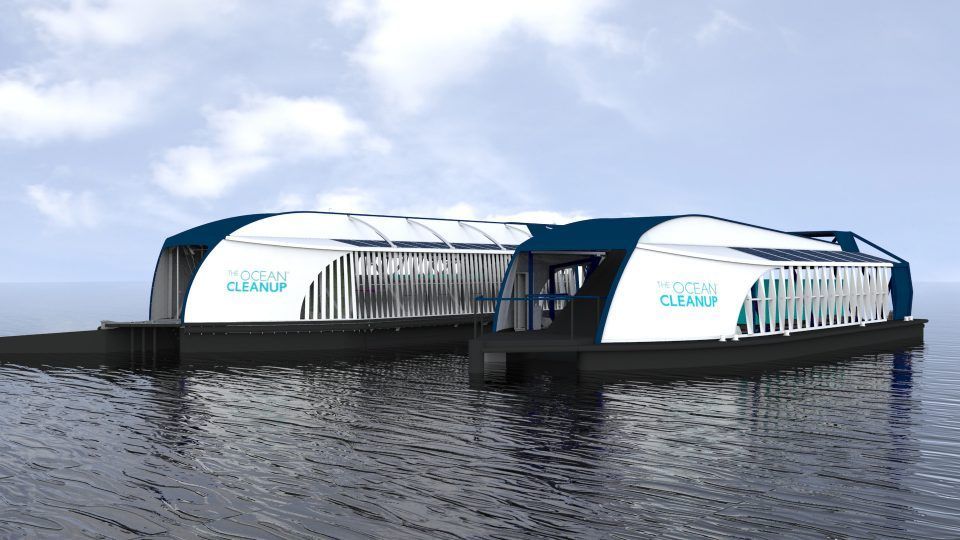 *Kredit foto: The Ocean Cleanup
Selain kelebaran tali sawat dipertingkatkan, saiz tong sampah yang berada dalam kapal tersebut kini lebih lebar dan besar untuk memudahkan kerja-kerja pembahagian sampah serta memperbanyakkan lagi jumlah kutipan sampah yang boleh dibuat dalam masa sehari.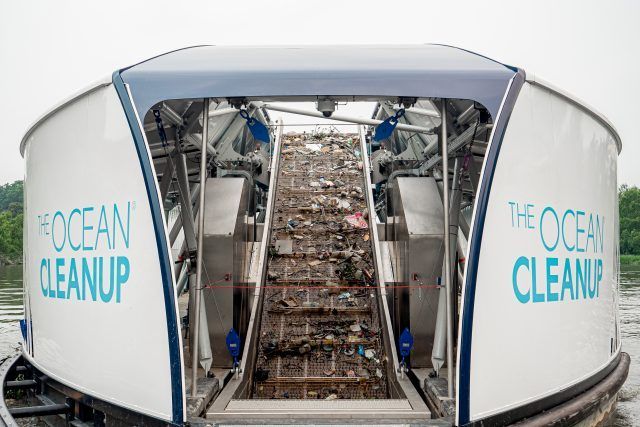 *Kredit foto: The Ocean Cleanup
Interceptor 005 ini bakal hadir dengan panel solar monocrystalline serta sistem penyimpanan tenaga pintar yang lebih kecil, namun mampu memenuhi 100% tenaga yang diperlukan bagi menggerakkan kapal ini. Selain itu, model Interceptor 005 ini juga menggunakan rangka serta struktur catamaran yang dibina semula dari mula. Rekaan modularnya direka khas bagi memudahkan urusan pembersihan dan mudah untuk digunakan secara global.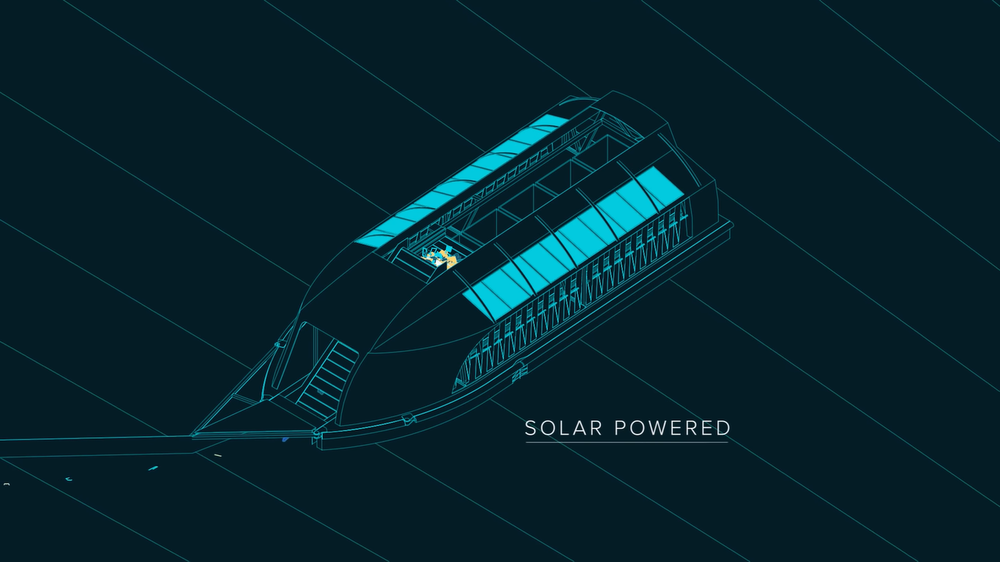 Bagi mereka yang masih kempunan untuk melihat persembahan Coldplay di Malaysia, jangan bersedih kerana sekurang-kurangnya idola muzik anda membantu dalam membersihkan sungai di Malaysia. Sebagai peminat Coldplay mahupun penduduk Malaysia, ayuh lah sama-sama kita sokong usaha ini dengan memberhentikan tabiat membuang sampah ke dalam sungai.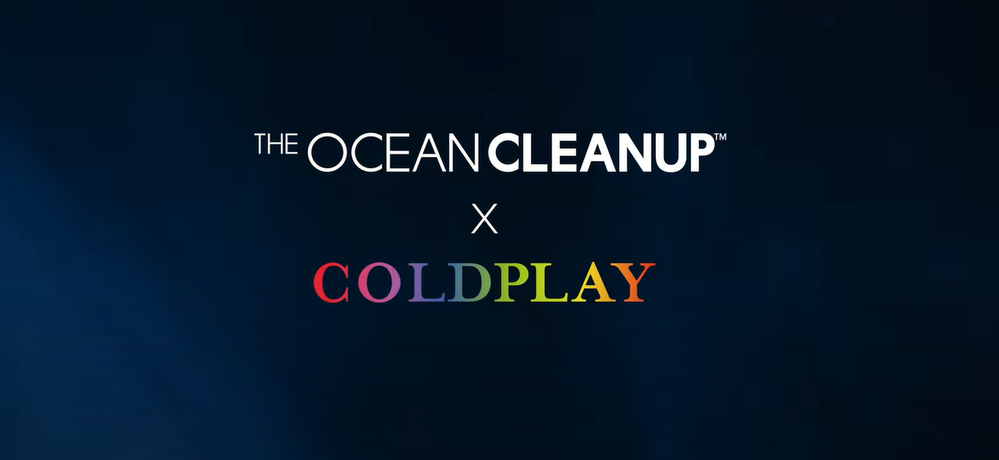 Ingin menyertai atau menyumbang bagi program ini? Mudah saja, layari laman web rasmi The Ocean Cleanup di https://theoceancleanup.com/ untuk maklumat lanjut.
---
---
---
---
Comments