Detroit 2016: Mercedes-Benz W213 E-Class Revealed
Auto News Don't be mistaken that we have posted up an old picture of the C-Class. What you are seeing here is Mercedes-Benz's all-new E-Class (codenamed W213), for real. Mercedes-Benz is expected to give the new E-Class its fitting debut at this week's 2016 North American International Auto Show in Detroit.
Though its looks isn't a huge departure from Mercedes-Benz's new "Sensual Purity" design language, the E-Class has been crammed full with numerous technical 'firsts' in the world. Technologies such as its Car-to-X communication and Active Lane Change Assist makes its first series production debut on the E-Class, whereas its multi-chamber air suspension represents a first in the segment.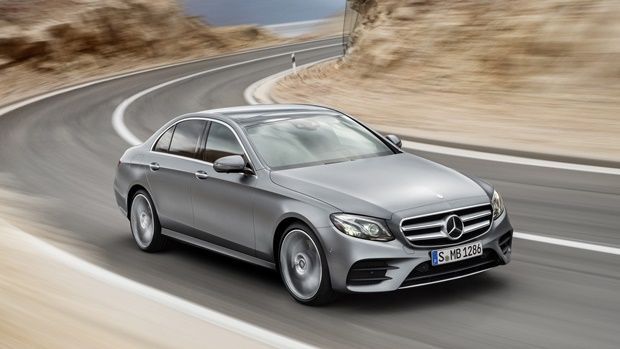 Measuring in at 4,923mm, the new E-Class is 43mm longer than its predecessor, whereas its wheelbase has been extended by 65mm to 2,939mm, making it nearly identical in dimensions as a short-wheelbase 1980s W126 S-Class.
In base trim and the Exclusive Line, the E-Class would sport the traditional front radiator grille with the three-pointed star sitting atop it. As for the Avantgarde and AMG Line, the star has been integrated into the sports radiator grille.
Up in front the E-Class features a Multibeam LED headlight clusters, each of which packing 84 individually controlled high-performance LEDs that is able to precisely illuminate the road ahead without dazzling oncoming road users. The LED headlight cluster features no mechanical actuation and is said to have a world's first purely electronically implemented active light function. Around the back the E-Class can be specified with a new optional taillight, which is able to reproduce a 'stardust effect' lighting thanks to the use of reflectors on a specially designed surface structure.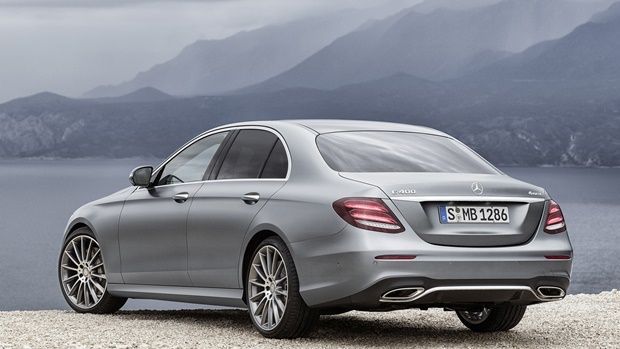 On the inside, the E-Class dashboard can be specified with an optional dual 12.3-inch high-resolution displays, similar to the setup that is found in the S-Class cabin. Additionally the E-Class' virtual instrument dials can be switched between "Classic", "Sport", and "Progressive" themes.
Mercedes-Benz says the E-Class is the first car to feature touch-sensitive control buttons on the steering wheel, which respond to horizontal and vertical swiping movements, allowing drivers to operate the infotainment system without having to take their hands off the steering wheel. That being said the E-Class still retains the Comand knob controller on the centre console. The controller is similar to that used on the C-Class, with an integrated touchpad, handwriting recognition capabilities, and the Linguatronic voice recognition function.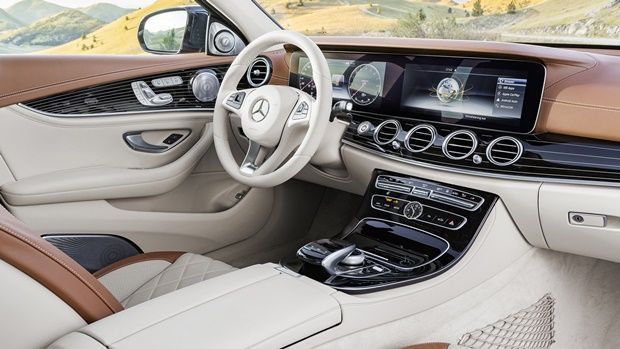 In terms of cabin furnishings, the E-Class has been given lavish appointments with the availability of new interior trim such as open-pore wood trim, leather covered doors, and new material/colour combinations. Mercedes-Benz says that the E-Class is also the first in its segment to feature heated armrests in the doors and centre console – an addition with its Heat Comfort package. Its ambient lighting system on the other hand now offers 64 colour choices.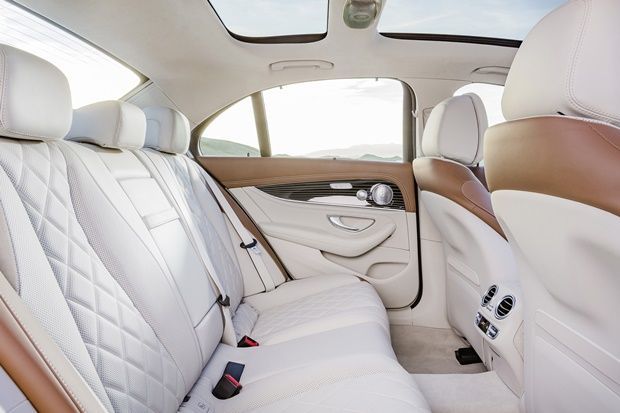 For now the E-Class is only available with two engine options, one petrol and one diesel, with the E200 and E220d. While the E200 would feature the already familiar 184hp/300Nm 2-litre 4-cylinder turbocharged petrol engine used in the current facelifted W212 E-Class, the E220d uses a brand-new 2-litre 4-cylinder turbocharged diesel engine that produces 195hp and 400Nm of torque.
The new 4-cylinder diesel engine is said to be the first from Mercedes-Benz's new engine family, which is shorter and more compact than its predecessor, with a cylinder head and crankcase that is made of aluminium.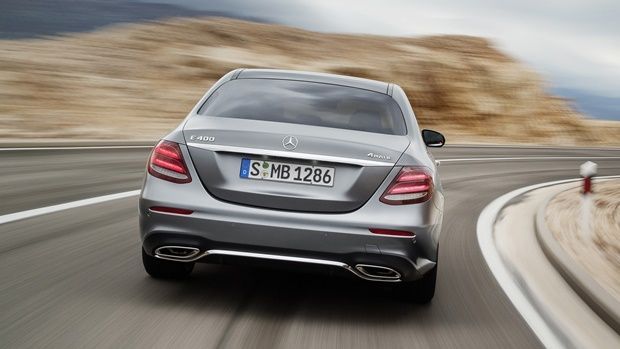 Thanks to the fitment of a 9-speed automatic, acceleration and emission figures in the E200 has been improved from the current 7.9 seconds for its 0 to 100km/h time to 7.7 seconds, while emissions has dropped from 142g/km to 132g/km of CO2, and fuel consumption figures now stand at 5.9L/100km. For the E220d, its 0 to 100km/h sprint is done in 7.3 seconds, whereas Mercedes-Benz quotes a fuel consumption figure of 3.9L/100km and 102g/km of CO2 emissions.
Of course there will be more engine options added to the E-Class range after its market launch. These engine options include the E350e plug-in hybrid, which will boast a 30km all-electric driving range, and a drivetrain that has a total system output of 279hp and 600Nm of torque. The E350e boasts a 0 to 100km/h time of 6.2 seconds, with a quote fuel consumption figure of 2.1L/100km and just 49g/km of CO2 emissions.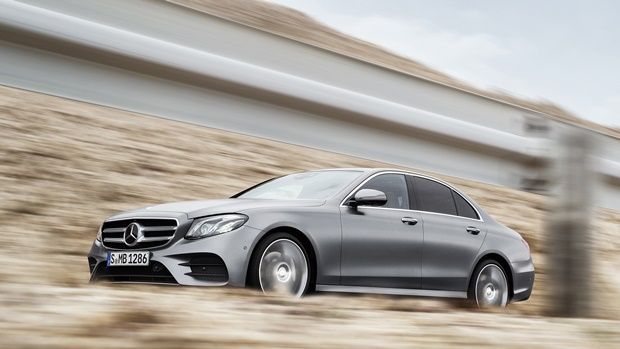 That being said, the E350e isn't the quickest option on the block, with that title going to the E350d, which packs a 3-litre turbocharged V6 that has 258hp and 620Nm on tap. The E350d is able to get from 0 to 100km/h in 5.9 seconds, and has a fuel consumption figure of 5.1L/100km with only 133g/km of CO2 emissions.
According to Mercedes-Benz, the E-Class will see further additions to its engine line-up with a 150hp four-cylinder diesel, a selection of four-cylinder petrol engines with power outputs ranging from 183 to 245hp, and a V6 petrol with 333hp on tap. All petrol engines are tuned to meet the stringent Euro 6 emission standards, whereas the new four-cylinder diesel engine is already configured to meet future RDE limits.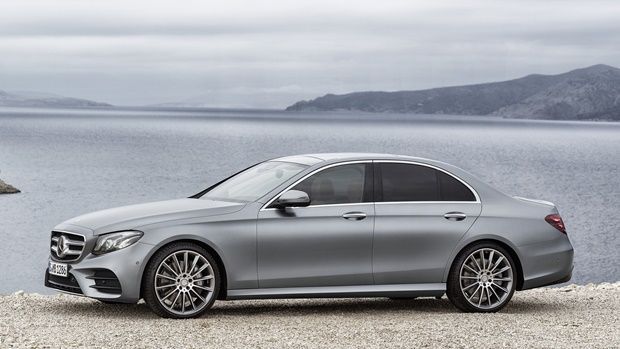 As standard the E-Class rides on steel suspension, though there are three different suspension systems available for the E-Class – a comfort suspension, Avantgarde suspension that offers a 15mm lowered ride, and a sporty suspension with adaptive damping adjustment and 15mm lower ride. Alternatively the E-Class can be specified with an all-round self-levelling multi-chamber air suspension system. Mercedes-Benz says that the new E-Class is the only car in its segment to offer this as an option.
Equipped with the Dynamic Select feature, drivers can adjust the air suspension with four modes, "Comfort", "ECO", "Sport", and "Sport+". With the air suspension option, drivers are also able to raise the ride height at a push of a button.
Just as the facelifted W212 E-Class had debut several new driver assistance features, the new W213 E-Class continues this trend with the introduction of several new optional driver assistance systems.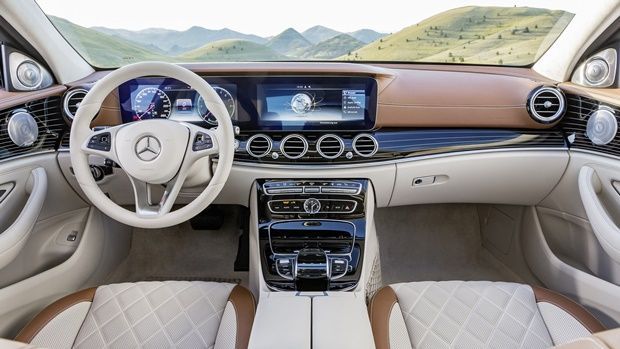 Among those optional driver assistance system includes the "Drive Pilot", which is said to be Mercedes-Benz's next step in the quest for autonomous driving. The Drive Pilot is comprised of several improved versions of Mercedes-Benz's driver assistance technologies. Its Distronic radar-guided cruise control has been improved to follow cars ahead at speeds of up to 210km/h for the first time, and is able to start the car within 30 seconds of being stationary following a stop initiated by its Distronic system on motorways.
Its Steering Pilot steering assistance system on the other hand is able to steer the car through moderate bends, the system has been improved with a feature that is able to intervene based on the movement or position of surrounding vehicles and parallel structures, even if the lines on the road are unclear or non-existent at speeds of up to 130km/h. The Drive Pilot also debuts a new radar- and camera-based assistance system known as Active Lane-change Assistant, which will autonomously steer the vehicle into a lane selected by the driver when overtaking. The system is activated once the driver has indicated a turn for at least two seconds, and works its magic when the assistance system detects that the selected lane is unoccupied.
Lastly in combination with the Comand Online feature, the Drive Pilot system also features a Speed Limit Pilot that is able to autonomously adjust the vehicle's speed in response to camera-detected speed limit signs or speed limit information that is logged into its navigation system.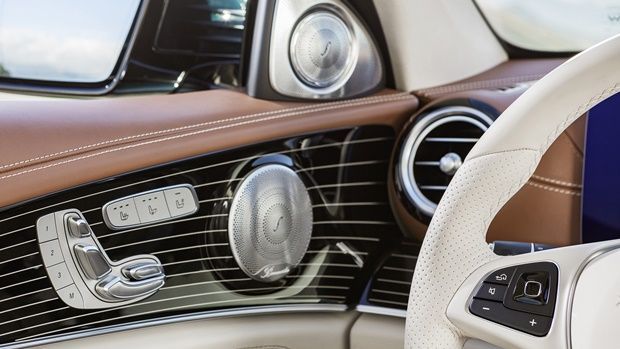 While its predecessor did debut the "Active Brake Assist with cross-traffic function", Mercedes-Benz has further expanded its capabilities on this E-Class generation. Besides having higher speed thresholds, for the first time, the system is now able to detect hazardous situations at the tail end of traffic jams ahead, and initiate autonomous braking far sooner. According to Mercedes-Benz the system is able to completely avoid accidents at speeds of up to 100km/h, and substantially reduce the impact severity at speeds beyond that figure.
Paired with the Active Brake Assist with cross-traffic function, there is the "Evasive Steering Assist", which would apply torque forces to the steering wheel, should it detect the driver pulling off an evasive manoeuvre. This feature is meant to help drivers pull off an evasive manoeuvre in a controlled manner, while aiding the driver in straightening up the vehicle.
Other improved driver assistance features includes the "Active Lane Keeping Assist" which can help stop the driver from unintentionally changing lane through the corrective application of brakes, and "Active Blind Spot Assist" that can now warn of collision risk at low speeds and correctively intervene at speeds above 30km/h.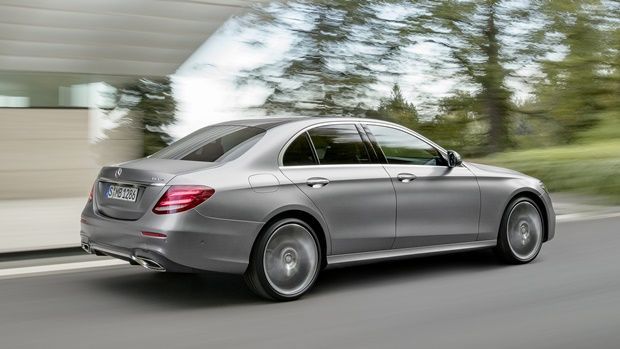 Aside from driver assistance systems, the E-Class has a Remote Parking Pilot smartphone-app based functionality, which allows drivers to remotely move their cars in and out of parking spaces and garages. Mercedes-Benz claims that the E-Class is the world's first full integrated Car-to-X enabled series production car, which allows the car to receive and exchange information with other vehicles on potential hazards down the road.
Mercedes-Benz's Pre-Safe suite of collision preparation safety systems on the E-Class also now features lateral collision preparation with its Pre-Safe impulse side feature, and auditory preparation of an impact with its Pre-Safe Sound feature.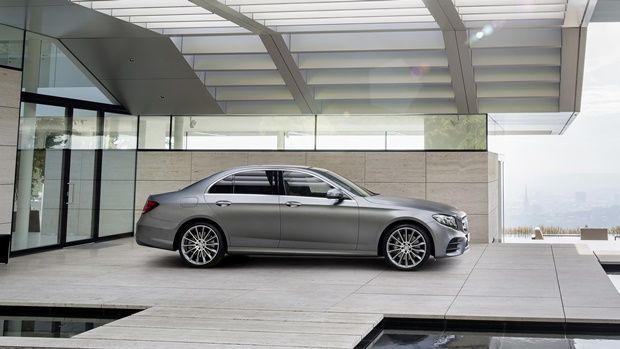 Find more Mercedes-Benz E-Class sedans on sale at Carlist.my.
---
---
---
Comments