ETCM Annonces CNY Promotion And New Insurance Program For Customers
Auto News In conjunction with the Tan Chong Group's 60th anniversary and also the upcoming festive season, Edaran Tan Chong Motor Sdn Bhd (ETCM) the authorised distributor of Nissan vehicles in Malaysia has announced its special Chinese New Year promotion campaign.
The campaign offers Malaysians the chance to win a brand new Nissan Teana 2.5L XV every month from January to March 2018, AirAsia Big Points, as well as Hitachi premium appliances worth up to RM600,000 with every purchase of a new Nissan vehicle.
Customers can also enjoy the 'Golden Fortune Bonus Set' on selected Nissan models and receive either savings up to RM12,000, or the RM1 promotion for premium accessory package. Additionally, there are also rebates of up to RM10,500.
Last but not least, ETCM is also kicking off its 2018 Nissan Chinese New Year Test Drive Carnival at selected ETCM showrooms nationwide, where members of the public can visit the outlets and get attractive deals and offers, while participating in fun-filled activities such as Lion Dance, Calligraphy Art and other games with exciting giveaways.
Dates and venues for the test drive carnival are as follows: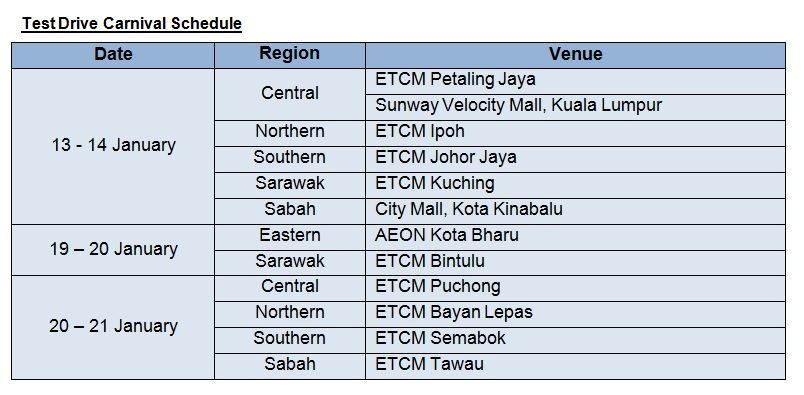 As for the roadshows, the schedule is as mentioned below:

On another note, Tan Chong Insurance Business Stream (TCIBS) and RHB Insurance have officially launched a new Return To Invoice and Guaranteed Asset Protection (RTI-GAP) insurance coverage called the TC GAP Protector for Nissan owners.
TC GAP Protector program provides financial shortfall coverage with maximum benefit up to RM140,000 in the event of total loss of a vehicle due to accident, fire or theft on top of the motor insurance reimbursement.
According to the company, the insurance coverage will prevail throughout the geographical area of Malaysia, Singapore and Brunei.
Three insurance plans are available under the program; Plan A, B and C with maximum coverage up to 5 years. This insurance can be obtained through a one-time premium payment which is based on original purchase price and number of years the insurance will be in effect.
Insurance period will commence with immediate effect from policy inception date; and is only available for new and existing vehicles with private registration aged not more than 12 months after first registration.
The Premium payable on selected Nissan models as follows: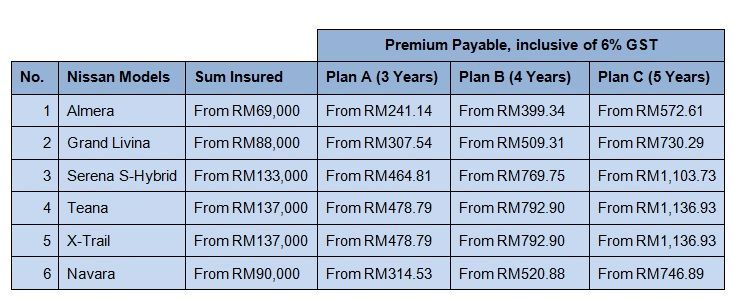 ---
---
---
---
Comments