Experience The New 2015 Mazda 3 CKD At These Locations
Buying Guides You're probably excited to know that Bermaz will be launching the 2015 locally-assembled (CKD) Mazda 3 SkyActiv soon but if you didn't, you can find out all about it here. Prices are expected to start from the RM105,000 for the entry-level model and if that isn't tempting enough, the company will be introducing the Mazda 3 in the hatchback body style as well. However, if that's still not enough to coax you, why not attend any one of their roadshows and experience the new Mazda 3 SkyActiv CKD first-hand.
The list of locations to experience the new 2015 Mazda 3 SkyActiv CKD are as follows:
8 – 12 April 2015: Midvalley Megamall (Kuala Lumpur)
9 – 12 April 2015: Queenbay Mall (Penang)
10 – 12 April 2015: KSL City (Johor)
15 – 19 April 2015: Setia City Mall (Selangor)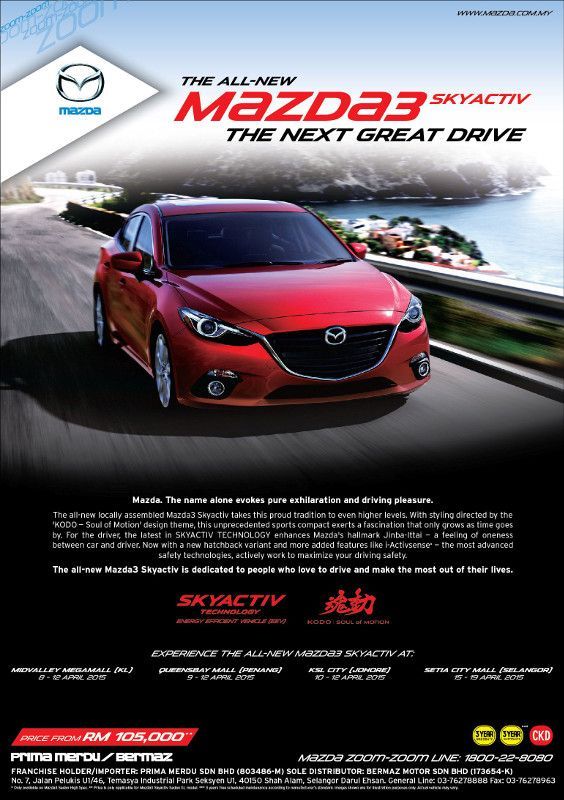 Bermaz Motor Sdn Bhd recently announced its post-GST pricing for Mazda vehicles sold here along with the arrival date of the Mazda 3 CKD which is on 8 April 2015 in three variants that includes a single hatchback option.
---
---
---
Comments