F48 BMW X1 Malaysia Review – Radical product rethink
Reviews Being introduced only as recently as 2010, the X1 is a relatively new member of BMW's range. Yet, with 730,000 examples sold worldwide in a six-year model cycle, the X1 has firmly established itself as a vital cog in BMW's global model line-up.
At the time, car makers were racing to fill every available niche in the SUV market, and BMW was the first to plant its flag in the premium compact crossover territory with the original E84 X1. The relative absence of competitors then allowed BMW to get away with, shall we say, a less than sterling effort.
Whilst it was blessed with excellent dynamics (especially the xDrive variant), the E84 X1 was also let down by an interior that is not only poorly packaged, but less than satisfactorily built as well. It was also, shall we say, not a very handsome-looking vehicle.
The marketplace has grown significantly more competitive in the last five years, and remembering that the X1 is meant to capture new buyers into the brand, BMW cannot afford to replace the E84 with a half-baked product. The all-new F48 X1, launched last year, represents a fundamental rethink of the X1 product concept.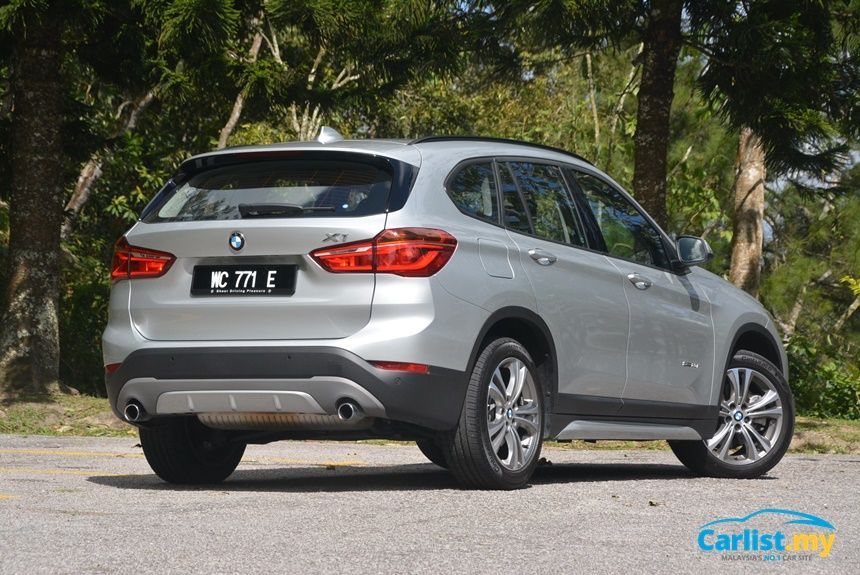 Specifications:
Price: RM279,800, on-the-road without insurance
Engine: 1,998cc, 4-cylinders transverse, DOHC
Power: 192hp @ 4,700rpm
Torque: 280Nm @ 1,250 – 4,600rpm
Transmission: 8-speed torque converter automatic, FWD
Safety: 6 airbags, ISOFIX (rear), Dynamic Braking Lights, Electronic Stability Control (DSC), Traction Control (DTC), Anti-lock Braking System (ABS)
Origin: Fully imported from Germany
Overview?
Mechanically, the new F48 X1 represents not only a significant advancement from its predecessor (which was based on the E90 3 Series), but also representative of a fundamental paradigm shift in the way BMW will be building cars in the future.
It is the third BMW-branded vehicle to utilize the firm's new UKL platform that is also featured in the new MINI as well as the 2 Series Active and Gran Tourer siblings. Here, the significance is that the X1 will be the first existing model line that switches from a longitudinal engine predecessor to transverse engine installation. The 1 Series will be next.
Globally, BMW offers the X1 with a range of petrol and diesel engines, each with the option of front- and all-wheel drive. For Malaysia, the sole variant on offer is powered by a 2.0-litre twin-scroll turbo engine that puts power down to the front via an Aisin-sourced 8-speed automatic transmission. Additional variants are possible if and when the X1 switches to local-assembly at a later date.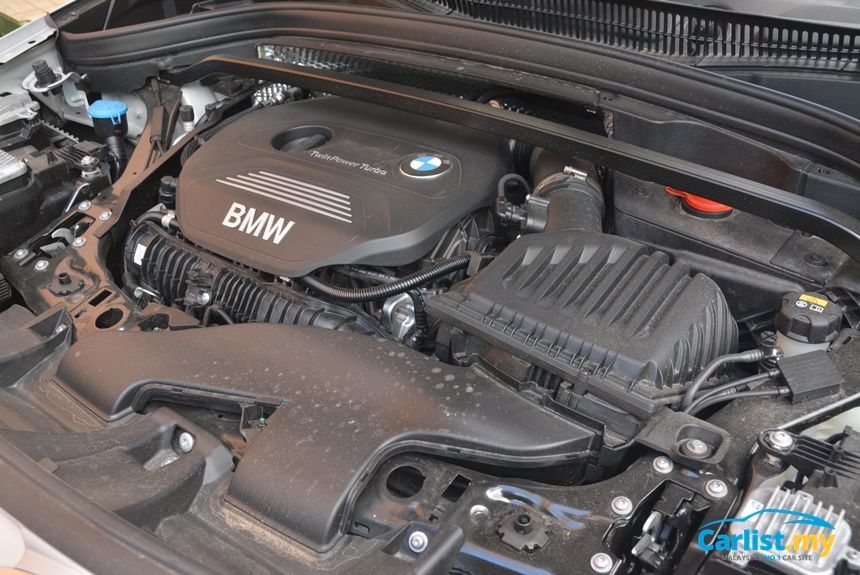 BMW claims that its traditional 50:50 weight balance is maintained in this new X1; quite how this is possible in a FWD vehicle that naturally has much of its weight concentrated on the front is beyond our comprehension.
The new X1 arrives in a market that has become far more crowded than what its predecessor faced, although BMW's pricing strategy seem to suggest it is unfazed by the competition. The X1's pricing is undercut by both its closest rivals even in their highest level of specification, namely the Mercedes-Benz GLA (RM237k – RM267k) and Audi Q3 (RM219k – RM255k). It is also worth noting that in range-topping spec, both the GLA and Q3 send traction to all fours, as opposed to just the front in the BMW.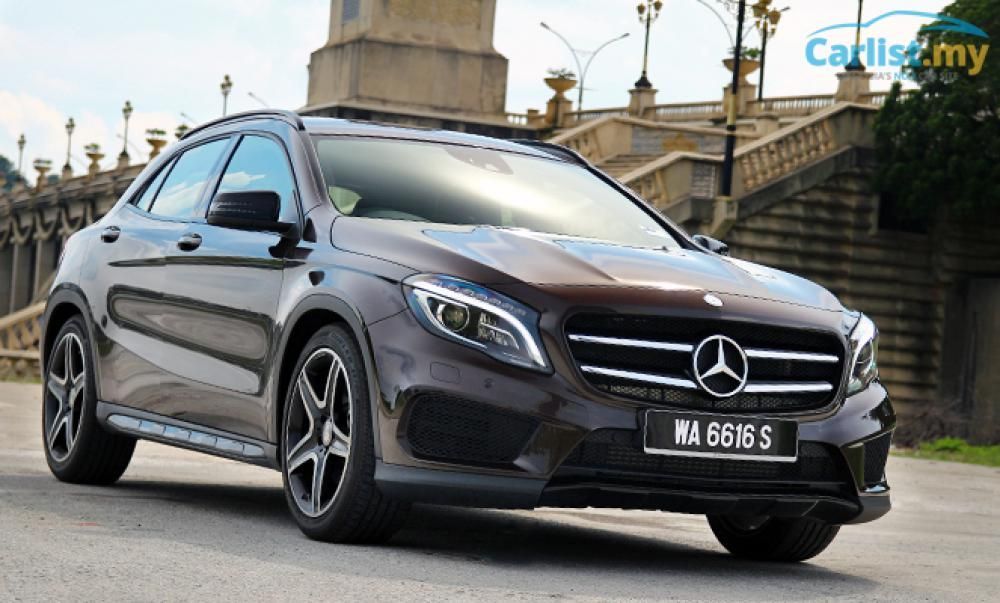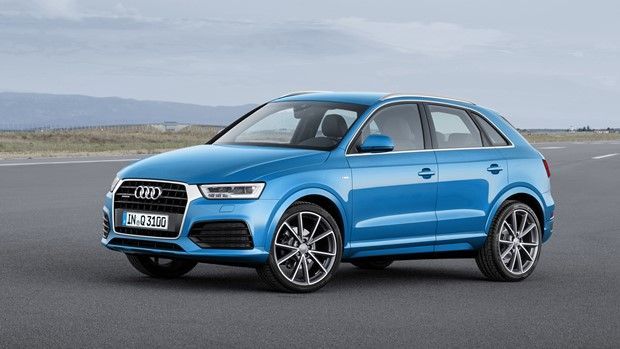 Exterior
The new X1 may not conform to the familiar BMW mechanical template, but you are not likely to mistake it as a product of any other brand – the double kidney grilles and angel-eye DRLs see to that. The signature Hoffmeister kink is present and recognisable, albeit suitably reinterpreted to blend into the vehicle's silhouette.
Because there is no longer the need to make space for a 3.0-litre six-pot up front, the F48's proportions look better balanced and resolved than the sometimes awkward-looking E84. In fact, its appearance fits nicely into the family look of BMW's larger SUVs; its resemblance with the X5 particularly acute.
Measuring 4,439mm from stem-to-stern and 1,821mm between the side mirrors, the F48 stretches 38mm shorter in length than the E84 but spans a good 23mm wider. The newer model is taller too, with overall height increased from 1,545mm to 1,612mm.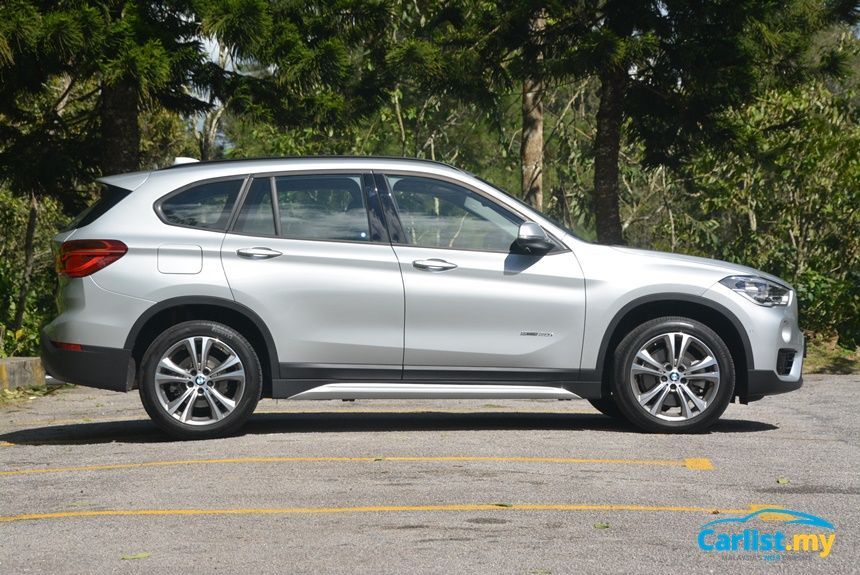 Space between the wheels have shrunk by 90mm, but remember a far bigger fraction of the E84's wheelbase area was taken up by the engine. This means that despite having a shorter wheelbase, the F48 is able to provide more space for its cabin.
Without being burdened by the extra weight of a prop-shaft, BMW is able to shave 25kg of mass off the front-wheel drive F48 X1 sDrive20i compared to its rear-wheel drive E84 equivalent with automatic transmission.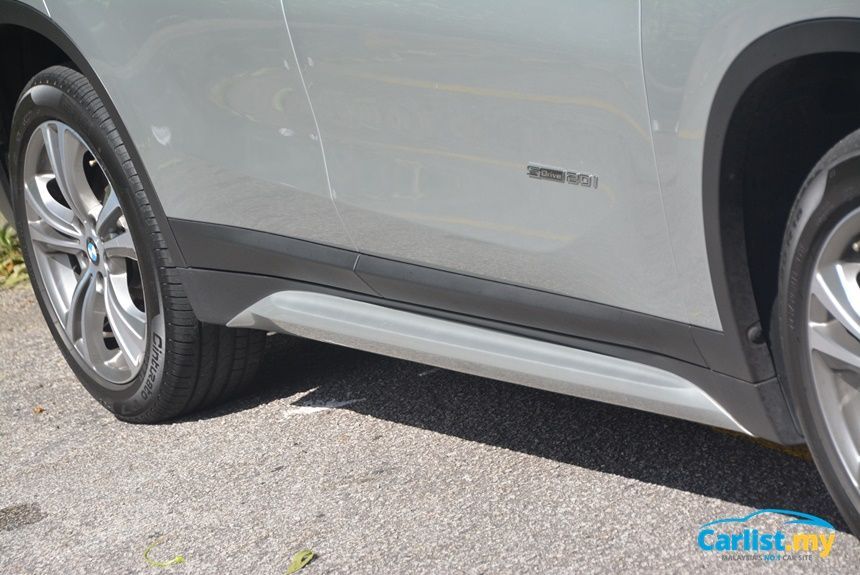 Interior
The biggest benefits of BMW's decision to abandon its traditional mechanical layout with the X1 is plainly seen in its interior. Freed from the constraints of having to accommodate a long-mounted engine and bulky transmission tunnel, BMW's cabin designers were given unpredecented amounts of space and flexibility to craft a cabin that is far superior to its predecessor in both space and usability.
First thing you'd notice upon climbing onboard is how the selection of materials, colour schemes, and switch gear all feel very quintessentially BMW in a visual sense, contrasting a layout that is atypical of the brand. As mentioned earlier, the new model's transverse engine packaging grants space for a bigger cabin despite having to make do with a significantly shortened wheelbase.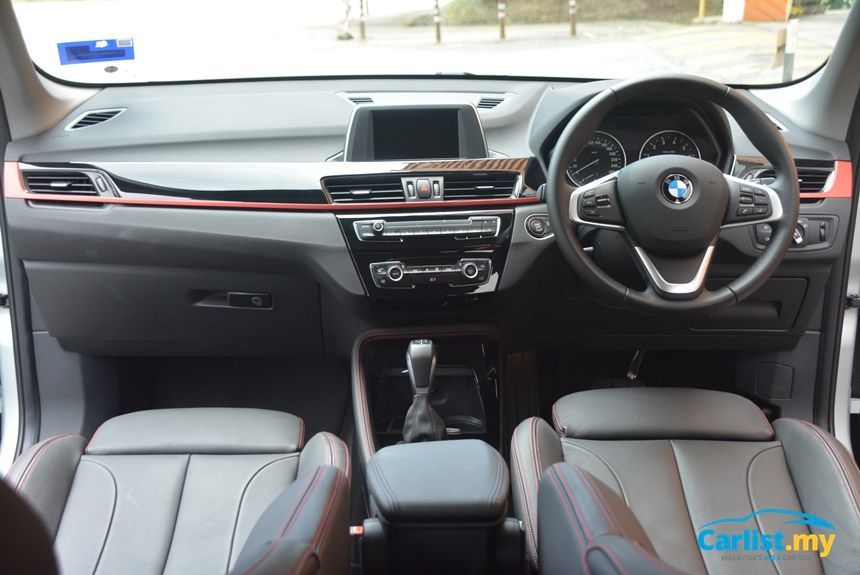 Because there is no need for a transmission tunnel, the centre console is less bulky in the X1 than it is in a traditional rear-wheel drive BMW. What's even better, there are a lot more empty spaces to empty the content of your pockets into, including a huge storage tray at the rear half of the centre console.
Pop open the tailgate, the new X1 offers 505 litres for your suitcases, which you can expand to 1,550 litres by fliping the 40:20:40 split-folding seat backs down. Comparatively, the old E84 had to make do with 420 and 1,350 litres respectively.
Perhaps the most notable area of improvement in the F48's cabin over the E84's is with regards to build quality and material selection. It's neither quite as plush nor as slick as Mercedes or Audi cabins, but it does consign the shockingly poor and brittle plastics that inhabit the E84's cabin to history.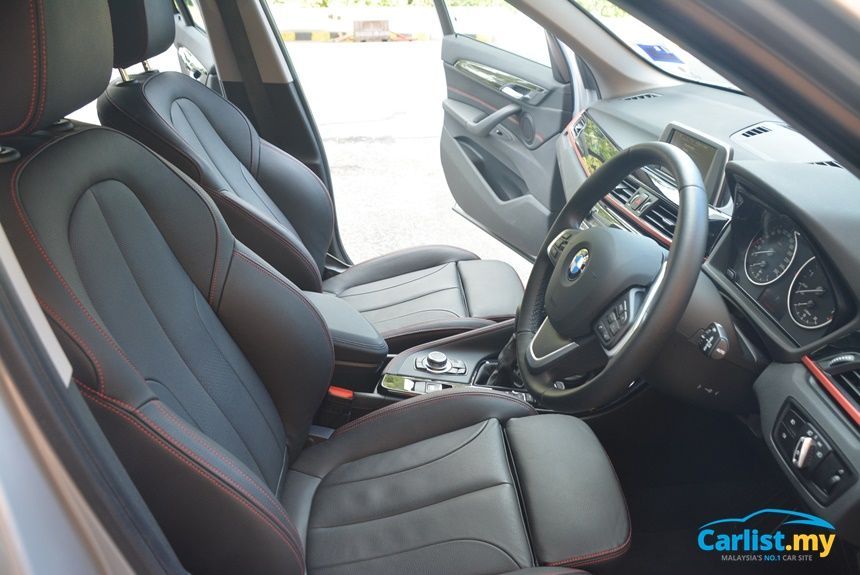 How does it drive?
The BMW brand image of sporty driving is one that has been carefully honed for decades. So, even though the firm is finally seduced by the packaging and cost benefits of the transverse engine setup, you can be assured that every effort has been made to ensure that strong driving performance as well as surefooted handling, virtues that we've come to regard as BMW call cards, remain very much ingrained in the new X1's DNA.
In broad terms, the X1 is largely successful in preserving the time-honoured qualities we've come to expect from behind the wheel of a BMW; which is to say it packs respectable straight line punch, corners with controlled poise, and handles high-speed driving with admirable composure. You won't get the kind of steering interaction and intimacy as you would in a 1990s BMW; but in this era of electric-assisted power steering, that statement holds true for the company's core RWD models as well.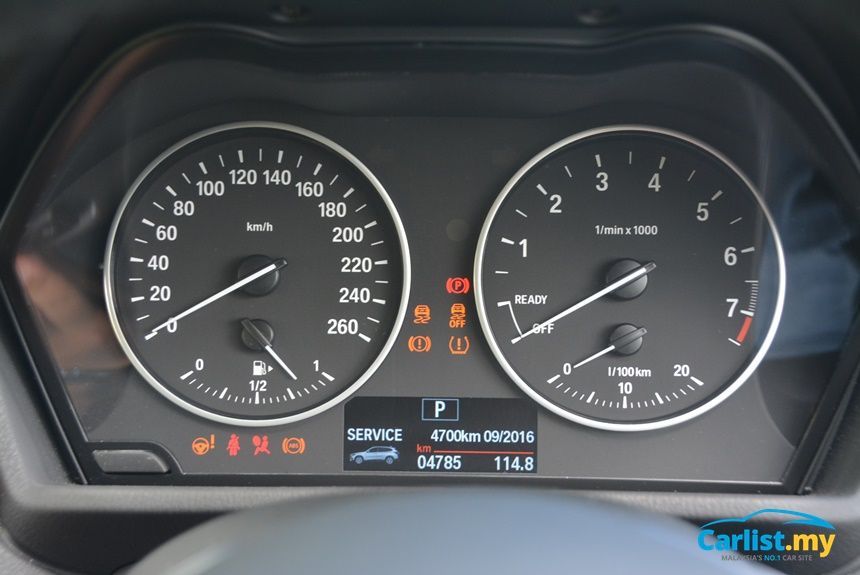 Pushing the X1 hard around a corner, however, reveals unfamiliar details for devotees of the propeller badge. Unavoidable due to its mechanical configuration, this a BMW that washes wide at the apex when pushed and one in which oversteer is induced by lifting-off as opposed to giving the throttle the full weight of your right foot. Migrating buyers from other marques are not likely to bother, however, which is just as well, as the new generation of UKL-based models are aimed primarily at converting new buyers into the brand.
This is one aspect perhaps which the E84 will be most missed by existing owners. For all its flaws, the E84's handling was almost superlative. Versions with xDrive, in particular, seemed to boast endless reserves of mechanical grip - for a crossover, the confidence it inspired around corners is outright unnatural. In sDrive20i guise as tested, you can't put power down in the current model as judiciously as the old one without risking an encounter with the road barrier or, worse, oncoming traffic.
We await the opportunity to review an xDrive-equipped F48 X1 in Malaysian shores in the future (should BMW decide to introduce such a variant here) before giving this matter a final say.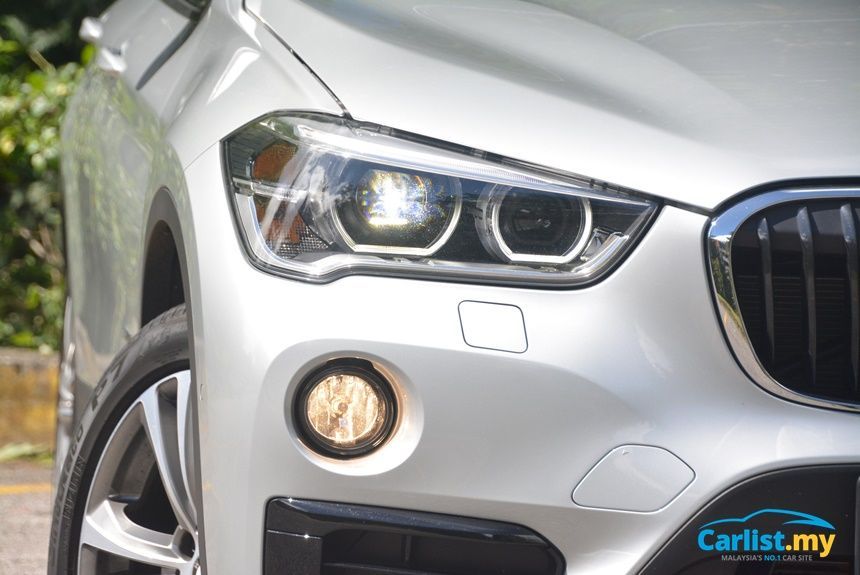 How comfortable is it?
As the predecessor's outright sportiness gets scaled back, the new X1 accordingly gets a commensurate improvement in comfort and refinement. The E84's ride, especially the xDrive20d version, was as brittle as its plastics.
In exchange for not being able to attack corners with the verve of a hot hatch, BMW compensates with a significantly more pliant ride. We believe the majority of the X1's targeted clientele are likely to find this to be an agreeable compromise.
The very same clientele are also likely to favour the new model's electric power steering setup that is more sensibly-weighted than the unnecessarily heavy hydraulic-assisted rack fitted in xDrive versions of the E84.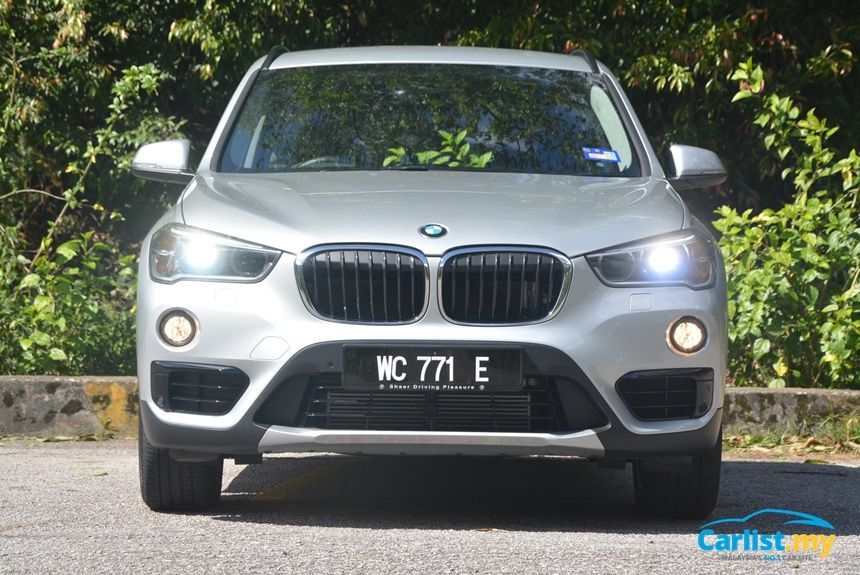 How economical is it?
BMW engines of recent years, be it petrol or diesel, have excellent track records of frugality relative to the kind of performance they deliver.
Whilst we were never likely to replicate the sDrive20i variant's quoted fuel consumption of 5.9 l/100km, a recorded average of 10.5 l/100km on the trip computer represented decent returns for test route that mixed urban, highway, and heavy-footed backroad driving.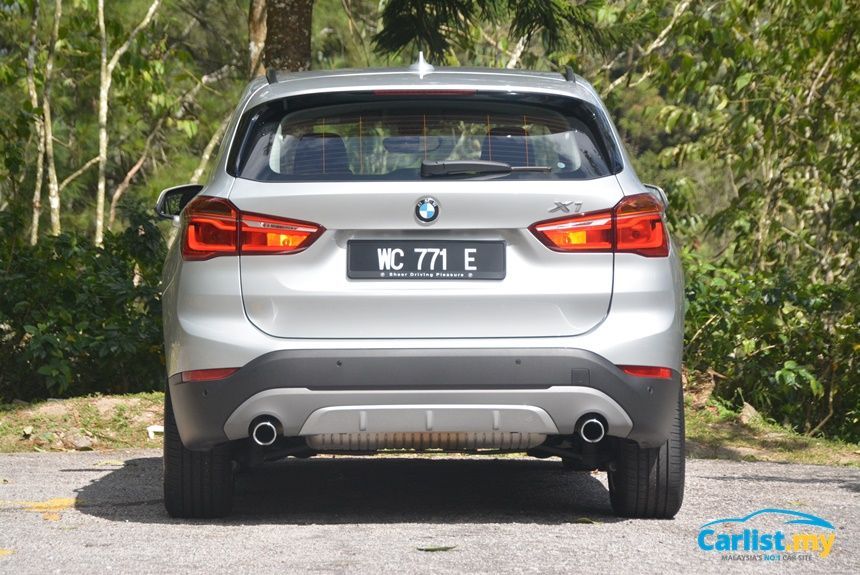 Putting the above numbers in context, this writer, in similar driving conditions, recorded the same consumption in a Mitsubishi ASX – a vehicle that makes do with 42 fewer horses and 83Nm less twist.
The first five years of owning the BMW X1 is also likely to be blissful – you get the protection of an unlimited mileage warranty and free-servicing. Your tyres are also protected by a 24-month BMW Tyre Warranty Programme that covers damage caused by any sharp objects or pot holes.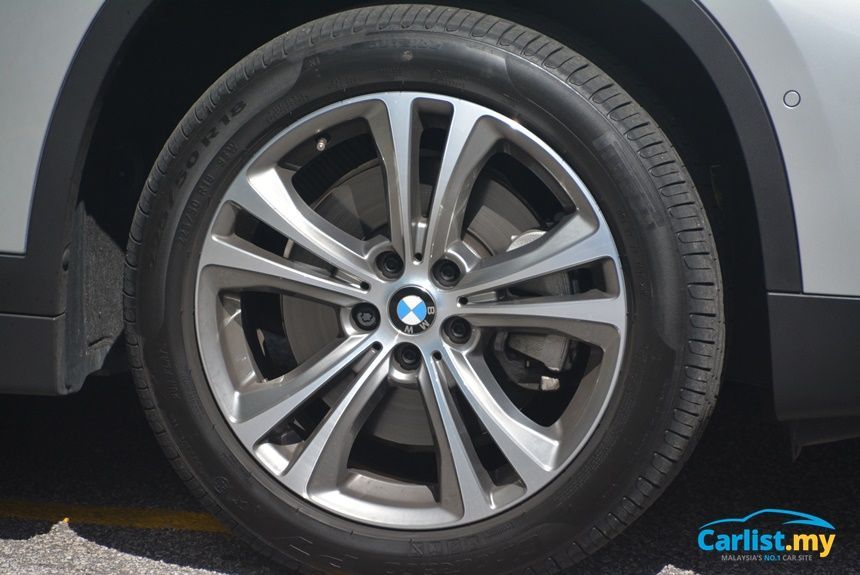 Conclusion
There is no doubt about it. The new F48 X1 is far and away a much better vehicle than the E84 model it replaces. It's a more handsome-looking vehicle with an interior that is more spacious, better built, and more thoughtfully-conceived.
By freeing themselves of the shackles imposed by an almost-stubborn decades-long adherence to the traditional long-engine mechanical template, BMW is able to deliver a premium compact crossover that is far more effectively packaged and definitely easier to live with on a day-to-day basis.
That same radical rethink of the product concept also underlines the caveat that accompanies the X1, however. For all the magic and knowhow which BMW's chassis engineers possess, the X1 cannot and will not drive like a traditional BMW. This is perhaps one area which the F48 and its future successors will never exceed the original – the conflicting blend of hot-hatch dynamics with the raised ride height of an SUV. It is something the enthusiasts in us will miss, but the masses will likely appreciate the new X1's significantly wider scope of talents in other aspects.
---
---
---
Comments