Feature: The 2016 ZF Global Press Event
Insights Overview
Like the ingredients of any good mushroom soup; the ingredients of any reliable and competent car, would then depend on the sum total of components that make it up. Like fresh mushrooms, chicken broth and butter… the engine, gearbox, steering systems, safety systems and more recently; hybridisation components eventually combine to create a machine that takes us places, keeps us safe and excites the senses…
All this, while sipping fuel at the pumps!
Perhaps a lesser known fact then, for example; while one drives his or her current BMW 3-Series (F30), whizzing about underneath is a high-performance gearbox and complete front and rear axle systems supplied by ZF. Note then, that not many cars, trucks and busses that form your morning rush hour - won't have the name 'ZF' etched on its many puleys, gears and thingamajigs.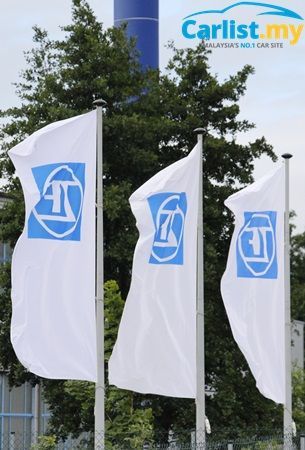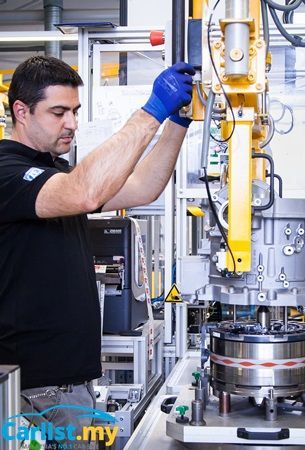 ZF has its roots reaching as far back as 1908 when Count Ferdinand Von Zeppelin builds his first airships. Despite a major setback (the Zeppelin LZ-4 test flight, 1908), the dream of flight persevered on through public donations which established the basis for the Zeppelin Foundation.
In 1910, Count Alfred Von Soden-Fraunhofen was named the head of research at Luftschiffbau Zeppelin GmbH with the aim to optimise airship technology. Count Alfred teamed up with Swiss engineer Max Maag to develop a revolutionary manufacturing process for grinding gears.
Realising the importance of this innovation and its applications, spurred the idea to form Zahnradfabrik Friedrichshafen GmbH in 1915. Zahnradfabrik simply translates to mean 'gear factory' and Friedrichshafen; where it all began.
101-years on, bevelled gears are no longer the only ZF innovations that are currently being exported out of Friedrichshafen. With the acquisition of Michigan-based, TRW Automotive in May 2015, ZF now commands a collective workforce of 138,000 spread across 230 locations in 40 countries in Europe, North America and Asia Pacific.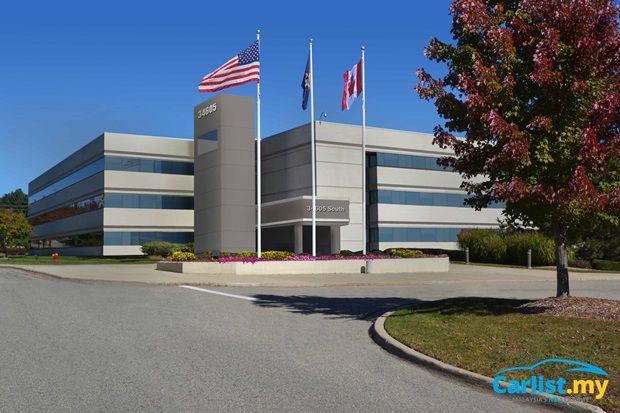 Combined income from both outfits generated an annual turnover of some €29.2 billion in the 2015 fiscal year for ZF Friedrichshafen AG. China has been a significant market for ZF in the Asia Pacific Region, with annual sales more than doubling from €3.0 billion in 2013 to €6.4 billion in 2016.
Elsewhere, within the Asia Pacific markets, ZF operates out of Australia, Japan, India, Philippines, Indonesia and here in Malaysia. ZF Sales and Service (M) Sdn. Bhd. operates from a 14,000-sq.ft. facility in Kota Damansara, established in 2005 - primarily supports parts sales, original equipment (OE) sales and the workshop service business. They're also responsible for the complete aftermarket product brands of ZF in Malaysia.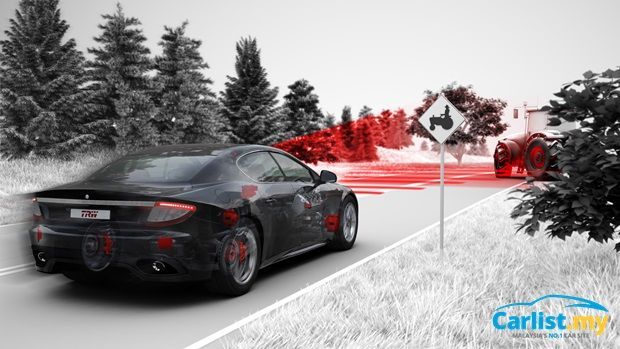 In 2013, ZF established ZF Chassis Systems S.B., a passenger car assembly facility in Kulim, Kedah – supplying complete front and rear axle systems to BMW Malaysia. The acquisition of TRW has also given ZF a bigger footprint in Malaysia with companies such as Lucas Automotive S.B. and TRW Automotive S.B. ZF has also worked with local public transport company Prasarana, supplying their rail shock absorbers and Ecolife transmissions for Rapid KL buses. ZF also supplied electric axles for the first locally designed and assembled electric bus in 2012.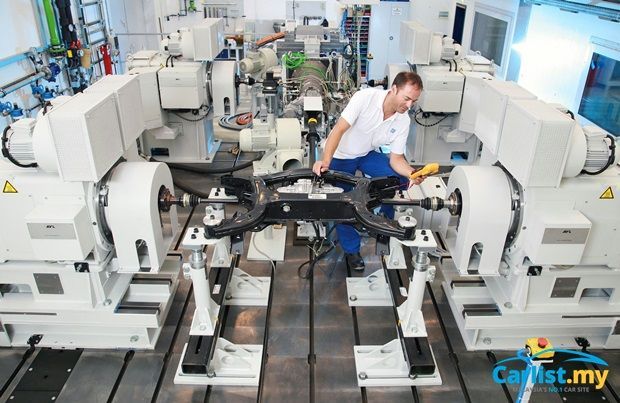 With a firm belief in research and development and a company philosophy that's built around innovation – ZF invests more than 5 percent of its total revenue for R & D every year. Approximately €1.4billion was spent on research and a further €1.3billion on plant and equipment in 2015. The fruits of which are exhibited at this year's ZF's Global Press Event – held just ahead of this year's IAA Commercial Vehicles expo, the World's foremost trade fair for transport, logistics and mobility solutions.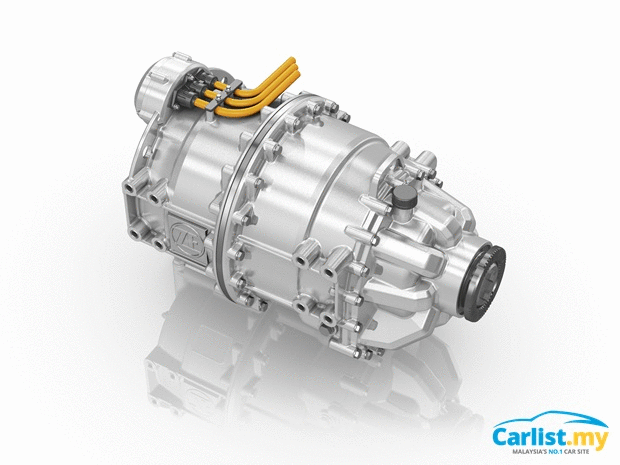 The objective of this year's global press event is to showcase the key innovations achieved for the commercial vehicle sector. ZF's 'Vision Zero' (accident-free traffic) aspirations have placed considerable focus towards a holistic approach to safety and efficiency on the roads.
The megatrends of automation, safety, networking and electrification are changing and defining the modern age of mobility. The integration of TRW into the ZF portfolio ensures the company is poised to face this rapid evolution within the marketplace.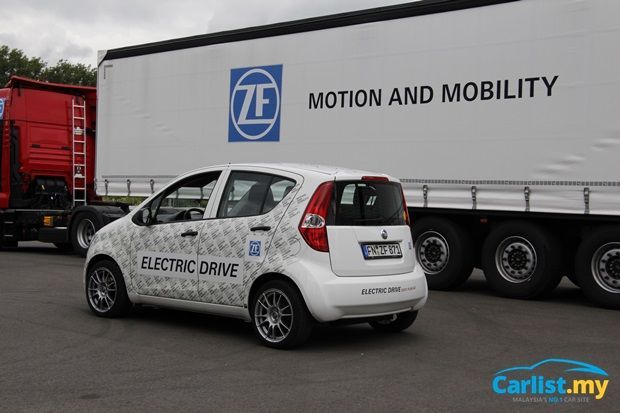 The overarching maxim is to "See – Think – Act"; this guides the company's efforts in developing intelligent systems that suit dynamic megatrends which add value in real world applications. Also, given ZF's current scale of operations, with the acquisition of TRW; is poised to develop and implement the very concepts of mechanics, mechatronics, hardware and software systems that will the drive future technology on the roads.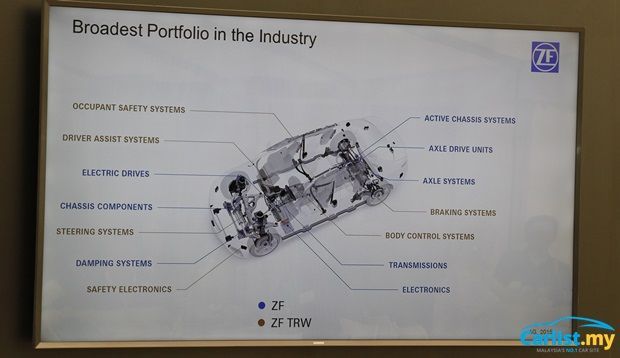 By and large, the integrated systems that we'll see on trucks of the future are inspired by cars first and foremost. Albeit, with quantifiably more complexity added – stopping a 12-tonne truck is as you might imagine, is much harder than stopping 1.2-tonne sedan. Furthermore, stringent European Union (EU) regulations now require ESC, Advanced Emergency Braking Systems (AEBS) and Lane Departure Warning (LDW) – all pointing towards a safer ecosystem of the future.
And that future is here and now…
Electronic Safety Assistant for trucks
The Evasive Manoeuvre Assist (EMA) was developed by ZF with project partner WABCO – the system is able to automatically steer the truck and trailer around a hazardous zone to avoid rear-end collisions.
The EMA system works in tandem with ZF's Highway Driving Assist (HDA) which actively keeps the truck in the lane at a safe distance from the vehicle in front.
EMA and HAD incorporate advanced sensors act as "eyes" – feeding data to an intelligent control unit, which relays corrective actions through a network of actuators connected to the steering and braking systems. These two systems also prevent driving distance errors (alerts via audible alarm), such as tailgating and driving off the road.
The HDA and EMA systems are introduced for the first time in the prototype ZF Innovation Truck 2016.
Electrification and Driver Assist Technology
ZF's Innovation Tractor demonstrates how safety, efficiency and ease of operation can be adopted from passenger vehicles to off-highway vehicles.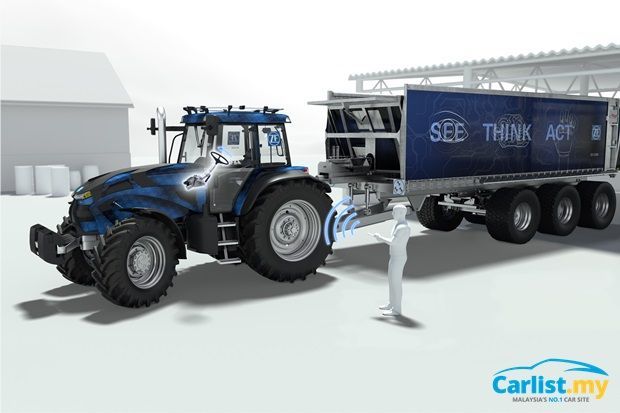 An array of cameras positioned around the tractor feeds data into a control unit that allows trailer hitching semi-autonomously or via mobile devices that can be operated from outside the vehicle. These systems can be further augmented to include pedestrian detection – ZF is one the few companies to introduce autonomous driver assist systems (DAS) across all vehicle segments.
Drivetrain electrification is another highlight of ZF's innovation Tractor – the ZF Terra+ generator draws power from the engine and converts it into a powerful alternating current to drive an electric single-wheel axle installed onto the trailer. Giving the Innovation Tractor optimised off-road traction and manoeuvrability. In the video above, the single-wheel axle is adopted onto the centre axle of the trailer. A hybrid tractor… yes indeed!
ZF SafeRange Manoeuvring Function for Trucks
ZF has networked a number of truck and depot systems to implement the SafeRange Autonomous manoeuvring function. Stationary cameras on the loading dock detect the manoeuvring truck which is simply tagged with a target on the rear of the trailer.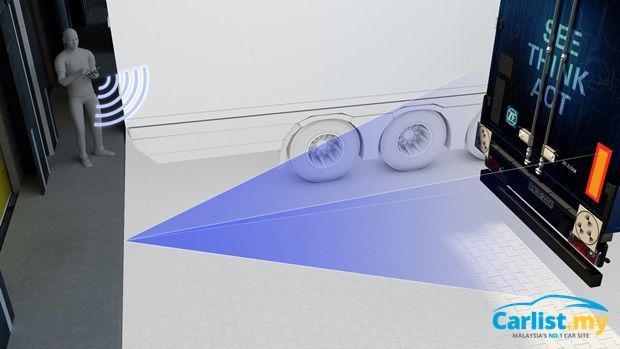 A computer installed at the depot calculates the trajectory and transmits this data via WI-FI to the ZF Openmatics telematics systems in the truck. The truck from here takes over using ZF TRW's active-electronic steering, ReAX and TraXon Hybrid auto-transmission system to steer the truck up the loading dock electrically and purely emission-free.
Electric Drives for Commercial Vehicles, Buses and Light Delivery Vehicles
ZF's expertise in networking sensors, intelligent electronics and mechatronics systems allow a broad product portfolio for the electrification of commercial vehicles with limited range, and hybrid technologies for long distance transport applications.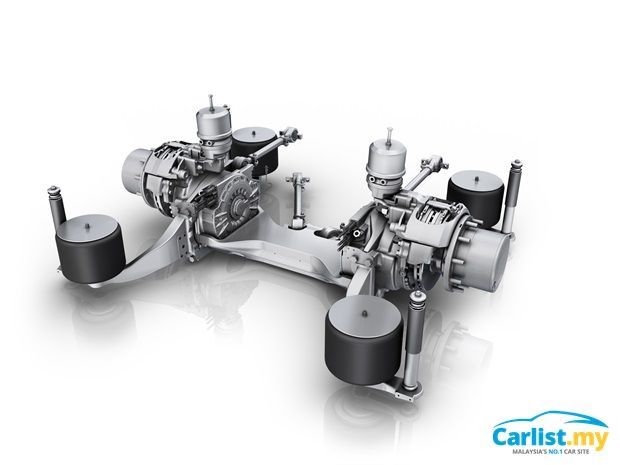 A new development is an all-electric central drive that can be adapted for use in bus systems and intra-city delivery trucks. The AVE 130 electric portal axle; an innovation from the passenger car segment, allows for application in light-commercial vehicles. The AVE 130 electric portal axle is ideal for use in low-floor city buses or articulated buses.
Another innovation is the ZF central-drive for use in high-floor applications such as small buses and trucks. The central drive is a fast-rotating electric motor tacked to a reduction gear, capable of producing 4200Nm of torque, at up to 2500rpm at the unit's output. The required power is provided by a water-cooled asynchronous or permanent-field motor capable of propelling the vehicle from standstill up to 100km/h.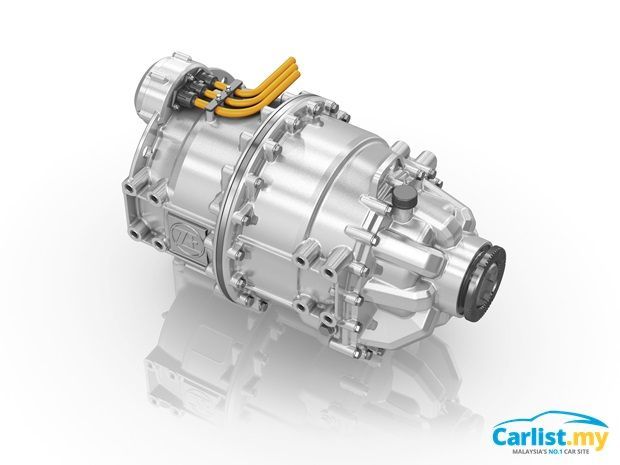 The low-noise and reduces tractive-force interruptions also deliver increased passenger comfort due to reduced drivetrain vibrations when compared to conventional motorised solutions.
For heavy-duty applications – ZF's TraXon Hybrid system can be configured in tandem with diesel engines to provide extended range and large load-hauling capabilities.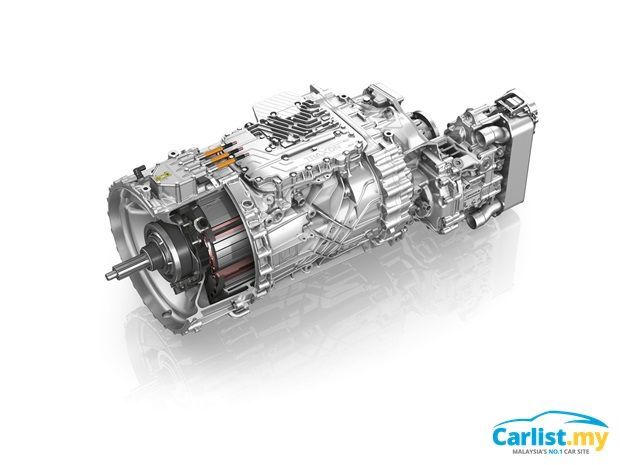 The growing trend of stricter emission regulations in Europe and Asia create the perfect ecosystem for exploring the capabilities of hybrid-drive commercial vehicles. In cases where fleet vehicles are conducted as "return-to-base" operations – this means delivery trucks and buses can be recharged overnight, further reducing the company's overall dependence on conventional vehicle drivetrains.
These innovations mean the age of E-Mobiity for the masses is quickly dawning in the bustling metropolitan hubs of the world…
In Conclusion
The company may have had its roots firmly in mechanical component manufacturing. However, with the acquisition of TRW in mid-2015 and more recently a 40% stake in the Hamburg-based company Ibeo Automotive Systems GmbH, the ZF's strength in electronics and software solutions is an essential component in realising proper energy management and efficiency.
Ibeo Automotive Systems an industry leader in Light Imaging, Detection and Ranging (LIDAR) and Sensor fusion systems, a critical technology for autonomous driving, object recognition and accident prevention.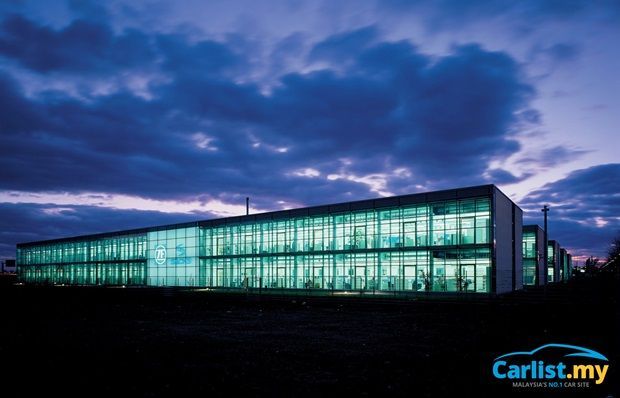 ZF's lifelong fixation towards being at the forefront of technology and innovation; and they're ability to fuse solutions across vehicle segments allow the company to not only engineer solutions to meet the megatrends of the automotive and commercial sectors but, steer the industry as a whole towards safer and more efficient roads in the future.
Perhaps one day even cars and buses will "See-Think-Act" just like us…
---
---
---
---
Comments