Frankfurt 2015: Mercedes-Benz C-Class Coupe Makes Motor Show Debut
Auto News Revealed to the world just weeks ago, here is the all-new 2016 Mercedes-Benz C-Class Coupe making its grand debut at the on-going 2015 Frankfurt Motor Show.
It's a packed event for Mercedes-Benz, who are showing off more than a few cars at this year's show, but to those of you looking forward to the destined-for-Malaysia C-Class Coupe, you've come to the right place for the right stuff.
Make no mistake, this is the sportiest body style of the C-Class variants, but you'll have to look to the 700Nm of torque C 63 Coupe if you want the pinnacle of this for power as well.
There's little else we can tell you today that we haven't already covered in our global reveal of the car in August, so you'll have to head on over to that report for the full coverage.
READ ALSO: 2016 Mercedes-Benz C-Class Coupe Revealed In Full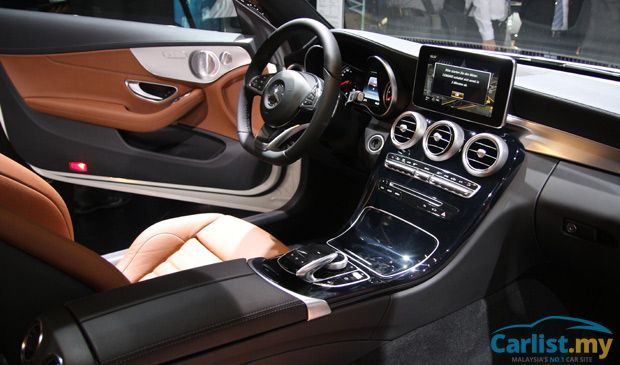 Four petrol and two diesel powertrains will become available when the car makes its European market debut in December 2015, and here's how they'll line up:
First, the petrol variants:
C 180: 1.6-litre four-cylinder turbo, 156hp, 250Nm
C 200: 2.0-litre four-cylinder turbo, 184hp, 300Nm
C 250: 2.0-litre four-cylinder turbo, 211hp, 350Nm
C 300: 2.0-litre four-cylinder turbo, 245hp, 370Nm
And then, the diesel line-up:
C 220 d: 2.1-litre four-cylinder turbo, 170hp, 400Nm
C 250 d: 2.1-litre four-cylinder turbo, 204hp, 500Nm
Further engine variants are expected to be announced in the near future, amongst them of course, a C 450 AMG version like there is with the sedan, producing a fine 362hp and 518Nm of torque from a 3.0-litre twin-turbo V6 engine.
Styling wise, the C-Class Coupe blends together the front-end design of the regular C-Class sedan, together with the rear-end styling of the S-Class Coupe. In the front, the C-Class coupe is also the first of its kind to get diamond grille design too, while at the rear, the slim taillight design and sloping roof that ends in a rear-hatch spoiler is very much like you'd get on the flagship S-Class Coupe.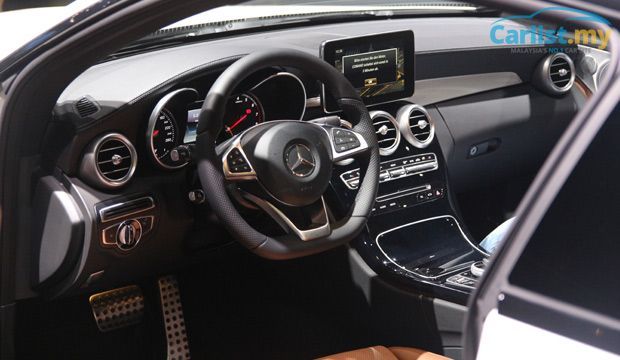 What the new shape results in is a very low drag coefficient value of Cd 0.26 (for some variants only), which results in good aerodynamic benefits at speeds above 70km/h.
Also worth mentioning is the car's new optional air suspension system, AIRMATIC, which will be available in certain markets around the globe.
The standard kit is a steel suspension setup, which can be specified with adaptive/ selective damping, and rides some 15mm lower than the C-Class sedan. The upgrade to the AIRMATIC feature allows for continuously variable damping for the front and rear for either maximum comfort or maximum sport biasness.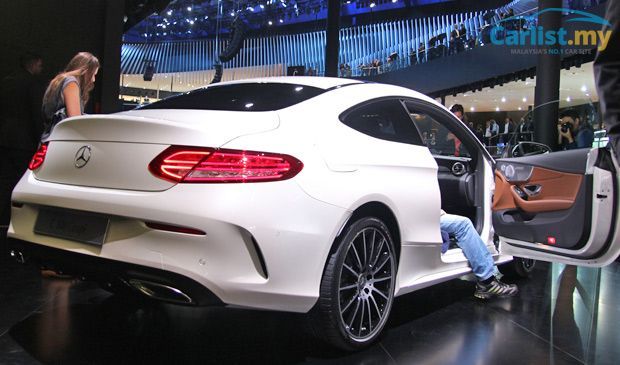 Coming to Malaysia?
We are here with Mercedes-Benz Malaysia at the on-going Frankfurt Motor Show, but they aren't quite ready to tell us exactly when the C-Class Coupe will come to our shores.
But seeing as how the European market launch for the car only happens in December, it looks like the C-Class Coupe will have to wait a few more months before official CBU units can make their ways here. Q1 to Q2 of 2016 would be a safe bet.
This also means that it will miss the boat of Mercedes-Benz Dream Cars that are expected to be launched here before year end. From that campaign, we expect to see cars like the S-Class Coupe, other variants of the CLS-Class, the AMG C 63 and few others.
Stay tuned for more!
---
---
---
---
Comments