Frankfurt 2015: Mercedes-Benz GLC-Class – Our Live Impressions Of The New SUV
Auto News Still no signs of its coupe cousin just yet, but here is the all-new 2016 Mercedes-Benz GLC-Class making its grand public debut at the on-going Frankfurt Motor Show.
We've brought to you just about everything you need to know about the all-new Mercedes-Benz GLC-Class SUV, but now, reporting to you live from Frankfurt, here are our first impressions of being up and close with the car.
But first, let's recap quickly what this all-new five-seater SUV is all about.
Revealed to the world only in pictures thus far, the Mercedes-Benz GLC-Class is a class competitor for the BMW X3 and the Audi Q5. And if you're wondering, no, this isn't Mercedes-Benz's first attempt at an SUV for this particular segment. Previously known as the GLK-Class, Mercedes-Benz has renamed its latest iteration of the car in line with its new naming strategy: the 'C' in the 'GLC' refers to car's close ties to the C-Class sedan.
Another reason why the GLK is almost completely unheard of in our market is because Benz has never done a right-hand drive model for it, believing in the past that Europe, US and China were sufficient markets for it. Now, as you've already seen from the Indonesian motor show recently, the car is available as a right-hand drive one, which gives it a solid chance of coming to Malaysia.
Performance:
At launch, only two diesel (GLC 220 d, GLC 250 d) and one petrol (GLC 250) model was made available. The fourth is a plug-in hybrid petrol version (GLC 350 e) which holds position as the range-topper. The same range is being displayed here, all of which comply with the Euro 6 emissions standard.
Closer to home, in Indonesia, the GLC-Class was launched with just one petrol engine option (GLC 250), but split in two design variants. And just like our Malaysia C-Class C 250, the GLC 250 is equipped with a 2.0-litre four-cylinder turbocharged petrol engine that delivers 211hp and 350Nm of torque.
The engine is common to what we get here in the C-Class C 250, but its transmission is instead a 9G-Tronic nine-speed torque converter automatic transmission that is standard for all GLC-Class variants (except the plug-in hybrid version).
If you're looking to guess which engine options ought to come here, don't forget that Mercedes-Benz Malaysia is about to kick-off a wave of diesel-powered cars for us – so don't go discounting the GLC 220 d or the GLC 250 d just yet.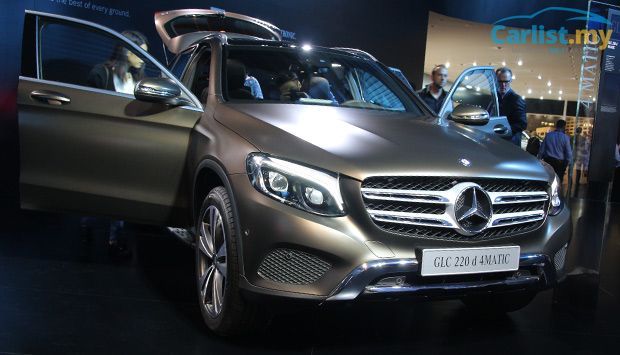 Exterior Styling:
Being that this is essentially a C-Class SUV, the GLC borrows a lot of styling cues from what you see on the C-Class and its latest SUVs (think bigger GLE-Class, or smaller GLA-Class). Up front, you get the Benz brand's signature twin-bar radiator grille with a centralised three-point star. The headlamps aren't all too unfamiliar if you know what's been slapped on latest-gen Benz cars, while you do also get the brand's LED Intelligent Light System (ILS) headlamps as options.
Around the rear, the taillights are slim, and the rear bumper/ diffuser arrangement features a chrome strip that appears to link the two trapezoidal exhaust tips just like you've seen them on the C-Class, albeit with a bumper designed more towards being a protective cladding, rather than an air-channelling feature. Overall, it's a sculpted rear-end that you'll either love or hate.
Just like its SUV cousins, there's a lot of protective body panels in a matt-black finish.
There are two design lines to choose from at the moment, being the Exclusive and AMG lines – each adding their own elegance or sportiness to the exterior and interior. Speaking of which…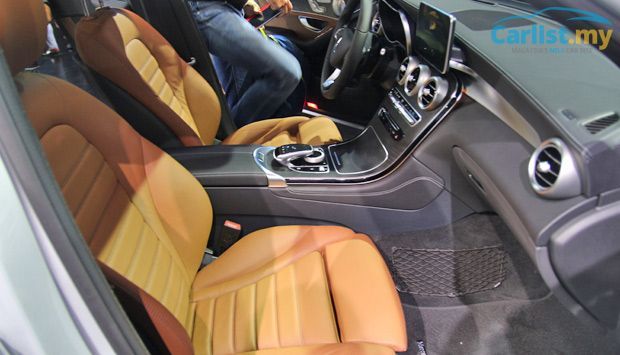 Interior Design & Features:
If you didn't know any better, you'd easily mistake the GLC-Class's interior for what's available in the C-Class sedan. The positioning, styling and features of the interior are identical between the SUV and sedan, but for the Benz brand's unique SUV steering wheel design.
But that isn't exactly something we'd complain about: apart from the S-Class and the yet-to-be-revealed next-gen E-Class, the C-Class's interior is by far one of the best interiors Benz has put together yet.
The design combinations are nearly identical to what is possible on the C-Class, so yes, you could have the wood inlays or piano black styling, but of course, Malaysian-availability will depend on Mercedes-Benz Malaysia's product planners. Additionally, there's a new Head-Up Display system, but that too is subject to what local planners will decide on.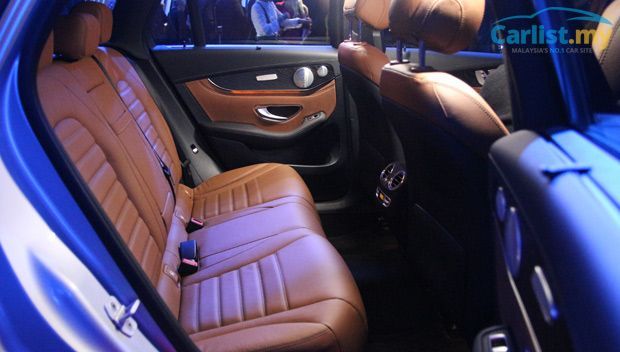 What you can be sure of for local availability are things such as the free-standing display screen (in either 7.0 or 8.4-inch sizes (depending on it being either an Audio 20 CD system or the premium COMAND Online one), the five circular air-conditioning vents, the Mercedes-Benz touchpad and rotary dial control on the centre console and the Mercedes-Benz Direct Shift lever located just behind the steering wheel.
Displayed here at the 2015 Frankfurt Motor Show are GLC-Class cars with just about everything thrown in: Burmester audio, HUD, full OFF-ROAD design line, new OFF-ROAD Engineering package and lots of other equipment typically assigned to the top-spec variants only. And they're all nice to see as we reported in our full global reveal, but do keep in mind that what's available locally will greatly differ.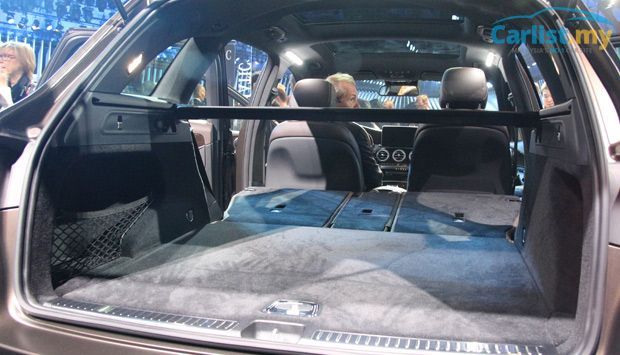 Live Impressions @ Frankfurt:
And to our 'first', or 'live', impressions of the car: First up, it's got to be said that pictures do make the GLC-Class appear a lot larger than it actually is. It's visibly not that much larger than a BMX X3, and is sized nicely for our local driving conditions – giving a nice high and commanding view of things ahead, without leaving an unnecessarily large footprint wherever it goes.
Staying with the exterior, and it's impressive how short Mercedes-Benz has managed to keep the front and rear overhangs of the car: there's practically no space wasted between the front wheel and the beginning of the front bumper, and the case is same with the rear. Why would this matter? Well, it's a clear sign of this car's ability to get up or down steep hills on the beaten path.
The finer details of the car's exterior isn't all that dissimilar to existing Benz cars, but for the front grille, where the twin-bar radiator grille features a new black inlay.
Equipped with the Easy Pack tailgate, opening and close the GLC-Class's boot is as easy as you'd like. And the opening is impressively wide as well, to which you'll find 580 litres of space. With the second-row seats slid forwards and folded flat, there's a maximum load space of 1,600 litres, 50 litres more than its predecessor, largely thanks to a wider area (150mm more).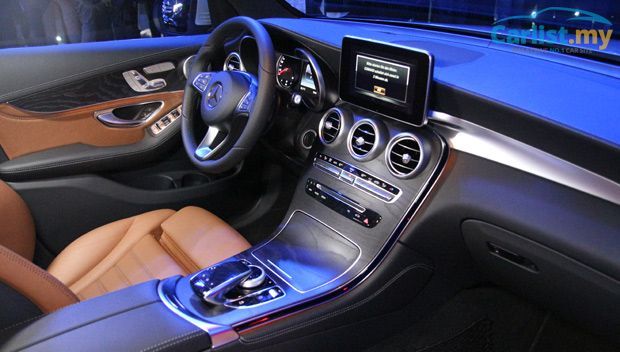 Moving into the car, you wouldn't be faulted for thinking Mercedes-Benz had completely lifted the C-Class's interior and placed in its SUV counterpart here: it's brutally identical, and we don't think there's anything wrong with it.
The seating appears to feature the largest change inside the car, in which just like the GLA-Class and the A-Class, you do sit higher off the ground in all corners of the cabin. Even still, there's a very prominent sedan-like feel to this that will be appreciated by those who don't fancy going for the full high-riding SUV affair: the GLC appears to offer a good middle ground to this.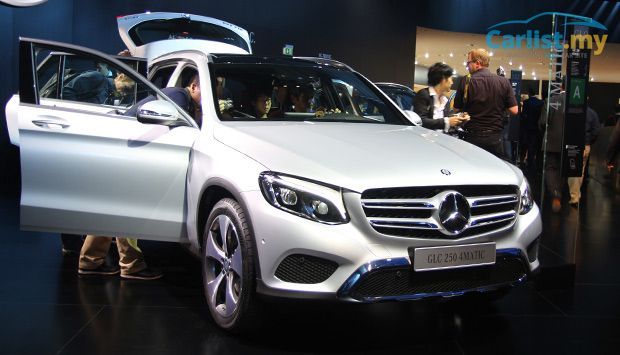 As for the rest of the GLC, we'll have to wait for a chance to drive it before we can share any more insight into it. Thus far, it looks quite ready to be another hit for Mercedes-Benz Malaysia. Stay tuned for more!
Here's a few other GLC-Class related posts to keep you warm:
---
---
---
---
Comments